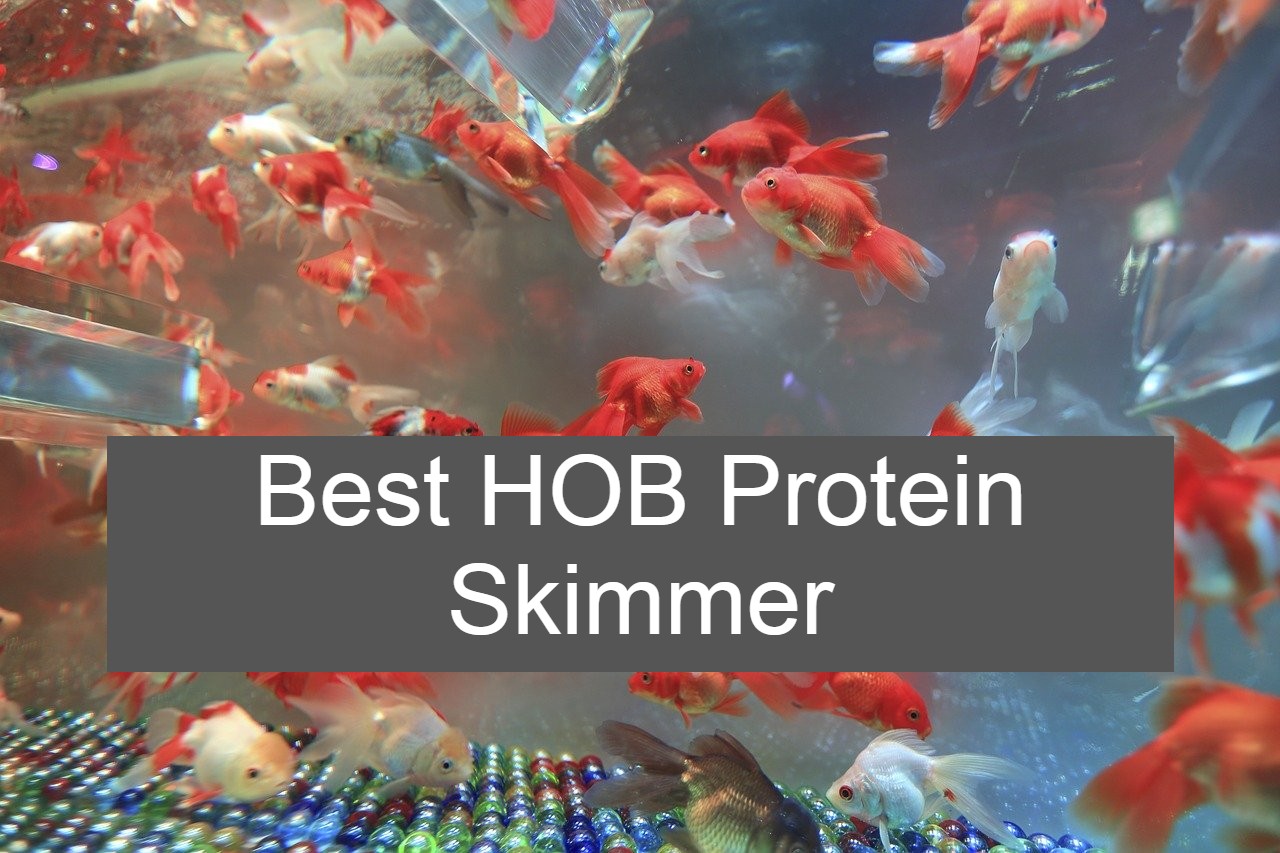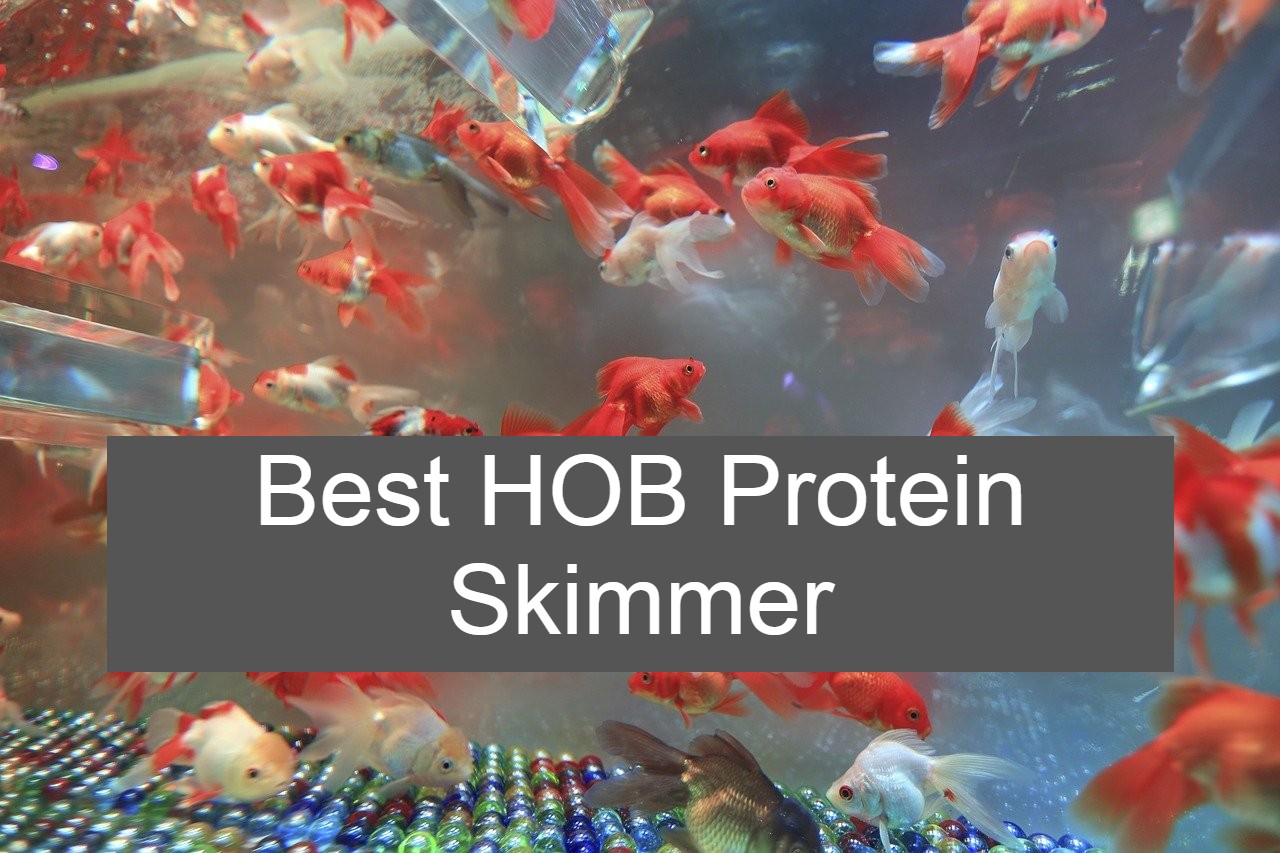 If you have a fish tank, it is certainly a good idea to get a HOB protein skimmer. A skimmer will help keep your tank clean, and save you from the chore of cleaning it by hand.
Choosing the right HOB protein skimmer is important because. There's a lot to consider when you're selecting the best HOB protein skimmer, and we're here to help you weed through what is important, so that you can make the best decision.
To help you out with your decision, we will give you some pointers on what to look for, and we'll give you our choice for what we think are the best HOB protein skimmers.
HOB Protein Skimmer Reviews
This HOB protein skimmer is manufactured by Reef and is designed for aquariums up to 105 gallons, and it is designed to hang on the back of your tank. The easy to install design makes it a top choice.
The size of this model makes it a great option for home aquariums, as it is the right size for most tanks. Filtering up to 105 gallons is an advantage since this will easily filter the water in most home fish tanks.
To account for the intake valve, this unit only sticks out into the tank a few inches. This allows the most room in the tank for fish to swim.
The large collection cup with this model allows it to efficiently skim the tank. Furthermore, it is designed so it cannot overflow out of the tank, and will flow back down into the skinner.
Pros
Easy installation.
It is made of high-quality materials.
The pinwheel pump is very efficient.
Cons
Overflows out the top if not set-up correctly.
Can require an extra seal to ensure it doesn't leak.
This particular HOB protein skimmer is made by AquaMaxx. It is designed for aquariums up to 90 or 60 gallons depending on if it's a heavy or light bio load.
While it's slightly on the small side, the filter is still quite powerful allowing you to successfully skim your tank with ease. The compact design means it doesn't take up too much room in your tank.
The skimmer does produce a lot of bubbles, which can cause noise. However, the fish adjust well and the bubbles do not interfere with their quality of life.
The pump works very well and is efficient. By connecting to a tube, this allows the water to cycle back through the tank to prevent spills.
Pros
Easy to set-up and install.
Compact design.
High-quality pump that is made precisely fitted.
Cons
Cannot be used for overly big fish tanks.
Produces a lot of bubbles and a lot of foam.
The CoralVue pump is rather large, and can work on tanks up to 125 gallons. This means you can have a large tank and a lot of fish with this particular filter.
The pump is outside the skimmer and the tank, which means there is no heat exchanged underwater. By doing this, it is also easy to remove and clean the skimmer.
Automatically controlling the water level and foam output improves the efficiency of this model. This is controlled by the collection cup.
The air hose on this model needs to be kept upright. If it tips over, you run the risk of having water come out and spill. If you lose power to the tank, and the air hose is not upright, it will cause a spill.
Pros
It can work well on large tanks.
Easy to remove and clean the filter.
Pump is strong and efficient.
Cons
Does not include assembly instructions.
Produces a lot of noise.
This HOB protein skimmer is made by Macro Aqua, and is designed for use in a small fish tank up to 60 gallons. While it is small it size, it is efficient and works well.
Since the pump and unit rests outside the tank, it does not take up much room inside the aquarium. Also, it is easy to install and take off and clean when you need to.
By effectively eliminating organic waste, this HOB protein skimmer has a collection cup that is easy to remove. The waste is easy to dispose and your tank will remain clean.
This machine operates very smoothly. You do not need to prime this machine, and it is ready to plug in and use.
Pros
Hangs outside the tank, meaning installation and cleaning is easy.
No priming required – just plug and play.
Collection cup easily removes waste.
Cons
Small in size.
Produces an excessive amount of bubbles.
SeaClone makes this protein skimmer and it is made to either hang on to the tank or be used with in-sump installation. Depending on your preference and what kind of tank you have, you can choose either option.
It's designed specifically to skim and remove waste from your tank. The Maxi-Jet 1200 pump works efficiently to skim, and the bubbles produced are full of protein for your fish.
This skimmer will work in any fish tank up to 100 gallons, so it has a good capacity. In this machine, water and air swirl together to make a cyclone that aids in waste removal.
If you choose to use this model in-sump instead of hanging on the back of your tank, realize that it will take up a lot of room. If you do not have many fish, this might be ok, or you might be better to hang it.
Pros
Can use this in two different ways.
Adds protein back to the water in the bubbles.
Air and water cyclone efficiently removes waste.
Cons
Bubbles are frothy.
Can be noisy.
AcquaTop makes a protein skimmer as well. It is a bit large to look at it, but it is quite efficient and it does not produce a lot of unnecessary noise.
While it will work on a tank up to 90 gallons, this unit does produce a lot of microbubbles. You can adjust the amount of bubbles based on the size of your tank and the needs of your fish.
The collection cup on this unit is not removable. Therefore, the air tube needs to be drained in order to empty the water.
To make sure this works without overflowing the tank, there are knobs to turn to open valves. After you open the valves, tune the skimmer to ensure the bubbles stay in the center and do not overflow.
Pros
Quieter than other models.
Valves can be adjusted to prevent overflow.
Adds
Cons
Skimmer is large in size and a bit unsightly.
Material is all plastic.
Difficult to get the adjustments functioning with precision.
Marine Color makes a protein skimmer. This skimmer is efficient and effective but only works on saltwater aquariums, so do not buy it if you have a freshwater tank.
Small it size, it will only work on tanks up to 40 gallons. That said, it is very effective for smaller tanks. The cone reaction chamber allows the skimmer to remove waste and create bubbles very smoothly,
This skimmer is made of a high-quality acrylic material. The company always uses a laser machine to create the parts, which all them to be all made with precision.
Since it hangs on the inside of the tank, it takes up more space than if it was external. It is nice though that the skimmer can adjust how deep it goes.
Pros
High-quality acrylic material.
Adjustable skimming depth.
Can add a hose to the collection cup to prevent overflow.
Cons
Will not work on freshwater tanks.
Small in size – will only work on tanks up to 40 gallons.
Another small option, this one from Aquatic Life can work on tanks up to 30 gallons. The compact size makes this a viable option for mini-reef aquariums.
While it is placed inside the tank, since it is small in size it does not take up too much room. The location of the skimmer also helps contain the noise, and this is a fairly quiet option. The suction cups help it attach to the side of the tank.
This skimmer is appeasing on the eyes, as it is designed to hide the ground cord. Since it doesn't jut out of the tank, you hardly know it's there at all.
Due to the shape of this skimmer, if your tank has a hinged lid, you will not be able to close the lid. If you need to close your lid, you might want to consider a different option.
Pros
Compact size makes it great for mini-reef aquariums.
Quiet, the noise is contained.
Appeasing on the eyes, as it's partially hidden.
Cons
Cannot close the lid on tanks with hinged lids.
Small in size – will only work on tanks up to 30 gallons.
The Tunze HOB protein skimmer is good for either small tanks or it can work on a tank up to 65 gallons. This allows it to be fairly versatile.
The compact size actually helps it to work quickly and effectively. The bubbles it creates are small in size and therefore do not create a lot of noise.
There is a system in place to prevent overflow, so you do not have to worry about bubbles overflowing from the tank. However, if you do not set it up correctly, and it is not sealed, you will have some leaks coming out of the tank.
This skimmer is easy to clean because it comes apart and disassembles with ease. After this machine is tuned correctly, it does not require much maintenance.
Pros
Fast and efficient waste removal.
Creates small bubbles.
Does not overflow.
Cons
If not sealed correctly, it will leak.
Will not work for big fish tanks.
A medium-sized protein skinner, Eshopps makes one that will work on tanks up to 75 gallons. Conversely, you can also use it on tanks as small as 10 gallons
This is one of the quiet options, as it is run using an Italian Sicce pump. This pump is known for being quiet, and you can use this in a tank in a small room without worrying about being noisy.
The pump is external, and the collection cup means removing waste and cleaning is easy. However, you might need to have some tape and super glue on hand as this skimmer can occasionally crack.
You will need to set up this machine and ensure you adjust it properly. After an initial trial and error period, this tank will not overflow.
Pros
Versatile size.
The pump is quiet.
Waste removal is an easy process.
Cons
Occasionally will crack and require repairs.
Will overflow until adjusted properly.
How to Select the Best HOB Protein Skimmer
Here are a few topics and factors you want to make sure consider when you are picking out your HOB Protein Skimmer:
How big of a tank can the skimmer work with? Different HOB protein skimmers are good for different size tanks. Some might only be good for up to 10 gallons, while others can serve over 100 gallons. Make sure you get the right skimmer for the size tank that you have.
Saltwater or freshwater. Depending on the type of water in your fish tank and the type of fish that you have, make sure you buy an HOB protein skimmer that can handle salt or freshwater.
Does noise matter? Is your fish tank in a small bedroom and a noisy skimmer that produces a lot of bubbles might keep a child from sleeping at night? Consider where your fish tank will be placed and if you need to be concerned about noise.
Will it cause an overflow? Look to see how effective the HOB protein skimmer is at making sure the water stays in the tank. Some are designed to flow back in the tank, while others might cause big bubbles that overflow out of the fish tank causing you a big mess to clean up.
Frequently Asked Questions about HOB Protein Skimmers
Does the protein skimmer hang outside or inside the tank? Usually outside the tank, but verify it. Some models will hang inside the tank. The plus side of it hanging inside the tank is it is probably less noisy than one that hangs outside the tank. On the downside, this means it is also taking up room in your tank and there will be less space for your fish to swim.
How do I know how many gallons of water the protein skimmer will work with? All models are clearly marked with their capacity. Under the product description on Amazon there is a category for tank size.
How many fish can be in my tank with a HOB protein skimmer? A HOB protein skimmer really will not affect the size of your tank by much. Any fish you had in your tank before the HOB protein skimmer could be kept in their afterwards. The only exception is if the skimmer is inside the tank. In most cases, it won't reduce capacity by much, but just make sure.
Is a HOB protein skimmer messy and hard to clean up? Most models have collection cups that are easily removed. This makes the process of cleaning them very simple. Just remove them from the tank, give them a good cleaning, and reattach them when you are done.
Is a HOB protein skimmer safe for my fish? Yes. HOB protein skimmers are perfectly safe. In fact, it might be safer to use a skimmer since it means you will have to use less chemicals to clean your tank, and the water will remain pure and clean for your fish to swim in.
How noisy is a HOB protein skimmer? This is something to consider when reading our product reviews. Some models are noisier than others. It depends on how powerful they are, where the skimmer sits, and how many bubbles it produces.
How to Maintain Your HOB Protein Skimmer
To clean your HOB protein skimmer, mix up some white vinegar with some water. Soak the skimmer until any visible residue is gone. Afterwards, wipe down the skimmer with a wet cloth. Rinse it with clean water and put it back in your tank.
Routine maintenance of your HOB protein skimmer should just include periodic cleaning and wipe downs like mentioned above. You should not have to do anything to maintain your skimmer besides making sure it is clean and running smoothly. You can probably get away with cleaning your skimmer every 1-2 weeks.
If you do not have your fish tank running right now, you can safely store your HOB protein skimmer for a long time. Clean it per the above instructions, make sure it is completely dry, and store it a cool, dry place with a cover on it to keep out dust and particles.
When will you need to replace your HOB protein skimmer? If you are cleaning, maintaining, and storing your HOB protein skimmer in the right way, it should last for quite a long time, and might not ever require a replacement. Eventually, saltwater could affect it, but that will not happen for a long time.
Advantages of Having a HOB Protein Skimmer
A HOB protein skimmer is going to make your life as a fish tank owner much easier. This is going to reduce the amount of time you spend cleaning your tank. You will not be looking at dirty water, and you will have less manual labor.
Your fish will be happier with a HOB protein skimmer, as the water they swim in with almost always be clean. They do not have to worry about a lot of algae and dirt mucking up their water, which will improve their quality of life.
A HOB protein skimmer will save you time and energy. You will spend less time taking the fish out of the tank, and scrubbing the tank from top to bottom. You will rarely have to clean your tank now that you have a fully functioning HOB protein skimmer.
After you spend your one-time upfront cost on the HOB protein skimmer, you will wind up saving money. Aside from some cheap, white vinegar to clean your skimmer, you will not have to buy as many chemicals and cleaning products to ensure your tank is clean and your fish are happy.
Video of How to Install a HOB Protein Skimmer
Here's a video on YouTube that you might want to watch, as it gives a good look at how to install a HOB Protein Skimmer. This will alleviate any concerns with making sure it is installed correctly. Installing it correctly is important as it will prevent and avoid leaks and spills long-term.
Conclusion
We've reviewed a lot of products. By now, you know to consider things like how many gallons the HOB protein skimmer can support, if the skimmer is noisy, and how efficiently it remove waste.
Since you've reviewed our 10 recommended Best HOB protein skimmers, now is a good time to add one to your shopping cart. In no time at all, you will have a new HOB protein skimmer ready to use.
Go ahead and leave some comments if you have any previous experience owning a HOB protein skimmer. Or, perhaps you still have some questions that haven't been answered.