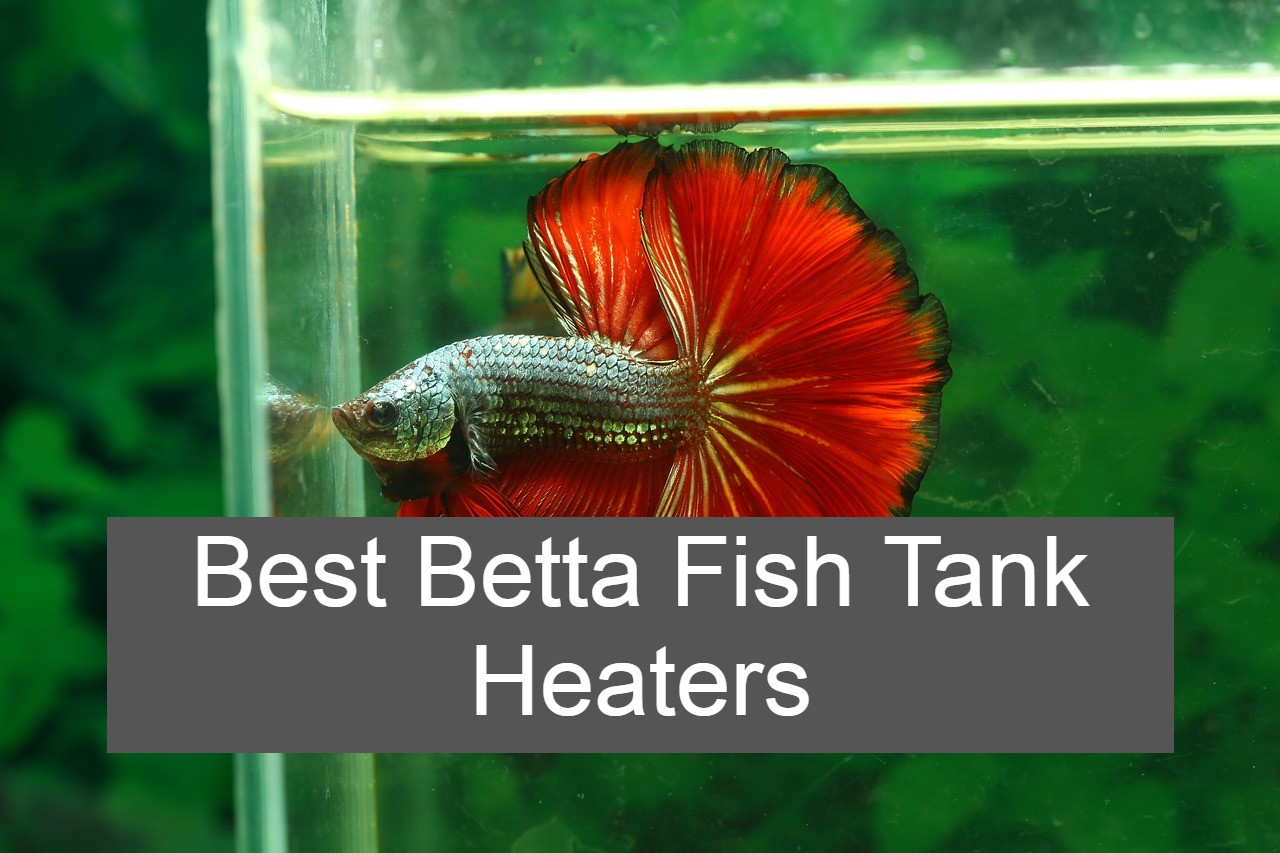 You've seen the beautiful fish sitting in cups at local markets. They are seemingly easy to care for and are typically seen as decorations in a bowl. Simple to care for, they only feed once per day and provide beauty with their majestic fins flowing in the water.
What you may not know is that Betta fish are tropical fish. They come from South East Asia. When caring for your fish you must understand what they need, properly cared for Bettas can live up to four years!
These fish need room to swim and temperatures between 74-82 degrees to thrive. Bettas do not belong in bowls. They need a small tank with a tank heater. There are so many heating options out there, we've done all the research so that you can make the best choice for your water-bound friend.
Betta Fish Tank Heater Reviews
This Titanium heater made by Hygger comes with an external digital thermostat for temperature control and monitoring. The titanium housing is anti-rust and sturdy.
This tank heater is designed for versatility. The unique titanium housing means it can be used in fresh and saltwater. Perfect for a 5-gallon tank, this heater is fully submersible and compact. The external temperature control will help you to keep your Betta Fish happy at 74 degrees Fahrenheit.
The automatic control option sets the perfect temperature for the water. The heating Indicator Light will be illuminated while the heater is on and shut-off once the proper temperature has been reached.
Setup is easy! All you need to do is place the heater horizontally using the included suction cups and set the appropriate temperature. The durable tube prevents cracking that can cause harm to your aquarium or you fish.
Pros 
This heater is versatile. Whether you want saltwater fish or you're sticking with Bettas, you can use the same heater.
The temperature options range from 32-104 degrees Fahrenheit. As you may have to adjust the temperature to environmental conditions you will have a lot of flexibility with this one.
There is a separate thermometer to monitor the conditions. You can also ensure it is working by checking the Indicator Light on the thermostat.
Cons 
This tank heater is fully submersible but only in a horizontal position and cannot be buried. If you're particular about your tank setup, this may cause difficulty in establishing your desired look.
If you have a tank that is plastic or acrylic you cannot use this heater. Due to the titanium housing, you will have to stick with an aquarium made of glass.
Made by Freesea, this is a 25-Watt unit made for 1-5 gallon tanks. Running on 110 V power, it is a powerful little heater to ensure your little guy is warm on cold nights.
This device is 100% submersible. The heater can be placed horizontally or vertically allowing you the freedom to customize your tank. The heater also includes suction cups for secure placement.
You'll love the automatic shut-off function that prevents overheating. This heater will stop heating if the tank gets above your pre-set temperature. You will know when it is heating thanks to an indicator light on the housing. Freesea provides a free diving thermometer with every heater to ensure you're able to monitor the water temperature.
Temperature options range from 63-93 degrees. For Betta fish, the proper temperature is 82 degrees. Adjustable thermostat with numbers on top of the heater. 6.8 inches.
Pros
Freesea provides a 12-month warranty and 24-hour customer service.
The ability to move the heater around the tank means that you have more flexibility and control over the aesthetics in your aquarium.
The free diving thermometer will help you to monitor water conditions keeping your fish safe and happy.
Cons
This heater must be fully submerged at all operating times to prevent malfunctions.
The temperature control is located at the top of the cylinder housing meaning it will be in the water.
This 25W tank heater made by ZEETOON has a temperature range of 73-82 degrees Fahrenheit. Ideal for tanks under 5 gallons it is the perfect size for Betta aquariums. ZEETOON provides a temperature sticker for the safe monitoring of your pet's water.
A key feature of this heater is that it is fully submersible and compact. This means that you can still customize your tank by placing the heater in places that may be less visible. As long as the heater is fully submerged it will continue to work properly.
The auto shut-off function helps to prevent overheating. Once your tank has reached the desired temperature, the heater will automatically shut off. It will come back on when the temperature gets lower than 73 degrees.
The heat resistant housing made of alumina ceramic means it is anti-explosion and prevents cracking. This is important to the safety of your fish and you! With less worry about having a damaged heater in your tank, you can enjoy your fish more!
Pros
ZOOTOON provides a 1-year warranty if something happens to the device.
It is fully submersible so placement in different types of tanks won't be an issue.
The plastic housing means it is safe for any tank material (glass, acrylic or plastic).
Cons
This fully submersible heater does have a dry burning risk if not completely submerged.
The 3.5-foot cord may make it difficult for you to place the tank too far away from a power outlet.
You will not be able to change the temperature manually, it will provide heat between a pre-set range.
This is a 20W tank heater made by BOEESPAT. The Boeespat Aquarium Heater is preset to a 77-82 degrees temperature setting. This heater is made for tanks that are 2 gallons or smaller.
Encased in plastic, the ceramic heating plate is protected from breaks and cracks. Running on only 12V rather than the standard 110V it is a safer more energy-efficient alternative to other heaters.
The small design and fully submersible housing mean it will be easier for you to hide in your aquarium. The suction cups that come with the heater allow you to place it on the side of the tank either horizontally or vertically.
Keeping the water in a comfortable temperature range for your pet, the heater will disengage when the temperature is at 82 degrees. It will then turn back on if the temperature drops below 72 degrees. With the shut-off function and LED indicator light, you won't have to worry about the temperature in your tank.
Pros
The compact size of this heater is 4″, you can place it in smaller tanks without overcrowding your fin-clad friend.
Easy-to-use, just place in tank and plugin.
The company provides a 12-month warranty, if something happens you can get a replacement.
Cons
If you're using a tank that is more than 2 gallons this heater will not be adequate.
If the water level becomes too low you risk dry burning and damaging your heater.
IOAOI is the company that made this 50W heater out of sturdy stainless steel surrounded. Having mo glass components, this heater is fully submersible and shatter-proof.
This heater has a temperature range of 68-88-degrees Fahrenheit and works great for tanks that are five to twenty gallons in size. Although Bettas are often in smaller tanks, this is a great option if you've decided to give your fish a little more room to swim.
With an adjustable knob on top of the heater, you control the temperature. The LED light will be illuminated when heating and shut off automatically once it reaches the desired temperature.
To operate properly, this heater must be fully submerged. You can place in at the bottom of your tank completely covered in water or use suction customer to adhere it to the side of your aquarium. Just don't tilt this fish tank heater as it will not operate if the bottom is higher than the top.
This is another heater that can be used in freshwater and saltwater. The eight-inch cylinder is rust-proof and versatile.
Pros
IOAOI has attached this to a 6-foot cord, longer than many options you can move the tank further from outlets.
With that absence of glass components, you may see a longer-lasting heater that can be used for saltwater fish at a later time.
The higher wattage means that your tank will heat up faster and maintain it's desired temperature.
Cons
As you can only place the device in a vertical or horizontal position, you may find it difficult to hide.
This does not come with any type of temperature gauge included meaning you will have to purchase one separately.
The Uniclife 25-Watt heater is designed for tanks up to 5 gallons. It is fully submersible and maintains a temperature between 68-93 degrees Fahrenheit.
With three suction cups included, you have can secure it horizontally or vertically to the side of your tank. Be careful not to allow the heater to operate outside of the water as it can cause damage to the components.
The thick quartz encasing provides heat while ensuring that your fish is safe. It is designed to prevent any electricity from escaping into the water or burning your fish.
Place the cylindrical device against the glass and set the temperature with the turn nob on the top. If you'd like to monitor it, the easy-to-read gauge is displayed in the housing. The Heat Indicator Light will let you know if it turns off to maintain temperature.
Pros
Auto-shutoff functionality will let you leave it and forget it.
The 1-year warranty will afford you a replacement should something happen to your product.
The red indicator light will let you know if the device is working properly and heating to proper temperatures.
Cons
This heater is 8.2 inches and may be too big for small tanks.
When the device is completely underwater, the temperature controls will also be underwater.
The Sukeen aquarium heater is available at 50-300 Watts. To keep your Betta happy and healthy, you'll want to get the 50W which is appropriate for tanks that are 3-10-gallons. This heater runs off of 110V electricity and plugs into a standard outlet.
The temperature setting allows you to choose between 68 and 94 degrees Fahrenheit. Once the right temperature is set, you can monitor with the included digital thermostat.
This heater is fully submersible and made with Explosion-Proof Glass. It will also heat your tank quickly and maintain the temperature that you've set. The red LED indicator will glow when the heater is operating and shut off when it is in rest mode.
You'll want to be sure to fully submerge this heater as it will not operate properly outside of water. You can place it in the tank vertically or horizontally as long as it isn't buried.
Pros
SUKEEN includes a separate digital thermometer for safe monitoring. The 6.6-foot cord is one of the longest on the market allowing for flexibility in placement to showcase your swimming critter.
Easy-to-use and install.
Cons
At 9 inches in height, this heater may not fit in all tanks.
A 50W heater is not recommended for tanks under 3 gallons, if you have a small tank you may want to find another, more appropriate heater.
The Vibirit Aquarium heater will keep your betta comfortable with a temperature setting of 75-82 degrees. You won't have to set this heater. Just plug it in and go. It is energy efficient and will shut off automatically if the temperature goes above 82 Degrees.
This 25W heater is fully encased in plastic meaning you will have less risk of accidental damage. The plastic makes it anti-explosive and anti-scalding protecting your fish.
The small 5.35-inch housing is attached to the walls of the aquarium either horizontally or vertically. The heater must be fully submerged at all times to prevent it from malfunctioning.
The Indicator Light will turn off when the heater stops heating. This happens when the temperature reaches +/- 1 degree of 82 degrees.
Pros
This 5.35-inch unit is more compact than other models.
The temperature controller has memory function if powered down you don't have to reset it.
Cons
VIBIRIT provides a free thermometer sticker with each heater, you may need to purchase another one that works better.
This heater has a Shorter power cord than some models, meaning it will have to be placed by an outlet to function.
With this Orlushy aquarium heater, you can adjust the 65-93-degree temperature setting with the controls on the cord. This means you won't have to put your hands in the water to adjust the warmth.
The LED Digital Display is a thermometer and thermostat in one making more room in your small Betta tank. It also includes a red-light indicator letting you know when it's heating.
Unlike many other heaters, this one is medallion shaped rather than cylindrical. It can be placed in any tank material from plastic to glass. At 50W, it is perfect for a tank that is 3-10 gallons in size. It comes with 2 suction cups to attach to the side of the tank.
The low-profile enclosure allows you to place it anywhere in the tank as long as it isn't buried and doesn't go above the water level.
Pros
The 12-month warranty that comes with the heater means you won't be out money if your device fails.
This unit comes with a 5-foot cord, slightly longer than other heaters.
The Orlushy unit is a thermometer and heating unit combined.
Cons
Like many heaters, this one cannot be operated out of water.
You'll want to be particular about placement, fins may get caught in the grated design.
This heater made by the well-known company Aqueon has a unique feature. The Thermal shut-off function will work one time to ensure that your fish are not damaged if the water line gets too low.
This mini heater is 4 inches long, one of the most compact heaters available, perfect for small tanks. Rated at 10W it is perfect for tanks up to 5 gallons.
With a plastic casing, this heater is shatterproof. It is specifically designed for Betta fish. This super-compact heater will fit in the smallest of Betta tanks.
Maintaining a temperature of 71-82 degrees, the temperature will be accurate within a +/-1 degree. Your fish will be happy in a tank with constant temperatures.
Pros
This heater is great for smaller tanks, giving you more options for placement.
It will shut-off automatically if it is out of water.
The plastic casing means you will have less risk of damage to your unit, and your fish.
Cons
There is no thermostat to control the temperature.
It only comes with a 90-day warranty, whereas many other options come with a full 1-year.
How to Select a Betta Tank Heater?
When you go on any website to shop for tank heaters you may become overwhelmed with so many purchasing options. Each one has a description that explains how it will work for you. But let's be honest, we all want the best for our little swimming companion.
The size of your tank is an important factor in purchasing. Is your little guy in a 5 gallon? Maybe a 2.5-gallon tank? The varying wattage to the recommended tank size is important when deciding. For most, a 50-watt heater is perfect for a small tank.
Do you want to set it and leave it? Or, would you like to control the temperature? If you'd like to control the temperature, make sure you find one with an "adjustable" setting. Read the FAQs before buying to understand what you can do with it.
Fish can be incredibly sensitive to changes in temperature. Look for a heater that has a variance of one-degree Fahrenheit or less. To ensure it is working properly, many have an LED light to show you when it is on and working.
Does it have a thermostat? You'd like to monitor the temperature of the tank. If the water gets too hot or too cold your fish may get sick. If the heater you buy has a sticker thermometer or none at all, you may want to purchase one to go with it.
How to Use a Betta Tank Heater?
When buying your heater, you'll need to understand how it works. How do you set it up? How do you make sure that it doesn't harm your pet and that it lasts a while?
Each product has instructions for proper installation and use. The majority of these require that when you put the heater in the water it is fully submerged before plugging in. If this is not done, you may damage the heater. A heater that is not properly installed may malfunction harming your Betta fish.
If your heater comes with an adjustable thermostat be sure to read the instructions thoroughly. If the thermostat is not set to the proper temperature you will have problems. If the heater has a pre-set temperature, ensure that it is right for your Betta.
Before buying, check to see if it can be placed vertically, horizontally, buried, or suction-cupped to the side of your tank. Depending on the manufacturer's specifications, the tank heater will need to be properly installed to avoid problems.
An improperly installed tank heater may lead to disaster. Before inserting in the water, ensure that there are no broken or damaged components. A crack or chip in the heater can be fatal to your fish.
Types of Betta Tank Heaters
Purchasing the right tank heater may be a little overwhelming. You will see different shapes, sizes, and features when shopping. The important thing is to understand the needs of your fish based on the tank they already have.
Immersible heaters usually hang on the side of the fish tank. These heaters are made with a glass cylinder designed to provide heat to your swimming buddy. On these, you will see a line marked that the water shouldn't go above.
Submersible heaters are those that can be fully submerged. These usually come in the shape of a tube and provide you with more flexibility of where you can place it in the tank. Submersible heaters come are made using various materials, they are usually encased in some sort of plastic. Some of these submersible heaters have a temperature control attached to the housing, whereas others have an external temperature control. The external temperature controls mean you won't have to put your hands in the water to set the thermostat.
Most Betta tank heaters will be immersible or submersible. There are also Substrate heaters and filter heaters. Substrate heaters can be buried in the gravel, these are used mostly for plant-based aquariums. Filter heaters are usually too high in wattage for a small tank but will condense your filter and heater into one, meaning more space in your tank.
Care to Take When Using A Tank Heater
It is vital to the success and safety of your tank to follow the manufacturer's instructions before using each heater. Each one has different features and made of materials that react in different ways. If you're using a heater made of glass, you'll want to take care and inspect it regularly for any defects and a broken heater could create a toxic environment in your tank.
Cleaning your heater regularly is part of keeping it safe and operational. You'll need to understand how to properly remove any sediment or build-up. Manufacturer's include this information in the box when you purchase it. Ensuring that there is not an excess buildup on the heater will ensure that it heats better and lasts longer.
For some heaters, it will damage the components to take it out of water while operational. This is called "Dry Burning." Others need to be cooled before coming out of the water. When you first get a new heater, use the it in another container for a few days and monitor the temperature to ensure it working properly before putting it with your fish.
Use a thermometer to monitor the tank. Many come with free digital thermometers while others have a digital thermometer on the unit itself. When using a tank heater, you should always place it on the opposite side of the tank. This ensures an accurate temperature recording of the water.
Conclusion
Betta Fish are tropical meaning they must have warmer waters to swim in. They also live a freshwater, shallow lifestyle. Choosing the perfect tank and heater combination are imperative to the survival and well-being of your fish. Water that is too cold will result in a lethargic fish that won't provide the full extent of its beauty for your viewing pleasure.
While exploring your options for the perfect Betta tank heater you'll want to be mindful of the safety risks and key features. Understanding the size, wattage, and placement options of each heater will ensure you get to enjoy your tank for a long time. It is never too late to add a heater to your tank!
Feel free to comment with your own experience! Have other questions? We're happy to help! Comment below!