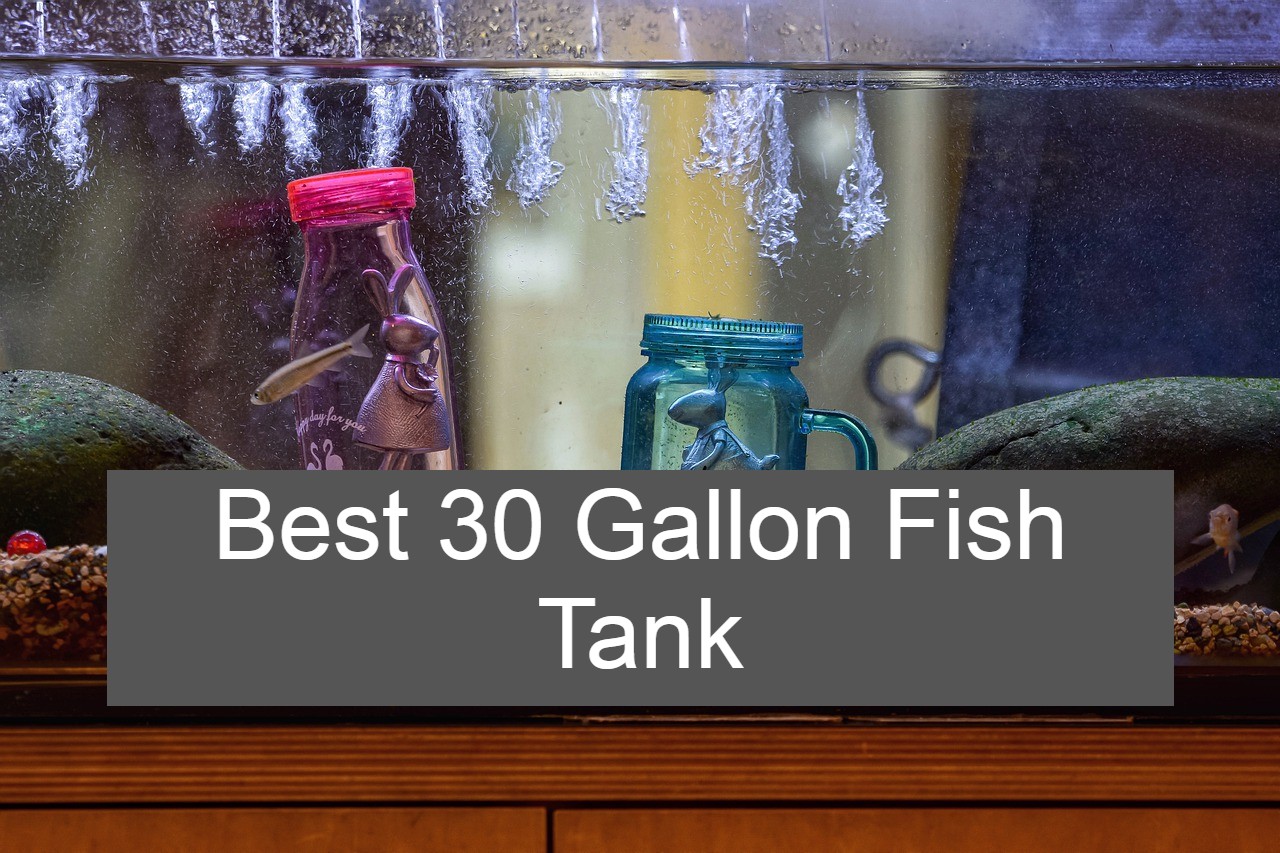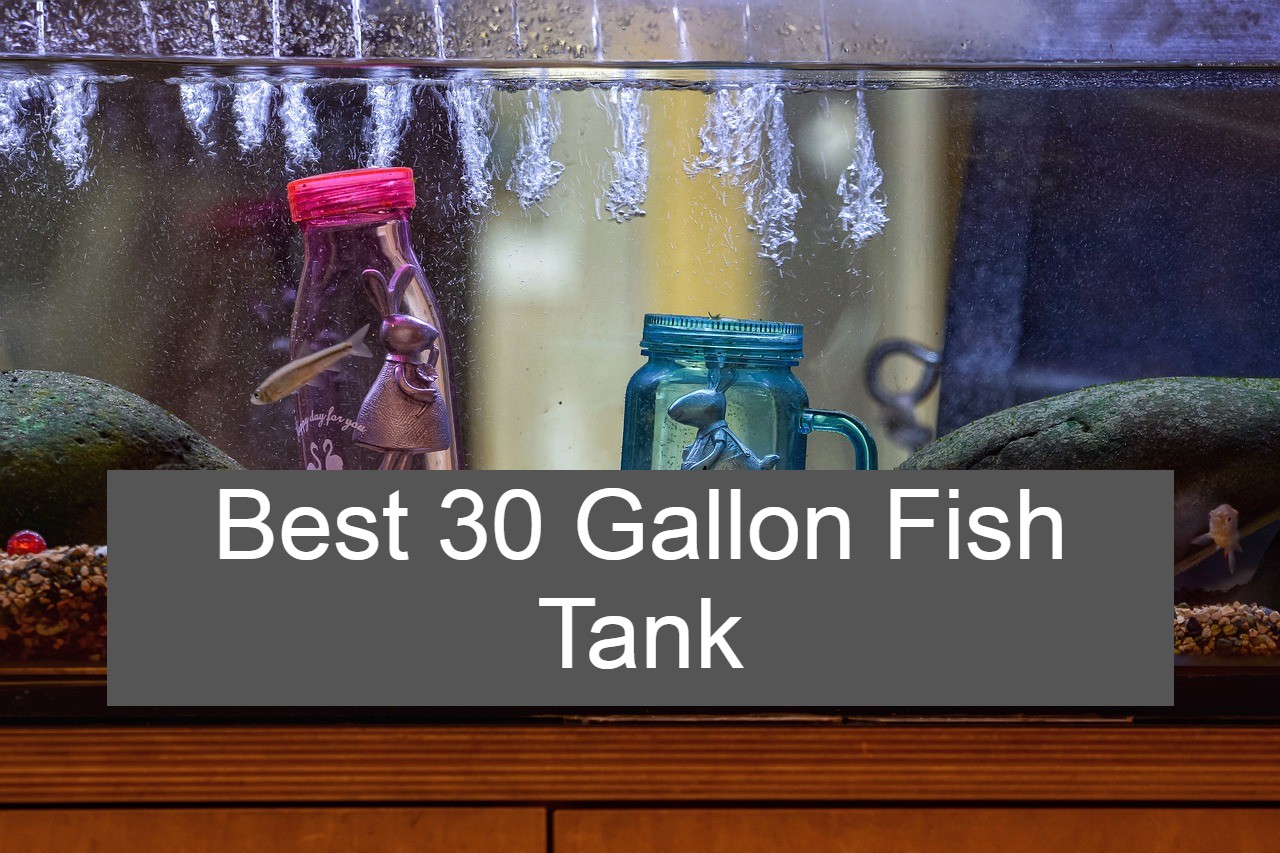 If you are looking for an upgrade to your tiny fish tank, but don't want to go too big, a 30-gallon fish tank might be the perfect option for you. The benefit of choosing this size fish tank is that you can home a ton of aquatic life without taking up too much space.
However, with all of the different types of fish tanks out there, it can seem quite overwhelming to choose the one that fits your needs the best. If you are struggling to find the tank that meets all of the factors you're looking for, you have come to the right place.
Here is my top ten list of the best 30-gallon fish tanks on the market right now.
30 Gallon Fish Tank Reviews
This tank is made of acrylic instead of glass, meaning it is much stronger and safer. With acrylic tanks, the material allows a much clearer view of your fish rather than glass. It is safe for both freshwater and saltwater fish.
Acrylic tanks weigh about half as much as glass tanks, so it will be less of a hassle to move it within your home. Also, you won't need to worry about the supportive base underneath it since the tank will not be as heavy as a glass one would be.
Since it is made of acrylic material, it is less prone to cracking or breakage. This tank prevents the material warping once it is filled with water, but some bowing overtime was reported.
This tank comes with a light fixture to illuminate the tank, making your fish much easier to see. It also comes with a reflector.
Pros:
Made from acrylic material
A clearer view of the fish
Perfect for saltwater and freshwater fish
Cons:
No light bulb is included with the light fixture
Possible bowing of material overtime
This fish tank is perfect for beginners because all of the parts are included. It calls for an easy setup, and you will not have to buy the necessary products separately. It all comes with the kit.
It comes with a built-in filtration system, which provides silent filtration and cleaner water. The cartridge changes are made easy with premade cutouts. It also comes with a hood to go over the tank. The hood has an opening at the top so that you can feed your fish without having to remove the hood completely.
An LED light fixture is included with the tank which is energy efficient and made to mimic natural sunlight. It allows for a better view of your fish and adds a nice touch to the aesthetic of the fish tank as a whole. If desired, there is a fish tank stand that is meant to hold this specific tank if you don't have something to place this on already.
Pros:
Easy installation since everything comes in the kit
Built-in filtration system
Easy cartridge changes
Cons:
The material of the tank is glass, so it will be heavier. A sturdier supporting surface for the tank to be placed on is necessary
The hood included with the tank is flimsy and low-quality
This tank is definitely suited for those looking for an aesthetically pleasing edge for their fish tank. The black trimming and cubic shape make for a perfect piece in your home.
It is made of high-quality glass material that prevents against scratches or cracking. Also, it supposedly prevents any distortion or warping, unlike a lot of glass tanks on the market.
It comes with a glass canopy to go over the tank. The canopy matches the tank's aesthetic, so it does not appear flimsy or low quality as most hoods or canopies often do.
The thickness of the glass used for this tank makes it less clear to see your fish and harder to clean. However, this is only because of how thick and strong the glass is. If you are set on buying a glass tank but are worried about it distorting, this is the tank for you.
Pros:
Good aesthetic
Made from strong, thick glass material
Comes with matching canopy
Cons:
Does not come with extra features, so you must buy other products separately (like a filtration system)
Since it is made from glass, it will likely be a heavier tank
This tank is made from glass material, so it is naturally going to be less clear and heavier than an acrylic material. This means a sturdy supporting base is absolutely necessary to hold the weight of this tank.
One of the best aspects of this tank is its aesthetically pleasing touch. The espresso-colored trimming is perfect for any room. The contemporary design can also be amplified by purchasing a cabinet for underneath it that is specifically designed to match and support this specific tank.
Another great thing about this aquarium is that is easy to install and maintain. It comes with a one-touch filtration system that is incredibly easy to use, making this tank perfect for people who might not have as much time to keep up with tank maintenance.
Features included with this tank are a tank cover, a filtration system, a filter cartridge, a waste collection bucket, water conditioner, a submersible heater, and an LED lighting system. Because of all of these things included, you won't need to buy things separately.
Pros:
Aesthetically pleasing with trimming and optional matching cabinet
Easy installation
Easy to clean and maintain
Comes with everything you need
Cons:
Possible leakage
Glass material means a much heavier tank
This tank is another one that is perfect for people who are looking for something with an aesthetic appearance. Its sleek and rounded design is perfect for any room. It has a hinged hood to it which makes it incredibly easy to feed your fish without any hassle.
A unique feature that comes with this tank is its LED lighting system. Unlike most fish tanks, it comes with multiple lighting settings such as bright white and sparkling blue. It also comes with lighting options for sunrise and sunset.
It comes with a built-in filtration system, so you will not have to purchase one separately. The filter is easy to set up and maintain with easy cartridge changes.
Other features that are included with the tank include a submersible pump an adjustable nozzle, so you won't have to buy these items separately either.
Pros:
Aesthetically pleasing
Versatile LED lighting system
Built-in filtration system
Cons:
Have to clean often as the glass seems to get foggy or cloudy sometimes
Possible bowing of the glass
This glass fish tank comes with features such as a built-in filtration system, fluorescent lighting, a submersible heater, a fishnet, and more. It is perfect for people who are looking for a tank that comes with all of the essentials already included, so you won't need to buy them separately.
This tank features a new and improved hood to the tank. The hood is much stronger than others making it easier to handle. Also, it makes for easy feeding without it feeling flimsy.
The glass material is heavier and less clear than acrylic material, so it will likely be not as easy to clean. You'll probably need to clean it often to keep the glass looking clear so you can have a better view of your aquatic life.
One problem is that the filter doesn't stand up to more powerful and durable filters out there. The tank is really durable, but you may need to buy another filter that is a bit more high-quality.
Pros:
Included features such as a hood, lighting fixture, and a filtration system
The new and improved hood allows for easy feeding
Durable material of glass
Easy installation
Cons:
Difficult to clean
The filter that is included isn't high-quality
This fish tank is made from high-quality glass material. Even though it is made from glass, the material is pretty durable and strong for the most part. The only risk you take with this tank is the glass cracking or bowing.
The top and bottom are curated with a molded frame built specifically to support the weight of the fish tank since it is made from heavy glass. Also, the frame makes for an aesthetically pleasing touch to the look of it, so it will look good in any room.
Another feature is its diamond polished edges and black silicone which is beneficial for both aesthetics and safety/durability.
Something important to take note of is that it doesn't come with any of the necessary items needed to run the fish tank. For example, you will need to buy things such as a filtration system, filter cartridges, and a lighting fixture separately.
Pros:
Made from durable and strong glass
Black silicone framing is beneficial for both safety and aesthetics
Framing allows for maximum support for the weight of the tank
Cons:
Doesn't come with any extra features such as a filtration system
Risks breakage, cracking, or bowing of glass
This is a pentagon-shaped fish tank that is designed to look like a tower. It is made from acrylic so it is much stronger and safer than glass. Also, it is less than half the weight of glass making for easy installation and it is easy to move around.
You won't need to buy much separately because this kit comes with lighting, a built-in filtration system, a pump, and even decorative plants. The top and bottom of the tank are made from black acrylic. The aesthetic design of this tank and the included plants make it a beautiful tank to place in any room.
The tower design allows for a 360 view of your aquatic life, which is a larger surface area than any other fish tank. Also, the tower design is good if you don't have a lot a big room to put it in as it takes up much less floor space.
Pros:
Pentagon-shaped tower design is unique and aesthetically pleasing to look at
Comes with a built-in filtration system
Requires minimal floor space
Better and brighter view of aquatic life
Cons:
Difficult to clean
Better for freshwater than saltwater fish
This aquarium is an excellent choice for those looking for a durable and high-quality fish tank that also has an aesthetically pleasing edge. The high-quality material allows for both saltwater and freshwater applications to be used in this tank.
It is made from a glass material meaning it's going to be very heavy, so a sturdy and durable supportive surface to put underneath is absolutely necessary. However, it does come with a foam mat that helps to support the tank and also the fish tank stand.
The frameless aquarium has the appearance of taking up less space while also giving you a much better view of your fish. The edges of the tank are seamless and polished for a modern look to it.
Something important to note is that all other necessary items to maintain your fish tank will be sold separately.
Pros:
Used for both saltwater and freshwater applications
Comes with a foam mat that protects the aquarium stand and the fish tank itself
Aesthetically pleasing because there is no frame
Cons:
Possible breaking, cracking, or bowing of glass
SeaClear is one of the most reputable brands of fish tanks and aquariums within this industry, so you know you'll be getting a high-quality tank from this company. It is made from acrylic material, so it is going to be stronger and safer than glass tanks while weighing half as much.
It comes with an excellent built-in filter for wet/dry biological filtration which is located in the back of the aquarium. It also includes features such as a full hood that allows for easy feeding, a light fixture to illuminate the tank, and an air-injected nozzle to make cleaning the tank quick and easy. The tank also comes with space for a heater to be installed, but does not include the actual heater.
The acrylic material will allow for your aquatic life to appear much brighter and colorful because the acrylic is so much clearer than glass. Also, it is much easier to clean and maintain.
Pros:
Acrylic material is stronger, safer, and clearer than glass
Comes with a built-in filtration system
Easy to clean and maintain
Cons:
Filter isn't effective for people needing a lower flow-rate
Possible leakage
Features of 30-Gallon Fish Tank
If you are on the hunt for a 30-gallon fish tank, it is important that you know the different factors that vary between each product. This will ensure that you find the perfect choice that meets all of your expectations and priorities.
Material: Fish tanks are most commonly made of either glass or acrylic. Glass usually will not have discoloration over time and it is almost scratch-resistant, while acrylic aquariums are less heavy, more sturdy, and they have better visual clarity. In general, fish tank owners would rather an acrylic tank as the pros far outweigh the pros of a glass tank.
Shape: Most fish tanks come in a rectangular, box-shaped tank. However, some other shapes include cubes, cylinders, and hexagons. The great thing about the rectangular, box-shaped tank is that it is compatible with other aquarium features such as filters, UV sterilizers, other types of lights, and decorations. The great thing about the other shaped tanks is that they add a visual edge that looks aesthetically pleasing to the eye compared to a normal shaped tank.
Filters: Some tanks come with built-in filters and some do not. Usually built-in filters come with smaller sized tanks, but there are some that occasionally come with 30-gallon sized tanks. The benefit of a built-in filter is that you won't need to buy one separately. However, it is important to note that the filters that come pre-installed with the tank sometimes are not the best quality. If having an excellent filter is your top priority, purchasing a filter on the side is your best option.
How to Maintain a 30-Gallon Fish Tank
The best thing to make sure you are maintaining a healthy environment in your tank is having a good filtration system. A good filter is going to cleanse your water from any excess food and waste and convert harmful bacteria to beneficial bacteria.
It is important that you do weekly or biweekly water changes in order to maintain the water. This will also help to make the water appear less water. You should be cleaning approximately 20% of the water every week or two, but some fish owners prefer to change out a larger amount.
A feature that is great for maintaining your fish tank is purchasing a UV sterilizer which goes the extra mile further than only a filter. The UV light penetrates any toxins or viruses. This ensures a cleaner tank and longevity of your aquatic life.
The number of fish also affects how you maintain your fish tank. The larger the amount of fish, the more you will need to clean the tank. This is due to the fact that more fish produce more waste to infect the tank. Another thing to consider is the type of fish you have. This is because different species of fish produce different amounts of waste. For example, goldfish tend to produce more waste and bettas tend to produce less waste.
Another important factor in maintaining your tank is by making sure it is at the proper temperature. This can be accomplished through having an aquarium thermometer. This is going to monitor your water temperature, and it will alert you if your water is at a dangerous temperature.
Benefits of Having a 30-Gallon Fish Tank
A 30-gallon fish tank is the perfect size for a beginner. This is due to the fact that it isn't too big or too small. It is a great substitute for a 50-gallon aquarium. It requires less space and maintenance than a larger aquarium, but you can still have the freedom and creativity to hold a diverse selection of plants and aquatic life.
Another benefit of choosing a 30-gallon sized fish tank is that a lot of the tanks will come in kits. This is because smaller sized tanks often come in kits. These kits often include filters, heaters, lamps, decorations, and more.
A great thing about 30-gallon fish tanks is that they are able to serve many types of applications including freshwater, saltwater, and planted aquariums.
FAQ's for 30-Gallon Fish Tanks
What fish can be kept in a 30-gallon fish tank?
This size tank gives you a lot of freedom at choosing which types of fish you want to keep in it. Some fish to consider choosing include cichlids, tetras, catfish, rainbowfish, guppies, gouramies, rasboras, mollies, angelfish, and platies.
How many fish can be kept in a 30-gallon fish tank?
There is not an exact number of fish that can be kept in this size tank. It depends on the type of fish you have. Factors to include are the type of fish, how active the fish are, how much waste the fish produce, and how aggressive the fish are. However, as a general rule, you should stock 1 inch of aquatic life per 2-5 gallons of water.
How do I set up a 30-gallon fish tank?
Setting up a 30-gallon fish tank is fairly easy. You have to make sure that you have a sturdy surface to support the tank. Glass tanks are heavier than acrylic tanks which will guide you in selecting a supporting surface.
Is a filter necessary for a 30-gallon fish tank?
Yes. With this sized tank, a filtration system is absolutely necessary for maintaining a healthy environment for your tank. It almost would not be possible to clean everything effectively with just daily cleanings.
What features should I buy alongside the 30-gallon fish tank?
There are other products that are necessary or highly recommended for your fish tank because they are going to help it to maintain a healthy environment. These products can include a filter, a UV sterilizer, an aquarium thermometer, a heater, proper gravel, and an LED light.
Can I keep larger fish in this sized tank?
No, it is not recommended. Larger fish need a larger tank in order to grow and flourish. Restricting them to a smaller space could stunt their growth and even shorten their life span.
Now that you have seen just how many factors there are when choosing a fish tank, hopefully it is clear to you which aspects are important to you. There are so many tanks out there and it can sometimes get confusing which one to commit to. But whether you're looking for functionality, aesthetics, or affordability, there is definitely an option for you.