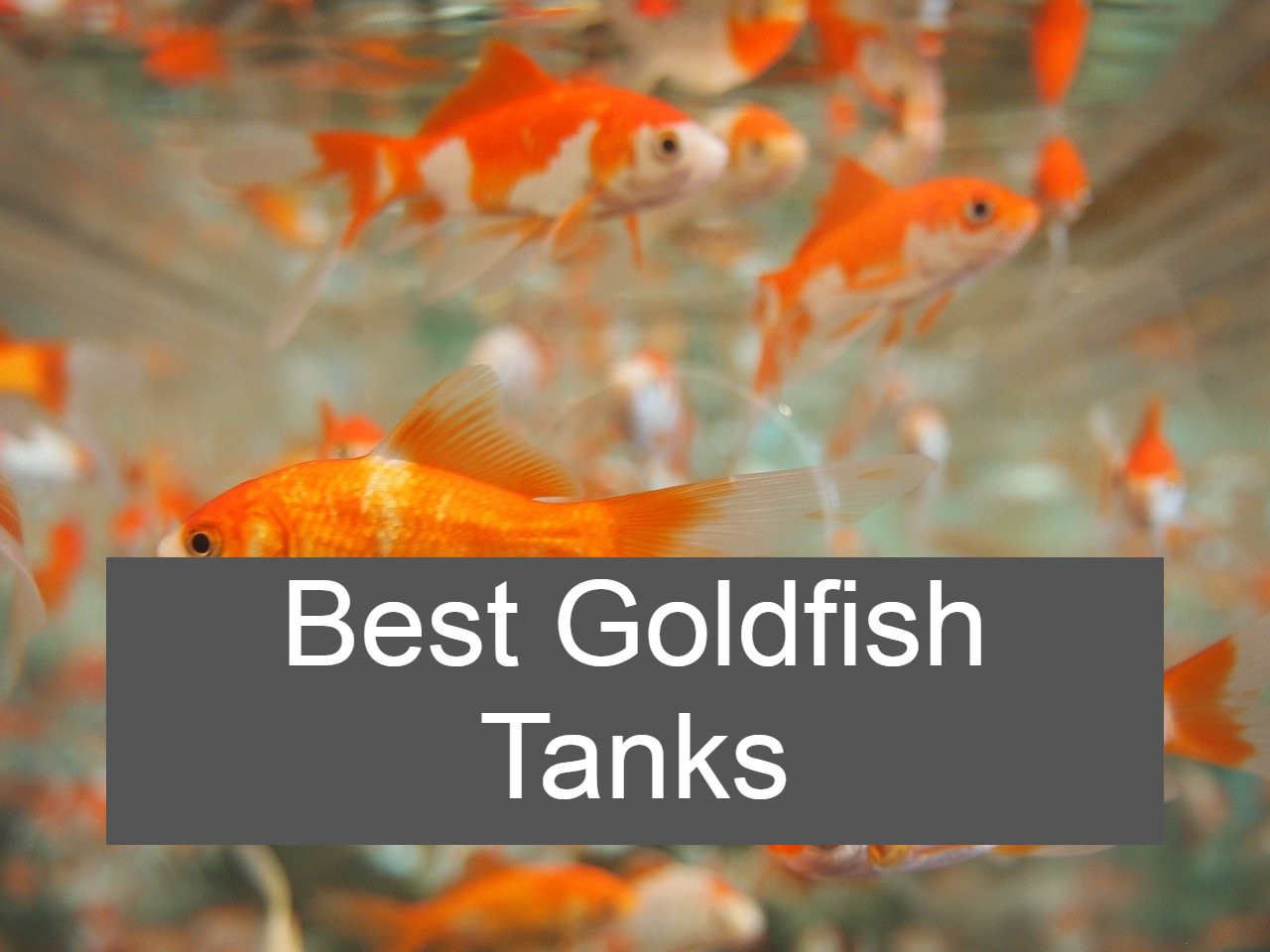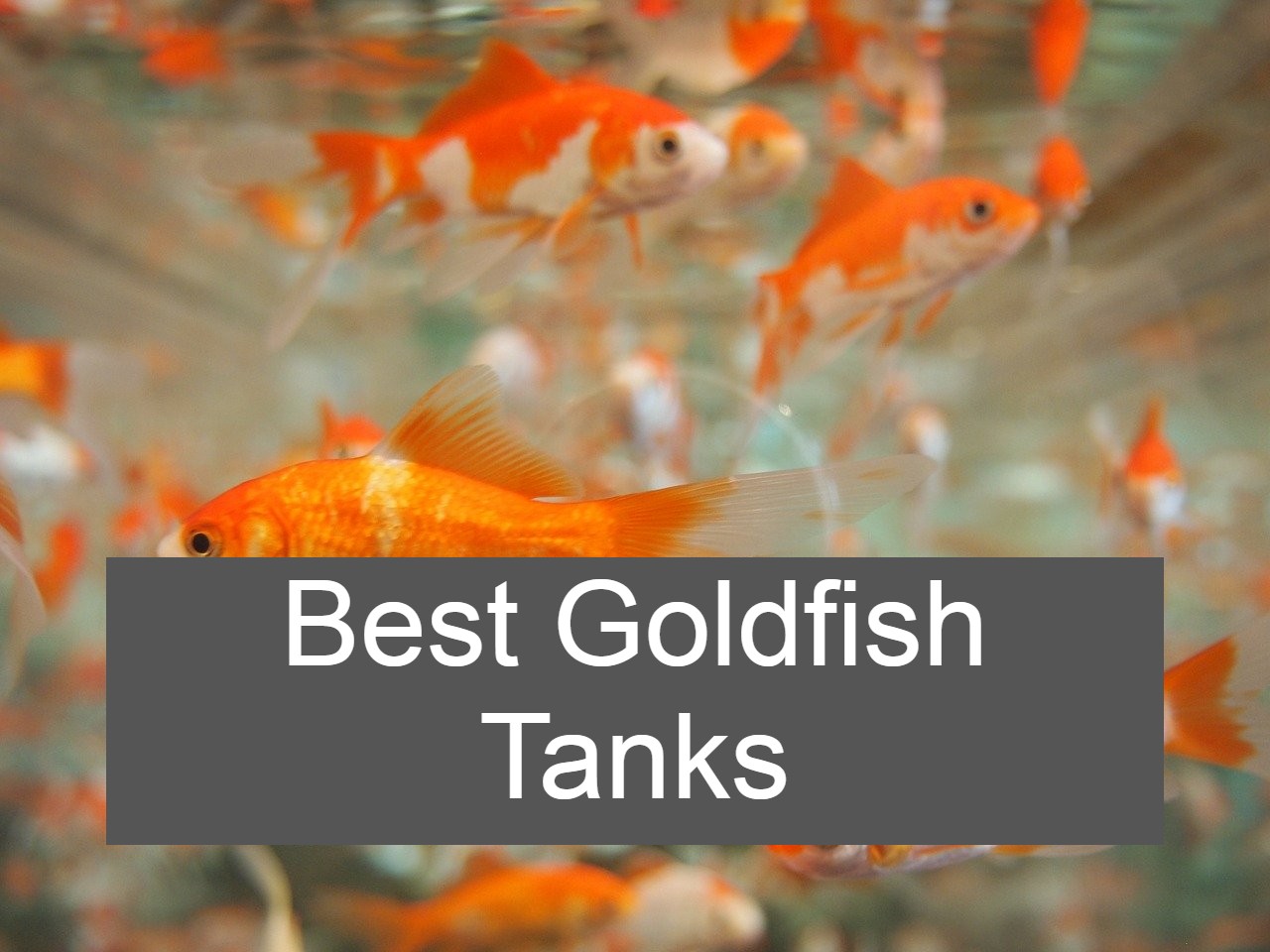 If you want to have a pet goldfish, one of the first things you are going to need is a tank to keep them in.
You are going to want to be sure to keep in mind what kind of goldfish you want to get. Some goldfish need larger tanks than others.
Also, some tanks come with extra features. They include filters, heaters, lights, and much more. Goldfish will be much more comfortable at warmer temperatures. If the water is too cold it can kill your fish!
A filter will also help you keep the tank clean. It will make it so you do not have to change the water as frequently. Filters also force water movement into the tank. This oxygenates the water. Which is also very good for your fish.
Continue reading for help choosing the best goldfish tank.
Goldfish Tank Reviews
Aqueous LED Minibow aquarium kit comes with a 2.5 gallon tank.
This tank includes a QuietFlow filter. A filter will help keep your tank clean and healthy.
It also includes LED lights in the hood of the tank. Your tank will be much more vibrant with lighting.
This small tank can fit on a desk. You can place this tank nearly anywhere.
Pros
Includes filter.
Has LED lights.
Sleek and small.
Cons
Too small for some breeds of goldfish.
Killer Products Panaview aquarium kit includes a five gallon fish tank.
This tank is made out of break resistant plastic. You will not have to worry about it cracking and leaking water everywhere.
It includes a hood that stays attached while cleaning. You do not have to completely remove the hood, the water will drip right back into the tank.
It includes LED lights that are multi colored. These fun LED lights are sure to make your aquarium more interesting.
Pros
Multi colored LED lights.
Break resistant plastic.
Easy maintenance hood.
Cons
Not big enough for some breeds of goldfish.
You plastic is more easily scratched.
The Aqueon Aquarium Fish Tank is a 20 gallon tank.
This tank is a large 20 gallons. It is much more suitable for all breeds of goldfish, as they tend to need more space.
This tank is made out of glass. It is unlikely to bend or be scratched over time.
The rectangular shape allows more surface area for oxygenation. Goldfish need plenty of oxygen.
Pros
Rectangle shape.
20 gallons.
Cons
Glass is more breakable.
Does not come with any accessories.
Tetra ColorFusion LED Half Moon Aquarium Kit comes with a 3 gallon fish tank.
This tank comes with color changing LED bubbles. These colors are fun, and the bubbles help give the fish much needed oxygen.
The half moon design gives you a 180 degree view. You will be able to see your goldfish much better.
This tank also includes a filter. You will be able to keep it clean and healthy.
Pros
Filter included.
Color changing LED bubbles.
180 degree views.
Acrylic is not as breakable.
Cons
Small tank.
Acrylic more prone to scratching.
The Tetra Waterfall Globe Kit comes with a 1.8 gallon fish tank.
This tank includes a filter that is also a waterfall. It is fun to look at, makes a relaxing noise, and keeps the tank cleaner.
LED lights are included in this kit. These lights will help you see your vibrant fish.
There is also an on/off switch. Easily turn the lights on and off at the touch of a button.
Pros
LED lights.
Relaxing noise.
Waterfall filter.
Cons
The Aqueon Fish Tank Aquarium is a kit that includes a sizeable 10 gallon aquarium.
This kit comes with a quiet filter. You can keep your aquarium clean without much noise.
There is a 10 gallon tank included. This tank is a great size for goldfish.
There is a net included. Nets help you catch your fish when needed. It also includes thermometer. This way you can check the temperature to make sure it is right for your fish.
Pros
Includes thermometer and net.
10 gallon tank.
Quiet filtration.
Cons
Heater is preset.
Breakable tank.
The Aqueon Princess Castle Aquarium Kit has a one half gallon tank included.
The included tank is acrylic. It will not break as easily as a glass tank.
Gravel and a plant are included. It is easy to begin decorating your fish tank.
The tank looks like a princess castle. This fun design is great for kids!
Pros
Princess themed.
Includes gravel and plant.
Cons
Very small tank.
No filter.
My Fun Fish Tank is a tank that had been advertised on television
This fish tank includes a built in water cleaning system. You are able to easily add water without stressing the fish.
The filtration system is battery powered. You do not have to use a power cord.
There are LED lights included. It is great to watch your tank with beautiful lights.
Pros
Built in cleaning system.
Battery powered.
LED lights included.
Cons
Very small.
Plastic is easily scratched.
Umbra FishHotel Unique Tank is a two gallon fish tank.
This fish tank is shaped like a hotel for fish. This interesting shape is visually appealing.
These tanks are stackable. If you choose more than one you can stack them for added effect.
The bowl inside can be removed to clean it. This makes it much easier to maintain a healthy environment for your fish.
Pros
Hotel shaped.
Removable inner bowl.
Cons
Very small.
Glass is breakable.
The Tetra Aquarium Fish Tank Kit includes a 20 gallon fish tank.
The 20 gallon tank has a lot of space for fish! The fish will be healthiest with more space.
There is a filter and heater included. You have what you need to get your tank started.
It also includes plants and gravel. You can begin decorating your fish tank as soon as you get it.
Pros
Lots of room.
Includes filter and heater.
Includes gravel and plants.
Cons
Takes up more space.
Glass aquarium is breakable.
Types of Goldfish Tanks
Mini: Some goldfish tanks are miniature. These tanks are meant to be able to fit in small spaces. They are not meant for fancy goldfish.
Acrylic: Acrylic tanks are a great option. They are not as fragile as glass tanks. You do not have to worry about accidentally rubbing off the seal while cleaning it. There is less concern about a very messy water leak.
Glass: Glass aquariums are able to hold their own weight and shape. They will not bend over time like acrylic tanks. Glass tanks are also resistant to scratching. They can also appear green sometimes.
Plastic: Some fish tanks are made out of plastic. These are particularly useful if you are concerned about the tank breaking. It is a good option for children. Plastic fish tanks are very unlikely to break. They are more prone to scratching than acrylic or glass.
Novelty: Novelty tanks have some sort of theme to them. These tanks are given fun shapes and decoration. They are very fun to look at. Some of them can be quite small, so if you choose a novelty tank be sure to put the right type of fish inside. Or be prepared to get a new tank for your fish as it grows larger.
How to Choose a Goldfish Tank
When choosing a goldfish tank there are several things to consider. First, is what kind of goldfish do you want? Some goldfish require more space than others. Fancy goldfish need at least 10 gallons of space. If you choose a small tank for a goldfish now, you might  need to upgrade to something bigger as your fish grows.
The next consideration is how much space do you have. You want to be sure to choose a tank that will fit in the space you want.
You will also want to decide what you want your tank to be made out of. Glass is scratch resistant, while acrylic is more shatter resistant.
How aesthetically pleasing do you want it? Do you want a novelty tank with a fun design. Do you want to enjoy watching your fish swim around in lights that are multiple colors? If the aquarium is meant for a child there are some great novelty tanks available.
Be sure to think about accessories. Your fish will need things like a heater, gravel, filter, lights, and plants.Do you want a kit that includes these things? Or would you like to choose them separately? If the kit includes these things you save yourself the hassle of finding them yourself. If you choose them separately you can better customize your aquarium to meet your needs.
Frequently Asked Questions
Do these lights have a black light effect? None of the lights included in these tanks have black lights. If you desire one you are going to have to choose one separately.
How much does it weigh when it is full? It depends on the tank. The 20 gallon tank, for example, will weigh around 200 pounds when full of water, gravel, fish, and more.
Can I use it for live plants? Yes, make sure you choose adequate substrate for the plant to grow in. And also be sure to use proper lighting, if not included, for your plants.
How often should I clean the tank? That depends on several factors. Some fish will excrete more than other fish. It depends on how big the tank is, as well as whether or not there is a filter. Smaller tanks with no filter will need water replaced frequently. Larger tanks with a filter can go much longer.
What is this tank made out of? The tanks on this list are either acrylic, plastic, or glass. There are benefits to each of them. Check the specifications of the tank to find out what it is made out of.
How to Use a Goldfish Tank
First you are going to rinse everything. Rinse the tank, gravel, filter, heater, and any decorations you are putting inside the tank. Rinsing your accessories helps remove any harmful chemicals, dust, and more from them.
Layer the gravel inside the tank. There should be roughly one to three inches of gravel on the bottom of your tank.
Next you are going to place your decorations. It is easiest to add decorations before you add the water. You will be able to easily place them exactly where you want them.
Then, add the water and water conditioner (if using some).
Let the water sit with the filter running for about one day.
When you purchase your fish let the bag float in the tank for at least 20 minutes. This will help the fish gradually reach the same temperature as the aquarium. If you do not do this, and the fish is not acclimated, it can harm or kill your fish.
Use a net to remove the fish from the bag, and place it in the aquarium.
Be sure not to add more than one or two fish at a time.
Watch this video to see the process of setting up a goldfish tank.
Conclusion
Choosing the best goldfish tank can be a daunting task. There are so many options. Some tanks are more fun and meant for children. Other tanks are bigger and are meant for people who want more fish. Or maybe just one bigger goldfish.
Hopefully this guide broke it down into something easy to understand, so you can get started with your new pet. When you find the right goldfish tank for you, go ahead and click on the link to purchase it!
Do you already have a goldfish tank that you love? Comment and share your opinion.