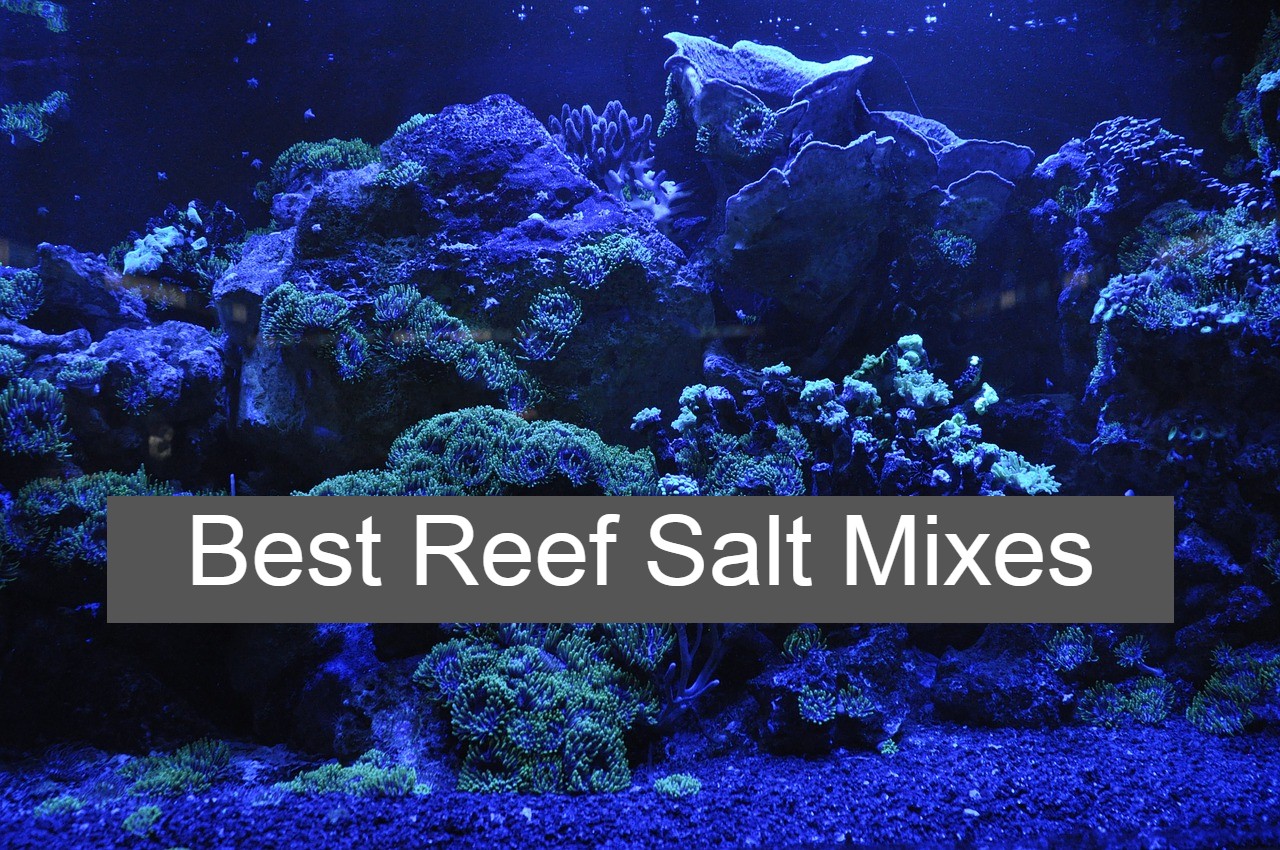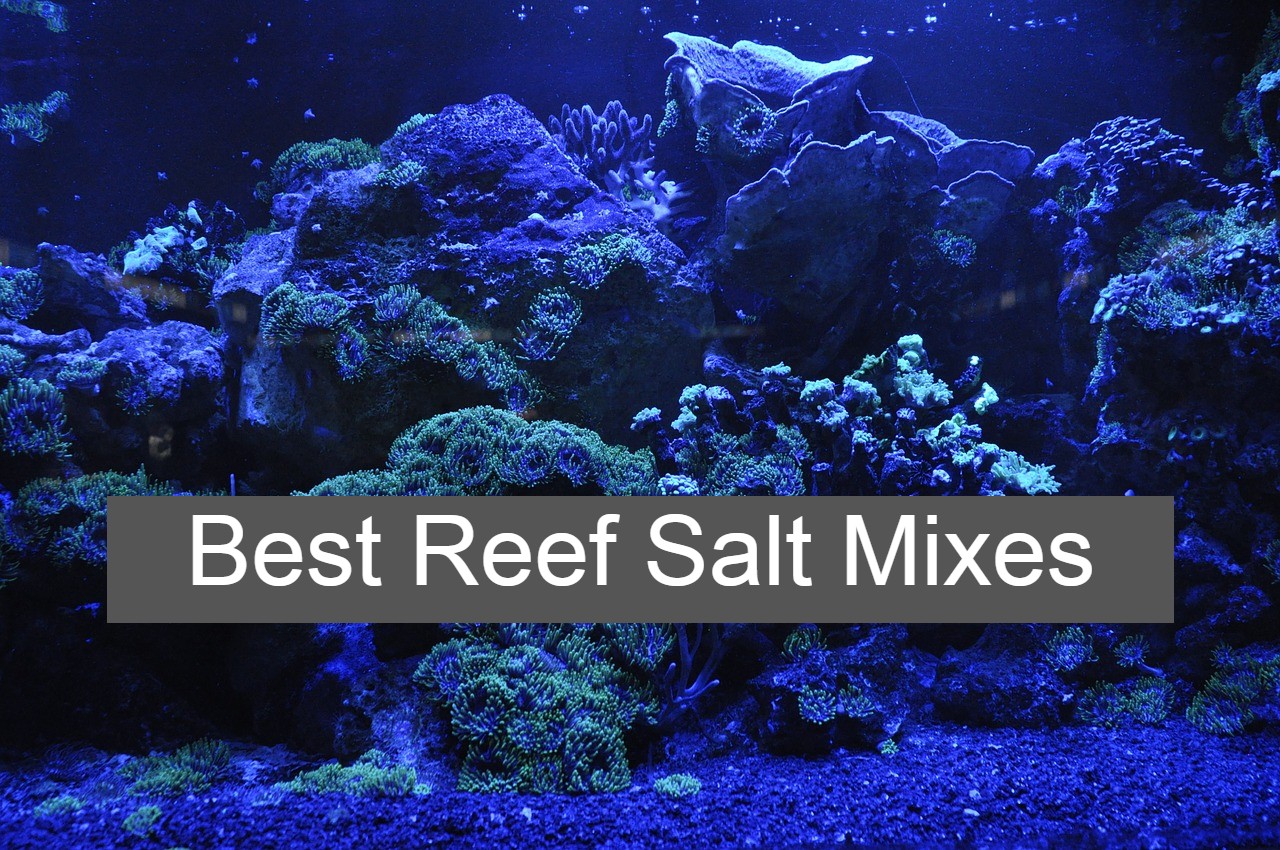 There is a lot of debate over which kind of salt mix is best for your saltwater aquarium. Ask different reef tank enthusiasts, and you will likely get a few different answers.
Reef salt mixes have a blend of salt, magnesium, chloride, calcium, and other trace elements that you would normally find in the ocean.
The kind of salt you should get does depend largely on what you have in your tank. If you have a lot of corals then you should choose a salt higher in carbonate and calcium.
Whether you are using synthetic salt or mined salt you have several different options.
Reef Salt Mixes Reviews
Instant Ocean reef salt is the leading choice of salt.
This brand of reef salt includes all of the major and minor trace elements for your aquarium. This means your fish and coral will get the nutrients they need.
Instant Ocean is nitrate and phosphate free. It contains no chemicals that could cause damage.
It is the most popular brand of reef salt for hobbyists and scientific facilities. You know that you are choosing a good one if it is used by scientists!
Pros
Most popular brand.
Nitrate and phosphate free.
Includes all major and minor trace elements for reefs.
Cons
Not all batches are the same.
Red Sea Fish Pharm salt for reefs is good for soft, LPS, and SPS coral.
This reef salt is particularly helpful for growing SPS coral. If that is the kind of coral you are growing in your tank this salt mix is great for you.
It is specially made to work with soft water systems in the home. If you have a water softener in your home this salt mix is designed to work with that.
It has the best ratio of minerals for coral. Your coral will thrive with this salt mix. It is also formulated to help coral grow quickly. Have a beautiful show of coral in less time with this salt mix.
Pros
Good for soft water.
Fast growing.
Great for SPS coral.
Cons
Not ideal for non soft water.
Packaging issues.
Red Sea Salt mix is a great choice for established saltwater aquariums.
This salt mix comes in a 15 pound bucket. This convenient storage will last you a long time.
This is an ideal salt for mature reefs. If you have an established saltwater aquarium this is a good choice.
This is a high quality mix. It will help keep your coral and fish healthy and thriving.
Pros
High quality.
For mature tanks.
15 pound bucket.
Cons
Bucket doesn't ship well.
Not optimal for growing coral fragments.
Fritz Aquatics Reef Pro Mix is a saltwater tank mix that professionals use.
This salt mix is free of ammonia, phosphates, and nitrate. These chemicals could be harmful if they were included in the salt mix.
It has enhanced buffer levels. This means that your water will get to a stable ph level quickly after being mixed.
This salt is mixed in small batches. You can be sure that the quality is the same every time.
Pros
Mixed in small batches.
Enhanced buffer levels.
Ammonia, phosphate, and nitrate free.
Cons
Not always consistent.
Bag can rip.
API Aquarium salt has been created using sea salt that is evaporated.
This salt is specifically designed to help your fish have healthy gills. If you have an aquarium you definitely want your fish to have healthy gills.
It also has all essential electrolytes. These electrolytes will help your fish have vibrant and beautiful colors.
The salt in this will help control parasites in the water of your fish tank. It can even be used, in very small amounts, in freshwater tanks.
Pros
Can be used for freshwater tanks.
Healthy gill function.
Vibrant colors.
Cons
Not commonly used by reef enthusiasts.
Brightwell Aquatics Neomarine Sea Salt Mix has been blended with precision.
This salt mix was developed by a marine scientist. Having salt that has been researched to be good quality is great.
This blend has been created to duplicate natural saltwater. You want your aquarium to be as close to the natural environment as possible.
The particles are all uniform. Having all of the particles the same helps everything stay even and balanced.
Pros
Uniform particles.
Developed by a marine scientist.
Mimics natural environment.
Cons
Seachem Vibrant Sea reef salt is an extra concentrated reef salt.
This reef salt is very concentrated. You will be able to use less salt per gallon of water.
It contains all essential and trace minerals, as well as extra potassium. The extra potassium will help your aquarium be healthier.
It is made out of anhydrous salt. This will give the particles more uniformity, which allows it to mix more quickly.
Pros
Anhydrous salt.
Extra potassium.
Concentrated formula.
Cons
Tropic Marin ATM10581 Pro Reef salt is a bucket for 200 gallons.
This reef salt is pharmaceutical grade. It is specifically designed for modern aquariums.
It uses bio-actif sea salt. This will help your ph levels remain stable over time.
This salt includes extra levels of calcium and magnesium. This is particularly helpful for growing and hard corals.
Pros
Bio-actif sea salt.
Pharmaceutical grad.
Extra calcium and magnesium.
Cons
Knt Salt Kent Sea Salt is a reef salt that comes in a mix for 50 gallons.
This salt is meant for miscellaneous aquariums. If your aquarium is very versatile this salt could be good for you.
It comes with elevated levels of calcium. This will help your corals in particular.
This salt comes with the essential minerals needed for aquariums. If is definitely important to have a salt mix that contains everything you need.
Pros
Elevated calcium levels.
Contains all essential minerals.
Good for versatile aquariums.
Cons
Not ammonia free.
Not phosphate free.
ATM Aquarium Products Hot Salt is a very pure reef salt.
This salt is made using anhydrous salt mix. This means that it will be very pure and uniform for you.
It is a very efficient salt mix. You will be able to make a lot of saltwater with this bucket.
It mixes and dissolves quickly. In six minutes or less you can have your saltwater ready to use.
Pros
Makes a lot of saltwater.
Dissolves quickly.
Anhydrous salt mix.
Cons
Big temperature increase of water.
Types of Reef Salt Mix
Anhydrous Salt Mix: This salt mix has been created using pure methods. It ensures that moisture is not included while creating the mix. It allows the salt to be more uniform in size. It is also able to make more saltwater. This salt will also dissolve more quickly than others.
Synthetic Salt Mix: Some manufacturers create their own salt mix. They mix together the elements needed in order to create an environment that is very close the the natural oceanic environment of saltwater fish. Sometimes these salt mixes can have higher levels of ammonia, which could be dangerous for sea life. However, a filter can remove ammonia fairly quickly.
Mined Salt Mix: Manufacturers who mine their own salt mix must be near enough to the ocean, or another salty body of water, in order to do so. They use evaporative techniques to remove the water. Or, they wait until the time of year when the water levels are the lowest. The salt is then mined, and cleaned of impurities.
Mined salt mixes are closer to the natural environment of aquarium life. It is not as pure as synthetic mixes though.
How to Select Reef Salt Mix
The type of reef salt mix you should use largely depends on the sea life you plan on, or already have, in your aquarium. If you are planning on growing a lot of coral, then choose one with added calcium. If you are doing a fish only aquarium then regular reef salt should be fine.
You should also decide if you want synthetic or mined reef salt. Synthetic reef salt has more exact elements in it. Whereas mined salt, which is actually mined from the natural environment of your fish, is going to be closer to the natural habitat of your aquarium.
Something else to keep in mind is whether or not the salt is free of ammonia, phosphates, and nitrates. These can all cause damage to saltwater aquariums. A filter can clear it out, but it does take time. If you are concerned about this then choose one that is labeled ammonia free.
Frequently Asked Questions
Can the salt mix be used for fish only aquariums? Yes, even the mixes with added calcium and magnesium are okay for fish only aquariums. It is more calcium than fish need, but it should not cause harm.
Can I use it for freshwater tanks? Saltwater is generally only used for saltwater aquariums. However, some people do believe there is a benefit to adding small amounts of saltwater to freshwater aquariums. The added salt can help reduce algae and parasites, as well as improve gill function. Be sure to check out the needs of the specific fish in your aquarium. As well as the needs of the plant life. Many freshwater species have little to no tolerance to added salt. This should be carefully considered on a case by case basis.
How much salt should I use? The amount of salt mix you use depends on the concentration of the specific salt mix. Follow the directions for your specific mix to be sure you use the correct amount.
Can I use tap water? Yes, you can use tap water for your aquarium. You will likely want to take steps to dechlorinate the water if you choose to do so. You can also purchase chlorine free drinking water. If you have soft water coming out of your tap, keep in mind there will be extra minerals in your water.
How long will the salt last once it is opened? If you keep it sealed, and away from moisture it should last several months. Also, keep it out of the cold.
How to Use Reef Salt Mix
Follow the instructions on the salt mix package. You will need different ratios of water to salt depending on the concentration of the salt mix. Some of the salt mixes on this list are specifically designed to have high concentrations of salt. These will need much less salt per gallon of water than the others.
Choose the best water for your aquarium. Many people use tap water, however some will use purified mineral water.
Mix the salt and water in a five gallon bucket, or other large container, separately from your aquarium.
Never pour the salt into the aquarium. It is very important to fully dissolve the salt into water separate from your aquarium first. Undissolved salt can harm your plants and fish.
Be sure to use a hydrometer to monitor the pH levels of the water.
As water evaporates the salt is left behind. It is not always necessary to add salt to the water that you put in your aquarium.
Watch this video for help using a hydrometer for your reef salt mix.
Conclusion
There are a lot of choices for reef salt mixes. Keep in mind what kind of fish or coral you are using in your tank when deciding. You should also think about whether or not you have soft water at home.
Reef salt will keep your coral and fish strong and healthy. The right mix will help your sea life have rich vibrant colors and healthy lives. When you find the reef salt mix that is right for you, go ahead and click on the link to purchase!
Do you have a favorite reef salt mix? Please leave a comment and let us know.