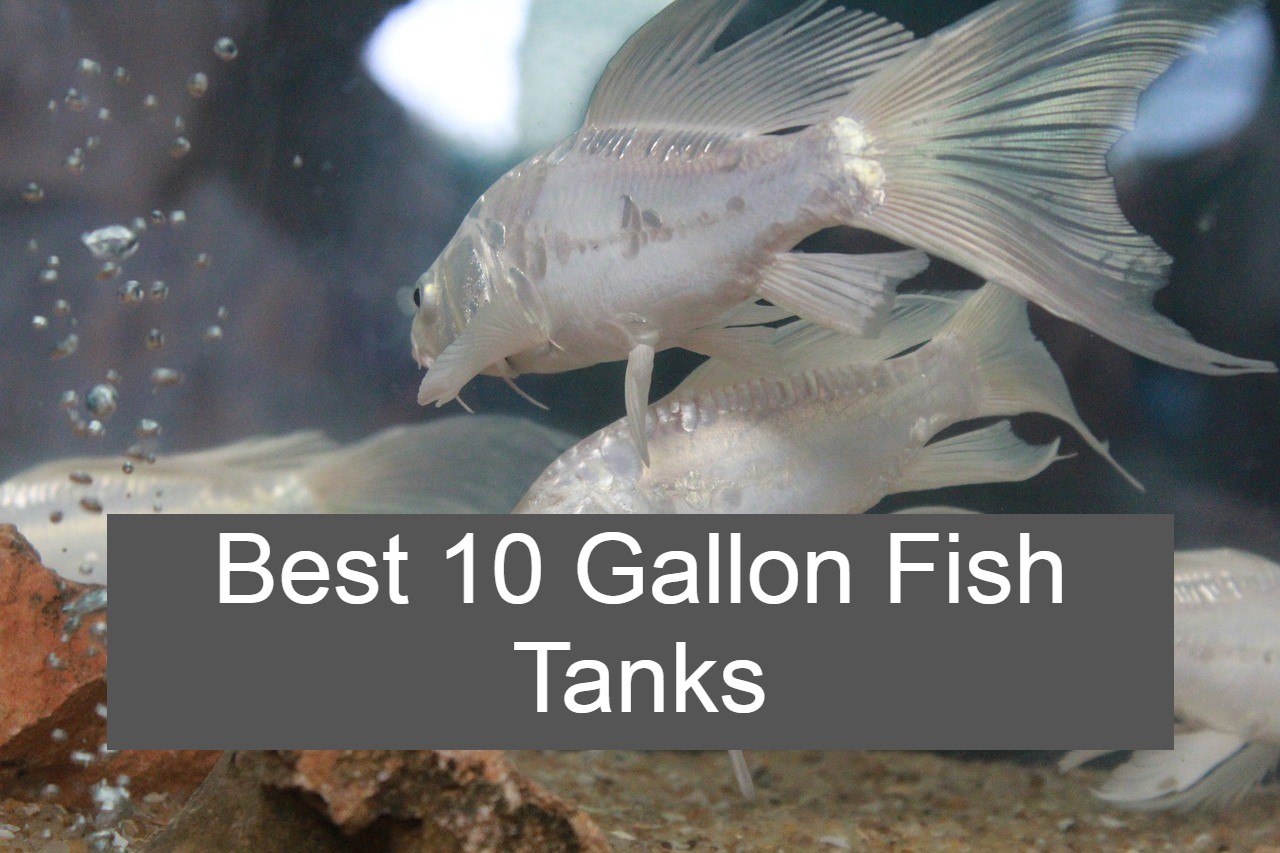 Fish tanks are a lot of fun. 10 gallon aquariums are an excellent size for a fish tank.
They are big enough to have a few fish, but not so big that they take up a lot of space.
There are many different 10 gallon fish tanks to choose from. When searching you are going to want to keep in mind the needs of the specific fish and plants that you are planning to put inside it.
There are acrylic tanks that do not break as easily. There are glass tanks that are less prone to bending. Do you want it to include necessary accessories like a heater, lights, and a filter? Read on for help choosing the best 10 gallon fish tank for you.
10 Gallon Fish Tank Reviews
The Aqueon Aquarium Fish Tank is a very simple black tank. It does not include any accessories.
This tank is made out of glass. It will not bend or scratch easily.
There are no accessories included with this fish tank. You will be able to choose your accessories based on your wants.
This fish tank is rectangular. It leaves maximum surface area open to air flow.
Pros
Rectangle shape.
Black trim.
Cons
No accessories.
Glass can shatter.
The Aqueon Fish Tank Aquarium Kit is a 10 gallon tank that includes many accessories.
This tank is made out of glass. It will not bend over time, or be easily scratched.
It comes with a hood. You can make sure your fish do not jump out. The hood also has an easy flip lid. You can feed your fish easily.
There is a quiet filter included. This filter will not be too loud.
A preset heater also comes with this kit. You will not need to adjust the heater, just turn it on and go.
Pros
Preset heater.
Hood with easy access lid.
Quiet filter.
LED lights.
Cons
The Aqua Culture 10 Gallon Aquarium Starter kit includes LED lights.
This tank comes with a tetra whisper filter. This filter is very quiet.
There is also water conditioner included in this kit. Water conditioner will help your fish be happy and healthy.
It also comes with a lid that has LED lights. LED lights will add vibrancy and color to your aquarium.
Pros
LED lights.
Tetra whisper filter.
Water conditioner.
Cons
No heater.
No decorations included.
The Perfecto Tetra Deluxe LED Kit comes with a glas 10 gallon aquarium.
This kit includes a filter. You can start out right with clean water.
It also comes with LED lights. These lights will help show off all of the colors in your aquarium.
A fish net is also included. You will be able to scoop your fish out of the bag and into the tank.
Pros
LED lights.
Includes fish net.
Has a filter.
Cons
Glass has a green hue.
No heater.
The Hagen HG Fluval Flex Aquarium is a 9 gallon glass tank.
This tank has a curved design. It is very contemporary, and fun to look at.
It also includes a 3 stage filter. This will keep your tank even more clean than a regular filter. The filter had adjustable water flow. You can decide how to angle the water to get more flow where you need it.
The LED lights have white and RGB bulbs. It will make a much more visually pleasing appearance with the extra colors.
Pros
Curved design.
3 stage filter.
LED lights with white and RGB.
Infrared remote sensor.
Cons
Not high quality.
Glass can crack.
The All Glass Aquarium is a 10 gallon fish tank that comes with a hood.
This fish tank is made up of glass. It is very scratch resistant.
It is rectangular in shape. This shape allows for maximum surface area for oxygenation.
There is a hood with lights included. It will help keep your fish from jumping out of the tank.
Pros
Cons
Incandescent lights.
No filter.
The Tetra PLAYMOBIL Explore Aquarium is a 10 gallon glass tank.
This tank comes with a three stage water filter. It will keep odors and discoloration out of your aquarium.
It also comes with a pretend science lab kit and a free toy. It is perfect for keeping children interested.
It comes with LED lights that have a shimmering effect. This effect is an excellent way to get a real ocean feel.
Pros
Shimmering LED lights.
Science toy for kids.
3 stage filter.
Cons
Landen Aquarium Tank can hold 9.6 gallons.
This tank is rimless. It has a very sleek, all glass look to it.
The glass is low iron. Iron in glass can give the tank a green hue, this reduces the green hue.
It is made with thick glass. The extra thick glass helps strengthen this tank. It is also hand made by experts. You know that this received attention, and is high quality.
Pros
Sleek no rim design.
Low iron glass.
Thick glass.
Cons
All glass is more prone to breakage.
No accessories.
Aqueon Fish NeoGlow LED Aquarium is a 10 gallon tank that comes with a starter kit.
This kit has LED lights. The LED lights are a great way to make sure you can see your tank very well.
There is also a quiet filter included. It will clean your aquarium without making a lot of noise.
This tank is lined with colorful silicone! When the light shines on it they glow!
Pros
Fluorescent silicone.
Quiet filter.
Preset heater.
Cons
BiOrb Classic Aquarium is an eight gallon aquarium.
It comes in an orb shape. This is very fun and allows the fish to be viewed from all angles.
It is acrylic. This makes it less breakable, and more leak proof than glass.
A five stage filter is included. These extra stages will help keep your aquarium extra clean.
Pros
Strong acrylic.
Fun orb shape.
5 stage filter.
Cons
Acrylic prone to scratching.
Loud filter.
Types of 10 Gallon Fish Tanks
Low Iron Glass: Low iron glass is a really excellent option. The iron that is naturally found in glass can give the tank a green hue. A low iron glass will have less of that hue. It will be clearer, and more natural view of your aquarium.
Glass: Glass aquariums are less likely to get scratched. They are also better at holding their shape. The glass is also a much clearer view than other materials.
Acrylic: Acrylic aquariums are much less breakable than glass aquariums. They still have a relatively clear view of the inside. They are also much less prone to leaking than glass aquariums.
Starter Kits: Many of the options on this list are aquariums that are a part of starter kits. These kits include many of the accessories that are required to keep fish happy and healthy. It makes starting an aquarium very easy. Most of your supplies are found in one box.
How to Choose a 10 Gallon Fish Tank
When choosing a 10 gallon fish tank you need to consider your needs. Think about the kind of fish that you want. If you are looking for a lot of fish, or fish that leave a lot of waste behind, then you are definitely going to want one that comes with a good filter.
Also, think about the location of your aquarium. If it is going to be in a location that you want quiet, choose one with a quiet filter. Or choose one with no filter, and purchase your own quiet filter separately.
If the aquarium is going to be used for a child than an acrylic aquarium might be a good idea. This is much less likely to break than a glass aquarium. It might be fun to choose one that has colored lights on it. A convenient feeding door on the hood would also be a good accessory.
Do the fish you are choosing need to be at a specific temperature? The kits on this list that have heaters are all preset heaters. If the temperature needs of your fish are different than 78 degrees, you might not want to choose a kit with a heater. Or, if you do, then you will want to purchase a heater separately.
If you want the clearest, most unobstructed view possible of your fish. You should choose a low iron glass. This lack of green hue will really help you see your aquarium in the best way possible.
Frequently Asked Questions
Is the filter too powerful for bettas? Bettas do have a tendency to get their fins trapped in filters! You will want to be sure to use a more gentle filter if you are planning on keeping a Betta fish.
Does it come with sand or gravel? A couple of the options listed do come with gravel. None of them come with sand. With most of them you will  need to purchase your own substrate separately.
Why is the filter so loud? If your filter is very loud, check to be sure that it is properly installed. Loose parts can cause extra vibrations, which can cause more noise. Cleaning your filter can also often help reduce noise. Or, if it is simply a noisy filter you may wish to replace it with a quieter version.
What are the dimensions of the tank? Check the specifications of the tanks you are interested in to answer this question. There can be great variation depending on the size and shape of your tank.
How to Maintain a 10 Gallon Fish Tank
Be sure to have working accessories for you tank. Heaters and filters can do a lot to maintain you tank, and keep everything healthy. Filters in particular remove odors and discoloration that is found in tanks.
In addition to the accessories you are going to have to add and replace water very frequently. You will need to put in clean water.
Occasionally your tank is going to need to be scrubbed. There are several tools available to help you scrub the walls of your tank. It is important to keep them clean for the health of your fish, and your own visibility.
Watch for any signs of corrosion. Tanks are full of water. Water can cause rust and corrosion over time. Monitor your tank, and any accessories for signs. Clean or replace parts as needed.
Inspect your tank for any cracks. If you see cracks you are going to want to replace your tank. A small crack can eventually cause your tank to leak or shatter. This much water can cause quite a bit of damage very quickly.
This video shows how to set up a 10 gallon fish tank. Watch it for more information.
Conclusion
Fish tanks are a great way to enjoy nature inside any living space. They are not as difficult to care for as many other pets. A 10 gallon aquarium is an excellent way to enjoy fish, and give them enough space, without having a larger, more high maintenance aquarium.
It can be very daunting to start out a new hobby. There are so many options, even when it comes to tanks.
This guide is full of comprehensive information. It will help you make a decision that will get you started, or help you continue, your desire to have an aquarium.
Go ahead and click the link to purchase the tank that is right for you. Do you have a favorite 10 gallon aquarium that is not included in this list? Please leave a comment and let us know!