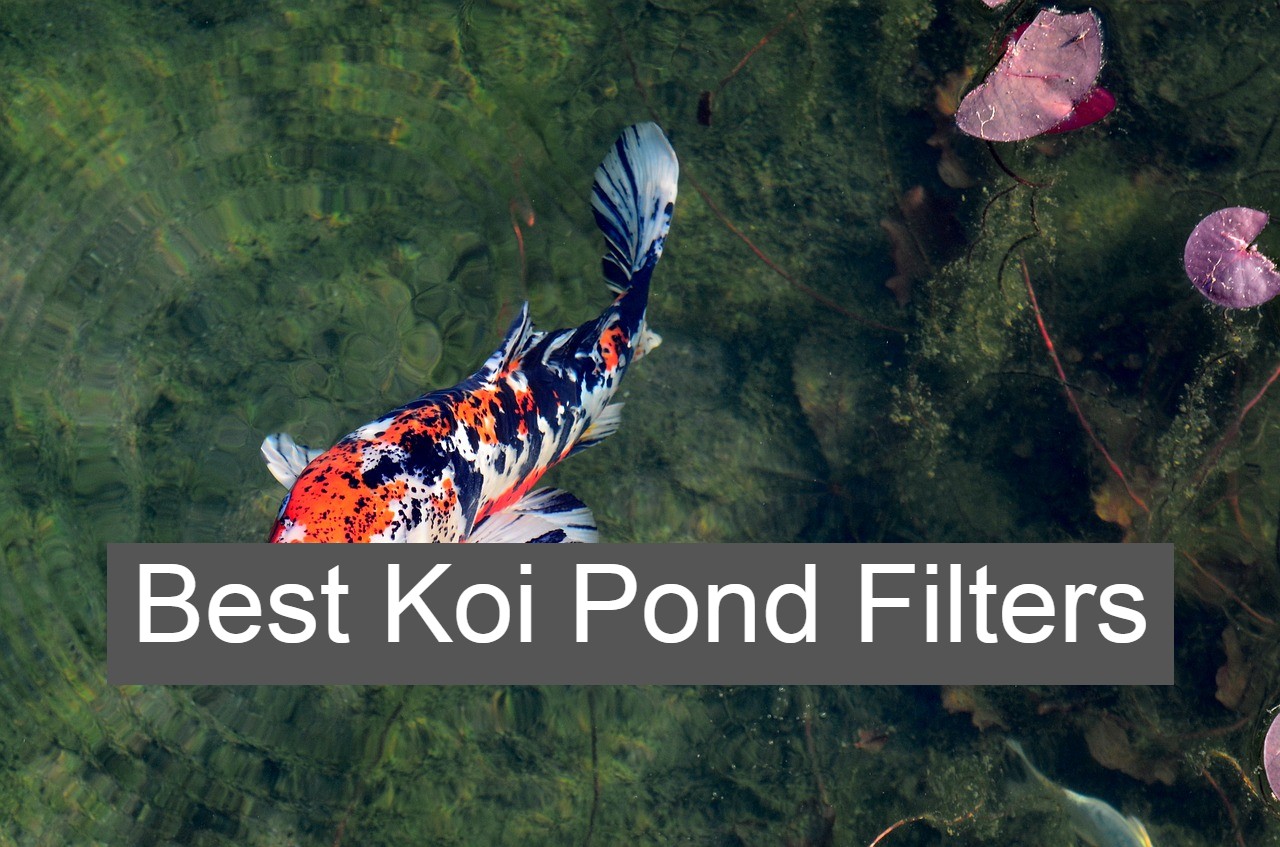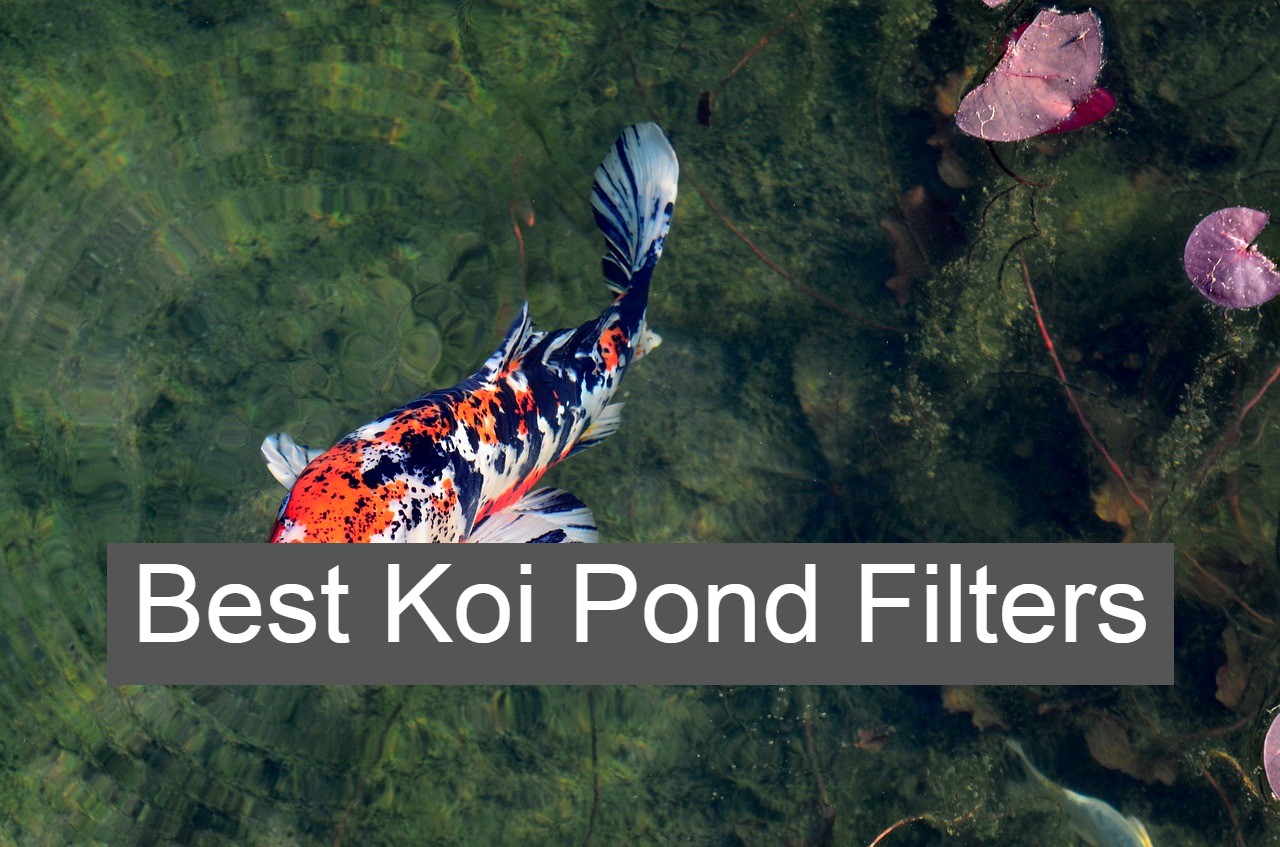 If you're like me and not familiar with Koi Ponds but want one, don't worry. With a little help, you'll be admiring your Koi pond in no time. Koi fish are big and beautiful with flashy colors of orange, yellow, red, black, and white as well as a mixture of colors.
If you're wondering what kind of filter a bio-active one is, the "bio" stands for biological and "active" is for activators. It has a UV bulb that kills the biological bacteria, algae, and any other microbes that are not good for the fish, but the good bacteria are left alone.
You will need a good 10 gallons of water for each inch of fish. Having a good filtering system is very important for the fish and for your peace of mind. That's why we have selected 10 of the best filters that would be best for your Koi fish and their pond.
Koi Pond Filter Reviews
The Aquascape Biological Pressure Filter is a high-output ultraviolet with 14-Watt UVC clarifier/sterilizer with an integrated electronic bulb-saver option. It offers you pond owners ideal water conditions and crystal-clear pond water.
UltraKlean has recently improved on the Aquascape latches, valve, and control panel. It has a sponge-free design that will make maintenance less work with effective mechanical and biological filtering. It has a maximum flow rate of 2,700 GPH.
The Aquascape filter is easy to use with its feature of backwashing done in less than five minutes without even opening it or getting your hands dirty. It works best for ponds up to 2,000 gallons. UV efficiency is maximized by a swirl sleeve and high-output bulb.
It includes an indicator light that lets you know when to do a backflush. Can be easily brought in with new or old ponds. It has a 3-year limited warranty.
Pros
This model is for up to 2000 gallons, mechanical and biological
The UV clarifier is good for controlling the algae growth
Includes indicator light for when to do backflush
Cons
Some didn't like how the customer service personnel treated them
Koral's Koi pond original filter pad roll can be used for Koi ponds and aquariums with fresh or saltwater. This mechanical filtration comes in a roll that is blue bonded and free of any dyes. It can be cut to the size you need from the roll that is 2 feet by 6 feet.
This Koi pond filter is very durable as well as economical. It is thicker than other brands at about one inch thick. It is tough and resists warping, splitting, or breaking. You can wash it with a garden hose and reuse it over and over many times.
Koral's Koi pond filter is made up of large and small fibers that have the ability of handling high amounts of water going through the pad. It keeps the water clean and clear for a long time.
Large amounts of water can flow through due to the blend of small and large fiber construction that cleans the water so you can see the bottom of your pond. Koral Filters has a risk-free satisfaction guarantee to make sure customers are 100 percent satisfied.
Pros
This filter media is durable due to the way it is made
It can clean large amounts of water for a long time
Guaranteed to make sure customers are 100 percent satisfied
Cons
Complaints that this filter media didn't hold up as expected
The name of Xtremepower certainly fits this bio filter, UV sterilizer, and pump because when they work together, they have "xtreme" power to clean 10,000 liters of water per hour for a 4,000-gallon pond.
The UV sterilizer uses a 13W UV bulb for removing bacteria, algae, and any other microbes or parasites. Installing the sterilizer is easy to do as is the whole filtering system. You won't have to hire someone to install it as it is easy for just about anyone to do. However, if you need help, call their 24/7 support line or you can download the manual from their website at https://xtremepowerusa.com.
This bio filter and pump are extremely easy to set up and begin operating. Several users have found this filter system very useful for keeping their koi pond clean. One thing I really like is that a light will come on when the UV bulb needs replacing.
Pros
Installation is easy to do
If you need help, support is available 24/7
A pump and UV sterilizer are included
Cons
Some complaints that it stops working after a few months
The OASE BioSmart 5000 is for up to a 5,000-gallon pond. It is both biological and mechanical and offers input of oxygen. One of the really great things about the BioSmart is that it is very smart in that you do not need to manually unclog the filter because it has a drain that lets the bigger pieces of debris be removed.
The BioSmart has other smart features such as distinct filter zones for the good bacterial to settle, the removal of ammonia, nature-friendly technology, a water thermometer, and a built-in indicator that tells when you need to clean the filter.
The BioSmart has a built-in cleaning indicator and water temperature display which makes your work minimal. The BioSmart UVC 1600 with included UV Filtration is for ponds up to 1,600 gallons and the BioSmart 5000/10000 is for up to 10,000 gallons.
When the 36-Watt UV Clarifier is used with the BioSmart filter, you will qualify for the OASE Water Guarantee that will refund your money if your water doesn't stay clear.
Pros
It has a temperature gauge
You can get a refund if water doesn't stay clear
BioSmart does most of the work for you
Cons
Instructions hard to understand
The Best Choice Products' model 4000L is made for a 1,500-gallons with a heavy load of fish and 2,500-gallons with a normal load of fish. Both have a 13W UV sterilizer purifier light with approximate lifetime of 8,000 hours.
It has a flow indicator to let you know when to clean the filter which is easy to do. There is no assembly needed but you will need a pump.
It has a backflush feature that you need to manually turn on by turning the round button on top all the way to the right, then push down and the water will be released where you direct it.
Best Choice Products includes a multi-directional valve for cleaning, inlet and outlet hose adapters, and Bio Balls. If your Koi pond is green, it will change in a few days into a crystal-clear home for your fish.
Pros
Very easy to install this filter and doesn't take much time to maintain
Indicator lets you know when to clean
Several users said they had a green pond that cleared up in just a few days
Cons
Does not come with a pump
Complaints about the instructions
Jebao's CF-10 pressure filter is a dual filtration system that cleans ponds up to 1,000 gallons. It is recommended to use a pump capable of pumping from 850 to 1,250 gallons per hour. If you have just plants, the filter will clean up to 1,500 gallons.
If you have a pond with goldfish and plants, the filter will clean up to 1,000 gallons. If you have a koi pond with some big fish, the filter will clean only 500 gallons.
It looks like this Jebao CF-10 pressure filter comes with everything you'll need from a 13-Watt UVC with a viewing window, an indicator to tell you when it's time to clean the filter to a backflush system.
It amazes me how the filter knows to keep the water as close as possible to the UV bulb as it slows down the flow of water for it to go through the purifier.
Pros
Filter includes a UV clarifier and bulb
Filter has an indicator to let you know when it needs cleaning
It knows to keep water close to UV bulb
Cons
There is no pump
Customer service wasn't much help
Pond Boss has been providing water garden products for over 10 years and their experienced customer service personnel is always ready to help in building and maintaining your koi pond, fountain, or water garden.
They are well known for their eco-friendly products such as low-water shut-off pumps, non-toxic water treatments, and a bunch more.
The Pond Boss filtration system is called the "Complete Filter Kit with Pump" and it certainly looks like it is complete. It is for ponds up to 500 gallons. It comes with a 320GPH pump, bio balls to help grow good bacteria, a nozzle head, a diverter valve, a power cord, and filter pads.
Pond Boss takes pride in providing you with durable, eco-friendly equipment including low-water shut-off pumps, UV filtration systems, non-toxic water treatments, pond liners, accessories, and much more.
Pros
Several customers were so pleased they said things like "Awesome" or "I love it"
Eco-friendly and energy efficient
The Complete Filter is quiet
Cons
The TetraPond Flat Box Filter does not come with a pump, but it can be used with a pump with flow rates between 200 gallons per hour and 2,000 gallons per hour.
The filter is removable from the tubing for the pond to be cleaned. You will not need a biological filter as this filter serves multiple purposes.
This Flat Box Filter is good for a pond of up to 500 gallons. It is mainly suitable for ponds with a high amount of cloudiness and where removing the debris is essential to prevent the filter from clogging.
Just as the name of "Submersible" suggests, it needs to be fully submerged in the water for it to operate properly. The package contains parts to be connected to the pump inlet.
Pros
Can be used in ponds of larger capacities
The filter box has enough room to add bio-filters
Can make cloudy water clear
Cons
Complaints that they needed to place rocks on top to keep it from floating
The CNZ All-in-One Pond Filter System with 13Watt UV Sterilizer 660 GPH Pump Fountain Kit combines everything required to run a healthy small to medium-size pond.
Designed as one single unit with a single power cable it allows for a much easier installation compared to some standard pond set-ups.
This pond filter includes a built-in 13W UVC lamp and filtration system along with a 660gph pump eliminating the need to purchase an external filtration system. Once you remove the four clips you have full access to all filter media areas for cleaning.
This system also has 3 high-quality fountain attachment set that includes a splitter enabling you to divert water to a waterfall. It looks like you would have everything needed with this kit except the water and the fish.
Pros
It is submerged so you do not have to worry about disguising it
It has 3-water fountain feature attachments
There is an adjustment valve for regulating flow to fountain
Cons
No warranty included
Complaints of it quitting
Atlantic Water Gardens have been making water feature products since 1980 and they are dedicated to pond filter systems that will help you to have a beautiful backyard water display that is the envy of the neighborhood.
This pond filter has a 17-inch spillway and will be great for a medium-sized pond with 2,000-3,000 GPH pump flow. It can make a beautiful waterfall and comes with a FIPT bulkhead fitting, a filter pad, a media bag, a removable bottom grate, and a liner attachment which will make your pond clean and healthy.
You just need to add tubing and a pump to have a perfect oasis to share with your family and friends. You will be able to put everything together easily.
Atlantic Water Gardens customer service are great to work with if you have questions or problems. They offer a very generous lifetime warranty on the filter.
Pros
Ideal for smaller-medium ponds
Easy to assemble
Lifetime warranty
Cons
Need to buy tubing and pump separately
Types of Koi Pond Filter
Biological filtration: this filtration system transforms biological waste like ammonia. This maintains the water chemistry of your pond, and also eliminates unwanted microbes.
Mechanical filtration: this filtration system is simpler, but still important. This uses a physical filter to sieve out particles from the water. Your filtration system should have multiple layers of mechanical filters in a variety of sizes.
Pressurized Koi Filters: These filters are popular for koi ponds. The reason for this being that they offer more flexibility when designing your pond. These can be installed above or below ground level and can process huge volumes of water. Water flower through these is much slower. This leads to better filtration, but beneficial bacteria don't thrive in this environment. This usually only causes problems in ponds with large numbers of koi. They are also significantly more expensive.
Non-Pressurized Koi Filters: These filters are simpler and easier to install. They do put limits on the design of the pond, as they have depth restrictions. The benefit is that they don't reduce the rate of the water flowing through the filter pump. This allows beneficial bacteria to grow. They are more affordable, and the biological media is self cleaning.
How to Select a Koi Pond Filter?
First figure out the volume of your pond by calculating the water volume. You can do this by using the dimensions of your pond to calculate. It is recommended that you have a pond filter that can process up to 150% of your pond volume.
You will also want to know your water retention time. You can calculate this by dividing your flow rate by the pump rate.
Figure out your pond turnover rate so you can be sure the filter is processing the water at a faster rate than the time it takes for your pond to produce pollutants. You find this out by calculating the amount of fish in your pond and their feed to determine the level of ammonia that is produced. For most koi ponds, you should turn the water over at least every two hours.
You'll need to choose between a biological and a mechanical filtration.
You'll want to think about how much filtration you need. This will depend on how big your pond is, and how many fish there are. Generally you should get a filtration system that has two to four times as much filtration capacity as the volume of your pond.
Depending on your needs, you will want to do some research on whether you want a pressurized or non-pressurized filtration system.
Frequently Asked Questions About Koi Ponder Filters
Should a pre-filter be added? Most koi ponds don't need a pre-filter. The filtration system alone will be adequate to keep the koi healthy. However, if you have a lot of koi in your pond, debris can accumulate. In which case you may want to add a pre-filter.
How often should the filter be cleaned? This can vary significantly between filter systems and ponds. The way to know when it's time to clean your filter is to watch the outflow. If at any point it slows down or loses pressure, you will know that you need to clean your filter.
What size of pump should I get for my koi pond? The pump should be large enough to filter the water in your koi pond about every hour. For example, a 5,000 gallon koi pond will require a 5,000 gallon pump. If you have a pressurized filtration system, be sure to read the instructions so you don't over pressurize with the pump.

Why do I need a filter for your Koi pond? The filtration system helps keep the water clean and free from stagnation. A good filtration system is required to ensure that the Koi have a healthy environment.
Can I put a gravel substrate in my Koi pond? In a koi pond gravel hinders filtration by capturing waste and thus fouling up the water. You will want to keep it bare bottom for this reason. Any plants you put in there you should keep in pots.
Do I leave my pump and filter in the pond during the winter? If you've got fish in your pond, you'll need some source of aeration during the winter, so you'll need your pump or an aerator. Your filter, if attached to your pump within the water can also remain within the water. Outside filters are often cleaned and stored for the winter. Submersible pumps or aerators additionally to employing a pond de-icer can work fine. It is best to use an aerator and a de-icer, though.
How to Maintain Your Koi Pond Filter?
You should only clean your Koi Pond filter once a year. You can do this when you clean your Koi pond. When you clean the filter, run it through some pond water until it is clean. Don't use tap water to clean your filter, this can destroy any good bacteria in the filter.
It's important that your biological filter must run day after day. Especially between March and October, when your Koi are going to be most active and feeding.
Make sure that you've got a pump that's capable of turning over the quantity of water in your pond a minimum of every two hours. The water needs to pass through the biological pond filter, as you'll want to match the speed at which ammonia is being produced by your fish.
You should regularly check your pump's pre-filter to make sure that the right water flow is maintained.
When you install your pond filter it'll take six weeks for the friendly bacteria to mature and a number of other months before they fully mature. Don't stock your pond too quickly as you'll have inadequate filtration.
Clear water doesn't mean healthy water. You ought to test your water quality regularly. Test your water immediately if your Koi show signs of lethargy.
You can kickstart your biological filter then improve its performance by employing a bacterial supplement.
Conclusion
These 10 Koi pond filters give you a good variety of choices for ponds that are from 200 to 30,000 gallons. You most likely want one that doesn't take a lot of maintenance and that notifies you when important things like cleaning the filter needs to be done.
The most important thing is that you get that filter as soon as possible so you can see to the bottom of the pond through sparkling clear and clean water that smells great when you have visitors come over.
Please write us in the comments about your experience with this product or if you have any questions about anything that may not have been addressed in this article.
We wish you many peaceful moments with your aquatic friends..