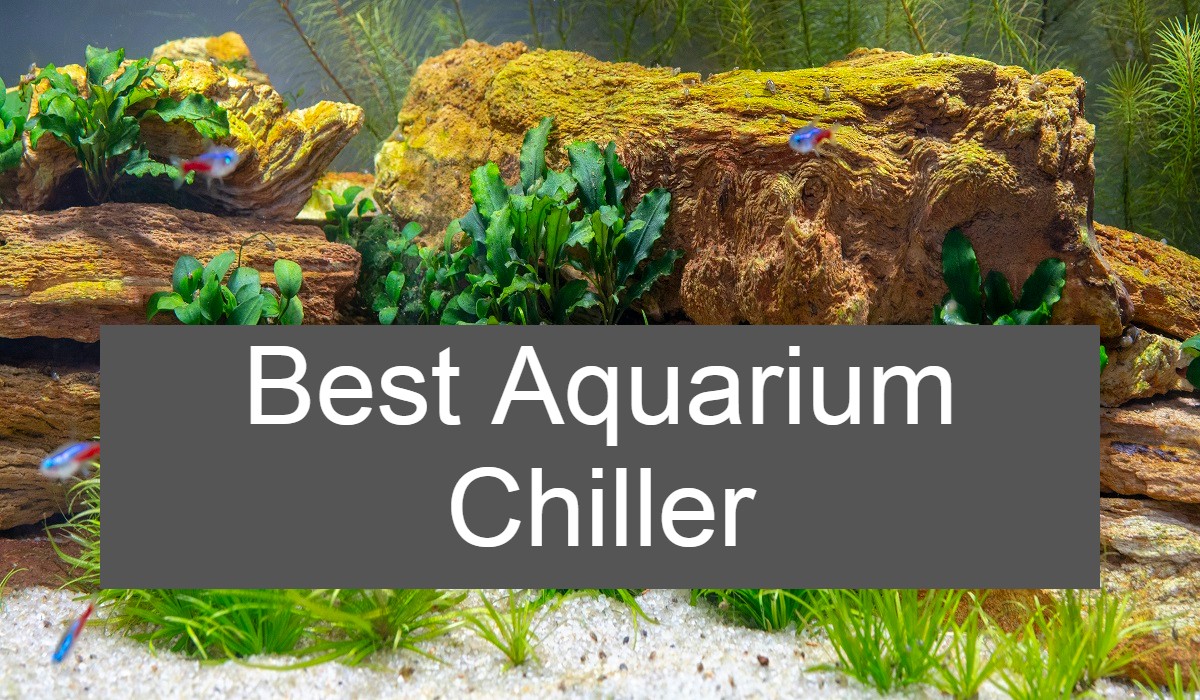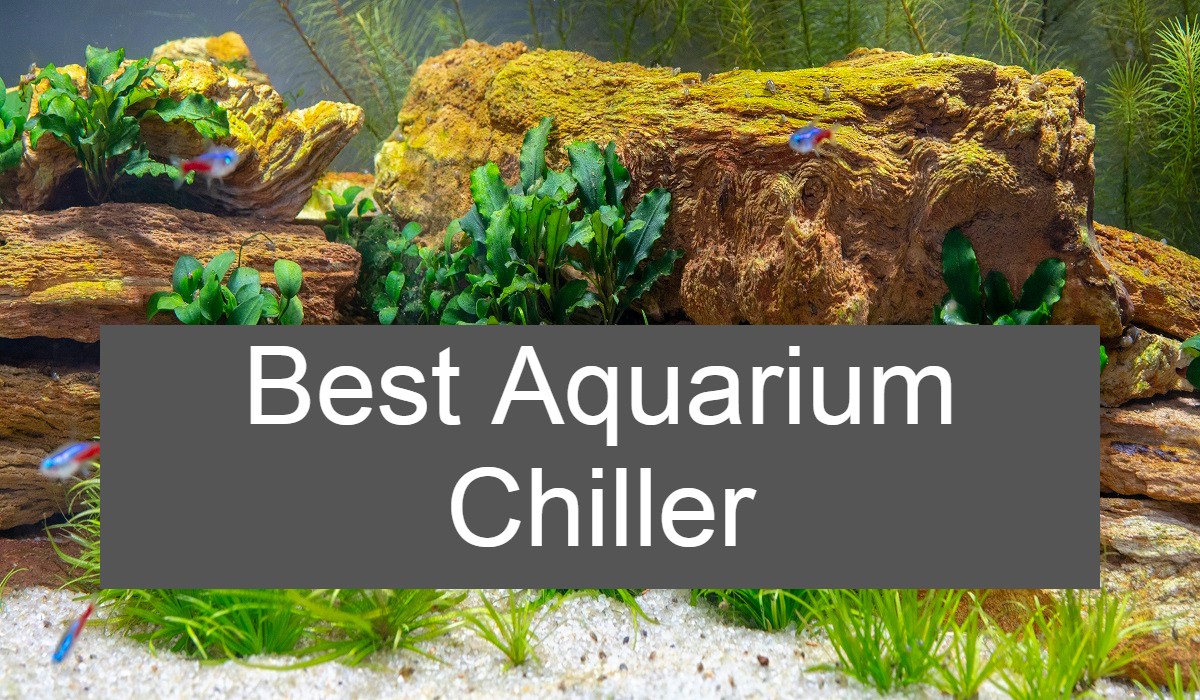 If you have ever been in Arizona in May through September and the temperature hits 116 degrees or more, you will understand why everyone who lives there must have air conditioning in their car and their home.
Your fish feel the same way but it's a matter of life or death for them. They are cold-blooded and they cannot survive if the water gets too warm.
You can keep the temperature down by putting a bottle of water that doesn't have any traces of soap on it in the freezer and when it's frozen put it in your aquarium. If that is not keeping it cool and the water temperature is close to 80 degrees, it's time to find an aquarium chiller.
We have pulled together information on the 10 best aquarium chillers, so you can decide which will work for you. If you are new to building aquariums and have some questions, feel free to send an email by filling out the form at the bottom.
Aquarium Chiller Reviews
Zoo Med has its headquarters in San Luis Obispo, California. It has been in business for 42 years and in 1993 developed the first UVB lamp for reptiles. It changed the way all herpetologists, Zoos, and hobbyists keep reptiles in captivity.
Zoo Med Chiller is a great choice for a smaller tank around 10 gallons or less. It is not heavy and easy to use so it would be easy to move. On the lower side it has a rubber piece that will attach. You can control the airflow whenever you need to.
It has a fan and the speed can make a difference of just a few degrees without letting a drop of water out of the tank. There is a button that is red and when you push it on you can see tiny water ripples on the surface of your tank.
You cannot avoid hearing the fan rotating but the sound will remind you of what a great chiller you have and that you will have for a long time.
Pros
It's easy to assemble and set up
Keeps tank cool for being so little
Lightweight and easy to move
Cons
The noise from the fan can get irritating
It doesn't come with a thermostat
HappyBuy has two models of water chillers (70W and 100W) that will maintain a good temperature that your fish will love. HappyBuy is a perfect name for these as they make me happy because the chillers come with a pump, so I don't have to buy the pump too.
The 70W model works good for small aquariums and the 100W is for larger ones. You can use freshwater, saltwater, or marine water. You will also be happy with how durable it is with its aluminum alloy evaporator that is good on your electric bill.
Don't let your fish go without oxygen if the water gets too warm. HappyBuy Chillers can be of help in keeping the water at the right temperature. You will get an alarm when the temperature gets too high. You can keep an eye on it with the LED indicator that is easy to operate.
It was designed with a low-noise motor but don't be alarmed if it makes some sounds. That is perfectly normal along with some vibration. One of the best things is that it comes with a pump and hose.
Pros
Low noise design
Uses very little energy
Alarm goes off if temperature goes above desired range
Cons
Some complaints that it quit working
A few complaints about the noise
Two fans come with LONDAFISH's Chiller that can lower the temperature quickly. Each 3cm fan blade has a clamp that is adjustable and is made to be put on the wall of the tank. Both fans have two speeds.
Both freshwater and saltwater fish can be happy in it. Your fish can be harmed if the temperature is changed often. With this chiller the temperature will stay the same.
If you put one of the fans near the top of the tank and the other near the tank lid where the light is. It is adjustable as to where you want it. It will help to keep the lights and the aquarium from getting too warm.
It is easy to install with no assembling required and it doesn't use much electricity. They provide a lifetime of technical support. If you are bit satisfied, they have a 90-day return policy.
Pros
Very little energy used
It comes with two fans that are quiet
Easy to install and lifetime support
Cons
Doesn't come with a pump
Can't be used if you have a cover
The Active Aqua is a Freon-free aquarium chiller that is typically used in hydroponic systems. Being Freon-free makes the unit environmentally safe. It is also easier to maintain.
Active Aqua has its own control unit with LCD display. It has an anti-corrosive titanium evaporator which is a huge deal for saltwater aquarium users. This 1/10 model is rated 1,020 BTU and will work best with a 50-gallon tank.
It is anti-corrosive with pure titanium evaporator. The temperature will stay the same as soon as the correct one is reached.
The Active Aqua Chiller can be used for a great variety of applications besides aquariums. It can be used for aquaponics and aquaculture. All models have a boost function for the chilling process to speed up for a quicker temperature setting.
Pros
Freon-free unit
Boost chilling process to get faster temperature
Lots of models available
Cons
IceProbe Thermoelectric Chillers are made by Novatec based out of Baltimore, Maryland, who provides products that save energy, space, and have competitive prices.
The IceProbe has a small footprint which is accomplished by using a thermoelectric probe that is inside the water line, an external fan, and a controlled unit.
It can keep the temperature low when it is hot. Lower temperatures can be reached by insulating the outside surfaces of the aquarium.
You need to have a hole drilled to fit the probe. Others have had success placing the unit on top of a Power Filter. It looks better if you hide as much equipment as possible, so this unit is best in an Aquarium Sump or drilled to the back of an aquarium.
Pros
It can be used either indoor or outdoor
Does not need a pump
It is compact
Cons
Hamilton Aqua Euro is one of the easiest to set up and is made for all aquariums. It is a 1/13 HP and a great chiller for tropical fish and coral. It also comes in 1, ½, ¼, and 1/10 HP. You will need a pump to move the water to the chiller.
It has a LED display to show the water's temperature. The right water temperature can be kept the same by lowering the digital control to the desired temperature.
Aqua Euro has an anti-freezing system, so the heat exchanger won't freeze. Titanium heat exchanger is efficient with a dependable compressor that uses a cooling agent that is safe for the ozone. This different kind of heat exchanger gives out 25 percent BTUs per Watt over other chillers.
The thermostat will go back to the last set temperature if the power goes out. The condenser uses less power and the filter can be removed for better cleaning.
Pros
Safe for the ozone and uses less energy
Anti-freeze/heat exchange expertise
It has a digital display
Cons
A pump doesn't come with it
Complaints that temperature gauge wasn't accurate
Teco Tank is Internationally recognized for high-end compressors and titanium coaxial heat exchangers that provide high performance with energy efficiency. The Teco Tank is popular because of how fast it cools down.
Teco Tank Chiller comes with 450 Watts of cooling capability and a 1/6 horsepower motor. This is a high-capacity tank chiller that is designed for aquariums up to 130 gallons. It has a flow rate of 105 gph.
A built-in heater is placed inside a machine along with an accurate temperature-based aquarium controller that helps control the temperature of your tank's water. The top exhaust conveyor comes with a rotatable feature.
The Teco can be used for tanks up to 130 gallons. It has R134a refrigerant and it will fit in small areas. It has low noise levels and a 2-year limited warranty.
Pros
1/6 horsepower motor with rapid cooling
Runs quieter than others
It has a 2-year limited warranty
Cons
Hard to get customer service
Most people recognize JBJ for their durable aquarium chillers. The JBJ Chillers come in a variety of sizes. They also use a titanium coil design, which is ideal for aquariums.
If you're looking for a chiller that is fast and efficient, this is the one to go with. The condenser on this chiller can drop the temperature very quickly.
When I'm not at home for long periods of time the chiller will take care of all my aquariums' temperature. This is very important to me as I do a lot of traveling.
They are known for being quiet to operate which is a big consideration if you want it installed in your living room. These are energy efficient and quality units that will last a very long time.
Pros
The quietest chiller on the market
Highly efficient condenser; uses less energy
Environmentally friendly
Cons
Several complaints of bad customer service at JBJ
A few complaints of it being noisy
Coralife Chiller is made by a well-known brand of Coralife. It is often installed in self-cleaning aquariums, making the entire unit low maintenance.
This chiller should not be used for tanks bigger than 55 gallons. The Coralife chiller can power aquariums with an ideal pump rate flow of 200-300 GPH (gallon per hour). It has a reusable air filter that can be cleaned easily.
The heat exchanger is titanium made, durable, and highly functional. It cools quickly, does not use a lot of energy, and can drop the temperature 2-3 degrees very quickly. Its usefulness is more justified in areas where the temperature is hot and humid.
Tanks can get warm due to the heat that gets emitted from the aquarium lights. You should consider installing this chiller to make sure your aquatic friends are comfortable.
Pros
Low maintenance
Filters are easy to clean
Easy setup and easy control
Cons
No instructions came with it
If you need repairs you pay shipping both ways
iPettie Aquarium Chiller is made by BOYU who makes several models. You can get a chiller that has from 2 to 6 fans. It requires no assembly and comes with compatible AC adapter.
All you need to do is install by attaching with clamps, plug it in, and turn it on. The clamps mount on aquarium walls that are up to 15 mm thick. This sure sounds easy. It does not come with a thermometer, but you can purchase it by adding to your order.
The iPettie system uses very little power. It can lower the temperature by 1-2 degrees but may take 30 minutes or more depending on your temperature.
If you live in hot or humid areas this chiller may not get the tank cool enough depending on the type of fish you have.
Pros
It is easy to install
You have the options of as many fans as needed
It uses very little power
Cons
It is not very powerful
It doesn't come with a thermostat
Conclusion
Now that we have given you 10 aquarium chiller reviews, you can decide which one is the best for you and your fish. It is important that you have an aquarium chiller that cools down fast and that has a thermostat.
If you plan on going on vacation for more than just a few days, don't leave it up to your chiller to do what it's supposed—it may have problems. You will feel better if you have someone check on your aquarium.
And remember what I said about not going to Arizona in the summer—I didn't mean it really. In fact, it's the best place to come to find the best thing to cool you off.
Please write us in the comments about your experience with this product or if you have any questions about anything that may not have been addressed in this article.