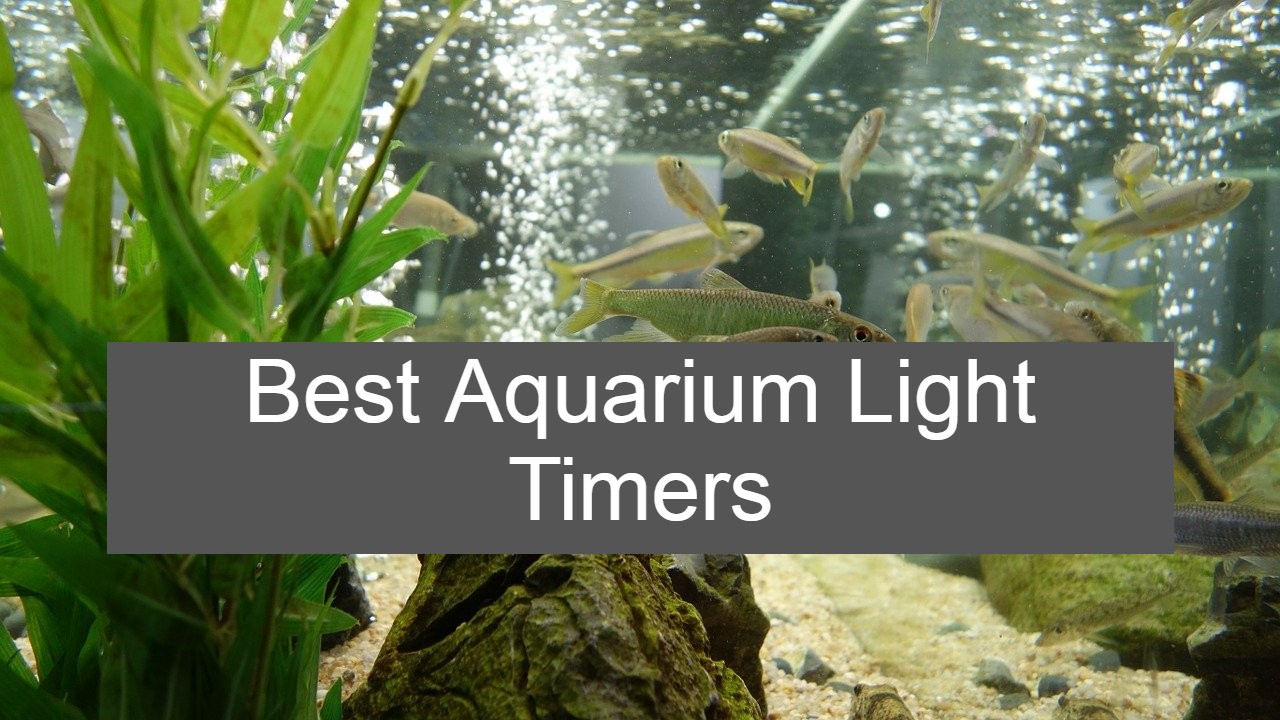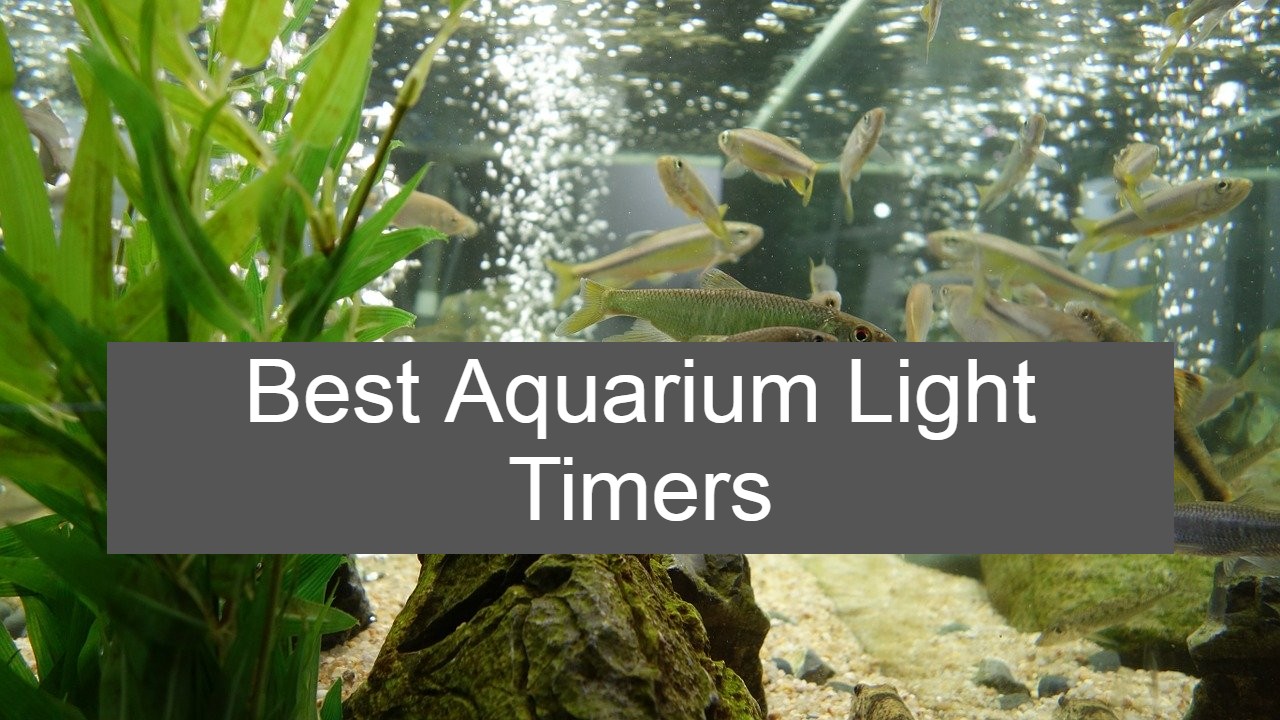 If you are the owner of a fish tank or aquarium, a light timer is an essential accessory you need to look into purchasing. Proper lighting is crucial for aquariums to function appropriately and to have healthier fish. This is because it creates a more natural environment for your aquatic life to live in.
But you don't want to buy just any light timer. It is important to figure out the factors that are most suitable to your needs and ultimately buy the right product for you. Therefore, I have compiled a top ten list of the best aquarium light timers on the market today.
Aquarium Light Timers Reviews
This aquarium light timer is incredibly versatile because it works with any kind of lamp or LED lighting fixture you might already own for your tank. Therefore, you won't have to go buy a new light if you already have one. It provides a natural day and night system so your fish remain happy and healthy.
This timer automatically turns the light on and off so you don't have to, depending on what schedule you set it to. It is incredibly easy to program and use efficiently, and ends up making your work much easier and you will not have to maintain your aquarium as often.
One downside is that it is a bit bulky, but it does not impair its functionality. It also tends to be quite noisy over time, and that can get a bit annoying.
Pros:
Less maintenance on your part as it turns on and off automatically
Easy programming and installation
Works with any lighting fixture
Cons:
Can get noisy over time
It is a bit bulky
This timer is easily programmable to set up to the full 24 hours in a day. It helps save energy and reduce electricity costs by automatically turning the lights on and off without you needing to remember to do it.
The instructions are incredibly easy to follow so the installation is easy and efficient. The dial on the front of the timer makes it easy for anyone to maintain and install this timer without too much hassle.
This specific timer is equipped with 2 outlets to program 2 different things if necessary. Therefore, you can also program other lighting fixtures to be turned on and off alongside your fish tank. It is a great multipurpose item that makes this option worth purchasing.
Pros:
Easy instructions and installation
Two outlets to program two different lighting fixtures
Multipurpose
Cons:
Some find it to be a little large
Must be reset every time the dial is turned
This is a timer that is specifically built for aquarium usage. Its main purpose is to emulate and a sunrise and sunset cycle for your fish to be happy and healthy. It is built to be much smaller so it is easier to place by your tank. However, it does not come with any fixtures to hang or put it on.
With the LED lighting, the lighting can be dimmed or turned brighter depending on your preferences. If you are looking for a light timer that can be used for lower lighting settings, this is the timer for you.
It memorizes all of your settings so you won't have to keep resetting it. Therefore, you only will have to set it once and you'll be good to go. Since it is made by a reputable brand, you can be assured that this product is durable and long-lasting.
Pros:
Great for low-light tanks
Internal memory saves settings
The LED light allows for dimming or making brighter
Cons:
Does not come with anything to hang or put it on
The thin and wide shape could be unsatisfactory for some people
If you are a beginner and have never owned a light timer, this is the one for you. It is incredibly easy to use and install without having too many extra parts to it. It has an easy built-in dial system to program your settings efficiently. It is much more convenient than other timers on the market because there are no removable pins involved.
It is very simple to use as all it includes is the dial to where you can set the time and then program your lighting to be turned on and off. The increments of time to program your lighting are fifteen-minute increments.
Again, this timer is not only meant for aquariums, so you can use it for any lighting fixture you have. It is a multipurpose product that can be used for lamps, fans, coffee machines, and more! However, it is only a single-outlet timer.
One downside to this timer is that it tends to get a little bit noisy. But if noise is not an issue for you, this timer works seamlessly.
Pros:
Easy to install
No extra parts and no removable pins
Multipurpose
Cons:
Only a single-outlet
Tends to be noisy
This product is unique because instead of just turning the lights on and off at the programmed times, it implements a gradual sunrise and a gradual sunset. This provides the most natural lighting for your aquatic life to be happy and healthy.
Like the rest of the models, this product is completely programmable to your personal wants and needs. Also, it should be fine for both freshwater and saltwater applications.
The setup and installation process is very easy and quick. You just plug it into the wall to set the time and then program it to your needs, and you are good to go! Also, this product should be durable and long-lasting as it hasn't had much of any issue breaking in the past.
Pros:
Mimics natural sunrise and sunset with gradual lighting feature
Easy to install and maintain
Reduces stress
Cons:
Only works with LED fixtures
Not multipurpose
This is another timer that is a "ramp" timer, meaning it mimics the most natural sunrises and sunsets with a gradual lighting process over a 15-minute increment. This slow acclimation reduces stress in animals by letting them get used to the bright LED lighting rather than flashing it all the way on at the programmed time.
This light timer is completely programmable to your needs at any hour of the day. You can also adjust how bright you want the light to be. These programs also for the most flexibility in how you want to program the timer making it one of the most versatile timers on the market.
Something to note about this light timer is that it is not applicable to work with all lighting fixtures. Your light must be a dimmable light with a DC connector. If you want to be safe, you can choose the matching MingDak light to go with it so you can be sure it works efficiently. However, this is still a manual button that allows you to turn on and off the lights completely if needed.
Pros:
Gradual lighting mimics natural sunrises and sunsets
Adjustable brightness levels
Reduces stress in animals
Cons:
Only works with specific fixtures
Some risk with completely submerging in water
This convenient and easy to use aquarium light timer is perfect for beginners. It is so easy to install with only two buttons. If you get confused with the installation process, the instructions are also very easy to understand.
As far as the programming goes, you can easily program the time you want it to turn on and off up to the minute. This is unlike most timers which you can set in only certain time intervals.
Something to note is that it only works for certain types of light fixtures, so if you do not own one that works, you will have to buy a specific one. Also, it is very simple and sometimes not quite reliable. Therefore, if you plan to leave for a few days, I wouldn't count on this working perfectly.
This model works amazingly for some people but isn't the right fit for others. Therefore, depending on these factors, this timer might or might not be worth a try. However, if it is the right fit for you, this timer will work effectively and efficiently.
Pros:
Simple installation
Comes with easy to read instructions
You can program it to the minute
Cons:
Only works with a few models
Has the tendency to not always be reliable
This 8 outlet surge protector is installed with a timer. 4 of the outlets are always on to plug in everyday needs, while 4 of the outlets are able to be timed. Even though this uses a lot of electricity, they pride themselves on being a safe and secure method of light timing. This is because they are safeguarded and furnished with a circuit breaker.
The unique aspect about this timer is that it comes in the form of an 8 outlet surge protector. Therefore, you have 8 more outlets to use for whatever you need to plug in. This creates a multipurpose product that doesn't only have to be used as a light timer for your aquarium. The power cord measures 3 feet long.
This does not include any complicated installation process and the timer is easy to use. However, this timer can tend to get a little noisy.
Pros:
Comes with 8 outlets
Safe and secure
Has LED indicator lighting
Cons:
Can get noisy
Bulkier than other timers on the market
This is another 8 outlet surge protector that has a light timer installed with it. If an outlet is not in use, there is a safety cover that slides over it which is a feature not many other timers include. This timer operates on different outlets for different periods of the day.
This is equipped with a battery in case the power goes out. It has enough battery to last days keeping your light cycles working. This means it is durable and reliable to use if you have to leave it for a few days. It includes a limited number of light cycles which is seven cycles per day.
The installation process can be a little bit lengthy. The instructions can get confusing, but once you put it together, it is very easy to maintain. It is important to note that only some of the outlets are programmable.
Pros:
8 outlets
Durable and reliable to use
Built-in battery if the power went out
Safety outlet covers
Cons:
Difficult to install
Instructions can be hard to understand
Some outlets are not programmable
This aquarium light timer is equipped with up to 8 different light cycles that you are able to program. The program settings are easily customizable down to the minute allowing for the most optimal level of versatility. You can customize the times to be as short or as long as you need it to be with this timer.
It is easy to install and has easy to understand instructions. Also, you can easily change the current time at any time with no hassle. This timer is both safe and reliable.
However, if you wanted to reset the entire settings for lighting programming, it can be a bit more difficult. In order to reset a certain program setting, you must reset the entire timer. This could possibly cause the timer to be down for a day or two in order to reset completely.
Pros:
Customizable to however short or long you need the timer to be
Easy to install
Easy instructions
Cons:
Hard to reset
Buttons are low-quality
Types of Aquarium Light Timers
If you are currently looking for a light timer for your aquarium, there are some important factors that might impact your decision. It is important to understand all of the variables in order to find the best aquarium light timer for you.
Power strip timer: A power strip timer is a simple power strip with a light timer installed in it. This is great for multipurpose uses since there are other lights that you may also want to be programmed. For example, along with your aquarium light, you can program the lights in your office and kitchen as well. Also, power strips with timers usually come with normal outlets which will allow you more room to plug in things.
Ramp timer: Ramp timers have a slow gradual dimming process when it hits the sunrise and sunset hours. This makes it so it won't randomly turn on and off which can cause stress for your aquatic life. A gradual lighting process will replicate a more natural environment.
Single LED light timer: These timers are usually made specifically for aquariums. Therefore, you can ensure that it meets your needs and expectations. They are usually very simple to set up and program. They usually have a minimum amount of buttons. The LED light makes it very easy to see in the dark which usually is not found in the other types of light timers.
Dial timer: Dial timers are usually installed in a power outlet in the wall. They are very easy and simple to install, and they are easy to program as well. These timers usually do not allow you to program to the minute. Instead, they commonly come in 15-minute increments.
Benefits of Aquarium Light Timer
Helps replicate a natural environment: Something that is essential to keeping a healthy tank environment is providing a natural light cycle. A natural sunrise and sunset cycle helps the fish stay happy and healthy. Both plants and aquatic life require photosynthesis in order to maintain a healthy lifestyle.
Perfect for busy people: People with busy lives can often not have time or forget to turn on and off their aquarium lights. A light timer is perfect for this. The light timer is meant to turn on and off the light for you, so you don't need to remember to do it. This results in less maintenance and stress for the fish tank owner.
Less maintenance: A light timer is going to control the lighting for you. This prevents you from the stress of having to remember to do it every morning and every night. This is going to make owning a fish tank a lot more enjoyable. If you happen to go out for the night or go on a vacation, you won't need to worry about the lighting.
Flexible programming: Some light timers require you to program it in 15-minute increments while some let you program it to the minute. Whichever way, you do have the flexibility to set the time you want the light to turn on and off.
How To Set Up An Aquarium Light Timer
Instructions for setting up light timers vary from product to product, so setting up your aquarium light timer ultimately depends on what product you have. However, there is a general set of steps to follow in the installation process.
Connect the light timer to the power source if it is powered by an outlet. If it requires batteries, make sure you have the correct batteries for that specific timer.
Connect the timer to the aquarium light. In order for the timer to work, it needs to be properly connected. This will allow you to program the lighting for that specific light source.
Program the timer. There are different increments of time that you can program the timer to. Some timers only allow you to do increments of 10 or 15 minutes, while some timers allow you to program it down to the minute. It is important to program the timer to turn off at night and on in the morning in order to maintain the most natural tank environment. This cycle will resemble a natural sunrise and sunset.
Let the timer work. After installing it, the timer should function normally. However, it is important that you check to make sure the timers are still powered completely on. If it has batteries, do routine checks every month or so to make sure they are still working.
FAQ's for Aquarium Light Timers
Are light timers necessary?
No, light timers are not necessary. However, they are very helpful and practical for people with a moderate to busy schedule. It is crucial that you keep a natural environment for your fish which is especially true for lighting. You could manually turn it on and off with the natural sun's cycle, but that is a lot of stress to remember to do that every single morning and night. A light timer is going to make it much easier.
Are light timers safe?
Yes. Most light timers, especially the ones designed specifically for aquariums, are made to be safe for this use. Once you ensure that your light timer is installed properly, there should never be an issue with safety.
How long should I keep the light on in the tank?
It is recommended that the light is on 8 hours in the day for aquariums with more plants. It is recommended that the light is on 12 hours in the day for fish-only tanks.
How do I maintain an aquarium light timer?
Light timers are extremely easy to maintain. They are most commonly small and compact in size and shape, so they are not hard to store. For safety procedures, keep all cords away from children and pets. Make sure you keep all adapters and cords kept safely and properly so as not to damage or lose anything. Also, handle everything with care to prevent damage.
After seeing all of the types of timers there are, you can recognize the importance of choosing the right one that is best suited towards you. There are so many different timers available on the market right now for you to choose from, so don't just buy any random one.
When taking all of these different factors into consideration, hopefully you were able to find which factors are most important to your preferences, and maybe you even have a new timer you want to buy!