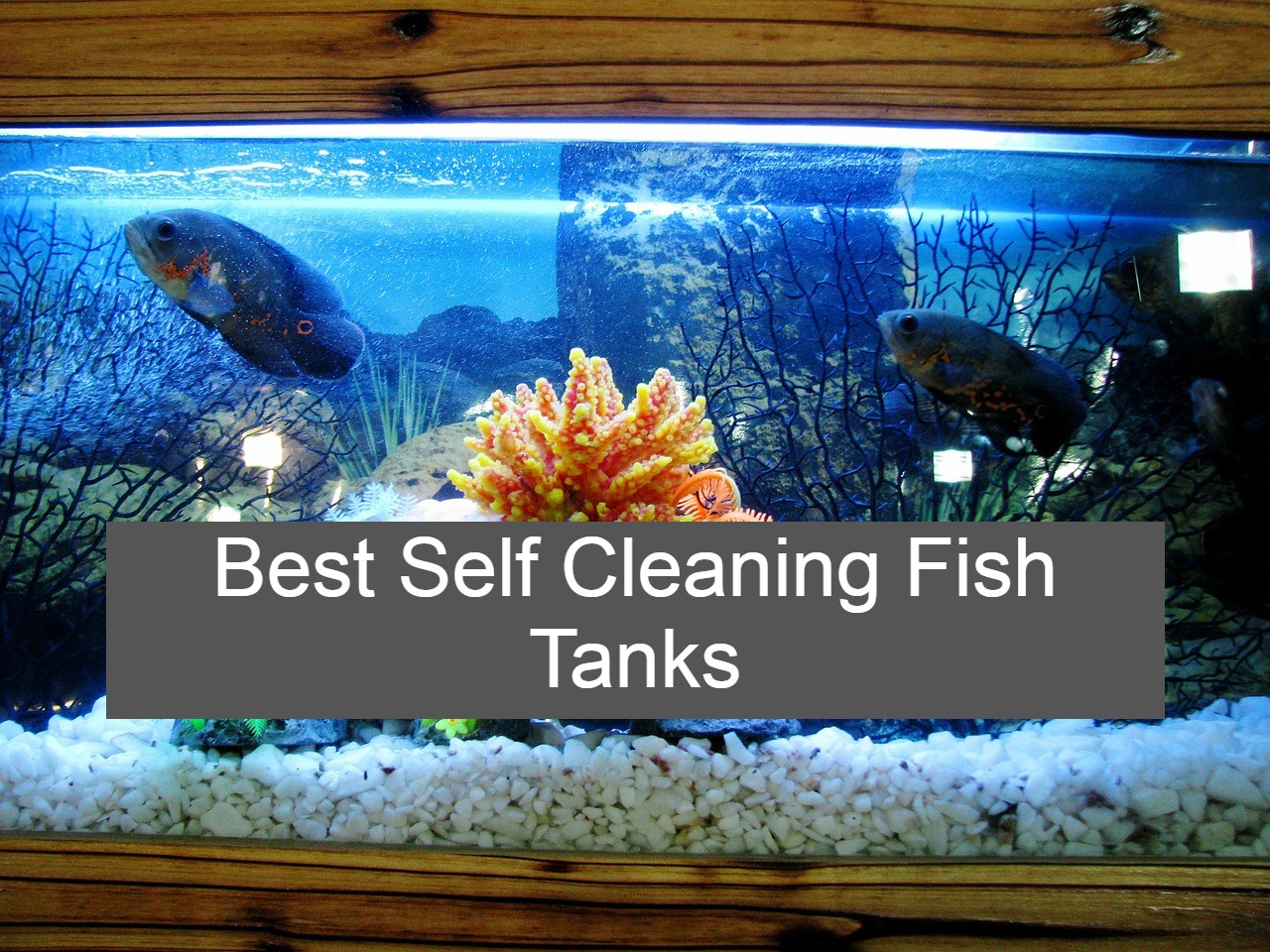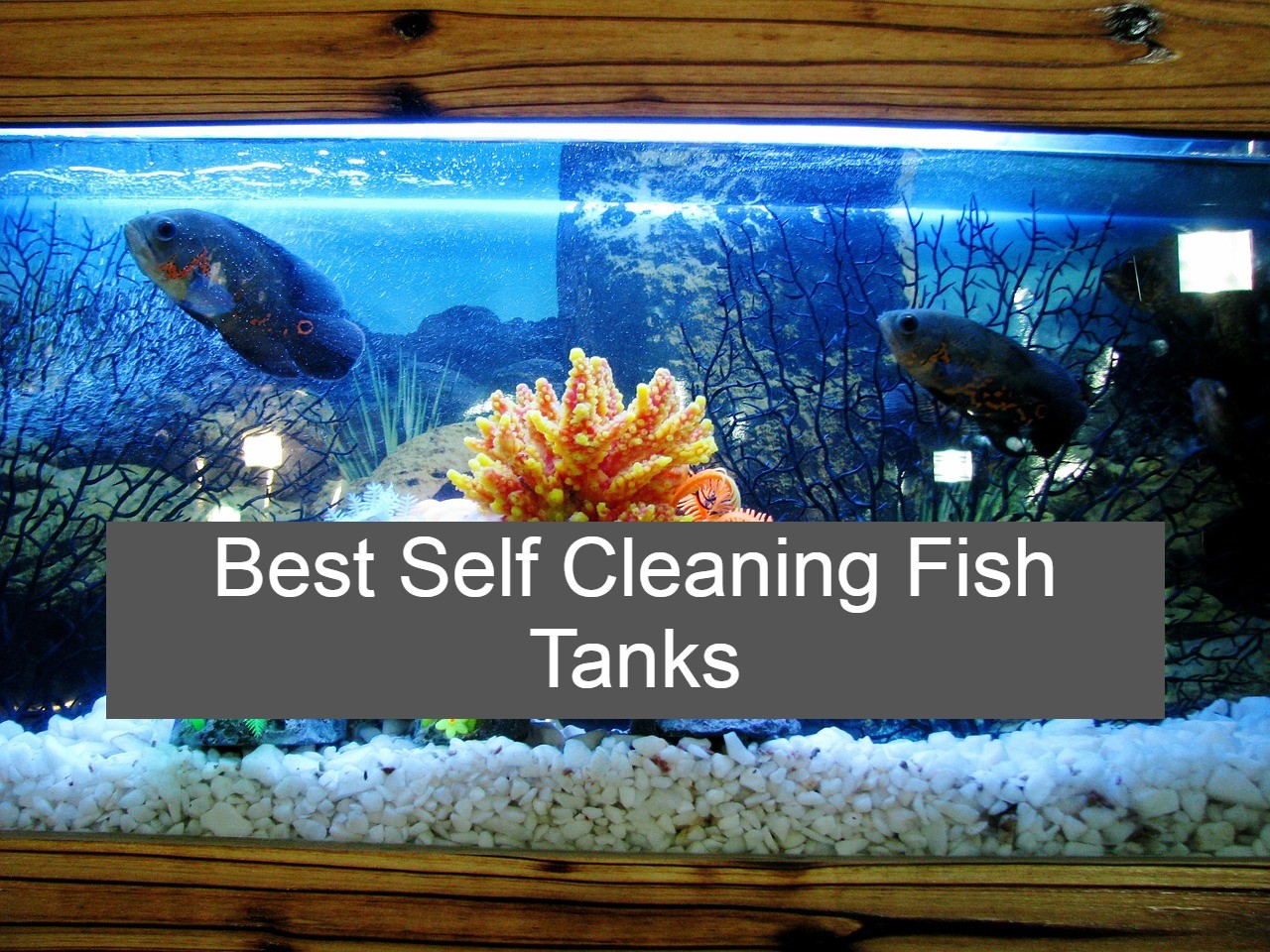 For many people, the idea of an aquarium that can clean itself is quite unreal. A hoax. Anyone who has watched fish and plants in an aquarium knows that owning and caring for one must take a lot of time. And know-how as well.
If the idea of cleaning an aquarium puts you off, it no longer needs to. Self-cleaning aquariums are real. They work. And they are available from mini sizes that hold less than a gallon of water up to those that hold 20 gallons or more. They are available in many sizes and shapes and save a lot of time in upkeep and maintenance.
The issue is figuring out which self-cleaning aquariums work as claimed. To find out, go online and ask people who own self-cleaning tanks and work with them to get the facts. You may even become interested in keeping one or more fish as pets.
Self Cleaning Fish Tanks Reviews
This attractive self-cleaning aquarium comes in clear acrylic. The base of the tank, cover, and trim are black. The tank measures 12.4 inches in length, 11.8 inches in height, 8.2 inches wide, and weighs 3 lbs. It is compact and can sit on your table or desk at home or work.
The tank is easy to set up. Take care when you work inside the reservoir as acrylic shows every scratch. The feed hole at the top of the aquarium provides easy feeding. This aquarium is the right size for smaller fish or shrimp.
This OASE aquarium holds about 4 gallons of water. A 5-stage automatic filtration system takes care of cleaning and oxygenating the water.  It also keeps water chemicals stable. A filter cartridge at the base of the tank catches and holds any excess waste.  It requires changing every four weeks.
The tank comes with a pump, and long-lasting, low voltage built-in LED lighting. The aquarium comes with a two-year limited warranty.
Pros:
The most beautiful fish tank I've owned.
Happy Betta!
Lights should work manually
Motor & filtration system is quiet in comparison to the average tank
Cons:
No manual way to work the lights
Air bubbling is a little loud
Acrylic surfaces get scratched easily
This biOrg aquarium, also made from acrylic, has an attractive globe shape.  The base and top of the tank are black. The aquarium is 5 inches long, 5 inches wide, and 5 inches high. It weighs 5 pounds, holds 4 gallons of water, and has a 2-year warranty.
The set-up kit includes a 12V transformer, an LED light, and an air pump. A black pebble sculpture, purple ball, small white artificial fern, white lily, and pink star come with the container.
After the aquarium arrives, fill it with pretreated water.  Let it run for a day to get established, and then add your fish. A built-in filtration will clean and oxygenate the water and regulate chemicals.
You will need to provide extra maintenance to keep this tank healthy. Owners will need to change 1/3 of the water every two weeks, and the filter cartridge every six weeks.
Pros:
Easy to set up
Attractive edition to home décor
Easy to clean.
The pump is very quiet
Cons:
Water treatment that came with the tank killed my fish

Ceramic rocks made the water cloudy
Filter cartridges and water need changing
This hanging wall mounted fishbowl and planter is another unique aquarium. It is tiny, holding only ½ gallon of water, weighing 1.35 lbs., and measuring 11.6 inches by 11.6 inches by 5 inches. It is ideal for a small fish and a live plant. The bowl has an opening at the top to feed fish, and through which a plant, suspended in the water, can grow.
Made from high-quality transparent acrylic, it can last a long time. Placing colored gravel at the bottom of the bowl enhances its beauty and draws the eye.
This self-cleaning bowl hangs as well on indoor walls and outdoor walls. The wall-mounted design saves space and serves as an attractive wall hanging. Take it off the wall for cleaning and a change of water.
It does not need a filter. Add a water conditioner depending on the fish in your tank. By all means, add a lighting system, but make sure the lights do not heat the water in the bowl. Adding an air stone will help to aerate the container.
Pros:
I LOVE THIS PRODUCT!!!
Love it. The bowl is much better than expected
AMAZING, I love it.
A fresh and unique aquarium!
Cons:
It arrived broken/damaged
Water became cloudy within a day, and my fish died.
Does not stay on the wall
The tank was easy to hang on the wall, but fell off, ripping drywall off the wall.
This aquarium is cylindrical and consists of see-through ultra-clear plastic. The base is black. It is 8 inches high, 5.875 inches in diameter, and holds 0.5 gallons of water.  It is compact enough to sit on a side table or desk or even a shelf in your home or work area. The mini tank is safe for a small goldfish, a bloodfin tetra, or a white cloud minnow.
Several houseplants grow well in this self-cleaning aquarium. They include dumbcane, bamboo, Chinese evergreen, and Moses-in-the-cradle. The cylinder will even look attractive when used as a planter without fish.
The unit does not have a filter. The plant purifies the water by absorbing fish waste as fertilizer. This tank will need cleaning now and then. Remove the fish and plant, clean, and refill with pretreated water.  Replace the plant and fish.
Avoid overfeeding fish; leftover food will harm water quality. You can add lights to this tank. But ensure they do not heat the aquarium water.
Pros:
Wouldn't hesitate to recommend this.
Tank and fish have been healthy for 18 months.
Good tank, happy fish – working well for a year
Awesome Aquatic planter.
Cons:
Water quickly dirtied
On arrival, the tank had a crack from top to bottom!
Sad to have a live fish in the 0 .5 gallon tank
The 0.5-gallon tank is too small for a fish
This aquarium has a much larger 20-gallon tank than other tanks in the self-cleaning category. The all-glass tank has a black base, top, and trim. A container at the top of the tank grows organic edible plants of your choice all year long.
The tank measures 24 inches long, by 12 inches wide, by 20 inches high, and weighs 17 pounds. A video with instructions and complete customer support information arrives with the tank.
The aquarium operates on a self-sustaining closed-loop system. Plant roots reach down into the water and use fish waste as their food and fertilizer. In this way, plants clean the water for the fish and keep them healthy. This aquarium is one of a few that does not use any mechanical filters or need any water changes.
Fixed above the plants is a row of programmable LED lights with four settings to help the plants grow. A remote control and timer utility provide an efficient way to use the light system.
Pros:
Fun system! Great customer support
It has exceeded expectations
Easy to set up, a charming starter set
An exciting and workable method, as advertised
Cons: 
The lid did not fit. Water splashes out over your aquarium from the pump.
Tank light and grow lights operate on the same timer, dumb.
The tank is loud.
This much larger glass aquarium has a black base, lid or hood, and black trim. It is rectangular, measuring 24.2 inches long, 12.4 inches wide, and 16.7 inches high. It holds twenty gallons of water.
This tank size is ideal for many fish and plants yet does not take up too much space in your home or place of work. It comes with a distinct filter, a heater, tank lights, two packs of plants, and a living white Anemone flower. All you need to set up the aquarium and turn it on is gravel for the bottom of the tank, your pick of fish, and any other care items you want.
The tank hood opens on a hinge for easy maintenance. Several built-in energy-saving LEDs create a natural shimmering effect in the water. A remote control allows you to pause the color-changing LED on any colors you wish.
Complete instructions on how to maintain the health of the tank and its inhabitants come with the aquarium. They include contact information for customer support.
 Pros:
This tank is terrific!
The tank is well made; works perfectly
I love this tank! The best I've ever had.
Great tank!
 Cons:
The tank came cracked, and the lid would not close
It leaks at the bottom seam.
The lid is flimsy, does not fit.
This tiny yet stylish Tetra aquarium comes in an attractive half-moon shape. Made from clear plastic, it provides unobstructed viewing from all sides and even from above. The base and top are black. It is an ideal tank for beginners.
The aquarium measures 9.1 inches long, 9.9 inches high, 4.6 inches deep, and weighs 1.32 pounds. It holds 1.1 gallons of water. Add a small fish which does not need a lot of space and is happy with minimal maintenance. This aquarium is a great attraction on a desktop or table in any room, including that of a child.
The aquarium works as a "self-cleaning" system.  It does not need filters. Adding gravel to the tank bottom and a live plant will help to maintain good water quality. And it will enhance the aquarium's appeal.
Feed your fish through the hole at the top of the tank. The tank comes with moveable LED lights that you can place either above or below the tank.
Pros:
This tank is better than Pet store tanks.
Large enough for a betta to swim around
Great design. Cordless!
The bright light makes the tank look beautiful
Cons:
I CANNOT keep this thing clean!
The first one came with two cracks; the second arrived shattered.
My fish are unhappy and lethargic. This tank has no filtration system.
This Mini Aquarium has a clear see-through acrylic body. It measures 13.4 inches long, by 13.4 inches wide, 9.5 inches high, and weighs 7.1 pounds. The tank holds 3 gallons of water. It is an excellent gift for kids, teachers, families, and garden lovers.
Forming a complete ecosystem or scaled-down hydroponics system, it is self-cleaning and sustainable. Fish waste in the tank water becomes food for the plants growing above. In this way, plants help to keep the tank water healthy for the fish. You can use the greens growing in the tray above the aquarium without any concern in your smoothies and salads.
The tank arrives with a water pump, fish food, and organic seeds. Five grow pots will arrive as well to begin growing greens and other vegetables. It even includes a discount coupon to buy a Betta fish for the aquarium.
The aquarium comes with four slots for power cords. It has a 100% satisfaction guarantee that all seeds supplied with grow and your fish will thrive. 
Pros:
Love this tank. It's a very happy ecosystem.
I love this product. Love it. Great system.
Setting this up was incredibly easy
I have had this tank for over a year and still love it.
Cons:
You need a heater to keep anything more than a goldfish alive in this tank.
It's far from self-cleaning.
Nothing works in this tank.
This Hydroponic Garden is an attractive tank with rounded edges. Made from clear plastic, it has a white base, cover, and trim, giving it a light, clean look. It measures 12.2 inches long, 11 inches high, 7.7 inches wide, and holds 3 gallons of water.
This small aquarium is another self-cleaning system. Fish waste in the water fertilizes plants that grow on top of the aquarium. The plants, in turn, keep the aquarium water clean for the fish, thus requiring 50% fewer cleanings.
The tank is suitable for fish that are 2 inches to 3 inches long. If you have shorter/smaller fish, place an ornament or rock in front of the pump to lessen the pump's suction.
A Seed Sprouter Tray, a pump, a filtering sponge, pea seeds, growing soil, and a User Manual arrive with the tank. Vegetables, herbs, and even flowers will grow in the hydroponics tray on top of the aquarium all year long. In a short time, you will be able to enjoy healthy vegetables for salads.
Pros:
The aquarium was a massive success in a school science project.
Great buy!
Looks great, easy to set up, and it works.
The Hydroponic Garden is a solid kit. 
Cons:
Pump suction too intense for small fish
The tray holes can only take larger seeds
Filter wire protrudes from the side of the tank.
This Desktop Mini Aquarium consists of a small rectangular glass case. The bottom, top, and fixtures come in white or black plastic. The tank, measuring 9.5 inches long, 7.9 inches tall, and 3.8 inches wide, is compact enough to sit on a small table. It weighs 1.55 lbs. The aquarium contains only 3.2 pints of water and is suitable for one tiny fish.
This little aquarium is ideal for a bedroom. It has a clock, an alarm with six different nature sounds, and a snooze button at one end of the aquarium. The easy-to-see LED display also contains a calendar and the temperature.
A tap situated above the aquarium controls the self-cleaning function. Turning it on adds clean, oxygenated water into the aquarium. At the same time, a pump draws old water out of the tank.
An adjustable overhead light sits over the tank. Multicolored LED lights line its bottom below the water. One USB cable, pebbles for the bottom of the tank, and an artificial plant come with the aquarium. The lights and water pump have individual power switches.
Pros:
Perfect for an office desk. Great buy!
The running water has a peaceful sound.
Very cute.
My boyfriend LOVES it.
Cons:
This tank is too small for fish.
The clock doesn't work.
The tank leaked unto battery compartment.
Types of  Self- Cleaning Fish Aquariums
Self-cleaning fish tanks come in two main types. Both reduce maintenance time and work, but do not exclude it.
One type uses gravity to clean fish and plant waste out of the aquarium. Pouring clean water into the aquarium activates a pump to pull dirty water out. Remember to place an empty container by the outlet to catch the dirty water before you start. The suction is not strong enough to pull fish out of the tank.
The second type works (without need to change the water) as a self-contained system. Plant roots clean the water by feeding on fish waste. Plants, in turn, oxygenate the water and remove CO2.
Both types have benefits. They do not need to have their water changed as often as traditional tanks. Nor do they need to have algae scraped away, and substrate material vacuumed as regularly.
Both types also have drawbacks. With less circulating water, temperature and chemistry can change within hours or minutes. Fish, being cold-blooded, need a stable environment. A little extra heat or cold, or other factors, can throw the delicate balance off. With a self-cleaning aquarium, it is essential to do regular checks and maintenance.
How to Select a Self-Cleaning Aquarium?
Self-cleaning tanks come in different sizes. The larger (8 to 20 gallon) self-cleaning tanks work better at cleaning themselves. Tank water circulates a little more in a bigger aquarium. A thicker substrate in a larger tank can better support the health of the water, plants, and fish. Fish prefer more room to swim and move around. And the larger space provides room for living plants. It is a viable combination and plays an essential role in maintaining healthy aquariums.
Sand, soil, and gravel—the main components of substrates—form the tank's natural filter system. The right substrate cultivates the right bacteria for a healthy tank.
Some fish species have specific requirements for temperature, pH level, and salinity. Do a weekly check, if not more often, to ensure that no ammonia and nitrites are present. To resolve any toxic waste build-up and algae blooms, you can replace 50% – 100% of the tank water every few days.
The various fish you choose for your aquarium are as crucial as all the other factors. Some fish can only survive in certain temperatures and specific water chemistry. Thus putting together compatible species for your aquarium will be essential.
Tips to Keep a Healthy Self-Cleaning Aquarium
Daily check. Look at your fish every day. Be sure all are present and moving in the water. Unusual spots or streaks on their bodies and fins are indications of illness. Other symptoms include floating near the surface of the water and swimming in a jerky way. More signs are fish lying on the gravel, or with their fins clamped tight against their bodies.
Care of Tank Water. Always treat water with a de-chlorinating conditioner before adding it to your aquarium. Make sure it is the same temperature as your tank water.
Tap Water. Never add tap water to your tank without first pretreating it for your type of fish. Different fish have different water temperature, pH, and salinity needs.
Water Temperature. Check your tank thermometer each day, and adjust the heater if necessary.
Test the Water. Use a kit to test the tank water. If the test shows ammonia, nitrites, or nitrates are accumulating, replace up to 25% of the tank water. Doing so will help to re-establish the balance of chemicals in the tank.
Clean the Substrate or Gravel. Using a suction cleaner for gravel, clean the substrate every two weeks. Removing excess fish waste, leftover fish food, and algae will help to keep the water clean.
Algae Buildup. If the water in a tank becomes unclean, algae will start growing. It has a slimy, hairy, or bushy look. A tank scraper will remove it from the aquarium sides.
Filters. Some self-cleaning tanks still have filters. Be sure to change or clean them according to the Instruction Manual.
Plants and sprouts. Do not grow sprouts with spicy tastes or toxic ingredients as they may cause harm to fish.
Setting up the Tank. After setting up your tank, let it run for a couple of days. Test the water to make sure it is the right temperature, pH, and salinity before adding your fish.
Snails and shrimp are scavengers. They feed on waste, algae, and leftover fish food and keep the tank clean. Take care that they do not take over your aquarium. Nerite Snails do not over reproduce and great aquarium cleaners.
Feeding. In a small self-cleaning tank, water quality can suffer within a few days. Uneaten fish food will decay and introduce harmful toxins into the water.
Frequently Asked Questions about Self-Cleaning Aquariums
Do self-cleaning tanks make a lot of noise?  There are two ways in which it can make noise. Tank bubbles can make noise, though not bad.  The air pump can be a bit loud.  If placed on carpeting, the aquarium air pump will give a soft, constant buzz.  If placed on any hard surface, it will be annoying.
What is the difference between LED and MCR lights?  MCR light is multicolored; LED light is white.
Can I put a goldfish in my Penn Plax Aquaponic Betta Fish Tank?  Yes, but it may outgrow your tank quickly.
Do I have to clean a Self-Cleaning fish tank?  Yes. Change half of the water once a week.  If the tank starts getting gross, do a complete tank cleaning.
How many fish can a 1.4-gallon Self-Cleaning aquarium hold?   Keep only one betta fish in this tank. Keeping more than one fish is not advised.
How much cleaning is necessary for my ECO Cycle Self-Cleaning tank?  Do I have to vacuum the gravel, and scrape algae?  I have guppies. Your aquarium requires less cleaning than a standard aquarium. Once plants are growing, they remove nutrients from the water that lead to algae growth on glass. If needed, use an algae magnet to remove biofilm and light algae growth.  For guppies, clean the substrate every eight weeks. Other variables can exist, such as too many fish in one tank, and too much food dispensed at feedings. In general, feed fish twice a day, as much as they will consume in two minutes. Guppies work well in your tank because of their low maintenance requirements. 
Can I add a second light to my ECO-Life fish tank?  Yes. You can use a waterproof LED.
Tips to Using a Self-Cleaning Aquarium
If the air bubbling in your tank is annoying, fill the container to the top. Buy a small air valve control at your local pet store, and an extra two feet of air tubing. Splice the air tubing and reconnect it to the air valve control at both ends. You will be able to control the airflow and keep the aquarium quiet. You may even be able to put the aquarium into your bedroom.
Having an aquarium at your home or office will provide many benefits. It will improve focus, productivity, and lower stress levels. It will also provide a calming effect, especially on children and the elderly.
Keep only one fish in a mini self-cleaning tank. The fish will be happier and remain healthier; they do not do well when cramped. Scavengers like a Nerite snail or a shrimp will help keep your self-cleaning tank cleaner.
Do not over-feed your fish. Feed only what the fish can eat in two minutes, no more. Leftover food breaks down and will foul the tank. Adding a live plant to your self-cleaning tank will help your fish to remain healthy.
https://modestfish.com/best-self-cleaning-fish-tanks/
Conclusion
Aquariums have been slowly gaining in popularity.  With the recent advent of self-cleaning and self-sustaining aquariums of all sizes that require little to no maintenance, more people may want to engage in this exciting and gratifying hobby.
If you have purchased a self-cleaning aquarium, we want to know about your experience. If it was enjoyable, what made it so? If not, what aspect of self-cleaning aquariums gave you difficulty?
We would also like to know if we failed to address your questions about self-cleaning aquariums in this article.