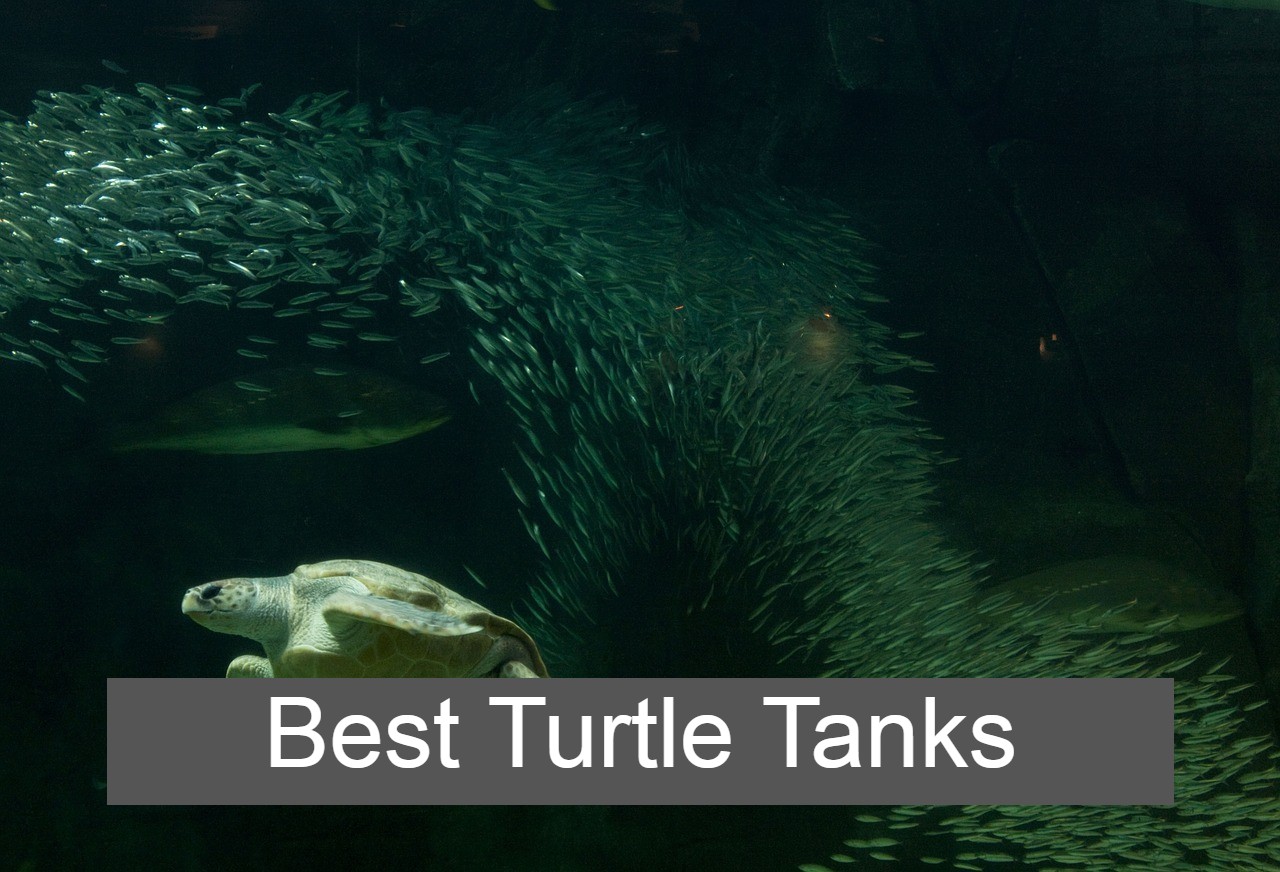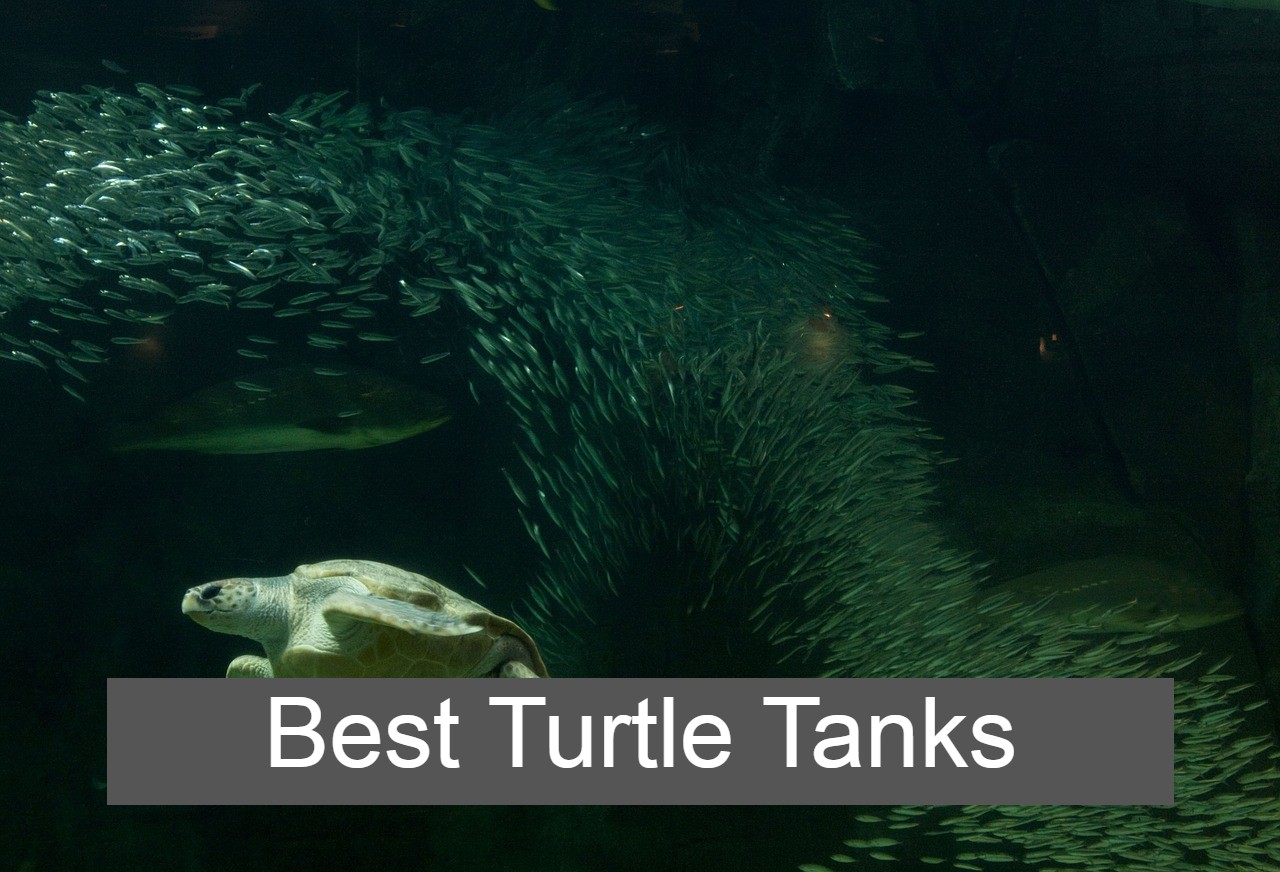 Turtles are a wholesome, entertaining pet. They can be as loyal as a dog, playful like a cat, and as mesmerizing as a saltwater fish. Turtles live both on land and in water. They can spend up to 75% of their time in the water, and are very strong swimmers.
Once you have a great tank set up, turtles are a low-maintenance pet. Setting up a safe, healthy tank is stressful, especially when you are new to the hobby. New turtle owners often don't know what their new pet needs. They worry that they'll do something wrong to hurt their turtle.
Turtles need the right amount of space to swim. You need to know the right styles and features for your turtle. You want to know the proper temperatures and conditions for turtle health. In this article, you will learn about the ten best turtle tanks out there. Once you know the tricks to set up the best tank, you'll have many years of fun ahead with your turtle friend.
Turtle Tanks Reviews
Don't worry about collecting all the right components for a complete turtle home. Tetra takes the guesswork out of setting up your first habitat. The simplicity of unpacking one box and being done is appealing to new turtle owners.
This kit contains a 20-gallon aquarium, good for one small turtle. You'll also unpack a filter that keeps water clean and looks like a rocky waterfall. Enhance your turtle's ability to play with the basking platform and cute boxwood mat.
Warm your pet with two dome lights, also in your kit. Choose a location near electricity, out of direct sunlight or air conditioning. Easily put the tank together in minutes and watch your turtle play.
Tetra is a good brand to start with. They carry everything you need to keep your turtle healthy and happy. They also have lots of information on the TertaFaunaProducts youtube page.
Pros
TetraFauna is a respected company.
This kit is very strong and durable.
Fit extra plants or a heater without crowding.
Give your turtle play and activity it needs to stay healthy.
Cons
Twenty gallons is space for only a two-inch turtle to thrive.
If you want larger or multiple turtles, you'll need a bigger tank.
The bulbs in the dome lights need frequent replacement.
An acrylic tank is the gold-standard of aquariums. This SeaClear tank comes ready to set up your way. Lighting and a reflector are built into the lid. Enjoy a crystal-clear view of your pets and their habitat.
This system lets you design your perfect filtration system. There is true wet/dry biological filtration built into the back of the aquarium. Versatile filter chambers let you experiment with mechanical and chemical media.
Acrylic aquariums are easier to move when you want. What a bonus that is when you're getting used to your new roommates. Acrylic is lightweight, sturdier, and impact resistant. This is a high-quality tank for the safety-minded home.
You won't beat the quiet and ease of use the molded turbulence manifold gives you. Never worry about circulation with it running in the background. Never fuss with outside plumbing or noise. System II is completely ready to go.
Pros
The beautiful sparkle of acrylic elevates your experience.
Acrylic is lighter and safer, with less risk of cracking.
Room for 24-inch fluorescent in the lid.
Larger home for more and bigger turtles.
Cons
This is not a complete kit.
Acrylic is strong but susceptible to scratches.
The lamp fixture lacks enough light to grow plants.
A 10-gallon tank for the one lucky turtle you bring to your home. This aquarium is made of glass and has a plastic base and top. Assembly is simple and easy. You'll put it together in minutes.
Enjoy the views, because the kit comes with a filter to keep your water clear and sparkling. The included LED lamp gives your turtle a warm place to bask. These basics are great for a beginner and all you need for a healthy pet.
Once you have the lamp and filter going, personalize the tank to suit your home and the home you want for your turtle. The kit includes a hiding place and a stepped platform for your turtle to exercise and play. Choices of rock or plantlife are left to the buyer, so each aquarium is individual.
The clear glass and mesh screen top make it easy to watch your turtle bask and play. The filter runs quietly, and the light is movable. This means you can change the interior to keep life interesting for your turtle.
Pros
The tank is quickly and easily set up.
The filter is strong and quiet, providing a healthy environment.
Basic base and platform leave options for decor.
Mesh lid locks in place for safety.
Cons
You must buy more items to make it more attractive.
This very small tank should house only one very small turtle.
Lamp bulbs burn out quickly.
You might like a tank with a more unique design. This classy open-topped container comes with a platform/filter in one, a sliding heat lamp, and some sample treats for your turtle. This is a 20-liter tank that can be set up in lots of different ways.
The basking platform is the filtration unit for this kit. It looks great anywhere in the tank. This means you can experiment with different layouts as your turtle grows. You'll find it easy to set up and use, keeping time free to enjoy your pet.
The open-top makes cleaning a breeze and allows you a better view of the habitat. If you have messy eaters, you can scoop out a gallon or so at a time and replace it between cleanings. The sliding heat lamp makes it easier to access.
This is a great tank for beginners and experienced keepers alike. The design allows for creativity and displays your habitat impressively. It's a unique display you'll enjoy showing off.
Pros
This tank has an elegant, modern design.
The platform and filter are one space-saving piece.
The sliding halogen heat lamp goes right where you need it.
The kit is easy to set-up.
Cons
The opened top is less protective.
You may need extra heat for turtles.
Sample treats are not safe for baby turtles.
Here's a roomy tank made from super-tough ABS plastic. The tank is designed like an ultra-modern breadbox with a meshed opening on top and a large hinged door on the front. It's strong but light-weight.
If you are moving, your turtle will be safe in the CalPalmy. You'll never have to leave your pet at home when going on short trips. Your turtle will be traveling in style. At 19 inches tall by 10 inches wide, by 10 inches deep, this is truly a movable playground.
Your turtle will enjoy the ramped stairs and the raised platform for dining and basking. You will love how easy it is to clean. Simply pull the drain plug at the bottom, wipe, and refill. The all-white coloring is the perfect backdrop for your pretty turtle's colors and design.
Do you already have a larger aquarium at home? This is a great carrier for class pets, show and tell, or take-your-turtle-to-work day. It's so fun and stylish, you'll want to make up your own holiday just to use it.
Pros
The modern design looks great anywhere.
It's strong and lightweight for easy travel.
Maintain this tank easily – just pull the plug.
Raised platform for climbing, eating, and basking.
Cons
A light and heat source is sold separately.
This is very small for any turtle to swim in.
View only through the front door.
Turtle lovers will fall for this one-piece all-inclusive aquarium. Turtles can start out their day splashing in their pool. They can then exercise, climbing the ramp to a platform designed for basking and eating.
There are built-in food bowls on the platform for a choice of snacks. On the other side of the platform is another area just for playing in pebbles or sand. Durable, transparent, plastic sides hold the light clips and filters of your choice.
Larger turtles will enjoy this little aquarium as a temporary home when their tanks are being cleaned. Smaller turtles will love calling this blue lagoon home. The wide-open top makes this a fun, interactive habitat for children to enjoy.
If you breed your turtles, here is a perfect nursery box. Its simple design means you can customize to suit your enterprise. The openness at the top means you can keep a close eye on the health of baby turtles. The color brightens any room.
Pros
This is a one-piece, aquarium with five fun areas for your turtle.
Your turtle stays active playing with a pool, ramp, and sandbox.
Clean-up is a snap for you.
Small turtles and new babies will fit well.
Cons
Basin only is included, so shop light and heat as well.
The water area is too small for many turtles.
Open an unprotected from children or predators.
If you are an experienced turtle owner, beyond the kits and all-in-one tanks, here's your next tank. This tank gives you plenty of room to use your experience to build a deluxe habitat. Knowledgeable turtle owners will notice the built-in filter mounting panel that simplifies water filtering.
A 40-gallon tank needs to withstand lots of interior pressure. Zilla is the industry leader for leak-proof glass enclosures, so you can feel confident that your pet is safe. The frame is molded in one piece as well to ensure the durability of this aquarium.
This aquarium is the blank page to write the perfect story for your turtles. You'll choose heat, light, and filtration to meet the specific needs of the breed you are raising. You'll know the right platform, ramps, and play accessories to introduce to your pet.
A 40-gallon tank is a good size to choose real or decorative plants. The choice will be up to you. The Zilla Tank will give you and your turtles room to grow and play in a habitat of your own making.
Pros
Zilla provides an extra-large habitat for your turtles.
There's an access panel specific to the water filter.
Quality glass craftsmanship protects your pets.
The molded one-piece frame provides security.
Cons
Screen, filter, heat, and accessories are all purchased separately.
It requires a lot of water to keep at an adequate height.
This tank is popular and sells out quickly.
Saim makes a sweet little tank for some tiny turtles. This is a great aquarium for your desktop, side table, classroom. It comes with a filter and a light. You can shop for the platform and decor you want to create your dream habitat.
Enjoy the view through the durable, clear plastic. Care for your pets with ease through the removable lid. Relax and listen to the fountain-like filtering process. You'll really enjoy being a turtle owner with this kit.
Unique to the Saim desktop tank are cut-outs in the acrylic top. Slip in potted plants that add an extra hidey-hole for your turtle. The plant's roots will enjoy its proximity to your turtle's pond.
This is an ingenious way to teach children about ecosystems.
The submersible filter pump and LED light both plugin and switch on and off. The Saim Desktop tank offers endless ways to set up your turtle's habitat. You and your pets will enjoy many interactive hours of use from this aquarium.
Pros
See your turtle from any angle through the clear plastic.
It comes with a switchable LED light.
Plug the filter pump into any standard outlet.
Bring in plant-life and create your own ecosystem.
Cons
At less than a cubic foot, this is a very small tank.
LED light generates no heat.
Many openings in the lid could allow access to predators.
Though this tank is marketed toward fish owners, it deserves your serious attention. This 55-gallon tank is a mansion for your turtles. Though you might disregard the fish food and conditioners, you'll appreciate the kit's water heater and filter. Other noticeable extras include starter plants, LED light and a digital thermometer.
There will be plenty of space for turtles to make a home in this tank. Shop for your favorite ramps and basking platforms and build a pro-level habitat. If your turtles started their lives in a smaller tank, this would be a lovely upgrade.
Tetra is a designer of long-lasting glass aquariums. Because a turtle habitat uses far less water than a full fish tank, you can guess that this will provide a durable home. You'll have fun assembling the tank and setting up the filter and lights. Tetra's instructions are easy to follow.
The plants add a fun touch to this kit. Tuck them into rocks and crevices or float them on the surface of the water. You notice your turtle playing around and under them. A tank this size should keep your turtles active and exercising.
Pros
This is a statement piece for any room.
Turtles have lots of room to move around.
Almost every component you need is included.
Tetra's ultra safe glass design lasts for generations.
Cons
Some supplies are for fish, don't share food or chemicals with your turtles.
This tank is heavy, be sure you position it safely.
Read the instructions before setting up the filter to prevent excess noise.
Here's another tank that is marketed toward other users, and would be a uniquely interesting turtle habitat. The Exo is designed for reptiles but features surprising details that a turtle owner would love. This is a 24 inch, by 18 inches, by 12 inches, 20-gallon tank.
If you are tired of bending over and reaching down to care for your turtles? The Outback features front opening doors. Keep your pets at eye level. Open one door at a time or both. Your turtles are safe and secure when the doors close with their specially designed lock system.
Below the door is an open basin where experienced owners can design and build a very special habitat. Add rocks, sand, and a pool. Create a platform for dining and basking. Shop for your ideal heat, light, and filtration sources.
The top is removable when it's time to clean the tank. It's made of stainless steel mesh so it cleans easily, too. The tank itself features closable inlets that you can run tubes or wiring through. The Outback is a great tank to get creative with.
Pros
Ventilation flows through the lid and the front window.
Escape-proof doors give you front access.
Built-in inlets for equipment offer design freedom.
Turtles can play in the roomy 20-gallon size.
Cons
Remove the decorative rock backing as it could be dangerous.
The interior must be assembled from scratch.
Swinging doors might pose a hazard.
How to Select a Turtle Tank
A healthy environment makes for a healthy turtle. There are so many different kinds of turtle you could choose from. It's important to know the specifics of the breed before you plan it's housing. Think of turtles in their natural environment.
Some want to spend more time swimming and diving. Some prefer to bask on logs or river banks, Other turtles prefer the current of a swift stream. You'll want to replicate a turtle's best environment when creating their habitat.
Once you know the basics of a turtle's natural environment, you'll want to estimate its adult size. There are multiple tanks in all kinds of sizes, and every one of them is great for a turtle during a specific period of growth. If you think you'll be breeding turtles, it's an idea to have different sizes.
If you are only going to have one or two, expect to be investing in tanks. You'll spend a lot of money replacing a tank each time your pet gets bigger. A good idea would be to figure the biggest they will get and buy for that.
How many inches in diameter will your turtle grow? Most sources will tell you to allow 10 gallons of water for every inch. If you have two turtles that will reach 5 inches in diameter, look for a 100-gallon tank. Choose a big enough tank that also fits your home and decor style.
Be informed about the correct lighting, heat, and filtration for the tank you choose. The quality of water will have the greatest effect on your turtle's health. The temperature must provide healthy warmth while discouraging bacterial growth.
How to Maintain a Turtle Tank
The biggest job you'll do for your turtle is to keep their water clean. The water in a turtle tank holds everything a turtle has, des, and creates. Leftover food, sloughed-off skin, everything your turtle eliminates from its body swirl around in that water.
No matter how big the tank, it won't equal a giant pond or stream. Mother Nature won't be there to do the cleaning. You are the human, so it's up to you. Without your help, that water will get murky and start to smell. This puts your turtle at risk of illness.
Wherever you buy your tank, talk to the dealer about the right filter. Some tanks do better with a specific size or brand. You are better off knowing right away. A quality filter will do a lot off the mucky work for you.
Keeping a turtle tank clean is all about what you add and what you take away.
When you add food, only offer as much as your turtle will eat right away. Check the chemical levels of your water and add the right mixture to balance the water's pH. Add plants that create oxygen. Add fish that eat leftovers. Add an aerator and air stone so bubbles will help move the water around.
Remove any uneaten food right away. Vacuum often to get those fish leavings out of the water. Change the water frequently as well. Kill algae, parasites, fungi, and viruses with ultraviolet light.
How to Set Up a Turtle Tank
When you bring your turtle home, you will want it to feel at home. A tank that gives a turtle a good version of its natural habitat will make your turtle happy. And a happy turtle is a fun pet to hang out with.
A basic habitat will start with a substrate. This is coarse sand or small pebbles that mimic the bed of a pond. Substrate looks good and also anchors other decorative objects. Submerged rocks and appropriate plants provide places to climb and hide. Ask your pet store if substrate is right for your breed of a turtle.
Aquatic turtles need a place to bask. Turtles bask when they climb up onto a log or flat rock to soak up the sun. Logs and rocks are great if you can find them. Artificial elements are good choices because they won't decompose in the water.
&nbsp
When a turtle is basking in your home, it will bask under a heat-lamp. These lights give off the same warmth, UVA and UVB light we get from the sun. Basking is very important for your turtle's health. Plus, it's nice to observe them out of the water sometimes.
A note about heat lamps. They are an important part of a healthy habitat. The bulbs are also prone to breaking. A fine mesh cover for your tank will protect your turtles from shards of glass.
Frequently Asked Questions About Turtle Tanks
Should I buy a pair of turtles for my tank?
Turtles aren't social. If you see turtles grouped together on a sunny rock, they may be competing for space. When turtles are together, they might fight or they might breed. They will rarely just chill out together. In fact, having more than one turtle in a territory could cause them all to be stressed.
Why is a basking area important?
Sunshine is healthy for turtles. They need to dry their shells frequently. Some breeds can suffer damaged shells from being in the water too long
How much should I feed my turtle?
In the wild, a turtle has a continuous salad bar around it. It will nosh on vegetation most of the time. On a lucky day, a turtle will catch itself a minnow or shrimp. That will be its protein source for a few days. This should be replicated as much as possible. Too much protein can hurt your turtle. Never feed your turtle more than it will eat at one time. There's no point in letting it go to waste.
How often should I clean the tank?
Use a net whenever you see large particles in the water. Try to scoop them out before they break down and disappear into plants or substrate. Once a week, scoop out and replace some of the water and check the pH levels. Every tank and turtle is different and you will eventually know exactly when to vacuum or clean your tank.
Can I pick my turtle up?
Again, turtles aren't social. In the wild, a turtle would only be picked up by a hungry bird or small animal. This never results in a cuddle. A turtle assumes it's about to be eaten every time it's picked up which causes stress. Stress can cause illness. As cute as they are, let them be wild and handle as little as possible.
Do I leave the lights on at night?
No. The lights in a turtle tank should help a turtle keep its natural daylight rhythm. Your turtle will suffer from sleep problems without sensing a proper sunrise and sunset.
Conclusion
New turtle owners are lucky to have lots of information out there. Talk to your pet store. Talk to your vet. Follow forums online that are specific to the kind of turtle you'll want to have. Research the best turtle tanks and the best ways to care for your pet.
Turtles are great pets that come to appreciate the care you give them. The tank you choose to call home for your turtles is a big choice, but don't forget, it's not final. You can experiment with tanks and setups until you find the perfect habitat.