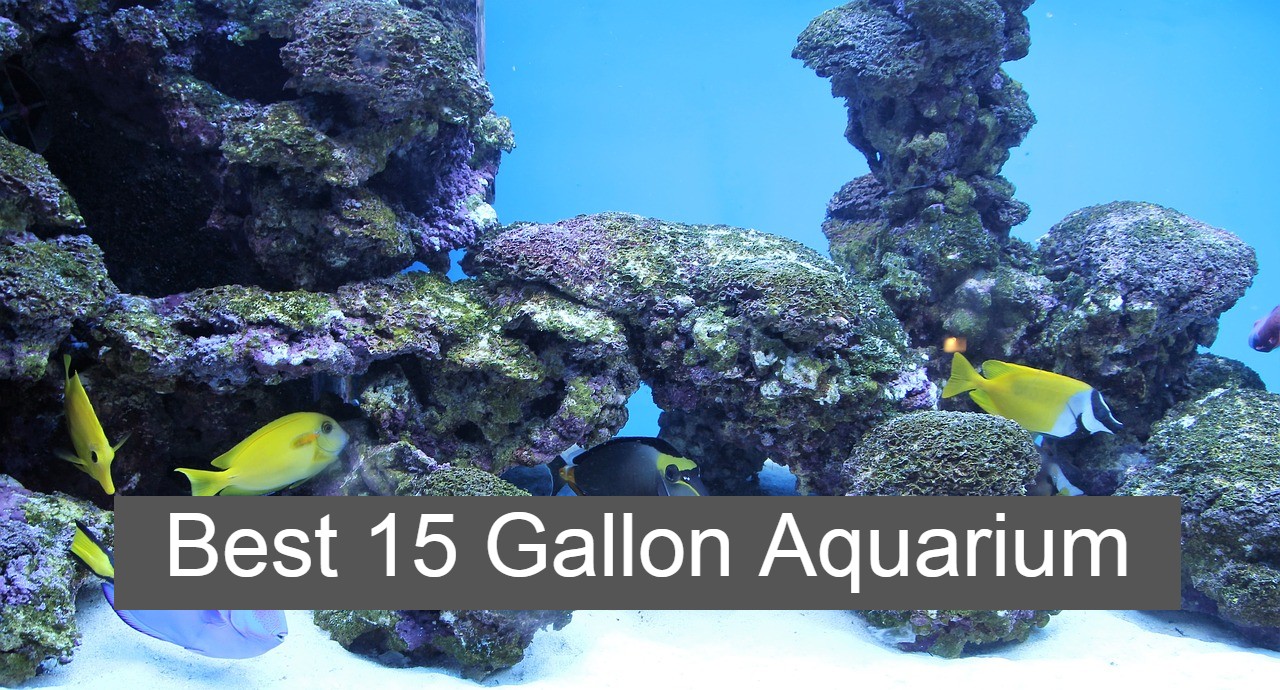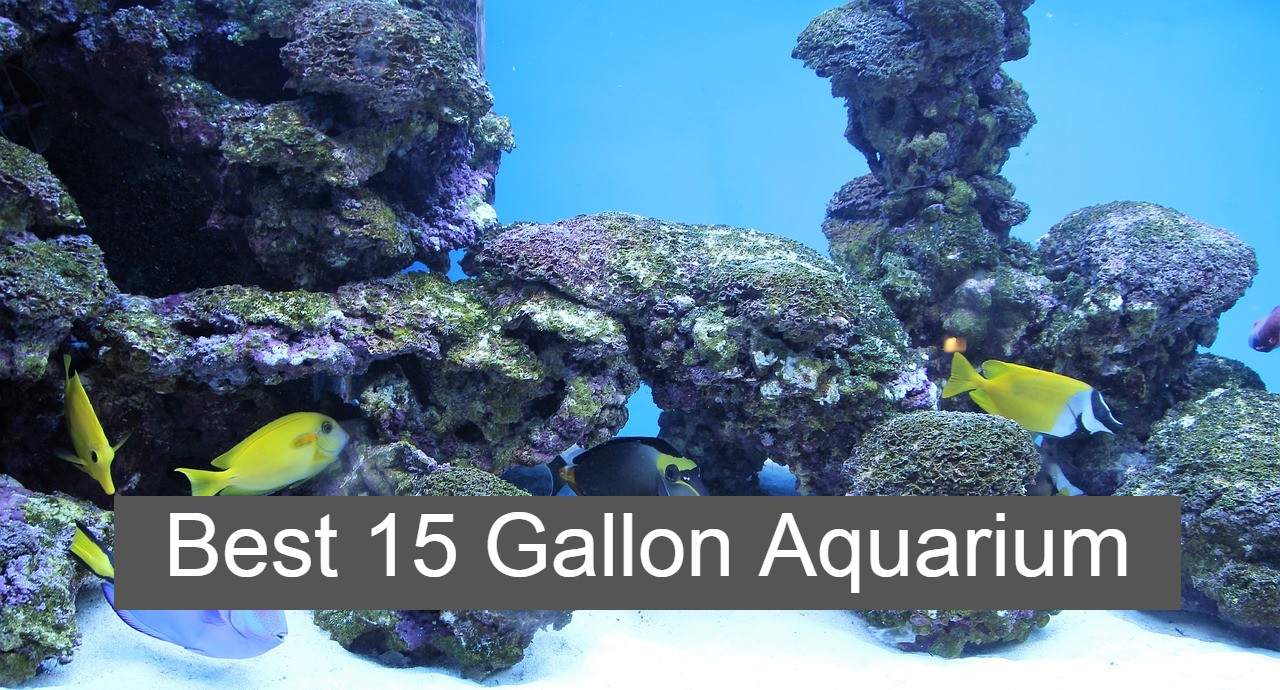 If you or someone in your family is thinking of keeping fish as pets, take some time to plan before you buy. The type of aquarium you buy will be of great importance to your fish. It's also important to choose an aquarium that's right for your home.
A 15-gallon aquarium is a good size to start with. Smaller aquariums can be more difficult to care for. Not only will there be less size for your fish in a smaller tank, but toxins can build in the water more rapidly in a smaller aquarium.
There are things to take into account when looking for an aquarium. How many fish will you have? How big will the fish get? Will you get a glass or acrylic tank? These are important questions to answer before you buy.
15 Gallon Aquarium Reviews
This Fluval 15-gallon aquarium features a nice curved front. This tank features a color changing LED light for added effect. This is a great all-glass tank with a 3-stage filtration system.
The unique curved front of this aquarium offers a sleek design and aesthetic appeal. It also makes your fish and plants inside the aquarium appear larger.
This aquarium comes with a 7,500K LED Lamp. The lamp offers several different lighting effects. The LED also helps promote plant growth and makes your aquarium look bright and lively.
The Fluval Flex comes with a 3-stage filtration system. With mechanical, chemical, and biological media, this helps keep your water clean. This allows for custom water flow, which means less tank cleaning for you.
Pros
Modern design with curved glass front
Included 3-stage filtration system
Good lighting and different effects options
Cons
Does not include heater
Pumps can be noisy and problematic
This 15-gallon aquarium by Seapora is perfect if you are looking for a basic setup. This easy to use design is great for multiple fish. The simplicity of design makes it compatible with most additional accessories.
The aquarium has a clear glass design. Your fish will be in full view from all the way around the tank. Heavy duty design with black trim.
The wide construction makes it fit easily on a variety of tables or stands. The design will also fit with most lids. Provides easy access for feeding fish and tank cleaning.
Although this aquarium is nothing fancy, it is sturdy and made with thick glass. The larger surface area that this aquarium offers means more oxygen absorption in the water for your fish.
Pros
Simple design
Thick glass
Universal design makes it easy to add on additional heaters/pumps/etc.
Good surface area
Cons
Lack of special features
Heavy compared to other aquariums
This aquarium by Seaclear comes in a hexagonal shape. It is 15 gallons and is great for beginners. Included with the tank is an electrical light fixture and reflector.
Since the aquarium is made of acrylic material, it is stronger than regular glass. It also provides a clearer view of your fish and plants.
The hexagonal shape makes your aquarium look great from all angles. It may make your fish and plants look larger than they actually are, adding a cool effect.
Another benefit of having an acrylic aquarium is its durability. Acrylic is less likely to crack or chip than regular glass. If you have children in the house, you won't have to worry about it breaking.
Pros
Hexagonal shape makes fish and plants look neat
Strong acrylic material, crack resistant.
Works for salt or freshwater fish
Cons
Lid is not removable, making cleaning difficult
Included light fixture is flimsy and low quality.
This tank by Coralife is well constructed as well as user-friendly. The Coralife LED has rounded edgy, adding both convenience and style. This tank is compact and also comes with an included filtration system.
As the tank already comes with a filtration system, this is a great perk for beginners. It includes the basic filtration system you need. You also have the option of modifying the filter if you choose to upgrade.
This biocube aquarium comes with a very nice lighting system with an integrated timer. Not only can you change the lighting effects, but you can also set the timer to turn lights on and off. The lights can even be set to mimic the natural full-day cycle for your fish,
This Coralife tank also comes with a submersible filter. Since the filter is underwater, it runs quietly and smoothly. The built-in filtration and quiet submersible pump make this a good tank for someone new to keeping fish.
Pros
Built in filtration system
Light cycle that mocks a fish's natural light cycle
Stylish look
Cons
Difficult to program light settings
Noisy fan
This 15 gallon aquarium by Aqueon has a tall construction. It is made of all glass and contains 15 columns. It comes equipped with a fluorescent light fixture. It also comes with a quiet flow filter.
The fluorescent light hood boasts a full spectrum T5 light. The light is quite bright and also accommodates the quiet flow filter that is built into the hood. The light system is made simple, using a one-switch attribute.
The front of the lid has a built-in feeding door. This makes for simple and hassle free feeding. The lid also provides easy access to the inside of the aquarium.
Because the 15 column aquarium comes included with lighting and filter, it also makes for a good beginner aquarium. Also included is an aquarium guide and setup instructions.
Pros
Convenient feeding door for easy access
Included filter and lighting system
Tall and modern look
Easy to use
Cons
Poor silicone craftsmanship around edges and corners
Weighing over 25 pounds, it is heavier than other aquariums of this size
This 15 gallon tank from Midwest is yet another hexagonal shaped aquarium. It is designed for freshwater fish. The shape and size of this aquarium makes it good for any table or stand.
This tank is a good option if you are a beginner. It comes with lighting, pump and filtration. Everything you need to get started with your first few fish.
The acrylic material that the tank is made of makes it heavy duty and solid. The acrylic is stronger than regular glass. You will not have to worry as much about cracking or breaking.
The shape and build of this tank are attractive and functional. The tall and narrow shape of the aquarium makes it a good fit for a kitchen corner, or other tight spaces. The hexagonal shape also adds its own unique look.
Pros
Durable acrylic material
Shape of aquarium fits many home spaces
Comes with light, pump and filtration
Cons
Heavy
Lid does not cover the tank in its entirety
The BioOrb classic aquarium is an awesome combination of style and functionality. Strong acrylic construction and convenient size are two perks this tank has to offer. It also comes with its own filtration and lighting system.
The BiOrb includes a true 5-filtration system, making it easy to keep your water clean. This includes biological, mechanical, chemical oxygenation and water stabilization. This air driven filter system creates constant water movement, keeping your water clean.
The LED lighting included in the Orb is also a neat additional feature. The lighting can add a cool effect to your orb, showing off the colors of your fish. The lighting is also backed by a 12 month warranty.
The Orb uses a standard "one size fits all" filter. This makes it easy to maintain, and can keep you from long searches at the store. This keeps the filtration of your tank simple. All you need to do is change the filter about every 4 weeks.
Pros
Eye-Catching design
User friendly filtration system
Can be converted to a saltwater tank
LED Lights
Cons
Small surface area keeps oxygenation down
Loud air pump
No heater included
This aquarium kit is made by Fluval. It is made with a curve on the front, which offers a panoramic view of your fish and plants. This is a nice change from the flat, rectangular tanks that are more common. It includes everything you need to start up a new fish family.
Although many of the aquarium "starter kits" come with everything you need to get started, the fluval offers the best additions. It includes filter and filter media, as well as a heater. It even comes with fish food!
The lid of this tank is well made and has easy access. The lid opens and closes with ease. This tank also has a removable section on the lid for feeding your fish.
This aquarium also uses an AquaClear filter. These are some of the most well-made and well performing filters available. The fact that these come stock with other accessories tells you that you're getting a good quality product for your money.
Pros
High quality components
Easy access lid
Curved front adds unique viewing
A true "all-in-one" package
Cons
Heavy
Light on the inside of the lid creates condensation
If you are looking for a basic fish tank, but don't want to sacrifice quality, This aquarium by Lifeguard Aquatics is it. It has perfectly formed edges and invisible glue joints so that you can focus more on your fish. It is made with low-iron glass which has great clarity for viewing your fish.
This tank has well-crafted edge work. Using invisible glue on all the joints and corners, it has great clarity compared to other tanks. If you want to focus less on your fish tank and more on your fish, this is a great aquarium.
This is a "rimless" tank. That means that there is no plastic or metal edging on the tank. Not only does it make for a better viewing experience, it is also easier to keep clean.
This aquarium comes with the tank only. If you are looking for an all-in-one starter pack, you might be disappointed. However, if you are looking to build your own setup, and don't mind building it yourself, this is a good option.
Pros
Well-Constructed
No edging to obstruct your view
Great glass clarity
Cons
Made with glass rather than acrylic
Does not include components
Like other hexagonal aquariums, this offers a nice aquarium for smaller spaces. Your fish and plants can be seen from all around the tank. It is made from acrylic material.
Acrylic fish tanks have several benefits as opposed to glass. Acrylic is 40% brighter than glass. This means a better view of your fish. Acrylic is also stronger. You will not have to worry as much about your tank breaking or leaking.
This aquarium can be used for either a freshwater or a saltwater setup. Because of this, you are not limited to what kind of fish you can buy. Even if you're not sure which you want yet, it's a plus to know that you can do both.
The manufacturer of these aquariums stands behind their products. They offer a lifetime warranty against cracks and leaks due to manufacturer error. This shows that they greatly believe in their own products, so you can too.
Pros
Hexagonal shape works in a variety of locations
High quality acrylic design
Great clarity from all angles
Cons
Heavy
No additional components included
How to Select an Aquarium?
If you have recently decided to get an aquarium for your home or office, it is important to do some planning and research before you buy. The first thing you may want to consider is what size fish tank you will buy.
When determining what size tank, you need, this is where some planning comes in handy. You should have a basic idea of what kind of fish you will have in your tank. Not only what kind of fish, but also how big the fish will get once they are grown. Buying too small of a tank is a mistake that many beginners make.
Once you have figured out what size tank to buy, you should decide what shape tank you would like. Consider where the tank will be placed when making this decision. Traditional tanks are rectangular and can sit on any flat surface with proper support. There are also cube or tower shaped tanks, Round tanks, and many other options.
An important factor to consider when choosing tank shape is the opening or lid of the tank. The larger the opening on the top of the tank, the healthier for your fish. This is because fish need oxygen, and oxygen enters the aquarium through the water surface.
You also have the choice between a glass aquarium or an acrylic one. Both of them have their own pros and cons. For instance, glass will not scratch as easily as acrylic. However, it is heavy and more likely to break. Acrylic tanks are lighter and stronger, but they also scratch much easier. Consider what your needs are when deciding between glass or acrylic.
How to Maintain Your Aquarium?
Many people jump into buying an aquarium and fish without thinking about the maintenance aspect of it. Your fish tank will be home to living fish and plants. Keeping up with tank maintenance will take some time, effort and patience. But don't worry, it's pretty easy!
The most important thing to do when you first buy an aquarium is to cycle your tank. This involves running the tank for a few days before you put your fish in. This is to make sure the water is healthy and balanced for the fish. It will help your fish acclimate to your tank more easily, and be overall more beneficial to them.
Once you have your fish in your new tank, you should be testing your water every once in a while. This is so you can monitor your tanks Ph, ammonia, nitrates and nitrites. Water testing kits are fairly inexpensive and easy to use. Follow the instructions on your kit to see if your water is at healthy levels.
Every so often you will need to change out the old water for fresh. This is probably the biggest task of owning an aquarium. Over time, your fish tank will be overcome with fish waste and uneaten fish food. Make sure to place your fish in a safe place when changing over your water. Also test your water levels before you reintroduce the fish. Another good idea is to clean any gravel or decorations you may have in your aquarium.
Types of Aquariums
Aquariums come in all shapes and sizes. Traditional tanks are made of glass and are rectangular in shape. There are now aquariums shaped like orbs, cubes, towers, hexagonal, and many other different shapes. The shape and size of your aquarium is really a personal preference of what your needs are.
Although there are plenty of options for the shape and size of your tank, most aquariums are made of either glass or acrylic. Again, this is based on preference and what you want your aquarium to do for you. Glass is overall cheaper, but is also heavier and can break or shatter more easily. Acrylic generally costs more, but is less likely to break. Acrylic can scratch easier than glass, but also offers greater clarity for your fish-viewing pleasure.
When deciding on what type of tank you will buy, think of where it will reside within your living space. Where are you going to put it? Do you have a solid table or counter space to support the type of tank you will have? These are important things to consider when deciding which aquarium to buy.
Some aquariums are specifically designed for either freshwater fish or saltwater fish. This is another important thing to think of before you choose your tank. Although differences can be subtle, it is good to know what the tank is built for. Do your research when choosing what type of fish tank to buy. In many cases, a freshwater tank can be easily converted to a saltwater tank.
Reasons to Have an Aquarium
There are several reasons why a person might choose to start an aquarium in their home. Adding looks and style to your home is an obvious reason. Perhaps you've always wanted pets, but haven't had the time to take on a dog or cat. You might also want a fish tank because you are in a rental situation that does not allow larger pets.
In addition to the aesthetic appeal of an aquarium, many people find it to be a fun and fulfilling hobby. Watching your fish grow, and adding more fish to your family can be a fun and rewarding project, no matter your age.
Another reason you might enjoy having an aquarium in your home or office is for the calming effect that it offers. Having a fish aquarium in the home offers a tranquil and relaxing experience that cannot be found with larger pets. Studies have shown that having a fish aquarium in your home can lower stress, and have several other therapeutic advantages.
Maybe your child has been bugging you for a pet, but you're not quite ready to commit to a dog. Or maybe you work long hours and have limited time to care for pets. Or maybe you just wanted to liven up your living space. Whatever your reason for starting an aquarium, it can turn out to be a fun hobby for all.
Wrapping Up
Now that you have learned more about the different types of aquariums, you can start thinking about what kind of fish tank you'd like to have in your home. Whether you want a small tank with just a few fish, or if you want a larger tank with many fish, you have plenty of options.
At first, starting an aquarium of your own can seem like a daunting task, but it definitely does not have to be. However, it is highly recommended that you do a little bit of planning before you just pick out a tank and a few fish. Consider your wants and needs, and decide how much effort you want to put into your new project.
Whether you want freshwater or saltwater fish, or if you want one fish or 30 fish, there is an aquarium option for you. An aquarium can be a great addition to anyone's home. Not only are fish beautiful to look at, but having your own aquarium can be quite a fun hobby!