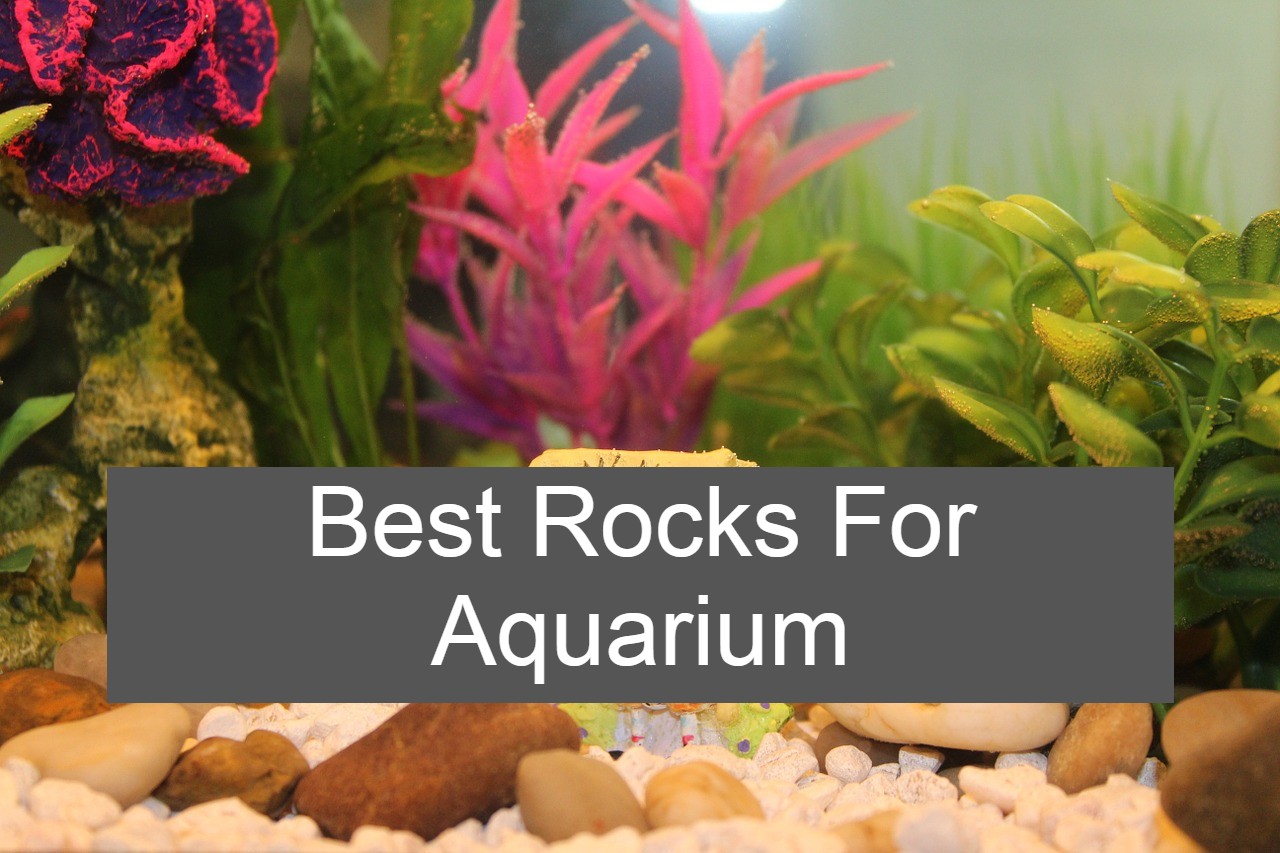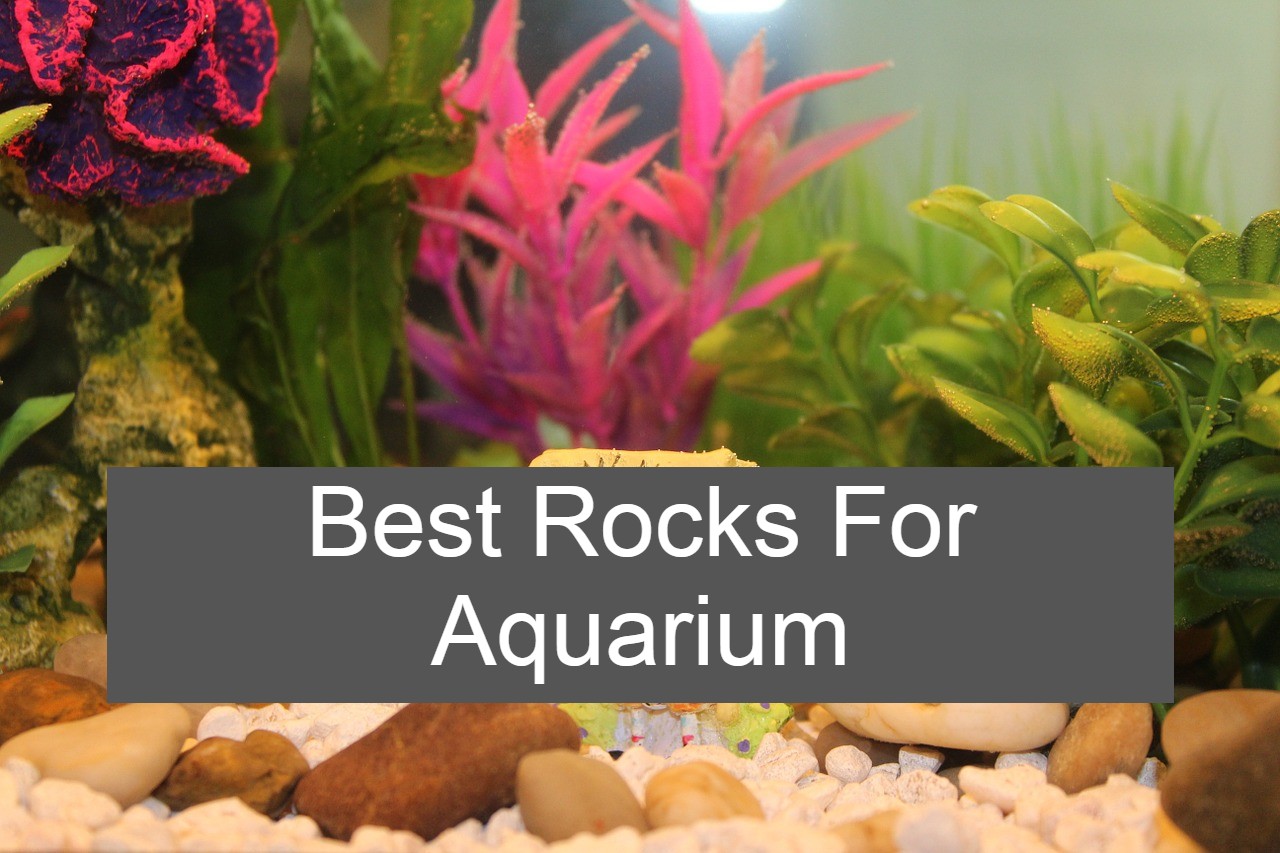 It may seem like aquarium rocks are all the same, but this is very untrue. There are so many different formulas and purposes that different aquarium rocks utilize. The main thing to look out for in aquarium rocks is that they should have no impact on the water's pH levels.
With all of the different types of rocks, it can be hard to choose the right brand and model for you. Therefore, I have compiled a top ten list of the best aquarium rocks on the market today.
Aquarium Rocks Reviews
These stones are natural and won't harm any of your fish or the water. The water's pH levels will not change because of this product. It is free from any toxins or harmful chemicals. Also, they are environmentally friendly. Because of this, they will last much longer than other rocks would. They work wonderfully to hold down planted aquariums and to add decorations to any type of aquarium.
The pebbles don't have any sharp edges so you won't have to worry about your aquatic life being harmed. It also gives a much more polished look to the aquarium since they have a smooth and round appearance. They consist of earth-toned colors for the most natural-looking tank.
One thing to note is that the package these come in is very small so you might need to buy more to start out with and then more replacements down the line.
Pros:
Natural, earth-toned color palette
No sharp edges
Environmentally friendly
Cons:
Comes in a small package
Not tested extensively for fish-only aquariums
These rocks are going to give your aquarium an aesthetic edge compared to others. They have a faded black color and it looks natural and sleek in any aquarium. These stones are a little bigger than others; they are 1 to 3 inches in size for each stone.
If you need your aquarium to be heated to a certain temperature, this is a great option to go with. They work effectively to hold in heat and create a heated environment. However, if you don't need you aquarium to be heated, these will work too. They don't create heat; they hold in heat.
Because of its large size, they can be used to create different levels for a natural landscape in the aquarium. For example, some can be stacked higher than others for different purposes and/or effects. However, because of its unique design, there can be some sharp edges that could potentially be harmful to delicate aquatic life.
Pros:
Aesthetically pleasing to the eye
Holds in heat
Can create a natural landscape with these
Cons:
Can have sharp edges
Can make the water cloudy
These all-natural lava rocks were formed from ancient magma from volcanoes. They are naturally made so as to not harm any aquatic life or plants. Because they were from volcanoes, they can withstand extremely hot temperatures.
Although you must thoroughly clean them before using them, they do a great job of not making the water cloudy afterward. They are very easy to clean and maintain. Because of their surface, they are very compact and won't break off most likely. The premium quality material will make your aquarium look amazing without compromising the water's pH levels.
They do a great job of retaining moisture for the plants while keeping them grounded. This is going to be great for planted aquariums.
Pros:
Made from premium quality materials
Can withstand hot temperatures
Will not compromise water's pH levels
Cons:
Must clean thoroughly before using
Can promote unwanted algae growth
This is much more of a decorative option to go with since it only comes with 8 pieces. But they are larger rocks so you could get away with only buying one package. They have a realistic color palette of only grey and black which won't be too overwhelming to look at. It won't overpower the other colors of plants and aquatic life that are in the tank.
They have holes inside each of the rocks which serve for both functional and decorative purposes. It creates a passageway for fish to swim in and out of, and it also creates a hideaway for fish to hide. Additionally, the holes in the rocks just look a lot more interesting than just plain rocks.
The material that these are made of isn't branded to be all-natural, so that could be an issue since it's unknown if this is going to harm your aquatic life or fish. However, not a lot of people have reported any issues with these having that problem.
Pros:
Allows fish to hide and swim through the holes
Makes the tank look more aesthetically appealing
Basic grey and black color palette
Cons:
Only comes with 8 pieces
Unknown if these will harm your aquatic life or water
These rocks are bigger rocks that are made to create a natural landscape in the tank. These are all-natural and non-toxic so they are completely safe for aquatic life and plants. It has been reported to have very minimal, but still some changes to the water's pH levels. The sizes of the rocks vary so they will work with any size aquarium.
The sharp edges on the rocks have the potential to harm aquatic life. It hasn't been reported to do so, but that is always the risk you take with rocks that have sharp edges. However, the sharp edges do give a very natural-looking appearance to the tank.
Because of how they were designed, it is super easy to construct a beautiful and natural-looking landscape out of these rocks. They were specifically carved and shaped for users to easily put them in the tank and instantly look amazing.
Pros:
All-natural and non-toxic
Rock sizes vary for any size tank
The design makes them instantly create a natural and amazing landscape
Cons:
Sharp edges could harm aquatic life
Minor changes to the water's pH levels
This rock set is specifically made for tanks with coral in them and reef tanks. The material that this is made from is harvested from natural environments, so placing these in your tank is going to allow for a natural surface for planted reef aquariums. The material of these rocks have the potential to stimulate healthy algae growth for corals.
They come in many large sizes which can be broken down if needed into smaller sizes. This is optimal for either smaller aquariums or spaces that need smaller rocks as fillers. Because of their texture, these can actually be stuck together easily to make a certain desired landscape.
You must wash these rocks very thoroughly before placing them in your tank or else they will give your water a cloudy effect.
Pros:
Can break apart into smaller rocks
Harvested naturally
Can stimulate the growth of beneficial bacteria
Cons:
Must be washed very thoroughly before using
Unsure of how these will affect aquatic life
These rocks are great because they can either be used alone or alongside other types of rocks. The color palette of these rocks is neutral and earth-toned giving the appearance of a natural habitat. All of the stones are unique and different which also helps the landscape look as natural as possible.
These rocks are neutral and are proven to not affect the water's pH levels. They are also capable of holding heat for tank applications that require the tank to be heated.
Something to note about these rocks is that they are 2 to 5 inches in length. This is great for large aquariums, but it might make the aquarium look too cluttered if it is smaller in size. You must thoroughly wash these before using them or else the water will get a cloudy effect.
Pros:
Holds heat if necessary
Neutral color palette
Each size and shape is unique and different
Cons:
Must be washed thoroughly before usage
Not suitable for smaller sized tanks
Each of these rocks is made from all-natural quartz being marbled through the stone. The stones initially look light, but then get darker in water. This is going to provide for a big contrast of the white quartz so it will make it stand out and make the tank look visually appealing. They can either be used by themselves or combined with other rocks for whatever look you are going for.
These stones are supposedly pH neutral and will not affect the water's pH levels, but some people report differently. However, there usually is not too much of a difference at all in pH levels. These stones are able to hold in heat for heated aquariums.
You can buy these rocks in two sizes. You can buy them in 1-4 inches and also 5-7 inches. This is perfect for sizing your rocks to fit whatever size tank you have. Not a lot of other products have this feature.
Pros:
Visually appealing
Different size options
Ability to hold in heat
Cons:
Sharp edges have the potential to harm aquatic life
Could possibly change pH levels in water
These rocks are made from completely all-natural stones. Just like rocks found in rivers, they are completely safe and non-toxic, so your aquatic life will not be harmed by these rocks being in your tank. They are also long-lasting as their color will not fade over time.
The surface of these rocks is very smooth. This means that they are quick and easy to clean which is less maintenance for you. If you don't clean them right away, they will cloud up the water in your tank. Also, since there are no sharp edges, your aquatic life will not be harmed by them puncturing them in any way.
This is a multipurpose rock, so along with your fish tank, you can also use these for ponds, outdoor decorations, and various crafts. One thing to note about these stones is that they come in a very small package, so you may need to buy multiple bags in order to fill the entire tank.
Pros:
Safe and long-lasting
Easy to clean
Smooth surface with no sharp edges
Cons:
Comes in a small package
Must clean well right away to avoid cloudy water
These glow in the dark rocks are perfect for spicing up the overall look of your fish tank. If you have kids, they will definitely get a kick out of these because they add a more appealing touch that other rocks don't have.
They are actually charged by solar power. They absorb energy from the sunlight and convert it into energy in order to create the glowing effect. After absorbing the sun for a full day, they usually glow at night for only about 1 to 2 hours. They are green during the day and they turn blue when they glow at night.
They are safe to use and odorless. They are made from natural materials and is completely non-toxic. The rocks have a smooth surface no there will be no sharp edges to damage any fins on the fish.
Pros:
Appealing look
Solar charged
Types of Aquarium Rocks
If you are currently looking to get the best rocks for your aquarium, it is important to understand all of the different factors that go into choosing the best product. By considering different features of different kinds of rocks, you can be sure that you are choosing the right aquarium rocks for you and your tank.
Lava rocks: Lava rocks originate from cooled volcanic matter. They vary in size, shapes, and colors, but usually, they come in larger sizes. This makes them ideal for decorative purposes. They often come with openings in them for fish to swim through or hide in. They provide a natural appearance to the tank.
Slate rocks: Slate rocks derive from shale rocks. They are highly durable and long-lasting in your tank. They usually come in faded, neutral colors which gives your tank a realistic underwater landscape. However, they can also come in more decorative cool-toned colors such as purple and blue.
Quartz rocks: Quartz rocks are very popular among fish tank owners who want to provide their tank with an aesthetic edge without it being too overpowering. They have an illuminating glow that enhances the natural colors of the plants and aquatic life, making them appear more vibrant. Quartz will not cloud up the water or tamper with the water's pH levels. Also, they are very easy to clean.
Plastic rocks: Plastic rocks are usually only used for decorative purposes. It comes in many different forms depending on the look you want for your aquarium. You can pretty much get any look you want with these rocks. However, they look much less realistic compared to rocks that are formed from natural resources.
Stone rocks: Stones can be formed from many different sources such as cooled volcanic matter. They are smooth, so they will not have any sharp edges. This will prevent any aquatic life from possibly incurring scale or gill damage from sharp edges. They are often very heavy, so they are also great for planted aquariums.
Benefits of Aquarium Rocks
It does not affect water's pH levels: Aquarium rocks specifically designed for freshwater use should be inert meaning they will not affect the water's pH levels. It is important to make sure you are buying aquarium rocks that are specifically designed for freshwater tanks. If not, it can cause harm to your water, plants, and aquatic life.
Visually appealing: One of the main reasons people like to invest in good aquarium rocks is because of the visual appeal they add to the tank. Choosing the right color and style of aquarium rocks can spice up the look of your tank. However, some brighter colors can either cloud up your tank or the color can fade over time.
Fish like interactive rocks: Rocks with holes and/or crevices in them are ideal for your aquatic life, especially if the specific species you have tends to have a more active lifestyle. These rocks allow them to swim through and hide in them which they enjoy a lot.
What to Look for in Aquarium Rocks
No sharp edges: Sharp edges can possibly be dangerous for aquatic life, especially the more delicate species. It can potentially cause gill or scale damage. Therefore, looking for aquarium rocks with smooth edges that cannot harm any harm to your aquatic life is very important.
Will not affect water's pH levels: For freshwater tanks specifically, it is crucial that your aquarium rocks do not affect the water's pH levels. This can damaging to the water, your plants, and your aquatic life.
Choose rocks with holes in them: Fish love rocks that have holes in them. This gives them the ability to swim through them and hide in them. It is a great exercise for them and it keeps them happy and healthy. Plus, it makes your tank look much more appealing.
Appearance and color: A big reason people invest in aquarium rocks is for decorative purposes. Whether you want a natural look to the aquarium or you want to spice it up with fun-colored rocks, pick whatever is going to work best for you and your tank.
FAQ's for Aquarium Rocks
Are aquarium rocks safe?
Most aquarium rocks are completely safe for your aquarium. Two factors to make sure of when looking for safe aquarium rocks are that they have no sharp edges and they are specifically made for freshwater tanks. This will ensure that the water's pH levels will not be tampered with.
Are aquarium rocks good to use over time?
Yes. The only thing that would change over time is the color. The color could slightly change based on lighting, the water, microorganisms, and other factors. However, it is nothing that would put your tank in any harm.
What types of rocks provide the most natural look to the tank?
Any rock that comes from a natural resource would give your tank a natural look. This includes lava rocks, natural stones, etc. The only rock I would not suggest is plastic rocks since they have an artificial look.
How do I clean aquarium rocks?
Aquarium rocks can be cleaned by soaking them in a chlorine bleach and water mixture. Then, you should be able to easily scrub off any residue or bacteria that is contaminating the rocks. You should clean your aquarium rocks immediately before putting them in the tank after buying them. To maintain them, you should clean them at least once every month.
How do I prevent a cloudy look in the water caused by aquarium rocks?
It is extremely important that you deep clean your rocks before putting them in your tank. It is also recommended to let them soak for at least one full day beforehand. This is going to eliminate any harmful bacteria that could be causing your water to cloud up. This residue could have come through the packaging process or any of its previous sources.
After reading this list, it is clear and apparent that there are so many different aquarium rocks out there to choose from. These were just ten of the best ones on the market today to choose from. Hopefully after reading this list, you were able to match your priorities with a certain brand and/or model of aquarium rocks and maybe even choose one that will end up in your fish tank soon!