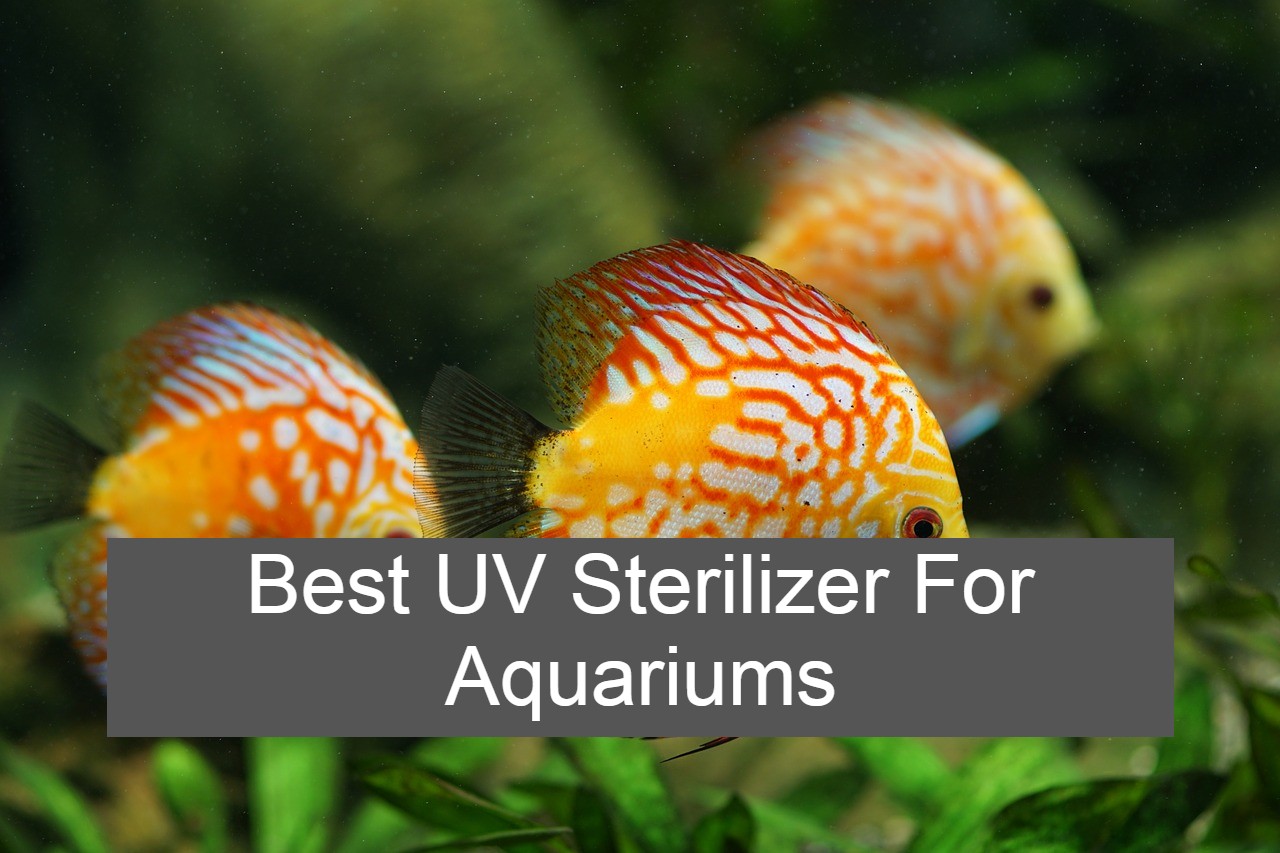 If you are an aquatic pet owner, you already know the importance of keeping the water clean and clear. If bad bacteria infect the waters, it affects both the quality of the tank and the health of the fish.
In order to maintain the water's freshness and cleanliness, it is crucial to invest in a good quality UV sterilizer. Most filters that come with aquariums or that you buy separately are efficient at cleaning the water in the tank, but they can sometimes miss the bad bacteria which the UV sterilizer can pull out.
With all of the different UV sterilizers on the market, it can get pretty confusing and overwhelming when deciding which one to buy. Therefore, I have compiled a top-ten list of the best UV sterilizers for freshwater tanks that you can buy right now.
UV Sterilizer Freshwater Aquarium Reviews
The AA Aquarium Green Killing Machine UV Sterilizer is one of the most popular UV sterilizers for aquariums on the market today, and for good reason. With the zig-zag formed passageway, it does an efficient job of allowing the water to pass through seamlessly so it can all gain exposure to the UV light.
This product is incredibly easy to install (only 10 minutes!) and there are no tools needed. Maintenance is also very doable for this sterilizer because of the control box notifying when it is time to change the bulb. The bulb is sealed for safety precautions, so it is safe for both you and the aquatic life.
Something great about this sterilizer is how versatile it is. It works for freshwater aquariums up to 50 gallons. Also, the submersible water pump makes it super versatile and easy to use. It comes with suction cups for easy installation anywhere in the tank.
Pros:
Easy installation with no extra tools needed
LED light alerts when to change the bulb
The zig-zag design allows for the water to easily pass through
Cons:
You have to clean it a lot or else the water will get cloudy
The plastic material it is made of isn't the best quality
This UV sterilizer is by far one of the most powerful and efficient sterilizers on the market right now. It is completely submersible and good for up to 75-gallon tanks.
One of the greatest benefits of this pump is its versatility. It comes with suction cups for the sterilizer to be mounted on the interior of the tank easily and efficiently. Also, you can mount it both vertically and horizontally for ultimate versatility.
This sterilizer is very easily installed with it being ready to install right out of the box. You don't need any additional tubes or pumps because everything you need comes in the box. Also, you won't need any tools in order to install it in the tank.
The UV light only needs to be changed annually so that lowers the maintenance for keeping up with it. The light controls removing the harmful microorganisms and bad algae. The included pump directs the bacteria into the sterilizer to create a cleaner and clearer water for the fish to thrive in.
Pros:
Easy installation
Works for up to 75-gallon tanks
Versatility in how it is installed in the tank
Cons:
The motor has a shorter life and might need to be replaced shortly
Strong water flow not suitable for more delicate aquatic life
This UV sterilizer is unique compared to others because of its 3-stage media canister. The 3 media trays to aid in mechanical, chemical, and biological filtration by activating carbons to remove all of this bad bacteria.
This sterilizer, like the others, is also very versatile. You can control the level of the desired filtration easily with the media trays. It is usable for tanks that hold up to 100 gallons. The only thing that makes it not versatile is that it is not submersible, so it requires a little extra space.
Features that come with this UV sterilizer are an adjustable spray pump, a spray bar cover, draining trays, a draining tray cover, 5 feet of flexible tubing, a coarse filter sponge, and more. All of these added features that are included in the package are a great deal for what you're buying. Instead of just buying the sterilizer, you get so much extra stuff that you won't need to buy separately.
Pros:
Lots of added features
Helps with filtration
Usable for up to 100-gallon tanks
Cons:
It is bulky and not easily placed
Plastic is lower quality
This UV sterilizer is great for cleaning the water of smaller tanks. It is proven to effectively remove the harmful microorganisms and free-floating algae that might be harming the water and aquatic life. Even though it works for aquariums up to 75 gallons, it is ideal for smaller aquariums.
This sterilizer works best for making the water as clear as possible. With other sterilizer systems, you might still get a cloudy effect in the water even if the water is clean and removed from all harmful bacteria. With this sterilizer, it does an efficient job of cleansing the water to the point where it is completely crystal clear for your tank to be cleaner and pleasing to look at.
The sterilizer is designed to be very slim, so it is easy to place anywhere in the tank. This is also why it is tailored mostly to smaller aquariums.
Pros:
Crystal clear water
Slim design
Prevents water from becoming cloudy
Cons:
Not tailored towards smaller aquariums
Might kill off some good bacteria
This UV sterilizer is incredibly reliable and durable. It clears the water of any harmful bacteria in up to 3 to 5 days and sometimes has shown results overnight the first night. It is ideal for most size aquariums. It is small enough and light enough to fit correctly in a smaller aquarium, but it also has a powerful enough flow rate to maintain larger aquariums.
Its performance is most effective when installed properly, which happens to be more difficult compared to other sterilizers. Installation can be difficult, but when it is installed properly, it works amazingly and does its job.
The bulb that it comes with is a higher wattage than most UV sterilizers have, which calls for higher sterilization power and therefore, cleaner and clearer water. This is a good feature to have if you own a larger aquarium.
Pros:
High wattage UV bulb
Durable and high-quality
Powerful flow rate
Cons:
Long and difficult installation process
Does not work with all filtration systems
This UV sterilizer is designed to effectively get rid of all the harmful bacteria, toxins, and free-floating algae that is infecting the water. It is made out of durable materials and is very reliable. It has a "twist-flow" design which allows all of the water to be exposed to the UV light resulting in maximum sterilization.
The 18-wattage UV light bulb is powerful and intense so the water will be the cleanest it can be. The bulb is covered by a glass sleeve which is safer for both the person changing the bulb and the aquatic life. This also prevents water from touching the bulb.
It has mounting brackets for you to mount it anywhere in the tank. It is also completely submersible. This allows for versatility in where you would like to install it in the tank.
One thing to note about this sterilizer is that it requires you to buy other products separately. For example, you will need to buy a filtration system and pump separately as it does not come with this sterilizer.
Pros:
Durable and reliable
Made from high-quality material
UV bulb is covered with a glass sleeve
Cons:
Does not come with a pump
Not optimal for smaller tanks
This sterilizer is perfect if you want your water clean of all the green-looking particles and bacteria. It'll leave your water looking crystal clear. The UV power for this sterilizer is 9 watts, and it performs best in smaller aquariums. Although, it can still be used in tanks up to 75 gallons.
Unlike some sterilizers which sterilize with chemicals, this product sterilizes without chemicals so you won't need to worry about it harming your aquatic life and plants. Also, it comes with a glass sleeve around the bulb so as to not allow any water to touch the bulb.
It is very easy to install since it comes pre-assembled; it only takes minutes. There are minimal parts that come with it so it isn't confusing or overwhelming to set up. Also, it is very easy to clean and maintain.
Pros:
Easy installation process; comes pre-assembled
Easy to clean and maintain
Does not use any dangerous chemicals
Cons:
Most suitable for smaller tanks only
Might get rid of all kinds of bacteria (including the beneficial bacteria)
If you are having a hard time choosing which sterilizer is right for you, this one is a versatile product that will definitely leave you satisfied. It is a sterilizer and filtration system all in one, so you most likely won't need to buy any products separately. Also, it does an efficient job of clearing all of the bad bacteria from the tank leaving the water crystal clear.
The installation process is one of the easiest and most simple ones out there. It comes preassembled so it only takes minutes to install it in your tank. Also, the hang-on feature allows you to just hang it on one of the walls of your tank without any difficulty or frustration.
It comes with an adjustable flow-rate depending on the size of your aquarium and what you need for your aquatic life. This also aids in keeping it noise-free, so you won't be annoyed by hearing it function all day in the background.
One thing to note is that the carbon filter that is included in this package has been reported to be low quality, so if it breaks or stops working, you might need to buy one separately.
Pros:
Noise-free
Easy installation process
The hang-on feature means no hassle to attach to the tank
Cons:
Carbon filter is low quality
Not suitable for large aquariums
If you are looking to buy everything you need in one package, this option might be for you. This is a filtration system with a built-in UV sterilizer, meaning you won't need to buy either separately. It is suitable for aquariums holding up to 90 gallons, and it will work in smaller aquariums just as well as the larger ones.
It has a very powerful and intense UV light (18 watts!), so you can be sure that the water will be cleaned effectively and cleared of any harmful bacteria or algae. This also means you won't get the green effect in your tank that is not pleasing to the eye or to your fish.
The installation process is pretty simple, but not as simple as others as you have more to install. However, the instructions are easy to follow, so there should be no troubles. It allows for versatility as you can use it in many sizes of aquariums, and it is also good for both freshwater and saltwater tanks.
Pros:
Good for both smaller and larger tanks
It has a powerful 18-watt UV light
Good to use in both freshwater and saltwater aquariums
Cons:
Long installation process
Design results in less water being exposed to the light
This UV sterilizers brands themselves as the "killer of green water," and it does an efficient job at doing just that. The built-in water pump and high-quality bulb effectively removes all of the harmful microorganisms and free-floating algae that are infecting the waters in the tank.
Features of this sterilizer are an adjustable water outlet, an air bubble, and a ceramics rotator. All of these features aid in the sterilizer working to its fullest potential to make the tank's water both clean and clear. This results in the clearest crystal-looking water with no leftover green bacteria.
It can be mounted on the interior of your tank by the attached suction cups. This allows for both easy installation and versatility in where you attach the sterilizer to fit your tank's needs. Also, it is practically noiseless so as to not bother or annoy your ears.
Pros:
Noise-free
Suction cups allow for easy mounting
Comes with extra added features
Cons:
Takes a few days to notice results
Has no instructions
How UV Sterilizers Work?
A UV sterilizer is made from an ultraviolet light that is placed in the aquarium. It can be either fully or partially submerged depending on the product itself. The bacteria-filled water is disinfected through the wavelengths produced by the UV light. When the light penetrates the algae and bacteria in the water, it prevents growth of that bacteria in the tank.
Stopping the spread of harmful bacteria is essential for keeping the water clean and clear. The UV sterilizer does not kill any organisms on the aquatic life or any beneficial bacteria in the tank.
UV sterilizers are meant to work alongside filtration systems to result in the healthiest environment for your tank. They work to get rid of the harmful microorganisms in the tank that the filter did not pick out.
Another thing to contributes to how UV sterilizers work is the dwell time. This simply means that the longer the water is exposed to the UV light, the better it will clean the water. Therefore, it is better to place the sterilizer somewhere where the flow of water is stagnant. If you have a filter will a high flow rate or a waterfall feature in your tank, it is best to not place the sterilizer anywhere around those areas if possible.
Features To Consider When Buying A UV Sterilizer
If you are currently looking for a UV sterilizer for your freshwater aquarium, there are some things you need to consider beforehand. It is crucial that you educate yourself on the different factors for each UV sterilizer so you are able to choose the best product for your aquarium.
Bulb wattage: One of the main differences between different types of UV sterilizers is the bulb wattages. This will vary from product to product. Bulbs with a higher wattage will produce a stronger wavelength. Bulbs with a lower wattage will produce a weaker wavelength. It is important to note that extremely high wattages can potentially kill off some beneficial bacteria. However, weaker wattages are not as efficient at penetrating every single harmful microorganism in the tank.
Quartz sleeve: A quartz sleeve is a cylindrical quartz glass tube that surrounds the UV light. This protects aquatic life from touching the lamp. Some UV sterilizers have a quartz sleeve and others do not. The quartz sleeve keeps the light at the optimal temperature and will prevent it from getting too cool. The quartz sleeve is an essential feature for protecting the UV light, but it can create other contaminants in the water over time if not cleaned properly. Therefore, the quartz sleeve requires more maintenance, but it is a very beneficial feature to have in a UV sterilizer.
What size tank it is suitable for: Some UV sterilizers are better for smaller or larger sized tanks. If you have a sterilizer that is very strong, it can possibly penetrate the microorganisms on your more delicate aquatic life in a smaller sized tank. If the sterilizer is on the weaker side, it shouldn't be used for larger tanks as it will not be able to sterilize all of the water.
How it is installed: UV sterilizers can either be installed with a hang-on feature that simply hangs on the back of your fish tank, or they can be installed in the filtration system itself. This is up to personal preference, but it also depends on the size of the aquarium.
Benefits Of UV Sterilizers
Eliminates the maximum amount of harmful microorganisms: Since UV sterilizers work alongside filters, what they are great at doing is removing all of the microorganisms in the tank that the filter did not pick up. This is essential for keeping your tank as clean as possible.
They help protect your aquatic life: Some of the algae and harmful bacteria floating in the water can potentially be harmful to your aquatic life. The UV sterilizer's job is to get rid of those bacteria outbreaks that could save your fish's life.
Less frequent water changes: Since the UV sterilizer is able to clear the tank of any nonvisible bacteria and microorganisms, you won't have to change the water as frequently. It does an efficient job of keeping the water clean and clear and preventing the water from appearing cloudy.
FAQ's for UV Sterilizers
How long do I need to replace the bulb?
It can vary from product to product, but you would usually need to replace it approximately every 6 months. This is due to its aging and weakening over time.
Can a UV sterilizer replace a filter?
A UV sterilizer is definitely not a replacement for a filter. Rather, it is a device that works alongside the filter to produce a healthier environment in the tank. The UV sterilizer will not work on its own. Whatever the filter does not pick out of the water, the UV sterilizer will do so afterward.
What temperature should the light be at?
The most optimal temperature for the UV light to be at is between 104 and 110 degrees Fahrenheit. If the temperature is cooler than this, the UV light will become weaker and not as capable of penetrating the maximum amount of harmful bacteria.
Will the UV sterilizer harm any aquatic life?
No. The UV sterilizer is beneficial at preventing other more harmful bacteria from harming the aquatic life. Fish have an ability to withstand UV light, so they should not be harmed by it. In fact, the UV light is actually great at bringing out the fish's colors and making them appear brighter.
How do I maintain a UV sterilizer?
Some UV sterilizers have self-cleaning systems while others do not. The ones that do not will need to taken out and cleaned every month. Usually the self-cleaning systems come with sterilizers that are meant to serve larger sized tanks.
How do I install a UV sterilizer?
Most sterilizers are fairly simple to install. They are usually packaged as a single unit, so you won't need to put anything together. It is just important to follow the instructions in order to ensure it will work properly.
When choosing different products to maintain your aquarium, it can feel easy to just go and pick the first one you see. But that might not be the right way to go. It is crucial to examine each and every factor that is going to impact the quality of your aquarium.
Hopefully after reading this list, you have determined what factors are most important to your tank and your personal preferences. And maybe you