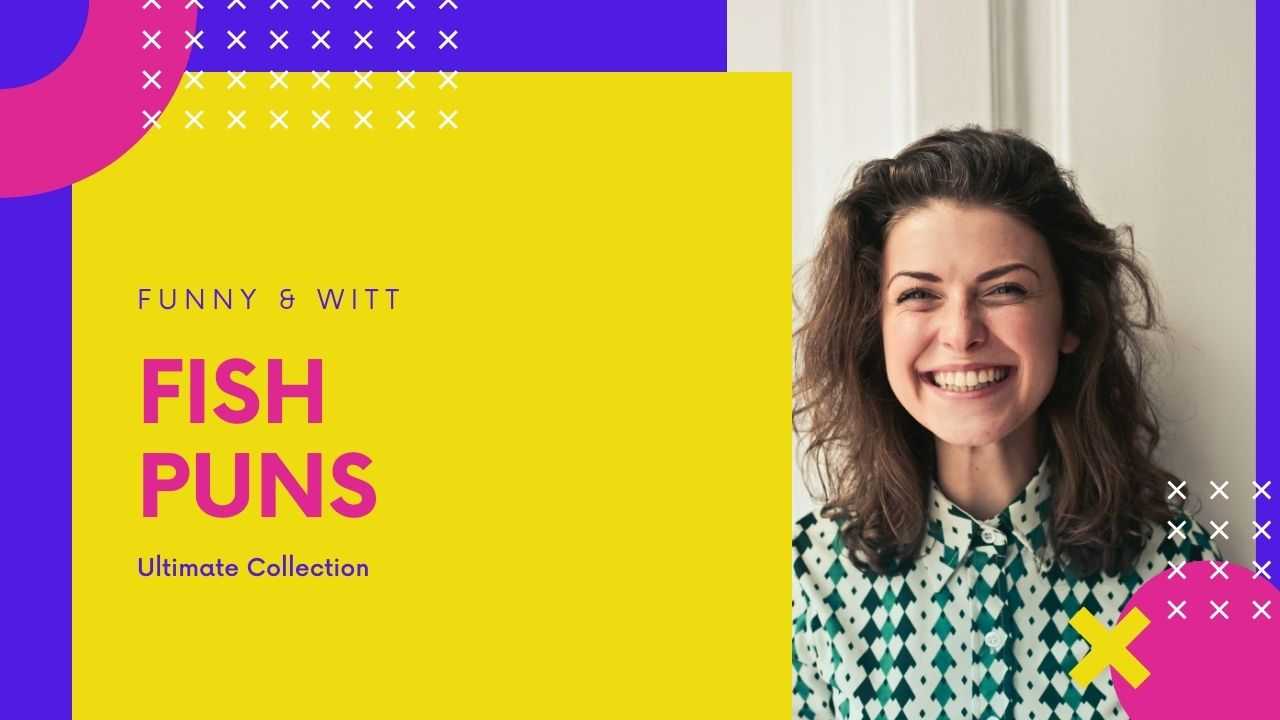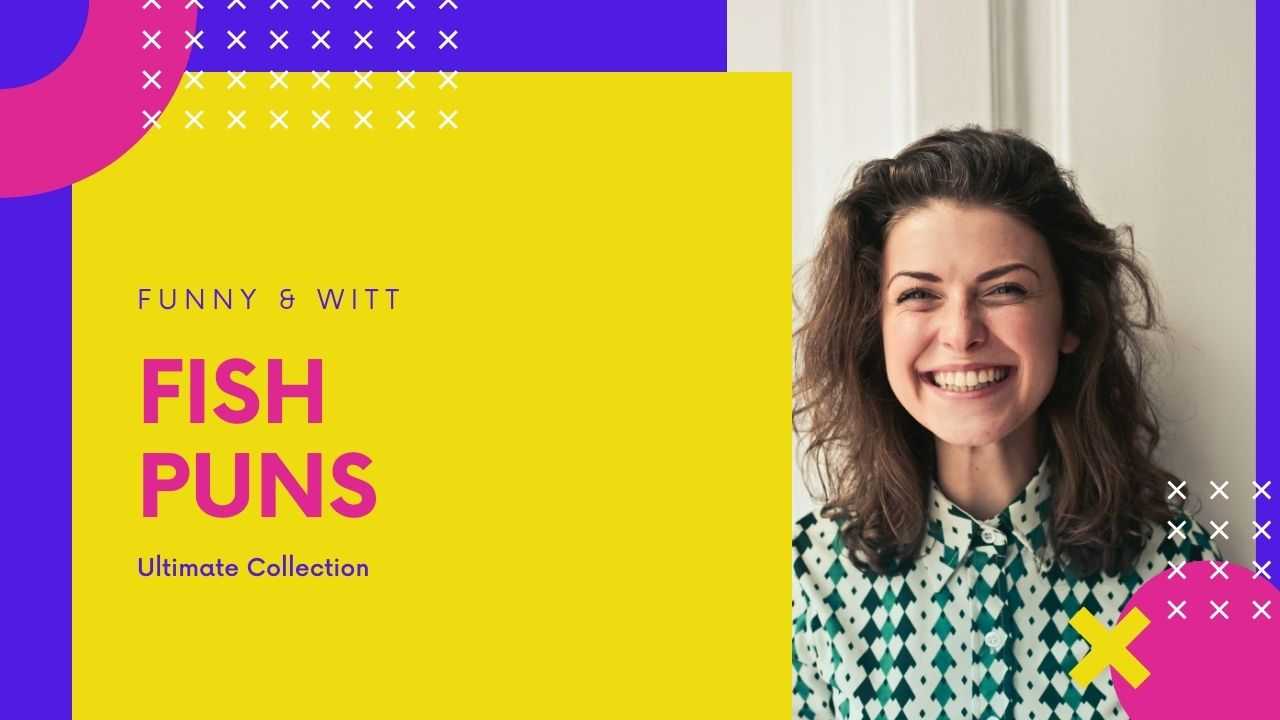 A pun is a joke that relies on a word having multiple meanings, or two similar sounding words which have different meanings. This contrast is what creates the pun-chline of the joke, just like with this sentence.
If you enjoy this type of humor and are a fan of fish in all their forms then this is the article for you. This article contains many different lists of puns, jokes and plays-on-words centered on marine life.
You can find everything from straight puns to gut-busting jokes to a full list of word-swap material to make your own puns down below. So hold your breath and prepare for a deep dive into the world of fish puns.
List of Best Fish Puns
Enjoy this list of fifty side-splitting fish puns. Keep in mind these have not been ranked in any specific order.
It doesn't get any betta than this.
I'm going to have to con-fish-cate that.
Let's make this o-fish-all.
When you fish upon a star.
I'm a so-fish-ticated person.
What a fish-ous rumor.
I'm a paci-fish at heart.
Best fishes on your birthday.
We fish you a merry Christmas.
Looking for my sole mate.
They're my nemo-sis.
With friend likes these, who needs anemones?
I'd make him walk the plankton for that.
Any fin is possible.
You're skating on fin ice.
You're fin-tastic.
I'm fin love with you.
This just got fin-teresting
Present company not-fish-standing
Just get trout of here.
That is absolutely gill-iant.
Let minnow if you can make it
I'm piranha roll.
This is the first time I'm herring about it.
I trout-st you as a friend.
What a great oppur-tuna-ty.
I plead not gill-ty.
Salmon had to say it.
Don't play koi with me.
You're giving me a haddock.
Cod you not?
I trout we were friends.
He manta that as a compliment.
I feel like I'm floundering here.
I trout that, highly.
Don't be a party grouper.
I need some time to mullet over.
What a sharking development.
You can sardine-ly try.
They just keep carping on about that.
Be brave, don't trout yourself.
Oh for goodness hake.
Oh tang it!
You're in a kipper mood today.
I left the house in piscine condition.
The tunaverse is a big place.
This is the height of anchovy-ment.
I'm a creature of halibut.
I'm in a tench-uous position.
They're a real cod-ball.
Word Swap Ideas
If you're interested in making your own fish puns then you can use this handy list of ideas of words you can make fish puns out of.
Anchovy: Any words involving an 'ach' sound or an –ovy sound. Ex: This is the height of anchovy-ment.
Brill: Any word that starts with brill- or ends with –ill. Ex: That was brill-iant.
Cod: Any words that begin with c- and end with –d, or have an 'od' sound. Ex: Cod you knock that off? That's such cod behavior.
Eel: Any words containing an 'eel' sound or beginning in el-. Ex: I'm eel-ing a bit under the weather.
Fin: Any word containing an 'f-n' or a 'th-n' sound. Ex: Fin-tastic, just no fin-ny business. Fin-gs are getting fin-teresting.
Fish: Any words containing the 'ish' or 'is' sound. The fishue here is that you have a defishiency in fish puns. Hopefully you will find this offishal list suffishient.
Gill: Any word containing 'ill'. Ex: I'm feeling a little gill lately.
Haddock: Any words containing 'had' or 'head', preferably followed by something. Ex: I've haddock up to here with you.
Herring: The words 'hearing' or any words that rhyme with it. Ex: I'm hard of herring. I'll be app-herring tonight on stage.
Koi: The word 'coy' or any word with a 'co' sound. Ex: Koi-ld you please pass the salt?
Manta: Any words containing the 'ant sound. Ex: What a ro-manta-c gesture.
Pier: Any word containing a 'pear' sound. Ex: Sorry I disa-pier-ed on you last night.
Reef: Any words containing an 'eif' sound. Ex: Oh good g-reef, these puns!
Salmon: The word 'someone'. Ex: You remind me of salmon I used to know.
Sardine: Any words based on 'certain'. Ex: Sardinely these puns can't get better?
Scale: The word 'scale' or the word 'sale'. Ex: There is a 20% off scale at the fish market.
Sea: Any words that starts with an 'se' sound. Ex: This is sea-rious business.
Tench: Any word that includes 'tense' or 'tech'. Ex: Tench-nically, that sentence is in present tench.
Trout: Any words containing the 'ought' or 'out' sounds. Ex: I trout we were friends. Get trout of me sight!
Fish-Adjacent Puns
These puns are not directly about fish but are instead about fish related topics such as catching fish, cooking fish, the ocean, swimming, etc. These puns are funny on their own but can also be attached to fish for extra comedic value.
Let's have some reel talk.
I don't want to de-bait this.
Good things come to those who bait.
I'm so em-ocean-al.
Oh buoy, I can hardly wait!
I'm just coasting through life.
Don't shell me what to do.
Water you up to now?
I'm kinda tide up at the moment.
This scampi happening.
That guy is a real conch artist.
I need to raise my net income.
I hate pier-pressure.
Shell we dance?
Looking for a good dose of vitamin sea.
We're getting off tropic here.
We need to keep palm here.
Let me give you a kelping hand.
This shore is a beautiful day.
Get in the swim of things.
I gotta pay the service trawl.
I'm feeling particularly kipper today.
That was a really chummy thing to do.
Personally, I think you're jawsome.
I'll see you schooner rather than later.
And now the keeling process can begin.
I have very Pacific tastes.
Well how a-boat that.
Do I look like a dock-tor?
Fish Related Phrases
Sometimes the humor in a fish pun does not come from two words sounding alike or swapping out part of a phrase. Sometimes the joke is that the phrase already has fish in it but when used to talk about real fish it becomes even funnier.
Kettle of fish: Meaning the entirety of something.
Other fish to fry: When you have other, more important things to do.
Hook, line and sinker: When someone has bought into something completely.
Big fish in a little pond: Someone who is very prominent in their small area.
What a cold fish: Someone that is antisocial and strange.
Drink like a fish: To drink a lot and often.
Fishing for compliments: To deliberately look for something, in this case compliments.
Fish out of water: When someone is out of place or new in a situation.
Big fish story: A lie designed to make someone or something seem bigger than they really are.
Something fishy: When something is out of place or odd.
Plenty more fish in the sea: Meaning that there are more choices out in the world. Most often used in the context of dating and relationships.
Shooting fish in a barrel: To imply something is extremely easy.
Well I'm hooked: To say you personally have bought into something completely.
It's a red herring: Meaning a lie designed to draw attention away from something else
Happy as a clam: When someone is extremely happy and content.
Packed in like sardines: To be packed in to a small space with a large number of people.
Jump the shark: When a piece of media like a film or TV show has gone beyond what its audience is willing to accept and respect.
Other Marine Life Puns
Fish are the only marine animals that make good pun material so enjoy these puns based on some non-fish sea creatures like whales and shellfish.
That's absolutely krill-iant!
I did that on porpoise.
You need to clam down.
Whale that could have done better.
You don't need to reinvent the whale.
That hurt my eelings.
Well this is orca-ward.
You've got to be squidding me.
What a turtle disaster.
That was an otter catastrophe.
Stop being so crabby.
That's the new squid on the block.
I think I just pulled a mussel.
I'm kind of a shellfish person.
You're so crab-tivating.
I just want to cuttle.
That guy is really seagull-ible.
I'm just a prawn in the game of life.
I will walrus be there for you.
You won't get away with it, narwhal I'm around!
Don't shrimp out on me.
We need moray fish puns in our lives.
I'm a claw-abiding citizen.
Oh the horror, oh the hu-manatee.
He's rotten to the coral.
Believe in yourself, you peli-can do it.
The pen-guin is mightier than the swordfish.
That contest was an albatross up.
Say it, don't osprey it.
I've got krait expectations for you.
I give this list my seal of approval!
Top 50 Fish Jokes
If you enjoy fish puns then you might enjoy these 50 side splitting fish jokes to expand your arsenal of fish-based humor.
Why do fish always know how much they weigh? Because they have scales.
Two fish swam into a wall. The first fish said to the other "dam".
What is the most popular fish in the ocean? The starfish.
Why did the fish cross the reef? To get to the other tide.
What type of fish is used to hit someone? A smackerel.
What's the difference between a guitar and a fish? You can tune a guitar, but you can't tuna fish. Although you can tune a bass.
Where do fish keep their money? In riverbanks.
What do you call a fish with no eyes? A fsh.
Two fish were floating in a tank. One turned to the other and asked: "How do you drive this thing?"
What kind of fish knows geometry? An anglerfish.
What kind of fish comes out at dawn? A sunfish.
Where do fish sleep? On seabeds.
Why are fish so smart? Because they spend so much time in schools.
What do you call a goldfish that came in third place? A bronze fish.
Pelicans are actually excellent singers. They really know how to carry a tuna.
Why was the school of fish so small? The students were all playing hookie.
I drew a large picture of a small fish. Obviously it wasn't to scale.
Why are so few fish hipsters? They like to stay in the mainstream.
Why are people who work in fish shops so greedy? I guess their job just makes them selfish.
What do you call a lazy crayfish? A slobster.
How do fish get to the hospital? In a clam-bulance.
What kind of music is best for a fishing trip? I don't know, just pick something catchy.
Why was the fish embarrassed? Because it saw the ocean's bottom.
What do you get when you cross a mobster with a fish? A loan shark
What's the best way to get in contact with a fish? Drop them a line and hope you caught them at a good time.
You should never try to fight an octopus. They are always well armed.
Which fish is the most pious? The monkfish.
Someone threw some Omega 3 capsules at me today. It's okay though, I only have super-fish-oil injuries.
Why do fish swim in schools? Because they can't walk.
Which day do fish hate the most? Fry-day.
What do sea monsters eat? Fish and ships.
Only one fish in the ocean is considered mightier than the swordfish. The penfish.
Did you hear about the fight at the seafood restaurant last night? Three cod got battered.
Where do fish go to sell their junk? The prawn broker.
Where do fish go to wash up? A river basin.
How do you stop fish from smelling? Cut off their noses.
What type of fish works at a hospital? A sturgeon.
Who do fish hire to keep their homes clean? Mer-maids.
What do you call a fish with two legs? A tunee fish.
What's a fish's favorite party game? Salmon says.
Fish aren't very good at tests. Most of them are below sea-level.
A fish walks into a bar. The bartender ask, "What can I get you?" The fish gasps, "Water!"
What's the best fish to keep on a boat? A sailfish.
What type of fish chases rats? A catfish.
What type of fish chases catfish? A dogfish.
Which fish goes best with peanut butter? Jellyfish.
How does a squid make you laugh? They give you ten-tickles.
Did you hear about the fish that failed his job interview? He really tanked it.
What is the funniest species of fish? The clownfish.
If you can think of better fish jokes and fish puns just let minnow.
These lists are just a taste of the many different puns and jokes you could make about the fish. Remember none of them are ranked in any specific order so feel free to use the funniest jokes and puns on your own.
If you're into fishy humor you can use any one of these nautical puns or use the word-swap suggestion list to help create your own aquatic humor. Keep looking and you'll be swimming in fish humor in no time.