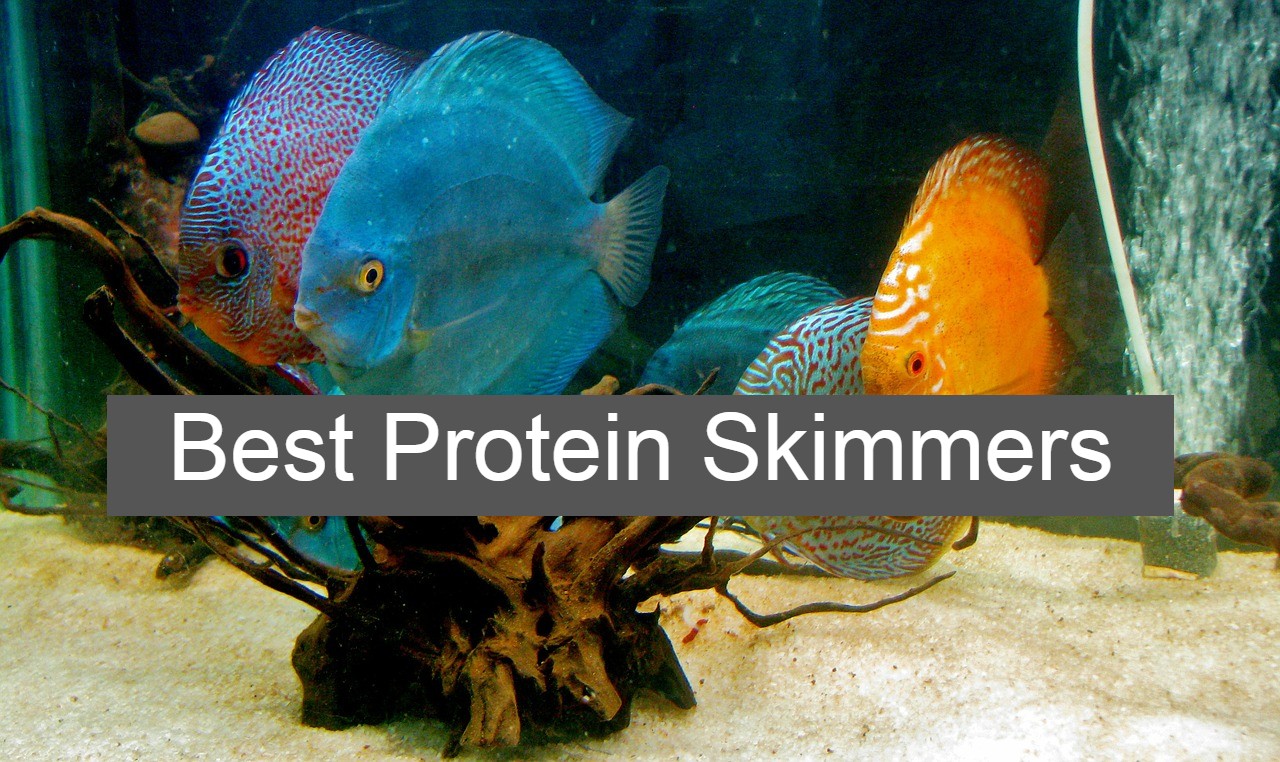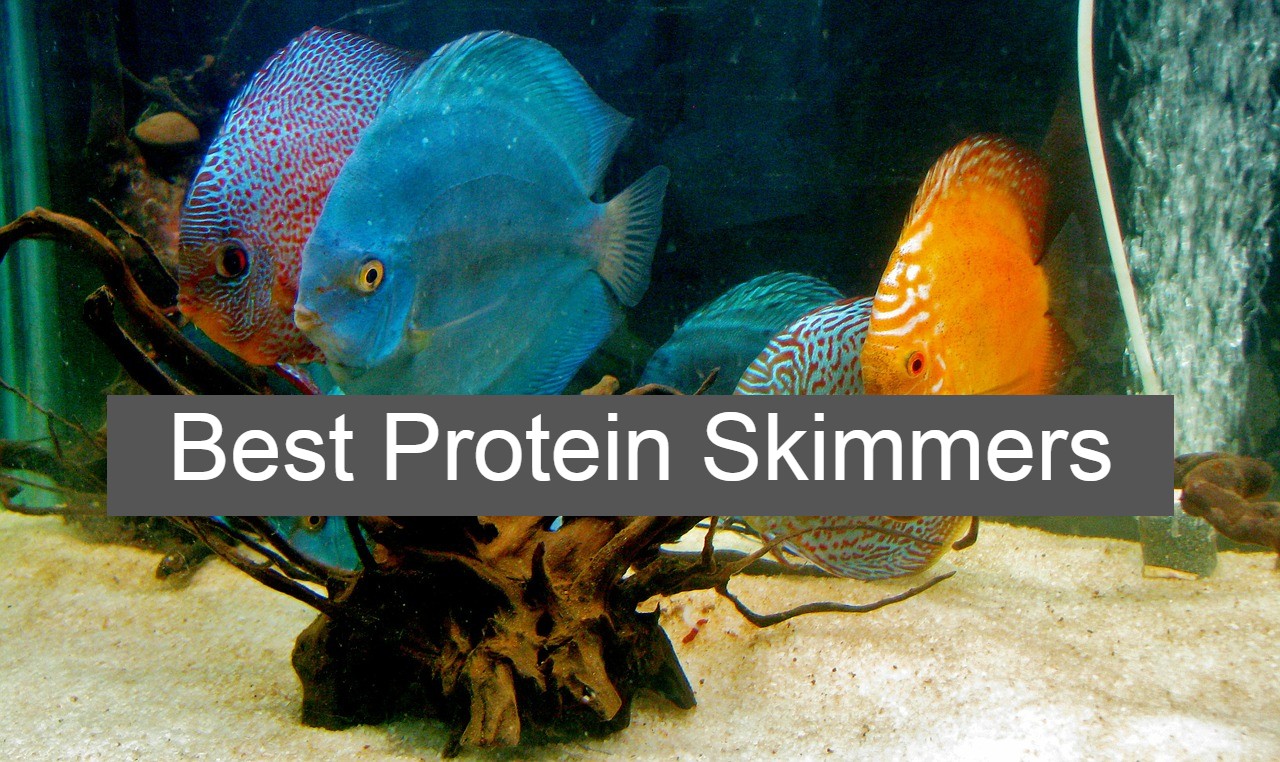 While small saltwater tanks are a great way to enjoy the hobby, they can quickly acquire excess waste.  They can't diffuse proteins and bacteria growth the way a much larger tank can.  I learned this the hard way with a 16-gallon biocube I had.  Luckily, now I know that nano protein skimmers solve this problem.
Nano Protein Skimmers are designed to be compact and powerful filters for your small saltwater tank.  They work by pulling in aquarium water and passing it through a stream of bubbles.  These bubbles collect the nasty stuff in your water to collect in a cup.  This cup is removed and cleaned as needed.
When choosing what Nano Protein Skimmer to put in your tank, measure the area you will be putting it.  This is especially important if you plan on getting a model that will hang inside your tank.  Then find one that is designed for the size tank you have.  These two key considerations will help ensure you end up with what you need.
Nano Protein Skimmers Reviews
Hydor's SlimSkim Internal Skimmer is an energy efficient skimmer designed for tanks up to 35 gallons in size.  Using only 4 watts of energy, this quiet skimmer will keep your tank at peak performance.
The SlimSkim stays at the proper height in your tank with a patented magnet and suction cup mounting system.  This ensures a solid latch at just the right level within your aquarium.
Its intake pulls water from the surface of the tank.  This means you'll notice a nearly immediate reduction in surface slime and oil.  It will collect inside of a collection cup that is adjustable for your needs.
The bubbles are produced from a venturi air pump.  This air pump is fully adjustable so you can regulate how much water is circulating as well as your bubble flow.  This will allow you to adjust your pump to match tank salinity.
Pros
Very quiet operation
Small, compact size minimizes lost space in tank
Doesn't require a bubble stone for bubble diffusion
Cons
Requires frequent emptying or may create clogs that burn out motor
Sensitive to salinity levels
Aquatic Life's option for Nano Protein Skimmers comes in the form of the model 115 Mini Internal.  Rated for up to 30-gallon tanks, this skimmer uses 8 watts to power it.
Coming in at 3 by 3.25 inches and less than 11 inches tall, the mini skimmer won't waste room in your tank.  It's held in place with either suction cups or brackets.  Both can be used for a sturdier fix.
It uses a tried and true method for air-to-water contact.  The needle-wheel impeller makes quick work of providing a robust bubble stream to collect unwanted detritus.  This is a system that has been used for decades.
The housing comes with a quick-lock design that speeds up the ability to open and close it.  The housing also conceals the grounded power cable through a built-in channel.  That cable is 4.5 feet for maximum flexibility.
Pros
Output hole contains foam pad to reduce microbubbles
Adjustable pump speed to control water intake
Compact size ideal for mini-reef tanks
Cons
Won't fit on tanks with hinged lids
Collection cup is difficult to remove for cleaning
Requires minimum of 3.74 inches of clearance above water line
Coralife's Biocube Protein Skimmer is ideal for their line of Biocube tanks, though it can work in others as well.  It is designed for easy drop-in assembly and cleaning inside of saltwater tanks.
Equipped with an inline air flow valve, this skimmer lets you adjust water intake with the turn of a knob.  It uses replaceable limewood air stone inserts so you can keep your diffuser working at max effectiveness.
The Biocube Skimmer comes with different brackets for mounting.  Combined with the suction cups this ensures a range of mounting options.  The bracket and molding ensure a secure fit you won't need to worry about.
This Nano Protein Skimmer is specially designed for your small tank.  It is ideal for tank sizes from 14 to 32 gallons depending on the amount of life you keep in your aquarium.
Pros
Quick, simple set up
Strong enough for a wide range of tank sizes (14-32 gallon)
Quiet when installed as part of a backwall filtration system
Cons
Achieving proper function can be finicky
Directions unclear on establishing proper settings
Froth can pop collection cup lid off
Able to be used inside the tank or hanging from the back, Innovative Marine's Nano Protein Skimmer is designed for strength and consistency.  The skimmer's small size and functionality are a real bargain for saltwater tank owners.
The needle-wheel pump is powered by direct current.  This lowers the voltage required and adds to peace of mind.  DC power should also provide a quieter motor while maintaining stable power output.
The Nano Protein Skimmer uses a bubble plate diffuser to integrate air into the water stream.  This means you won't need to replace air stones.  A regular cleaning cycle should keep it consistent.
Both the mounting hanger and collection cup offer adjustable heights.  Along with the suggested water line mark, you should be able to dial in the skimmer for max effectiveness.
Pros
Fits many tanks up to 34 gallons
Comes with external air silencer
Convex collection cup lid helps collect froth deposits
Cons
No adjust valve on the air line
Some collection lids are loose fitting
Reef Octopus has a large line of protein skimmers and aquarium products.  While most of their models are designed for larger tanks, they've begun offering this Nano Protein Skimmer for your nano saltwater tank.
This versatile skimmer is designed for a few different applications.  Able to support wet or dry sumps, its perfect if you haven't decided on your layout yet.  It's also compatible with tank overflows and small enough for display aquariums.
The skimmer is powered by a pinwheel pump.  The pump is powerful enough to support heavy filtration for a 10-gallon tank, medium filtration on a 15-gallon tank, and light filtration on a 25-gallon tank.
Unlike many fish tank accessories, Reef Octopus offers a 1-year warranty on the pump and skimmer body.  This is a bonus if you're on the fence regarding what Nano Protein Skimmer to choose.
Pros
Adjustable mounting bracket for "just right" placement
Small footprint reduces water displacement
Easily removable collection cup keeps cleaning hassle-free
Cons
Poor instructions included
Pump is loud
The K1-Nano by IceCap is one of the thinnest Nano Protein Skimmers on the market.  Able to handle light loads at 30 gallons and heavy loads at 10 gallons, this skimmer covers a wide range of small tank needs.
Built to address issues in other Nano Protein Skimmers on the market, the K1 is made of sturdy PVC and high-end acrylic.  Every component of the skimmer was made to be disassembled for easy cleaning and replacement.
The K1 uses the DC Air-200 to provide pumping power to the skimmer.  This pump can keep up with the 12-inch chamber that the bubbles pass through.
Other standout features include magnetic mounts and a body designed to reduce turbulence.  The magnets are strong enough for tanks up to a half inch thick.  The air is pumped through a bubble plate for maximum diffusion.
Pros
Small footprint at 2.75 by 3.2 inches at 13 inches tall
Made from quality materials meant to last
Good at minimizing micro-bubbles
Cons
Meant for in-sump installation only
Can take up to two weeks to break in
No written instructions
The Aquarium Skimmer from AZOO is designed for maximum space savings inside of your tank while offering great skimming ability.  The surface skimmer is placed nearly completely underwater, reducing excess noise from the pump.
This skimmer features an air buoy designed to self-correct with the level of the water.  This ensures that it is always keeping the surface of your water clean even with natural evaporation.
The water intake is guarded by a gate.  This prevents even the smallest tank life from getting swept into your skimmer.  You can relax knowing that small fish and shrimp are safe.
This AZOO skimmer keeps film from the top of the water.  As a result, you are ensuring maximum air exchange to keep your ecosystem happy.  This is especially important in tanks with lots of plant life.
Pros
Adjustable water flow for various tank sizes
Underwater design makes for quiet operation
Easy to set up and maintain
Cons
Short power cord
Made of thin material
White housing doesn't blend into many tanks
If you've been around saltwater tanks for a while, you've probably heard of Fluval.  Their Sea Mini Protein Skimmer is designed to remove unwanted materials from your tank in a space-saving size.
This model uses a needle-wheel impeller.  It has 32 needles to maximize air contact with water.  The created bubbles interact with the water inside of a specially designed, large reaction chamber.
Fluval gives you tons of options for mounting this unit.  It comes with different brackets and suction cups.  Further, this skimmer allows you to adjust both the air flow and the height of the housing.  This lets you zero in your skimmer.
This skimmer comes in at 4.3 by 5 inches.  It stands just 10 inches tall.  It is wider than many models and this extra width is used to increase the size of the mixing chamber.
Pros
Dual adjust for water height and air flow
Short break-in period compared to other models
Quiet operation if properly adjusted
Large air and water mixing chamber
Cons
Can be difficult to find the right adjustments
Skimmer is sensitive to water level
Eshopp's Protein Nano is designed for tanks ranging from 10 to 35 gallons in size.  This Nano Protein Skimmer is designed and built in the U.S.A. from quality materials.  Eshopps emphasizes safety and cleanliness in its products.
The skimmer is held in place with an adjustable magnet mount.  This makes removal for cleaning or adjusting very simple to accomplish.  The low-profile mounts make it easier to place in just the right spot.
This model can pull dry or wet residue depending on how deep the skimmer is set.  Once properly adjusted, the skimmer will start producing results in a very short period of time.
Because of the versatility of this skimmer, it is compatible with many different tanks.  It has been used successfully in Innovative Marine, Waterbox, JBJ, Red Sea, and all-in-one tanks from many manufacturers.
Pros
Very thin design makes it versatile for various tanks
Easily replaceable water diffuser for quick exchanges
Easily assembled and installed
Quiet operation
Cons
May require a lot of adjustment to get proper results
The pump is mounted on the side, giving you less mounting options
The Tunze USA Doc Skimmer is a surface intake device that prides itself on fast and efficient waste removal.  It operates according to the "Tunze Flash Skimming Principle", a proprietary method of skimming.
Called the Tunze Foamer, the diffuser produces a plethora of bubbles ranging between 0.1 and 0.3 millimeters in size.  This creates a foam that amplifies water and air integration.
The skimmer comes complete with mounting hardware.  The magnetic holders are rated for thick tank glass.  They will hold the housing through up to a half inch of glass.  Magnetic holders are also great for easy removal and height adjustments.
The Doc Skimmer is rated for tanks between 15 and 65 gallons.  This is evidence of a high gallons-per-hour rating.  Tunze is confident enough in their product that they suggest it can be used as a "stand-alone" solution for your aquarium.
Pros
Micro-bubble foam ensures maximum surface area for skimming
Unlikely to produce leaks
Pump noise is minimal
Cons
Magnetic mountings seem fragile
Can be difficult to eliminate micro-bubbles from outtake
Instructions are difficult to navigate
Why Your Tank Needs a Nano Protein Skimmer?
If you are running a saltwater tank than you may need the filtration that a Nano Protein Skimmer provides.  If you are running a small saltwater aquarium than you definitely need one.
Organic Waste.  A protein skimmer will separate organic waste from your tank water.  This waste can build up very quickly inside of small tanks.  Therefore, small tanks can develop problems quickly.  Small problems become big ones when there isn't a lot of water to distribute them.
Nitrate Build Up.  By promptly and constantly removing organic materials, a skimmer can reduce the number of nitrates that build up inside your tank.  Low nitrate levels are important in reef centric aquariums, amongst others.
Oily Surface.  Along with proteins, a skimmer will remove fatty or oily surface deposits.  These will naturally float to the surface of your tank.  Oil will reflect light away from the water.  This means your lights will be less effective in an oily tank.
Less Chemicals.  A Nano Protein Skimmer can reduce the amount of chemicals that you will need to add to your aquarium.  By having less chemicals to add you can reduce instances of human error when trying to maintain the right balance.
Acid Byproducts.  By constantly cycling the water, organic materials can't begin to breakdown into their biochemical components.  They reduce carbon dioxide buildup in this manner.  In turn, this reduces acidic changes.  This makes it easier to keep a consistent tank environment.
To summarize, Nano Protein Skimmers provide a more natural and realistic way to keep your saltwater tank clean.  They are simple to install and easy to maintain.
How Nano Protein Skimmers Work?
All Protein Skimmers share the same basic concept of operation.  Nano Protein Skimmers are no different.  They have the added advantage of being more compact.
Water Flow.  Water flows into a compartment that contains a flow of bubbles.  Proteins in the water encounter the bubbles.
State of the Sud.  The bubbles are produced by pushing air through the water.  This air is diffused through a few different materials.  Various diffusers include hollowed wood of either basswood or limewood.
Other diffusers can be constructed from drilled PVC pipes.  These can be made yourself or purchased purpose built.
Some skimmers diffuse the air by sending it through a needle-wheel, pinwheel, or other impeller.  This device breaks up the air flow into the desired bubbles.
Bubble Bath.  Proteins and other stuff in the water stick to the bubbles.  The bubbles carry the substances to the surface where they form a foam that's collected in a cup.
Foam Capture.  That foam turns back into a liquid state inside of the cup where it can be removed and cleaned.  Depending on what is skimmed from the water, the liquid can range from pale yellow to a thick black liquid.
Protein Prison.  Along with proteins, the bubble flow will also capture different unwanted materials.  Various fats and fatty acids will get caught.  Trace metals and other elements are also taken.
Larger particles of bacteria and phytoplankton can be swept up, too.  This is undesirable to some aquarists that keep filter feeders.  Others appreciate this added feature.
The amount of phytoplankton and bacteria filtered can be managed.  Depending on where the skimmer is placed in your tank, you can regulate how much of these are filtered out.
How to Maintain Your Nano Protein Skimmer?
Maintaining your Nano Protein Skimmer is a simple but often overlooked part of keeping a healthy aquarium.  Having your skimmer at peak performance requires a few steps.
Daily/Weekly. Skimmers have an easily removable container that will collect the foam debris.  Depending on your tank and skimmer size, you may need to clean the cup daily or a few times a week.
This container should be scrubbed and rinsed with clean water.  This will be the part that will require the most frequent attention.
Monthly.  The neck, or area where the bubbles flow to the cup, should be maintained every few weeks.  This is basically ground zero for the skimming process.  Any particulates that don't bind with the bubbles will hang out here.
This part of the skimmer should be disconnected and scrubbed clean.  As with any skimmer cleaning, make sure you rinse it clean with plain water.  This is especially important if you are using a chemical solution of some kind.
Bi-Annually.  Complete disassembly of your Nano Protein Skimmer should occur every six months or so.  Nearly every part will begin to grow a film of bacteria or develop salt deposits.
After it is taken apart it should be scrubbed clean and rinsed off.  If it has developed some serious build up it may need a soak.  Try mixing up a vinegar/water combination to submerge the parts in.
A toothbrush or other soft bristled brush can be used to gently scrub delicate parts.  Growths can develop around various sensors, pumps, blades, and tubing.
As Required.  Keep an eye on things like your air tubes and seals.  The manufacturer may or may not recommend a replacement cycle for various parts.
If they don't, you should develop your own.  Time and experience will guide you, and if they don't, a non-functioning skimmer certainly will.  Keep some spares around, like O-rings, so your skimmer isn't out of action for long.
Frequently Asked Questions Regarding Nano Protein Skimmers
Does a nano tank need a protein skimmer?
Because of the small size inherent to a nano tank, waste can build up very quickly.  Using a protein skimmer will reduce the amount of times you need to completely change out your tank water by cleaning out that waste.  Even if you are using other filtration methods, the addition of a protein skimmer will reduce the strain of your other tank accessories.
How long should my protein skimmer run?
If you are only raising fish in your tank than you should probably run a skimmer all the time.  If you have a coral tank or a fish and coral tank you may want to turn off your protein skimmer some of the time.  This is because your coral will produce very little waste on their own.
Do I need a filter if I'm using a protein skimmer?
A protein skimmer will remove waste before it completely decomposes in your tank.  The filter will help remove waste after it has decomposed.  If your tank produces lots of biowaste, consider using both.  A skimmer can be thought of as kind of a preventative measure.
Can I put a protein skimmer in the refugium?
You probably don't want to.  The refugium is used to raise delicate fish or grow fragile fauna.  Introducing the skimmer's mechanics to that protected area could suck up things you are trying to raise.  If you really don't have any other options, finding a skimmer that has a surface intake may reduce potential damage.
Conclusion
Nano Protein Skimmers are designed to keep your saltwater tank free of excess organic waste.  They come in a variety of sizes and configurations.  They use different mechanisms to produce bubbles and collect garbage, each with their own advantages.
Maintaining a skimmer is simple and the benefits can be vast.  They are all easy to install and take up very little room in your tank.
You've spent a lot of time and effort creating a healthy ecosystem for your nano tank.  You can protect this investment with a Nano Protein Skimmer.  What's your favorite Nano Protein Skimmer?  What do you think the best method for diffusing is?  Let us know in the comments below!