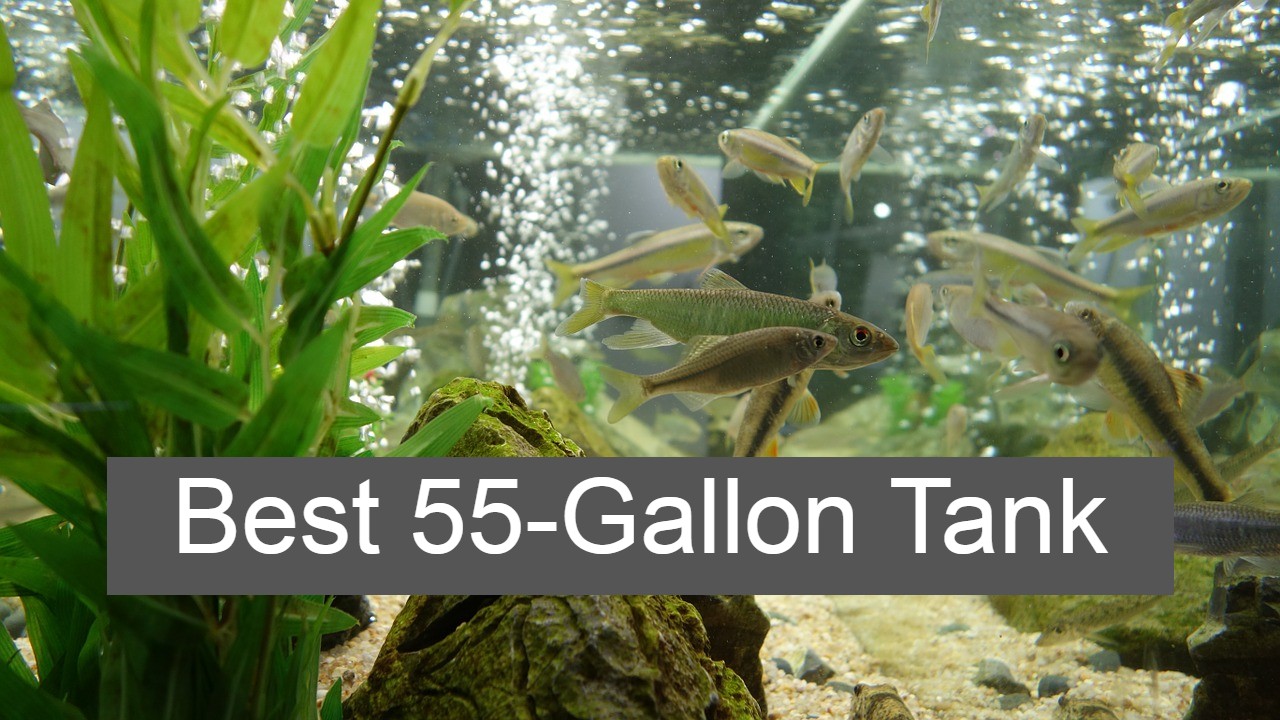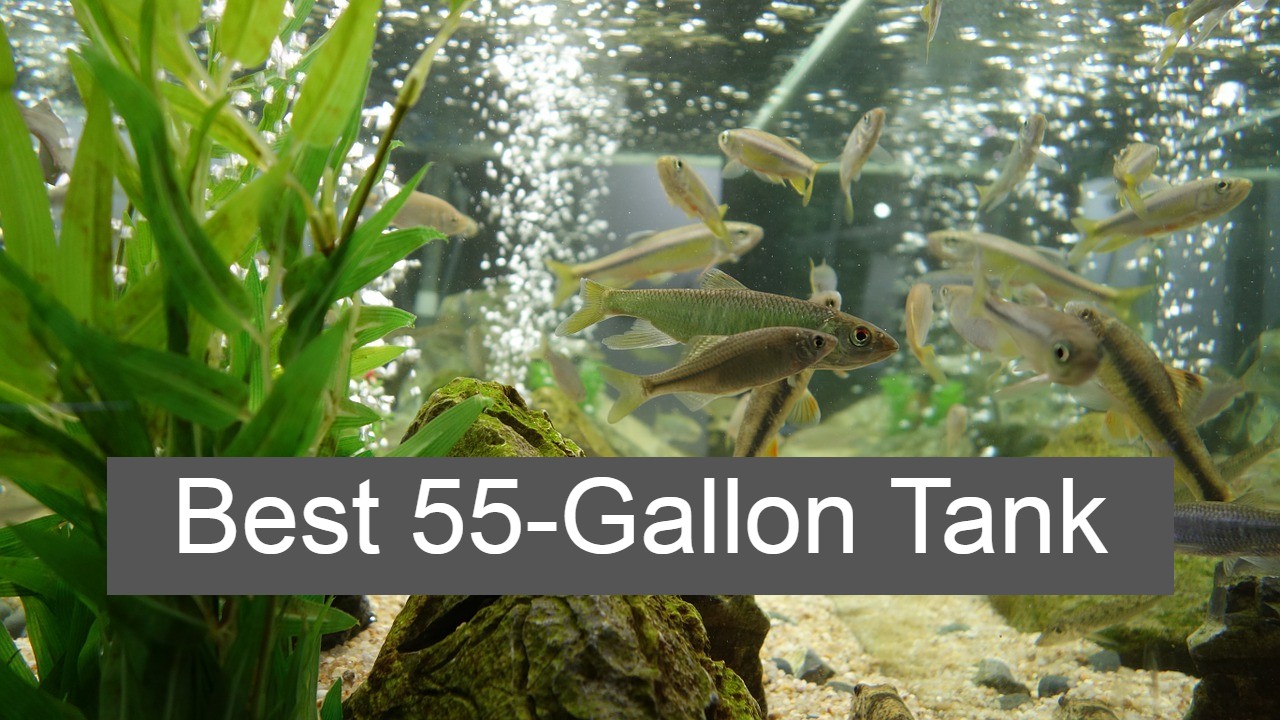 Maybe its time to move up to a larger tank.  Perhaps you are just getting started and are exploring your options.  Either way, an aquarium in the 55-gallon range provides a host of options.
This is an ideal tank size for just about any kind of habitat you are trying to replicate.  55-gallon tanks can support saltwater, freshwater, plants, breeding, and much more.
Tanks smaller than 55-gallons may only support one school.  Once you get into this range of tank size, though, you can begin to look at supporting multiple small schools of fish.
When looking at 55-gallon tanks you'll want to ensure it's well-built and has the features you are looking for.  There are a lot of options out there, from the all-in-one kit to much simpler.  Let's look at some of the best we've found.
55-Gallon Tank Reviews
Starter Kits are great for beginners and Aqua Culture put a lot of thought into making sure this one has what you need.  With many of the basic components included, you won't need to do as much searching to get your tank going.
Aqua Culture has included a silent internal filter with this kit that will maintain a clean environment.  This filter was engineered so that filter changes don't require hood removal.  This same design allows removal-free feeding as well.
The tank is lit with high-efficiency LED lights built into the hood.  The hood is low-profile in order to mimic natural daylight.  This also means you won't ever have to change a light bulb in your tank.
Because this is a starter kit, Aqua Culture has thrown in a number of extras.  These include AquaSafe water cleaner, TetraMin Tropical flakes, and membership into its TetraCare program.  Enrollment sets you up with help and free advice.
Pros
Filter and lights included means no fitting issues
TetraCare program provides a place for product and fish questions
Ideal for beginners or experts starting fresh
Cons
Expert aquarists may want to upgrade different components
Hood material is very thin
Tetra's inclusive starter kit will set you up for an easy out-of-the-box aquarium.  It features a long-style aquarium that gives the viewer a front row seat to all the items in the tank.  Its shape is ideal for up-close viewing.
When I say inclusive, I mean it.  Tetra has provided LED lighting, 200W heater, WPF 60 Filter and thermometer.  Including these features eliminates the guess work and installation woes of separately purchased devices.
Also included in the kit are plant multipacks, boxwood plant, fish net and hood.  Even if you've already picked out some plants and have your favorite tools, these will make a good backup.
This kit really makes sure you aren't forgetting anything.  All that you will need to add is a substrate at the bottom like sand or gravel.  Oh, and don't forget the fish!
Pros
It includes EVERYTHING you need to get started
Packaged with care to ensure safe delivery
Simple installation
Cons
Loud filter
Included thermometer can be difficult to read
The JAJALE Aquarium Fish Tank offers a unique style aquarium that is sure to stand out from traditional ones.  Its sleek design and built-in storage make it perfect as the focal point for a room.  With various cabinet styles available, you'll be able to match it to existing furniture in the room.
JAJALE is proud of its glass tank construction and its easy to see why.  The glass is high-strength and super-transparent, allowing 99% of light through.  The tank is constructed from tempered heat-bent glass meaning there are no seams to distort your view inside the tank.
For a tank this big, a powerful pump is a must.  JAJALE has included one that can move 265 gallons per hour.  Their custom filtration and LED lighting systems round out the package.
Finally, the tank sits on a stand with plenty of storage underneath.  You can choose from various finishes including black, white, red wine, white oak, or red wood.
Pros
Curved, seamless glass
3-year tank, 1-year electric parts warranty
Included, stylish cabinet stand
Cons
Included filter is for freshwater only
SeaClear has been building aquariums for almost 20 years.  After years of not finding exactly what he was looking for, SeaClear's owner set off on his own to make it.  This combo set represents two decades of perfecting his products to the benefit of any aquarist.
The tank is made from acrylic.  This reduces the weight of the tank by half.  SeaClear's acrylic is much stronger than glass tank counterparts.  Finally, acrylic will provide a much clearer image than glass.
This combo set includes a 24-inch light fixture with reflector.  The light fixture allows for several different bulb choices depending on what you are trying to grow or illuminate in the tank.
SeaClear backs up this set by offering a limited lifetime warranty.  This should help set your mind at ease if any problems pop up with your tank.
Pros
Acrylic tank offers seamless image and light weight
Tank is well insulated, temperature doesn't fluctuate
Fixed top prevents spilling or splashing
Cons
Light fixture doesn't come with bulb
One-piece construction limits accessory options
Aqueon has produced a full line of aquarium products made by and for aquatic hobbyists.  This starter kit puts many of their products on display.  This set was made for aquarists who are just starting out.
If you are a beginner and are imagining a fish tank, this is probably what you have in mind.  Its classic design is made from 1/8-inch tempered glass topped with light and hood.  It is designed to be simple to set up out of the box.
The kit includes the QuietFLow 10 Power Filter.  This filter will run gently and provide enough filtration for your tank.  The included filter cartridge will get you started without an additional trip to the store.
The trial pack included lets you try out various products before you decide what to use long term.  Sample their fish food and water conditioner included if you don't have a favorite already.
Pros
Beginner friendly kit
Easy set up
Fish-ready
Cons
Aqueon says it may use non-tempered glass without notice if tempered is not available
Questionable durability
Vepotek's 360 Cylinder Aquarium tank is not just an aquarium, it's a statement.  It's not going to go unnoticed no matter where its placed.  Its tall cylindrical design makes it part fish tank and part art piece.
The 360-degree design allows you to see every part of the tank, no matter the angle.  This design is also ideal for small areas because it won't take up much floor space.  Its perfect for a corner or the centerpiece of a room.
The LED lighting system is included.  No drilling, sanding, or sealing required.  There are two sets of lights, one for the front and one for the back.  This feature allows you to play with quite a few options for your aquarium.
For filtration Vepotek has included a filter and pump.  They've also included a bio ball and air pump.  The air pump is a nice addition because of the smaller opening of this tank.  Altogether, this will provide clean, oxygenated water for your fish to thrive in.
Pros
Unique design
Space saver
Light weight acrylic design
Cons
Difficult to clean
Included filter understrength for tank design
For those "DIY-ers" out there, SC Aquariums have developed the Starfire Aquarium line.  All holes have been pre-drilled for the hardware you'll need to add to it.  Plus, it includes the plumbing you'll need to make it all work.
Standard 55-gallon tanks usually use 1/4-inch thick glass.  SC Aquariums have used 2/5-inch thick glass to provide extra strength.  Its rimless design won't lack sturdiness.  Nobody wants to find cracks in their tank.  This construction choice should put your mind at ease.
The plumbing includes a return "T" pipe, Loc Lines, and Durso Stand Pipe.  Make sure you have compatible accessories if you want to use those provided with the tank.  Its measurements all use the metric system.
Finally, it's worth mentioning their customer service.  Stripped bolts or missing pieces will be quickly replaced after a quick interaction with SC Aquarium's helpdesk.  It's always comforting to be able to talk to a person and have your problems quickly addressed.
Pros
Strong tank
3-year manufacture warranty
Great customer service
Cons
Fragile bulkhead
Thick black seams where glass sides are joined
Clear-For-Life has designed one of the easiest box-to-fish ready aquariums on the market.  It's "uniquarium" designation means your filter is built right into the tank for maximum ease.  Clear-For-Life has the only Uniquarium on this list.
Its five sides have rounded corners.  These corners help eliminate visible seams and provide a panoramic view inside the tank.  The shape of the tank is reminiscent of a museum display.  The 1/4-inch thick acrylic will give you comfort in its sturdiness.
The filter is included with this package.  It is an all-in-one bio filter that runs silently while submerged.  None of the hardware has any exposed tubing or wires.  This keeps a clean, minimalist appearance.
The tank is 25-inches long, 25-inches wide, and 24-inches tall.  This makes it compact enough to put almost anywhere, while being large enough to fit plenty of fish or plants in.
Pros
Compact size
No exposed hardware
Filter works for fresh or saltwater tanks
Cons
Warranty doesn't include filter
Light fixture not included, and its bulbs are difficult to find
R&J has put together a classy and simple tank/cabinet combo with this model.  It would compliment a lobby or living room.  Its simple appearance belies the impressive engineering and craftsmanship that went into it.
The rimless construction means there's no visible filter.  The hidden system includes a dual return pump filter with 200-micron socks.  In front of those are prefilter sponges to remove the larger pieces of debris.  The bottom line is this tank can handle filtration.
The tank is constructed from a whopping 1/2-inch thick glass.  The OptiPure glass is from Goldberg.  They primarily make glass for movie camera lenses, so you can be sure this glass is as transparent as it can be.
The stylish stand is made of real wood.  It's 34 inches high and contains shelves to house all your aquarium supplies.
Pros
Built-in, hidden filter
Usable shelving
Sturdy tank design
Cons
Heavy tank
Internal filter lowers tank capacity to 42 gallons
Vepotek is at it again with this unique style tank.  The bowfront design is oval with flat sides, making it ideal as a centerpiece or endcap.  This setup includes a bunch of goodies to make it operational out of the box.
This model features everything you need for water filtration.  The tank includes a filtration box, water pump, and bio balls.  This all runs neatly under the provided canopy.
The included LED aquarium lights also fit under the canopy.  These lights are designed to replicate natural daylight.  Paired with the acrylic tank, you are guaranteed a clear view.
The stand and canopy maintain the bowfront shape of the tank.  It provides a sleek, elegant look that will highlight the vivid life inside the tank.  The tank stands 59-inches tall from stand to canopy.  It is 40-inches across.
Pros
Eye-catching design
1-Year Warranty
Included accessories
Cons
Won't support saltwater
Tall tank makes it difficult to clean
How to Select a 55-Gallon Tank?
Purchasing a 55-gallon tank represents a significant investment in the fish-keeping hobby.  Therefore, it's not unreasonable to take the time to research every step in the process.  Clearly, one of the most important things you'll need to do is select the right tank.
Let's start with an easy one.  Do you have enough space for a 55-gallon tank?  More than likely, the tank you pick won't fit on a desk or bookshelf.  That's not the only size consideration, though.
When looking at tank measurements, don't rely on the tank dimensions alone.  Consider the stand and hood size, too.  Does the tank/stand combo your looking at have any decorative trim sticking out from the sides?  Is the height of the hood included in the overall dimensions?  A quick call to customer service could save you a real hassle trying to return or replace your tank.
As you do your research, you'll notice that many tanks will often include accessories.  Ultimately, you'll need to decide whether you want to piece together your aquarium or buy a kit.  There can be advantages and disadvantages to both.
If you are a beginner, a kit can be very helpful.  A good starter kit will literally include everything you need to get going.  Often (but not always), these starter kits will include the bare minimum equipment.  That's not necessarily a bad thing if you are still learning the ropes.
Seasoned aquarists will likely already have proven accessories that they swear by.  If that's the case, avoid buying kits and just look for a quality tank.
Finally, the age-old question.  What's better- glass or acrylic?  To keep it short, I'll summarize the pros and cons.  Glass tanks are generally cheaper and more resistant to scratching.  They weigh a lot more than their acrylic counterparts, though.
Acrylic tanks are more easily scratched.  This usually occurs when beginners are cleaning their tanks improperly.  Acrylic tanks come in a wider variety of shapes due to the ease of which the plastic can be bent.  An acrylic tank is much less likely to shatter.  However, some acrylic tanks will yellow with age.
How to Set Up Your 55-Gallon Tank?
So, you've decided what tank to get and you've made your purchase.  Now you'll need to make sure it's properly set up.
Make sure your tank is placed in an area where its temperature is likely to remain stable.  Don't put it near windows or vents.  Sunlight on your tank will increase temperatures and increase the likelihood of growing unwanted algae.
Build or install your aquarium stand.  Be especially careful if the stand didn't come with the tank.  It can be surprising how much your tank will weigh after its all set up.  Regardless of whether you buy a glass or acrylic tank, water weighs 8.3-pounds per gallon.  That means your tank could weigh over 500 pounds once you've added everything to it.
Once you're confident with the stand you can add the aquarium.  Wash it out thoroughly with plain water.  Soaps or other cleaning agents could leave behind residue in your tank.
Next, add your clean substrate.  There are so many options for what you put on the bottom but there are a couple quick ways to calculate how much you need.  The first way is to add one pound of substrate per gallon of water.  The other way is to add enough to make a two-inch layer on the bottom.  Because different materials have varying mass, the two-inch rule may work better for you.
Now, fill that tank up!  Use room temperature water and include any water treatment you are using.  If you haven't put in all your plants and decorations don't fill the tank all the way.  It's easier to add more later than to find all the towels in your house.
Start putting in all over your filters, heaters, bubblers, and any other electronic gizmos.  Once that's done add any lights or hood.  Now you can plug everything in and let it run.  As the tank sits it will begin to grow bacteria that will help eat fish waste.  You can't put fish in right away or their water will probably become cloudy.
How to Maintain Your 55-Gallon Tank?
Maintaining any type of aquarium requires attention to detail, discipline, and patience.  You'll need to learn signs of trouble before they become epidemic.  You'll be part Sherlock Holmes and part janitor.  Haven't quit reading yet?  Good.  Every tank will have its own quirks and characteristics but there is some basic preventative maintenance you can do regardless.
Change the water every week.  Well, not all of it.  For a 55-gallon tank look to change about 20-30% of the water each week.  This ensures you're not removing all of the useful bacteria at once.  You may decide to get a water vacuum that will remove water while sucking up unwanted debris.  This is nice but not required.
On different weeks you can add other cleaning to the tank.  For example, one week you may change the water AND clean the substrate.  The next week you might change the water AND clean the filter.  A 55-gallon tank is pretty forgiving when it comes to pollution build up so you can spread out your tasks a little bit.
Finally, don't forget to test your water.  Water test kits are widely available, and you'll quickly find one you prefer.  The test kit will tell you what the ammonia, nitrite, and nitrate reading are for your water.  Based on the feedback from your test kit, you can make the necessary adjustments to get the water back to perfect.
Best Fish for a 55-Gallon Tank?
Now for the fun part!  What are some good fish to move into your 55-gallon tank?  First, decide whether you are running a saltwater or freshwater tank.  It's generally recommended that beginners start with freshwater tanks because they require less upkeep.  For that reason, we will start with freshwater fish and then move on to saltwater.
You can really go one of two ways with your selection.  A 55-gallon tank will support schools of small fish or fewer larger ones.  The large tank will invite your schools to swim around in interesting patterns that are sure to be fun to watch.  Good schooling species include Neon Tetras, Glass Catfish, and Guppies.  A combination of these schools can make for very interesting displays.
Larger fish types might include Pearl Gourami.  These would be ideal for a tank that has plenty of live plants.  They play well with Tetras, too.  Another larger species option are Cichlids.  While often aggressive, a larger tank may provide everyone enough room to live and let live.
Good saltwater species must include Clownfish.  They will be the centerpiece to your tank and are recommended to saltwater tank beginners.  Wrasses are another easy pick due to the wide variety of colors they come in.  Some species will even eat parasites from other fish.
Make sure that the fish and plant combinations you pick can all live together peacefully.  Regardless of species, it's always a good idea to quarantine new fish for a few days in a separate tank.  This ensures they aren't bringing anything weird into your tank.  Add new fish a couple at a time to allow the tank environment to adjust.
Conclusion
So here we are.  You are now armed with the knowledge to make smart decisions on the best 55-gallon tank to meet your needs.  We've covered how to set it up, maintain it, and stock it.
Whether you are a beginner or veteran looking for a kit or standalone tank you can now decide with confidence.  This tank size offers many benefits not available in smaller sizes.  A 55-gallon tank allows you to really create that ideal aquarium you have in your mind's eye.
What are your experiences with 55-gallon tanks?  Any upkeep tips that should be added to the list?  Are we missing a great tank option?  Please let us know in the comments below!