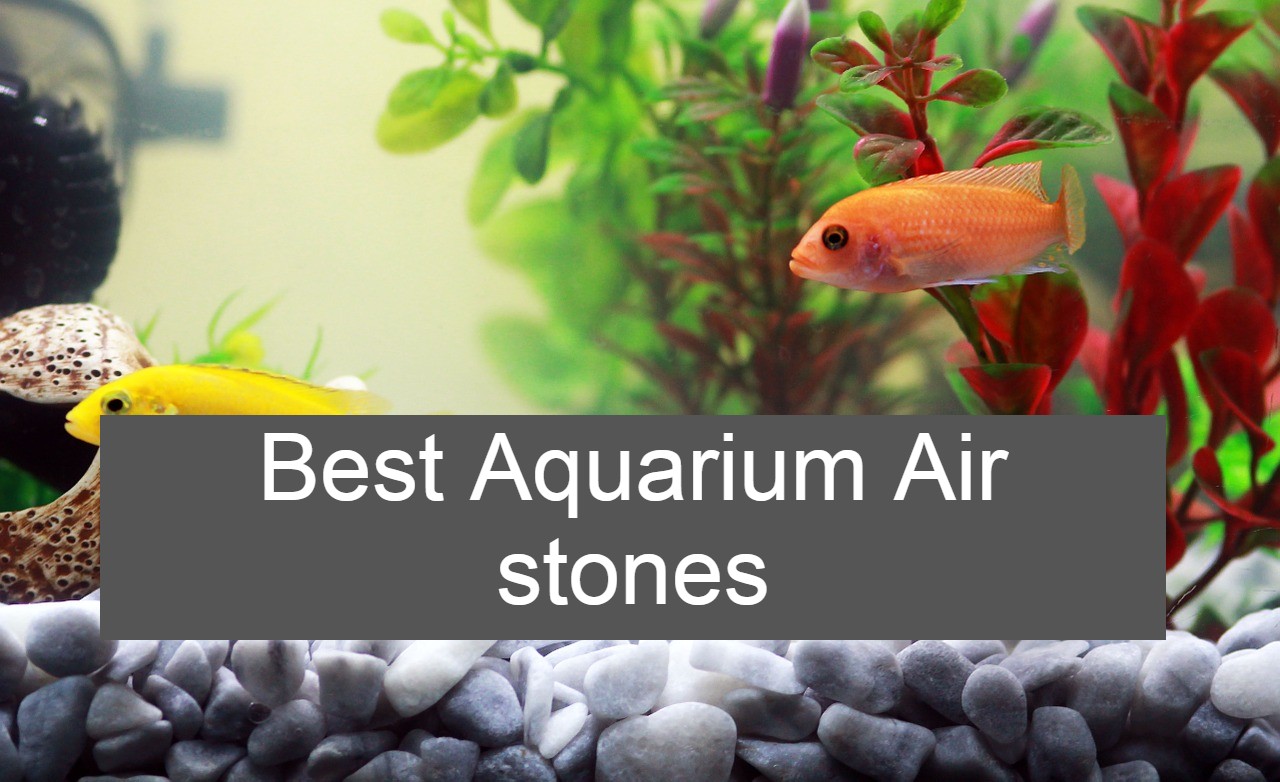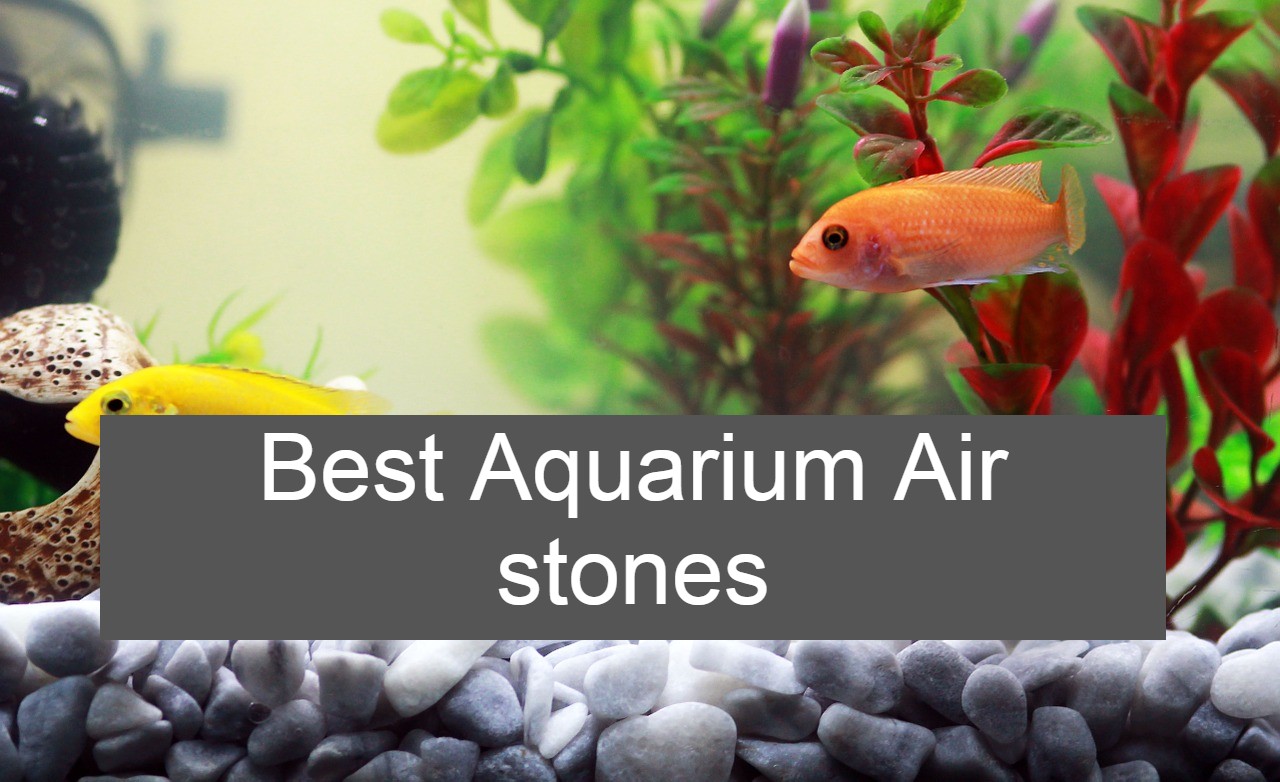 Air stones help create a healthy environment for your by aquarium by oxygenating your aquarium.  They also help help improve water circulation within your tank.
Whether you are a beginning or an expert in fish keeping you will find the need to own an air stone in your aquarium. Fish need air stones as a form of oxygen to survive in an aquarium. Though, there are many different types of air stones that are currently available on the market. It may be hard to decide which air stone would be the perfect one for your aquarium.
One of the most important things that you must take into account when searching for an air stone is the size of your aquarium. Air stones come in many different sizes, so you will want to find one that is the best in size and functionality. Before you proceed on buying the first air stone you come across, familiarize yourself with the different air stones the market currently has to offer.
Aquarium Air stones Reviews
This air stone is a mode ASB-05 and is updated so each air stone has 180 ultra-tiny air holes that can create up to 500,000 bubbles per minute. The jetting volume is 5 L/min which makes the power suitable for tanks in the 20-inch to 40-inch size range.  The stainless-steel connector has a diameter of 3/16 inches / 4 mm.
This air stone by Pivby comes in a cylinder shape that makes it different from generic shaped air stones. This air stone measures in at 2 inches, making it great at circulating the nutrition and oxygen that fish need to survive. Its size requires it to have an air pump of 4W or more to properly run it.
This air stone must be soaked for no less than 6 hours prior to use. Once this has completed it can be hooked to the air pump and placed in the desired destination. This air stone is able to be used in hydroponic systems, ponds, aquariums, and other aquatic systems.
Pros
Unique design provides powerful oxygen flow.
Comes in a pack of 3.
Fits standard air pump and air tubing.
Cons
Does not come with needed air tubing and air pump.
Has a specific size requirement, may not be suited for outside of this range.
Long soak time prior to use.
This air stone made by Hygger is designed as a Nano air stone features two sizes, 2-inch and 4-inch, and made with high-quality white alundum and brown alumina. The white coloring of this air stone makes it an eye pleasing accessory for your aquarium. The design this air stone takes is rather smooth, differing from other air stones that tend to have a rough touch to them.
The 2-inch version of this air stone is only compatible with a 4mm airline. While the 4-inch air stone is compatible with two sizes of airline, 4mm or 8mm. The 2-inch air stone can be drove by 2W at minimum air pump wattage. The 4-inch air stone can be drove by 4W at minimum air pump wattage.
This air stone has a strong filtration that is adequate for both fresh water and salt water. This air stone has weight to it.so it will sink to the bottom of the aquarium with no need for suction cups. The 2-inch air stone weighs 5.2 oz/150g. While the 4-inch air stone weighs 15.2oz/430g. In both sizes this air stone produces a strong flow of bubbles but remains quiet with a low volume output.
This air stone design is extremely sturdy and rather durable. It can have a working span of up to 3 years. This stone is also easy to clean of any build up that may occur over time.
Pros
Comes with other accessories.
Two different sizes available, 2-inch and 4-inch.
No extra suction cups needed to keep the air stone grounded.
Able to function in both salt and fresh water aquariums.
Cons
Multiple stones would be needed to create a bubble wall.
The two sizes offered may not be enough for larger aquariums.
Does not include the air pump that is needed to power the air stone
Does not specify the extra accessories.
This air stone made by Oiikury is designed not only to give great air bubbles to your tank, but it is also made to give your tank extra light decoration. This air stone comes fitted with 12 color changing LED lights to give out multiple colors to aquarium set ups. With the 12 lights this air stone offers 24 different color changing effects.
This air stone uses an air pump and tubing to provide improved oxygen and gas exchange for aquarium life. The LEDs create gorgeous effects that not only bring out the colors of the fish, but also makes them livelier with the bubbles.
This air stone measures at 4-inches in diameter and 0.78 inches in height. This air stone is made of light weight plastic and has suction pads to keep it grounded in the aquarium. This air stone is made of high-grade and non-toxic material making it safe for all aquarium life.
This bubbler's lights can create a sort of glowing effect to certain plants and aquarium decorations. This can give off a calming effect to viewers and help with relaxation. The bubbles carry the view of the LED lights up to the top of the tank, giving a wonderful special effect to any aquarium.
Pros
24 color changing effects made from 12 LED lights.
Safe and environmentally friendly with low energy consumption.
Power supply, air tube, and user manual all included in the package.
Provides extra viewing pleasures with the LED lights.
Cons
No air pump included in the package.
Only comes in one size.
Small, not suitable for larger aquariums on its own.
Suction pads needed to hold the stone down.
This air stone is made of minerals, giving it a more natural build that is healthier for the fish.  There is plastic that protrudes to attach an air tube to in order for the air to flow through to the air stone. The size is approximately 0.59*1.57 inches / 1.5*4 cm (D*H). This air stone is suitable for a soft tube that has an inner diameter of 4mm.
This air stone by Yeuton comes in a pack of 10. This air stone is a small, cylinder shape allowing it to be easily maneuvered in the aquarium. This is a smaller stone so a single one is only suitable for a small aquarium. Able to produce enough bubbles to provide extra oxygen at a small size.
This air stone may be small, but it is able to provide much needed oxygen to keep fish healthy. This air stone is small but functional at adding extra beauty to an aquarium with a simple bubble wall.
These air stones can become clogged with algae build up over time and their functionality can lessen greatly. This product comes in a 10 pack so there will be backups ready for when the time comes to change out the stone.
Pros
Comes in a multipack of 10.
Small and compact, great for smaller aquariums.
Made of minerals that are healthy for fish.
Cons
Small, not suitable for large aquariums.
Does not come with other accessories.
Needed air pump and air tubes not included.
This air stone's model is ASD-200 with a jetting volume of 28 L/minute. It has a jetting volume of 28L/minute. It requires an air pump that is more than 15W in order to run properly. The size of this stone gives it a weight of 3 pounds, so it sinks easier.
This air stone has a large dimension measuring 8 x 1 inch (D x H) and fits 3/8 inch (8mm) inner diameter tubing. This air stone is made to gradually diffuse air into the tank. This provides oxygen that allow fish to breathe properly in the aquarium.
This air stone's size allows it to produce more bubbles than an average sized air stone. It produces bubbles that are 300 – 500 microns small. This allows it to add multitudes of oxygen to the aquarium it is being used in. This also provides enough power to be sustainable for ponds.
When setting this stone up in an aquarium the water levels must be minded. This is a powerful stone so if there is a higher water level the aquarium may overflow.
Pros
Comes with 3 easy-mount suction cups for easy grounding.
Great for large aquariums with no added air stones.
Large size offers availability for pond use.
Eco-Friendly
Cons
Size makes it incompatible with smaller fish tanks.
Large, non-standard air pump is needed to power it.
Standard airline tubing not compatible.
Does not come with proper air pump or air tube.
The specs of this air stone measures at 4 inches in height and 2 inches in diameter. It fits 4mm/0.16-inch air tubing and can be used with a high output air pump system. The bubbles this provides are high quality and give a great abundance of bubbles for oxygen replacement. The size allows it to be a multi-use air stone that can be used for aquariums, ponds and other water-based systems.
This air stone offers reliable results to help out the eco system of an aquarium. This air stone adds circulation, oxygen and nutrition to the water while also lowering the CO2 levels. These results also allow for live plants to thrive better in an aquarium and extend the life of the nutrient solution. It keeps plant roots healthy as well as keeping the fish healthy with no worry of adverse effects.
This air stone is simple to use by attaching an air tube to the protruding point on the stone. Once this is performed you can place the stone in the desired location. The air tube will need to be attached to an air pump in order for the stone to produce the bubbles desired.
This air stone can also be viewed as a diffuser. It is possible to use this stone as a filtration part of an aquarium. A smaller aquarium may be better suited for this pathway though.
Pros
Multi-use capable.
Able to be used with standard sized air tubing and air pumps.
Premium specs.
Comes in a pack of 2.
Cons
Large size makes it incompatible with small aquariums.
Does not come with air tubing or air pump.
No suction cups so it may not stay grounded well.
This air stone is a model ASD-040 with a jetting volume of 2 L/minute. This is suitable for approximately 11.8-23.6-inch fish tanks. The recommended air pump power needed for this air stone is 2W-4W. It fits for a 3/16" / 4 mm inner diameter air tube. The size of the air stones is approximately 1.6 x 0.6"/40 x 15 mm (DxH).
This air stone's power allows it to increase the oxygen levels as well as lower the CO2 levels. This stone provides an abundance of bubbles that are small enough to not harm the fish. This allows the stone to be powered even by Nano air pumps.
This air stone provides enough weight so the stone will not float. However, suction cups will be needed in order to keep the stone fully grounded in the aquarium. The tubing will also need to have suction cups to properly secure it to the sides of the aquarium.
This air stone will be required to soak in water for about 30 minutes prior to use. The air stone will need to be replaced every few months of use. Air stones will get clogged with things such as dust, bacteria and algae. For best outcomes for fish health this replacing is a must.
Pros
Lowers CO2 levels within the aquarium.
Small enough to be used with small air pumps.
Great for small aquariums.
Cons
Needs to be replaced every few months.
Bubble output decreases over time.
Not suitable for larger aquariums.
This air stone bar is made of minerals with plastic serving as a tubing attachment. The total size for this stone is approximately 4.5" x 0.8" x0.5"/11.5 x2 x1.2cm (L*W*T). The weight measures in at 1oz/ 120g for a single bar.  This stone fits for 0.16" /44mm inner diameter air tubing. The stone length reaches at 4" /10cm.
This air stone bar is made to produce a wall of bubbles. This wall will enhance the needed air flow to the tank and provide water movement. This also allows for a decorative visual for the aquarium experience. The air bubbles provide two functions for the fish through oxygen and enrichment.
This air stone will require a soak time of one hour before it is ready to be used in your tank. You will also need an air pump that is over 2.5W in order for this stone bar to run properly. The size of this bar is suitable for small to mid-range aquariums.
While this air stone will not float to the top, it may need extra suction to remain grounded on the bottom. It is recommended to adhere the bar to the lower side of the aquarium. These air stone bars do not produce a lot of sound which makes this a rather peaceful air stone to have.
Pros
Comes in a pack of 4.
Provides a wall of bubbles rather than a concentrated area.
Releases beneficial minerals into the water.
Cons
Requires an hour of soak time before use.
Distribution only from top.
May need aquarium silicone to adhere stone properly to aquarium.
This air stone bar is a model NAQ-106 and has a net weight of 124g. The material that this bubble bar is made from is minerals and has a plastic tip for air tube connecting. The length measures in at 16 inches with a 5mm connector. An air pump as well as an air tube is needed for this bar to function.
The minerals that make this bar are able to fill the water with minerals while providing much needed oxygen and water flow to the aquarium. This bar is long enough to create a large wall of bubbles that are dazzling to view. Fish will also find great enrichment with the size of the bubble wall created by this bar.
This bar is required to soak in water for 1 or 2 days prior to use in an aquarium. If the bar is not soaked, then it may not work to full capacity. The bar is long enough and powerful enough to be able to be placed in anything from a 20gallon tank up to a 100-gallon tank.
This bar has enough weight to it that it is able to sink to the bottom of the aquarium on its own. Suction cups are not necessarily needed for this bar but can be used to keep the tubing in an area desired. The pump looks best if placed at the back of the aquarium.
Pros
Can fit a wide array of aquarium sizes
Long enough to cover most of the wall.
Weight makes the bar able to sink down easier.
Cons
Requires 1 to 2 days soaking prior to use.
Possible lack of bubbles throughout bar.
No specifics on air pump size requirements.
This air stone is made up of hard plastic and soft rubber. The tube length spans at about 10-inches /25.4cm. and weighs in at 0.32 ounces. Produces small bubbles to flow air throughout the tank and provide fish enrichment.
Being lightweight, this tube will require suction cups to secure it to the side of the tank wall for use. Two suction cups are provided with the product though may need to be punctured in order to produce a suction. The suction cups allow the tube to be placed anywhere along the aquarium wall with no extra products.
This tube is soft enough that you may shorten the length if desired by simply cutting the tube and sealing the end. The same can be said for attaching another of the same tubes to lengthen the span the bubble wall produces.
The bubble wall that is created from this tube has a mist like quality to it. This provides good stimulation in a smaller tank without the worry of over powering the current. A standard sized pump should suffice in providing the proper air flow to the tube for creating the perfect bubble wall.
Pros
Can attach to other tubes of the same make for a longer wall.
Comes with suction cups.
Can be used in smaller aquariums
Cons
Tube splits easily.
Misleading and does not seem to be made of stone.
No specifics on air pump minimum requirements.
Suction cups need to be punctured to work properly.
Types of Air Stones
When searching for the perfect air stone, the shape and size play a big role.
Cylinder air stones: Cylinder air stones are often found in multipacks and can be combined with multiple other air stones. These are a simple, small design that allow it to go nearly anywhere in an aquarium. These small air stones are perfect for a smaller, or Nano, aquarium due to the low output of bubbles. For this same reason, these are not typically recommended for use in larger aquariums alone.
Bar air stones: These are good for making a full wall of bubbles in an aquarium. These stone bars can cover a large distance in an aquarium and provides great minerals and enrichment for fish. These can sometimes have faults in them and not produce a full bar of bubbles. These are good for small to mid-length aquariums.
Disc Air Stones: These are stones are great for creating the perfect, round wall of bubbles for one's aquarium. These are typically equipped with LED lights in the middle. Creating a pleasing light effect with the bubbles. These are good for small to mid-sized aquariums as a stand-alone.
Tube air stones: These are like bar air stones and can cover a longer distance. These are typically not made of full stone and can be connected to other tubes like them. These need to be changed every few months due to build up that will naturally occur over time in the aquarium.
How to Select an Air Stone?
When searching for the perfect air stone the most important thing needed to be taken into account is the size of the aquarium. The stone is meant to put out needed oxygen into the water and create a flow to have the fish happy and healthy. Air stones come in different sizes and the proper sized air stone and output it highly important.
The main reason for buying an air stone is to produce the proper amounts of oxygen into the tank. Some air stones offer an option to lower the CO2 levels as well. This might be a better option when searching for an air stone for a larger aquarium due to the large levels of water and fish.
A smaller air stone is better for a smaller aquarium. Making sure to not over power a small aquarium is of importance, so the fish can still be comfortable in the environment. A bigger air stone is needed for a larger aquarium so the oxygen flow into the aquarium is sustainable for the fish to survive.
Visual effects are also something to consider when picking out an air stone. There are air stones that come with LED lights for better visual effects. While other air stones simply produce a small wall of bubbles that do not offer any visual effects. Visual effects may not always offer best functionality for the aquarium, so this must be something that is taken into consideration when searching for this quality.
How to Use an Air Stone?
Air stones require a few extra pieces of hardware in order to properly function. These pieces of hardware are not typically sold together with the air stones. The extra hardware needed for an air stone to properly function is an air pump and an air tube. These must be taken into account when purchasing any air stone for an aquarium.
The air pump is a piece of hardware that comes in different sizes and wattages. Something that must be taken into account when searching for an air pump is the sizing and wattage of the pump. Some pumps are not powerful enough to power certain stones while others are overly powerful and run the risk of breaking the stone prematurely. Picking out an air stone is the first step that must be taken. Once this is done, picking the proper pump comes simple.
Air tubing is a simple product and most air stones have a standard sizing. Most air stones do not come with the needed tubing, so this is a must purchase. The length of the tube needs to be long enough to fully reach the air pump and the air stone while submerged. Most air tubing comes longer and can be cut to length if a shorter length is desired.
Once the tubing and pump is purchased the air stone can be set up for the aquarium. The air tubing will connect to an output on the air pump and connect to the air stone. Once the pump is plugged in and working the pump will produce an air output. This will travel to the air stone through the tubing and produce the bubble wall that is desired from the air stone.
Advantages of Having an Air Stone
There are a few different reasons that make having an air stone in an aquarium a great resource. Fish need oxygen and air flow in the water in order to survive. Despite popular belief, they are not able to remain alive in still standing water. This can suffocate them and crash an entire aquarium. The air stones provide the necessary air flow and oxygen that the tank needs to remain stable.
Air stones can have many minerals mixed in with the stone that provide extra nutrients to the aquarium life. The minerals mixed with the stones can level out the CO2 levels in a tank, this being something that can be detrimental to some fish and live plants. The minerals help feed the plants in the tank and help them grow and thrive. The fish are able to thrive in an environment that in rich in proper minerals. This giving the healthiest of aquarium life.
The bubbles that air stones produce can provide great enrichment for the fish that are residing in the aquarium. Fish are living creatures and there for they need some kind of enrichment to live a full, healthy life. The bubbles created by the air stones create something that the fish can play around in and swim in. This can make the tank a much happier environment.
Air stones can provide a visual pleasing experience as well to the viewers of the tank. Air stones that come with LEDs built in can create multiple visual effects that cannot be achieved with normal tank lighting. The different shapes that air stones come in gives one a variety of options to choose from when it comes to creating different visuals. Multiple small air stones can be shaped to create a lovely bubble visual. Or a singular air stone can be placed to create a bubble wall in an area for effects.
Air stones have been proven to be a beneficial necessity to any aquarium set up. They are beneficial when providing air flow to the aquarium while providing needed oxygen for the fish to survive. They have minerals that are able to lower the CO2 in the tank which can be lethal in high doses to aquarium life.
Air stones come in many different shapes that provide different functions in each aquarium. Some provide LED enrichment for outside viewing option. Others bring a wall of bubbles that are highly enriching for the fish life inside the aquarium. This provides a happy and healthy environment for the inhabitants of the aquarium.
Air stones come in different shapes and sizes to accommodate different size aquariums. Some stones are small and give off a low flow. This makes these perfect for smaller aquariums. Others have a high output and are larger in size, making them perfect for larger aquariums. The multitude of options for shape and size makes it so you can never be without this aquarium necessity no matter the aquarium size.