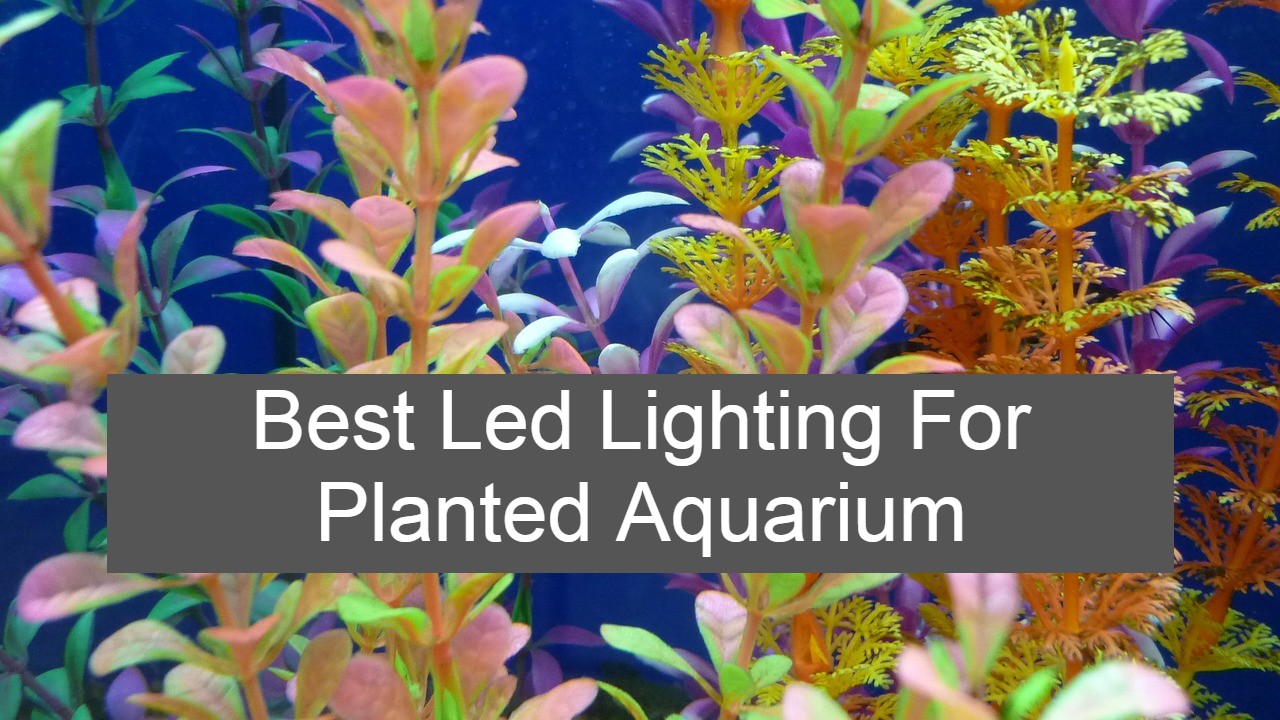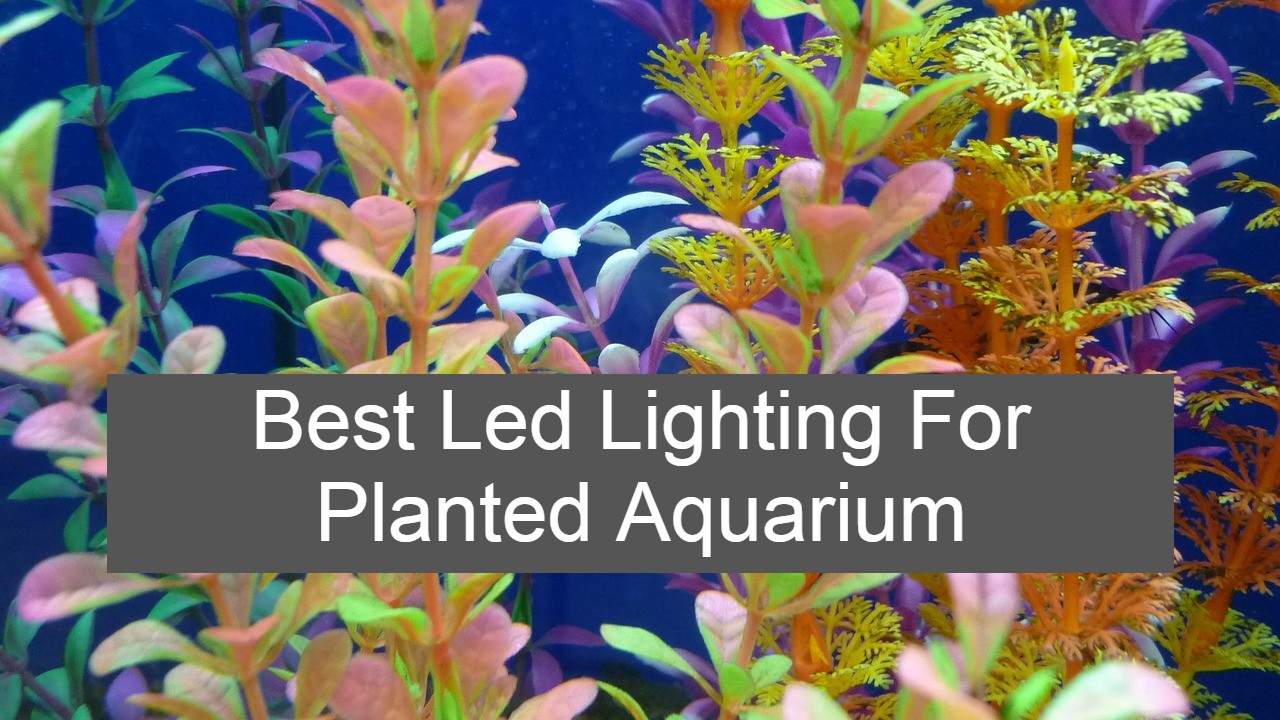 Planted aquariums are fun to create and grow. However, it can be overwhelming to figure out what all you need. One of the most important things is the right LED light for your planted aquarium.
The right lighting is essential to growing aquatic plants just like how normal plants need the right light to grow. There is even different lighting for freshwater and saltwater plants.
Everything from the brightness to the color of the light can have a strong effect on plant growth. Not to mention you need to think about the size of your aquarium.
Here we have made a guide to help you pick out the perfect LED light for your own planted aquarium. Hopefully, by the end of this article you'll have a better understanding of what you need.
LED Aquarium Light Reviews
Hygger makes this particular aquarium light. It is extremely bright and helps the tank water look clean and clear.  It has a sturdy and convenient design.
The lights have three different light settings that you can switch easily between. They also have five different brightness settings. They are controlled by a remote attached to the light.
It is easy to attach the light to the tank. The light has adjustable brackets that are both plastic and metal. This makes it simple to install.
The lights are very bright and long lasting LEDs. They are energy efficient and will work for about 20000 hours. The lights heat the aquarium evenly.
Pros
It is easy to put on your tank
It is easy to adjust the settings
The lights have many different settings
Helps to heat your tank well
Cons
Will probably only fit larger tanks
You would have to glue the light to your tank
The remote controls may take time to learn
This submersible light is made by MingDak. It is a smaller bright light that comes in  either white or blue. It helps your plants grow and you can see your fish better.
The light is made to be submerged under the water. It is also made of very durable and waterproof materials like rubber, plastic, and crystal glass.
It is easy to install the light. It attaches in your tank with strong suction cups. The light will install easily and will stay on the tank wall.
It is made with energy efficient LED bulbs. These bulbs will not get hot so they will not change the water temperature in your tank at all.
Pros
It is very easy to install
The light will not affect tank temperature
It is waterproof and can be submerged
It can fit in a slightly smaller tank
Cons
There is only one color option at a time
You would need more than one in a very big tank
It has no timer or brightness settings
This NICREW aquarium light is a sleek and bright LED lighting system. The outside is lined with white plating giving it a unique modern look.
The lights themselves are surrounded by aluminum. This helps to keep the lights cool so they do not burn out and do not heat your tank.
This light is installed up above the tank with white clamps. These clamps can be moved either up or down to adjust the height of the light bar.
The individual bright LEDs illuminate even deep tanks. They are also brighter than a single tube light. It uses white and blue lights to create this effect.
Pros
It is simple to install and adjust
It is easy for beginners to use
It has very bright LED lights
The bar is made of high quality water resistant material
Cons
There is only one color and brightness light setting
It cannot be submerged underwater and is not waterproof
It has no timer settings installed for the lights
Woterzi makes this convenient LED clip aquarium light. This light simply clips on your tank. It has a blue and white light setting that you can switch between.
The light clips onto the tank with its adjustable clamp. It is light and does not put too much pressure on the side of your tank so it will not fall in the water.
The lights are bright LED bulbs that are white and blue. It is made out of aluminum to help keep the lights cool so it will not heat your tank.
These lights are easy to use and switch between. The white lights work well for daytime use and the blue lights work well for nighttime use.
Pros
It is very easy to install on your tank
It has two light color settings
The lights are bright and energy efficient
It is adjustable and simple to use
Cons
It will only work with small to medium size tanks
There is no brightness or timer settings
It is not waterproof and cannot be submerged underwater
Aqueon produces this clip on LED aquarium light. It is made with 60 individual, bright, high quality LED lights. These lights are either blue or white.
It easily installs by clamping onto the side of your tank in one place. It hovers up over your tank and uses a mounting screw to keep it in place.
The lights have three easy settings to switch between: white, blue, and off. The controls are on the top of the lights making it simple to access.
This light is good for growing aquatic plants. With a lot of bright lights it can work well even in somewhat bigger tanks and create a good environment.
Pros
It has different light colors settings that are easy to use
It is easy to install
It is sturdy and stays secure to your tank
Cons
There is no brightness or timer settings installed
It cannot be submerged underwater within the tank
It is not made from waterproof materials so it can take water damage
ONF makes this LED light that is Bluetooth controlled. It offers a wide range of colors and brightness. It is designed to imitate natural light.
This light hangs over your tank. It has a large variety of colors and brightness levels that are easy to adjust along with different timer settings.
It has settings to help aquatic plants grow and fish healthy in both saltwater and freshwater tanks. The light can imitate both daylight and nightlight.
The lights can be controlled through Bluetooth. You can put the app on your phone and easily adjust all settings. It also helps you control your aquatic environment.
Pros
The app lets you control all the light settings
The app helps you maintain the perfect environment
It has a lot of light options to choose from
Cons
It is very large
It has to be hung over the tank
Has a more complicated light system
You would not be able to have a lid on the tank
This clip on LED aquarium light is made by Lominie. This light has a flexible stem that allows it to be easily adjusted for the best angle.
The light uses high quality LEDs. It is made with aluminum around the lights to help keep them cool so that they will last a long time.
Since it is a clip on light it is easy for you to install onto your tank. The screw clamp keeps the light secure the tank.
The bendable stem makes it simple to adjust the position. It also has an easy to adjust switch that lets you dim the brightness of the light.
Pros
It has a bendable stem that makes it easy to adjust
It is easy to install on the tank
It has a cooling system
It has long lasting LEDs
Cons
It is not waterproof
It has only one color of light
It probably cannot be used in bigger tanks since it is a smaller light
Senzeal makes this LED clip on aquarium light. It hovers over your tank to light the environment. It has a sleek modern look with a white exterior.
The LEDs are blue and white which combined put off a bright and full light. It is very good for encouraging the growth of aquatic plant life.
As a clip on light it is very simple to put on the tank. It hovers up above the tank and the lights are UV-free and also non-radioactive.
The light itself is made to be very durable. The lights are energy efficient and are able to penetrate the water to the bottom of the tank.
Pros
The light is easy to install
It is very bright and great for freshwater plan growth
It is very durable
It is energy efficient and saves electricity
Cons
There is no way to adjust the light settings
The light cannot be submerged in the water
It has only one light color and brightness setting
This LED aquarium light is produced by WILLS. It is suspended over your tank with wires and works well for both freshwater and saltwater plants.
The lights are blue and white and have three different light settings. It also has brightness settings and all settings can be controlled right on the light system.
The lights use a cooling fan system to keep the device and light cool. It helps the lights to last longer and to be more energy efficient.
This light actually lets you attach multiple of these lights to one single power chord. This way you can use multiple lights for one large tank.
Pros
The light has multiple color and brightness settings
You can daisy chain the lights to cover a large tank area
It has a cooling fan system
Cons
It is not waterproof
You cannot have it submerged in the tank or underwater
It is more challenging to install initially since it has to be suspended
This LED aquarium light made by Relassy is a smart controlled light system. It is another light that hovers up above your tank with strings.
It light uses an app on your phone to control the light settings. From the app you can adjust the color, brightness, and timer settings for the lights.
It uses a fanless cooling system for the lights so that it does not make noise. It has an energy efficient and power safe design that has long lasting power.
This light would work well for a much larger tank. The light colors are created to encourage the growth of both freshwater and saltwater plants.
Pros
It is easy to control the light settings in the app
There is a variety of light color and brightness setting
No loud fan noises
Cons
It would take more time to install and suspend the light
It would only work well for larger tanks
It cannot be submerged in the tank
Types of LED Aquarium Lights
Clip-on Lights: These types of lights are very easy to install onto your tank. You simply clip them onto the side of your tank typically with a screw-clamp system. These will hover and be suspended up over your tank extending out across the tank from the clamp. Their main appeal is typically convenience. However, it can have some features that other lights have.
Smart Lights: These lights have settings that are controlled by an app you can install on your phone. A lot of these lights have numerous settings that you can view and control from the app. The main appeal of this system is the customizability of the settings from the app along with its convenience.
Submersible Lights: These lights are submerged under the water in your tank. They tend to have a stronger brightness since the light is already in the water and does not have to break through from above. They are also usually much easier to install into the tank as they clip on the side or suction to the tank wall.
Colored Lights: These lights will have a variety of light color settings for you to customize for your tank environment. Typically the color options are white and blue but there are other color options out there. Sometimes these lights will also have customizable brightness settings as well. The main appeal of these tanks is the ability to have different color settings to fit your personal aquarium environment.
How to Select an LED Aquarium Light?
Color: One of the most important things to think about when picking a light is the light color. White lights tend to be best for freshwater plants and fish. Blue lights tend to be best for saltwater plants and fish. Some lights have both light settings and some have one or the other.
Brightness: Another important factor to consider when choosing an aquarium light is the brightness. Some lights have adjustable brightness settings so you can always optimize to your aquarium needs. You also want to make sure the light is bright enough to reach the bottom of the tank especially if it is a smaller light.
Size: You also want to make sure you select the correct size light for the size of your tank. The bigger your tank the bigger of a light you will probably need. Since some lights attach directly to your tank you will have to make sure the light will work with your tank dimensions.
Cooling System: You will want to consider the light's cooling system when picking the one you want. Lights can easily overheat which will cause them to burn out easily. Some lights use an aluminum system to insulate the lights and keep them cool. Other lights may use a fan system for cooling but keep in mind the fans could make noise.
Frequently Asked Questions About LED Aquarium Lights
How do I install my aquarium light? First you need to see what kind of installation system your light has. If it is a clip-on or clamp on light then all you have to do is screw clamp it onto the side of your tank. If the light has brackets on it you can just adjust the to fit your tank and then place it on the top of your tank. If the light is submersible you can just suction it to the side. If it is hanging light you will have to hang it on strings above the tank.
How do I change my light settings? This will depend on if your light has different light settings. Some lights will have the controls built into the light itself. You can just adjust the settings with the dials on the light. Other lights have smartphone controls that you can adjust from the app. Usually these have more complex settings.
How do I know what light color to use? The color of light you want to use will be based on what kind of plants and fish you have. Typically freshwater fish and plants prefer a white type light. A saltwater aquarium will tend to need a blue tinted light for the fish and plants.
How many lights do I need in my aquarium? This is going to depend both on the size of the aquarium and the size of your light. If your aquarium is fairly small you will probably only need one light. If it is a much larger aquarium and you have a smaller light you may need more than one to light up the entire tank. However, some lights are big enough you could just use one even for a large tank.
How to Use an LED Aquarium Light?
The first step is to install your light. If you have a light with a bracket, clip-on, or suction installation system you can easily and quickly attach it to the walls of the tank. If your light needs to be suspended you will need to devote a little more time. You will have to find a place to hang the light from the ceiling over your tank and put it in.
Next, you'll want to familiarize yourself with settings your tank has. It may have different colored lights, varying brightness levels, and timers. If there is an app to control the settings with you need to install it and connect it with the light. Play around with the different settings for a while to get used to how they work.
After this you will want to figure out the best settings for your tank. Research what the best light settings are for the plants and fish in your tank. These settings can differ greatly between freshwater and saltwater tanks especially so make sure you know what works best. Then just adjust the settings on your light accordingly.
It is typically recommended that you turn off the lights at or dim them significantly. If you want to do that for your own aquarium you have two options. If your light does not have timer settings you will have to manually turn it off at the same time every day. If your light dos have a timer just set it for the hours you want it to be on.
Overall when creating the best aquatic environment for your plants lighting should be a high priority. There are many options to suit a variety of needs.
When looking for a lighting system you should keep in mind the kind of plants you have and what size your tank is. This will influence the color and brightness of the lights you get.
Is there anything we did not address? Ask us your questions in the comments below. Also be to tell us about your experience with aquatic lighting and plant growth.