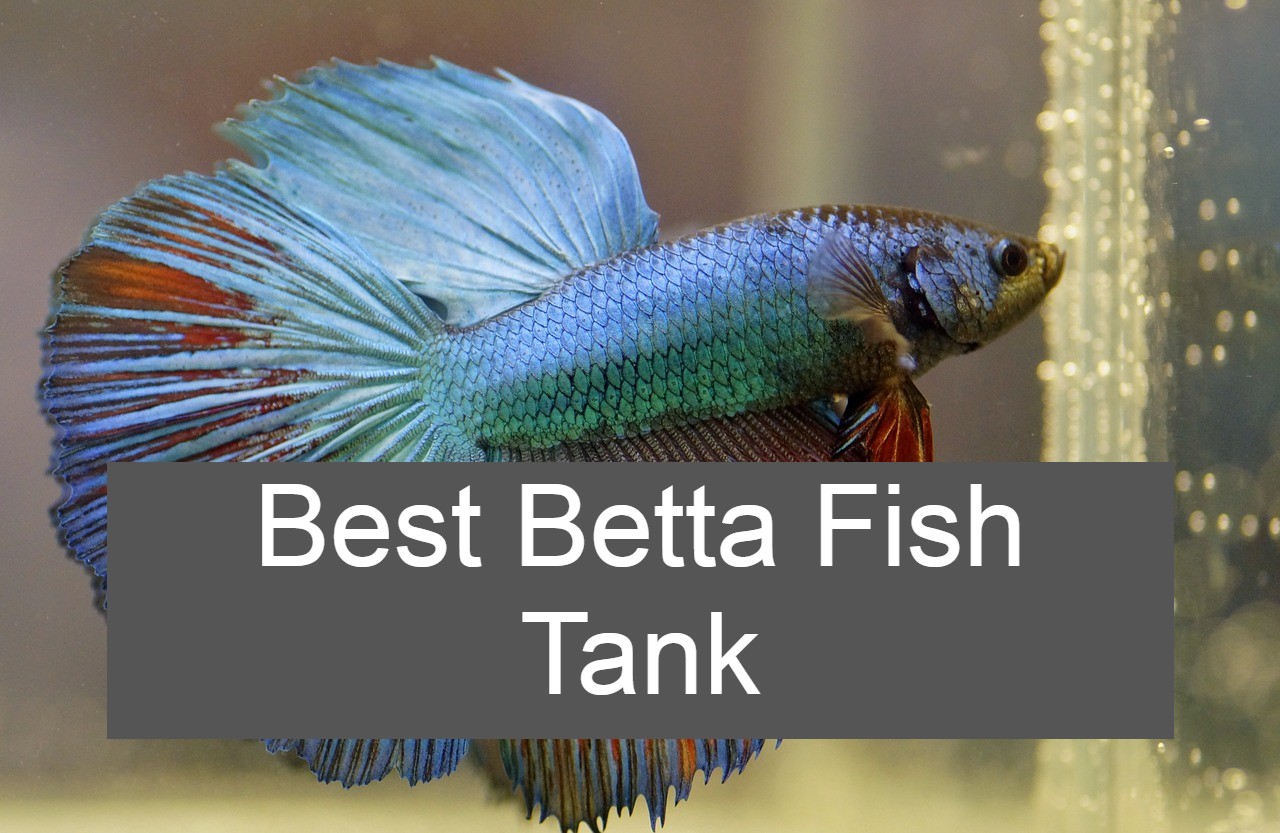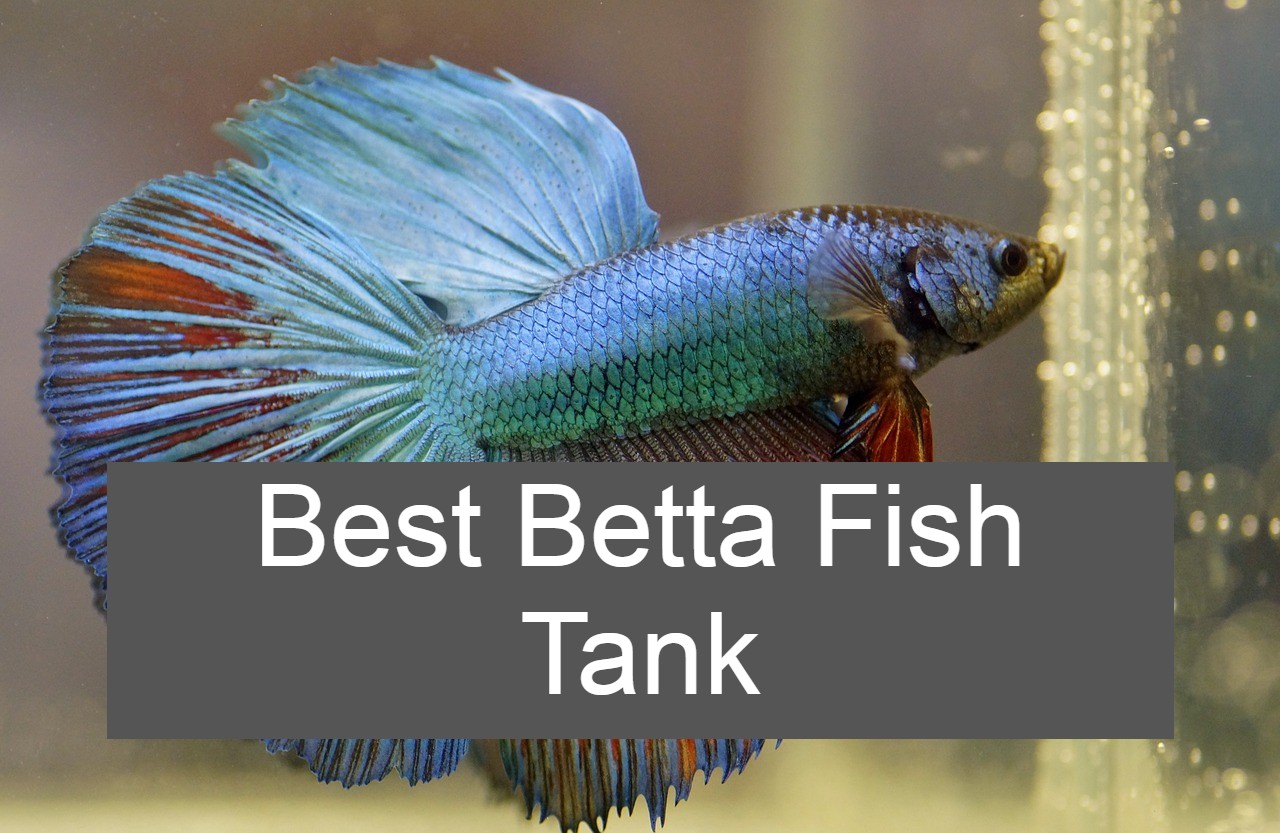 Betta fish can be a fun and interesting pet that can add beauty to any home. You may want to try raising one of these unique fish in your home.
As a fish owner, I know it can be overwhelming to know where to start. One of the most important products to get is your tank. We want to help you choose the best tank to suit your needs and tastes.
When looking for a good tank you need to think about size, shape, lighting, and accompanying features. Here is a list of various tank options to start your search.
Betta Fish Tank Reviews
This half gallon tank is made by Aqueon. It's a small kit that helps to get you started with your fish. The small size of the tank makes it extremely easy to maintain.
Since betta fish typically can't be kept in the same tank, the tank comes with a divider that will let you fit two in one tank. It also has a feeding door in the lid for easy feeding.
This tank comes as a starter kit with gravel and a plant. It also comes with water conditioner and food samples for you to try. The water conditioner will help clean your tap water.
It is a good size for a small area and it works well for one or two fish. Since it comes with the plant and gravel it comes with the perfect amount for the tank.
Pros
The smaller size makes it easy to set up and to keep clean.
It comes with extra supplies to help you get started including some product samples.
It can easily fit in smaller homes and places.
Cons
 It does not come with a heater or a filter.
Some people may feel it is too small for the fish to swim around in, especially with the divider.
This is another half-gallon tank by Aqueon. It has a special castle shaped design on the lid that makes it ideal for a children's room.
The castle design includes a small feeding hole. The design helps keep it hidden but it also makes feeding quick and easy.
Like the other tank it comes with its own gravel and plant. These are perfectly sized to fit in this particular tank. It also comes with samples.
Its small size makes it very convenient to setup and clean. It would be a great starter tank for young kids to keep in their room.
Pros
The small size makes it a convenient choice for your home.
It comes with plenty of starter supplies so you won't have to go out and buy other products.
The plastic design makes it durable.
Cons
It could be a bit too small to keep some fish in since they don't have as much room to swim.
There is no heater or filter included.
Prugna makes this high quality one-gallon tank that hangs on your wall. It's a small sized bubble tank that goes well in any room.
The tank is made of a high-quality acrylic. This makes the tank extremely durable but it is also lightweight so it stays easily on the wall. The material will work both indoors and outdoors.
It has a convenient hole at the top for easy and quick hanging. You should be able to hang it on heavy duty command hooks. This also makes it simple to remove for cleaning and maintenance.
The wall design helps protect it from getting knocked over. It also helps to save space in your home since it does not use up counter space.
Pros
It saves more space by hanging on the wall.
It can be used to hold fish or certain types of aquatic plants.
It is made of a very durable, lightweight material.
Cons
Some people see the one-gallon size as too small for fish to thrive in.
It does not give you a heater, filter, or any kind of water conditioner.
This beautiful and unique tank is made by Tangkula. The tank itself is one gallon. It has an unusual flat shape that will fit easily into many spaces.
The tank is made from acrylic and plastic which helps to make it durable. It also is more transparent than glass so it will be easier to see your fish.
This tank includes an LED light to help illuminate your tank. The LED lighting is energy efficient and it is also very bright.
This tank includes a built-in pump system that will help keep the water filtered and clean. It also makes sure your water is purified.
 Pros
It has a filter and a pump that are built into the tank.
The tank comes with gravel and a plant.
It has a light built into the tank that makes it easier to see.
Cons
It is a small tank for some fish to live comfortably.
There is no heating feature included in the tank so you might have to buy one separately.
Hygger created this 4-gallon smart tank that gives your fish some extra room to swim around in. It is a more high-tech tank with special features.
It comes equipped with a 3in1 water filter. It uses a bio filter to cleanse your water. The filter helps to keep your water circulated and clear.
The lid has a special 14 bulb system that has lights of different colors. The lights are adjustable and can be controlled from the panel on the lid.
The smart panel on the lid also has a light display that always tells you the water temperature. The lid is also light and easy to lift up for feeding time.
Pros
The smart panel makes it easy to adjust the lights and see the temperature.
It comes with a high-quality filter and pump.
It has a lot of space for the fish to swim in.
Cons
The larger size makes it harder to clean and maintain.
It does not come with any gravel and plants.
It does not come with a heater for the tank.
This is a unique 1.4-gallon tank made by Aquaponic. It creates a mini habit by developing a symbiotic relationship between your fish and a small plant.
The main appeal of this tank is its ecological design. It promotes a natural water and waste cycle. The plant roots will absorb fish waste and filter the water.
This could be a great educational tank for kids to show the power of symbiotic relationships. It even comes with special ceramic planting stones for the plant.
The natural water and waste cycle help make the tank easy to maintain. You would not have to clean out a filter or waste replacement cartridges.
Pros
It is easy to clean and to maintain.
You will not have to worry about buying replacement filter cartridges.
It promotes a natural and more ecological cycle by recycling the fish waste.
Cons
It is a somewhat small tank for some fish.
It does not include a heater, gravel, or any decorations.
It does not include the plant.
This gorgeous 360 view tank is made by Aquaview and can hold 3 gallons. It has a trendy round design that helps keep it slim. It has a customizable light system.
The tank comes with high quality LED lights that can change to 7 different colors. These different colors of light can be good for different fish and plants.
It is easy to use the controls for these LED lights. You can have the lights set on a timer to turn on and off or have them on continuously. It is simple to customize the lights.
This tank also comes equipped with a filter that works to cycle water to keep it clear and clean. This will help ensure your fish live in a safe, unpolluted environment.
Pros:
It is made from durable clear plastic instead of glass.
It can be powered using batteries or a wall outlet.
It is a spacious tank with plenty of room for fish to explore and enjoy.
Cons:
It does not include any gravel, decorations, or a heater.
It may be too large to fit comfortably in some homes.
The round design can make it harder to fit in small spaces.
This Aqueon tank lets you safely have three bettas is one tank. With three individual tanks and a sleek waterfall design you can use one filter for all three fish.
The tank uses a built-in waterfall filtration system. The water constantly flows down through all three tanks and easily keeps the water clean and level.
The walls between the tanks are frosted over. This prevents the betta fish from seeing each other and becoming agitated since they are known to be aggressive fish.
It uses a quiet filter so you won't hear loud buzzing in your home. It also comes with some food and water conditioner samples for you to try.
Pros:
It keeps the betta fish safely separated.
It lets you have three separate tanks running on one filter.
The frosted glass keeps the fish from seeing each other.
Cons:
Each tank is very tiny (the whole system only holds about 2 gallons) even for a single fish.
Sometimes the waterfall filter can agitate certain fish.
Another high quality Aquaview tank, this tank is slightly smaller at 3.5 gallons. It is made from a durable plastic that prevents cracks and leaking.
This tank also has a customizable LED light system. It is easy to change the color of the lights, put them on a timer, or put them on continuously.
The half round design of this tank makes it easier to store. The flat back of the tank can be easily pushed up against a wall or another flat surface.
This particular tank comes equipped with a powerful filter to clean the water. Not only that but it comes with a whole year supply of replacement cartridges.
Pros:
The shape of this tank makes it easier to store.
It has a lot of space for fish to live comfortably in.
It has 12 replacement cartridges so you are set for the first year.
Cons:
It can be a bit wide to fit into smaller spaces and homes.
It does not come with any decorations, gravel, or any kind of a heater.
This final tank is also an Aqueon tank. It has a similar concept to the first tank but on a larger scale with a variety of fun features.
This tank comes with bright built in LED lights that plug into an outlet. These energy efficient lights help you see your fish better. The lid also has a convenient feeding hole.
It has an easy to insert diver for the tank. This divider will let you keep up to 2 betta fish in the tank together. It keeps them from being able to attack each other.
The tank also comes with a quiet filter for clean and clear water. It is easy to clean and to change the filters. Its raised platform gives it a trendy design.
Pros:
The 2.5-gallon size gives fish plenty of room.
It allows for a divided space without keeping the fish too constrained.
The filter and lights are easy to access and use.
Cons:
The kit does not include any extra accessories or samples other than the filter.
The light on the lid only has one setting and color.
Types of Betta Tanks
Divider Tanks These tanks have a removable divider insert that can create two separate tank areas in one tank. This allows you to have two bettas but keep them in the same tank and use the same filter and heater. They come in many sizes from around one gallon to about 4 gallons.
Smart Tanks These tanks have smart controls that let you control the temperature and lights. They often have many different settings to let you customize the lighting to your fish and plant's needs. Their LED lighting can help create the best environment possible for your fish.
Wall Tanks These tanks work both as a way to house your fish and as a beautiful statement piece in your home. They don't really have any special features but they are often made of a lighter material so they can hang better on the wall. These will also work well to hold different kinds of tropical plants.
Kit Tanks These tanks come with extra supplies to help you get started. Usually they include a filter with refills along with gravel and decorations. They also will sometimes give you food and water conditioner samples so you can try their brand. This will give you everything you need to get your new fish settled in.
How to Select a Betta Tank?
Size There are a variety of different sized tanks from as small as a half-gallon to around 5 to 10 gallons. The size of tank you choose will depend on how much space you have for it and how much you want put in it. Betta fish can be aggressive fish so they don't always do well in tanks with lots of other fish. This means you can keep them comfortably in a somewhat smaller tank. If you want to have multiple betta fish you might want to get a few smaller tanks.
Material Typically tanks are made of some type of glass or a form of acrylic. Acrylic tanks are much more durable so if you want to make sure your tank will be sturdy that can be the way to go. The acrylic can also be clearer and easier to clean. If you want a hanging tank then you want to make sure the material is lightweight.
Lighting Some tanks have lighting included with the tank while others do not. Usually the lighting will be some form of LED lights. There are many different lighting options with some tanks having multiple lighting settings. These can include timer settings, changing lights, varying color, and varying brightness.
Lid There are many different lid style options out there for tanks. Many lids come with a special feeding slot that allows you to feed your fish without lifting up the entire lid. Some lids now even have smart controls on them that lets you easily change the setting on your tank's lighting and heat.
Accessories Often tanks come as kits with different accessories to help you get started. A lot of tanks now come with their own filters included so that you don't have to buy them separately. There are a few that also include heaters but not as many. There are also tanks that include their own gravel and decorations with the perfect amount for that tank.
Frequently Asked Questions About Betta Tanks
Do I Need a Heater for my Betta tank?  You do not necessarily need a heater for betta fish. It mainly depends on how big the tank is and how warm your home is. If you have a bigger tank it is definitely a good idea to get a heater. Having a heater can help your fish live longer. Also, if your house is typically cold you might want to put a heater in the tank to prevent it from getting too cold.
How Much Room Do my Fish Need? Most fish need about one-gallon worth of water. Some tiny fish are okay with a bit less than that. Betta fish tend to need a little more than a gallon to be comfortable since they are easily stressed and die. Small tiny fish can be kept with about 5-8 in a 4-gallon tank depending on the type of fish.
Can LED Lights Heat my Tank? No, the LED lights in your tank will not heat the water. Most of those lights are energy efficient so they wouldn't be producing any heat. The lights in the tank help the fish to see and can often be adjusted to their individual needs. They also help you to be able to see your fish clearly.
What Can I Feed My Betta Fish? Betta fish are carnivorous fish so you have to feed them a meat-based diet. The majority of fish food on the market is plant based so you will need to buy food that is for betta fish. You should feed your betta a portion of food that is about the size of their eye. You can feed them meat pellets, shrimp brine, or gel foods.
Can I Keep More Than One Betta in a Tank? If you keep two bettas in a tank you either need a tank with a diver or a very big tank with lots of places for them to hide. You can also keep bettas in separate tanks and slowly introduce them to each other to breed them. However, for the most part it is best to keep bettas separately.
How to Maintain Your Betta Tank?
Cleaning One of the most intimidating factors of owning a fish tank is cleaning it. You should never completely remove all the fish and water to clean the tank because the fish create natural bacteria in the water. Instead you can use a siphon to clean the gravel in the bottom. Most filters and heaters can be removed and cleaned with warm water. You can also clean the decorations in the tank.
Another easy way to keep your tank clean is to place different bottom feeders in your tank. These creatures eat waste and algae in your tank. They can be snails, shrimp or fish. You do have to be careful and make sure that whatever you get will be able to coexist with your betta. Always ask experts at your local pet center about what fish can live peacefully together.
Maintenance For the most part the tank will maintain itself if you have a good filter and keep it clean. Every few weeks you should change part of the water, never all of it. Change out about a third of the water to help keep the tank clean. When you put in new water always make sure to add more water conditioner.
You also will need to keep an eye on your filter. Every month or so the filter insert will need changed. Make sure you have the right size cartridge for your filter. If you have a large tank with lots of fish you may have to change it more frequently. You may need to change out decorations every so often as they get old and fade.
Conclusion
Overall owning a betta fish can feel overwhelming but once you figure it out it can be a fun hobby. The best place to start is finding the perfect tank.
There are many options out there. As we've seen there are many things to consider like size, filter, lighting, shape, and accessories. If one these tanks has stood out to you today consider picking it up.
Be sure to comment below and share your story about owning a betta fish. If you have questions that haven't been answered be sure to ask them below.