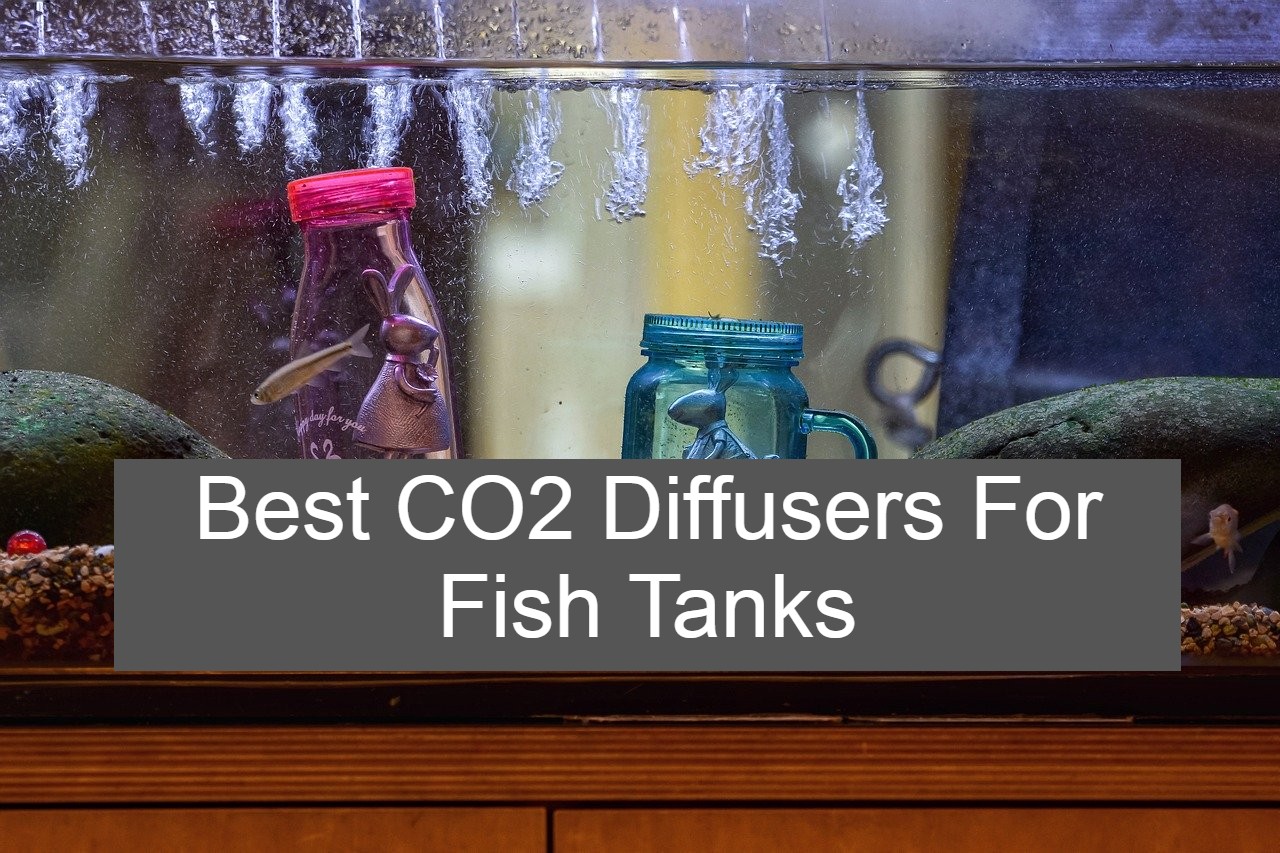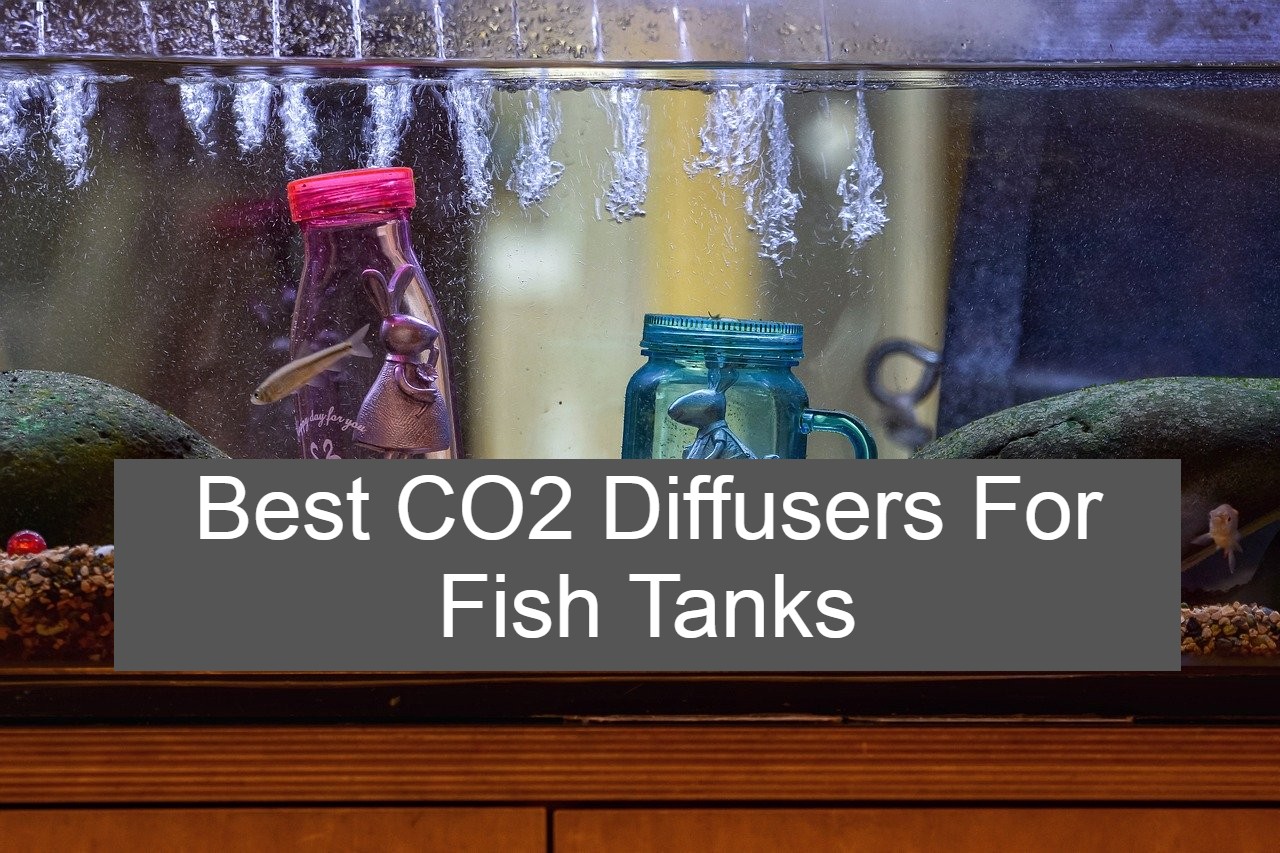 Just as plant life above and below ground requires CO2 to thrive, so too do water-submerged plants. However, as many aquarium systems do not have the proper amount of CO2 in the water for optimal plant and animal growth, many aquarium keepers choose to install a CO2 diffuser.
A CO2 diffuser is mechanical device that feeds pressurized CO2 through a ceramic disk, which then agitates the water and allows for more turbulent air-water interaction independently. This helps to keep the CO2 in contact with water longer, which leads to more effective absorption.
CO2 diffusers are also used to break up large CO2 bubbles into smaller bubbles, called also called micro-bubbles, to ensure the greatest surface-to-water contact so even more CO2 is absorbed. The size and amount of bubbles produced by a diffuser is often an important factor in which to choose, as larger tanks need more CO2.
There are several other major factors that affect how effective any given CO2 diffuser will be for any given tank, such as: size of the tank itself; type and amount of plants; type and amount of fish; and if there are any other sources of CO2.
CO2 Diffusers For Fish Tanks Reviews
This acrylic-cylinder micro CO2 diffuser from Pm0606 is crafted with the finest materials and to the highest standards to ensure the greatest solubility of CO2 for your aquaria needs.
This kit is designed to be easy to install and less fragile than pure glass and comes in two sizes: S for nano or small tanks, L for large tanks.
The ceramic disk plate is designed with a 2-in-1 to calculate, count, and control optimal CO2 dosage for the needs of your tank.
Pm0606 also offers a 100% satisfaction guarantee on their products: if for any reason, the diffuser does not meet or exceed expectations, a full refund will be issue – or, when possible, the problem rectified.
Pros:
Two available sizes to provide diffusion to a variety of tank sizes
Designed to be easy to install and hard to break
Ceramic plate insert comes with 2-in-1 design for greater functionality
 Cons:
May take some time to soak in the tank before it appears to work
Requires at least 30 psi/2bar to run
The Rhinox Nano CO2 diffuser is built for tanks under 20 gallons and designed to be aesthetically pleasing while also maintaining visual unobtrusiveness. The gurgle of the bubbles adds an extra flair of vitality to any small tank, while not being so loud or obnoxious as to ruin the appeal. 
Rhinox's Nano CO2 diffuser is designed to be easy-to-install, having only a few parts and requiring low maintenance. It attaches to the aquarium via the included suction cup, which allows it to be adjustable in the event it would need to be moved.
Despite the small, fragile design, this model is built to be compatible with all pressurized tanks at a maximum capacity of 20 gallons – including DIY yeast bottles.
The ceramic membrane within the glass has extra-fine pores to ensure only the smallest, easiest-to-dissolve bubbles enter the aquarium system. The cylindrical U-shape of the system itself also works to slow the speed of the water, leaving the most time for CO2 to dissolve.
Pros:
Compatible with pressurized systems up to 20 gallons
Aesthetically pleasant and unobtrusive for natural environments
Easy to install via included suction cup
Cons:
Glass design means a higher risk of breakage whenever handling
Not for tanks over 20 gallons
This 304 stainless-steel CO2 diffuser from fibst is designed to be a sleek, elegant work of art as well as a functional device to maintain the health of your aquarium plants.
fibst designs their stainless steel diffuser to be easy to install and maintain. The head (cup) of the unit can be unscrewed to remove and clean the ceramic plate insert.
The ceramic insert itself is designed to produce micro-fine bubbles to ensure bubbles are of the highest quality: small and completely round for the best diffusion into the aquarium system.
fibst offers a 24-month warranty for all parts of the diffuser, from the body to the fixture itself. The one exception is the ceramic plate insert, which has a warranty of 6 months.
Pros:
Stainless steel design ensures durability and a sleek, visually-appealing design
Easy to install and maintain
24-month warranty on most of the diffuser's parts; 6 month warranty on the ceramic plate insert
Cons:
Some users have reported some minor to major CO2 leakage in new products; it is recommended to test each product before installing it into your tank
Some users have reported that the clip system for attaching the diffuser to the tank is too small; some tank modification may need to be made to install for larger/thicker tanks.
This all-glass design from JARDLI is small, sleek, and highly efficient for all your CO2-diffusion needs. It attaches directly to the inside of the tank via suction cup so there is no need to fiddle with over-the-edge tank clips.
A built-in bubble counter ensures that adjustments can be made as needed without extra equipment or unnecessary fiddling. This allows for tank owners to manually optimize the CO2 input/pressure for optimal aquatic plant health.
The ceramic plate insert ensures highly efficient, effective CO2 atomization for the finest bubbles and greatest CO2 diffusion and solubility.
At .8" / 2cm in diameter, this particular model is designed for small and nano tanks of less than 20 gallos (US).
Pros:
Sleek and visually stunning to add extra beauty to your tank
Built-in bubble counter eliminates the need for extra equipment
Attaches to the inside of the tank via suction cup
Cons:
Not for tanks over 20 gallons
More fragile than acrylic or metal options
The Neo CO2 diffuser by NilocG Aquatics comes in two sizes, 12mm for nano tanks and 23mm for larger tanks, in a simple, straightforward design that is versatile in any size tank.
The Neo diffuser expels smaller bubbles compared to other glass diffusers of similar size and make through the use of micro-holes in the ceramic disk insert, which also cuts down on the required cleaning and maintenance.
The Aquario Neo diffuser is made from acryl rather than actual glass, which means it retains transparency while being sturdier. This makes it easier to remove and clean without breaking, as well as to move around the tank if necessary.
As with all diffusers, the Aquario Neo requires that you soak it in water before turning on the pressure; however, unlike many models, the pressure does not require a lot of "build up" time and works very quickly after installation.
Pros:
Produces micro-bubbles to allow for most even, thorough dispersion of CO2
Transparent acryl design blends in well with most symptoms
Easy to clean and maintain
Cons:
Only comes in two sizes; there is no go-between for a medium-size tank
Ceramic stones are red, which can contrast with the natural beauty of some systems
This U-shaped, resin-glass-made CO2 regulator and diffuser from STARSIDE offers a clear, simple, easy-to-install product for novice and experienced fish-keepers alike. Multiple adjustable pieces allow for manipulation and easy cleaning if a part gets filthy or clogged.
The glass-made design allows for simplistic style and appearance, while the resin component of the glass means that this regulator and diffuser is not as fragile as many other glass and glass-type diffusers on the market.
Due to the material and design, this regulator also has a high bend resistance, which allows for manipulation in, around, and over the tank, so no matter what size or shape your aquarium is, you can make it fit (if it doesn't already).
This kit comes with 1 glass CO2 diffuser, 1 U-shape glass tube, 1 check valve, and 1 suction cup. The manufacturer does warn that due to manual measurements, there may be a 1-5mm deviation from advertised specs.
Pros:
U-shape design allows this regulator/diffuser to clip over the edge of almost any tank
Resin-made glass means that breakage is less likely, regardless of how many times you have to move/clean the components
Comes with multiple movable parts to allow for self-maintenance
Cons:
Manufacturer cannot guarantee size due to manual measurements; in rare cases, the U-shape may not fit tanks/bezels that are too large
Only comes in one size, so larger tanks will need multiple diffusers of this model
The Rhinox Spio III CO2 Diffuser and Glass Reactor offers a unique, whirlwind design beneath the ceramic plating to encourage only the smallest bubbles and highest dissolution of CO2 into your system – in private testing and experiments, nearly 100%.
Due to the high surface area to volume ratio, more CO2 is dissolved into the system, leading to a highly efficient system that can greatly improve the health and lifespans of your aquatic life.
The ceramic disk is manufactured with atomic pores to break CO2 down into the smallest possible parts, producing tiny clouds of bubbles, and due to the high rate of CO2 dissolution, a single model has shown to be suitable even up to 55 gallons (ideal is 20 gallons).
Despite the fragile-looking design, this model is compatible with (non-yeast) pressurized CO2. The ideal rate of bubble injection is 2-5 bubbles per second.
Pros:
Almost 100% dissolution rate
One diffuser can service up to 55 gallons – but ideal is 20 gallons
Ceramic disk manufactured with atomic pores to produce greatest effects
Cons:
Not compatible with yeast bottles
Glass design must be handled with care to avoid breakage
This glass inline CO2 atomizer and diffuser system from JARDLI is designed for the ultimate CO2 turbulence, which increases the amount of bubbles and therefore the soluble CO2 available to the aquarium.
Due to the unique glass inline design, the CO2 bubbles produced come out as a "fine mist" rather than a large cloud to even further increase available absorption for plant growth.
The inline design also reduces the risk/amount of photosynthetic algae growing on the diffuser disk – just remember to set it up out of direct light to get the most advantages.
This specific diffuser is built to be installed in the outflow tubing, either mounted to the outside of or below the aquarium, of the canister filter. It fits tubing sizes of 5/8" / 16/22mm inside diameter.
Pros:
Increased CO2 diffusion compared to some other models due to unique, mist-producing design
Reduces risk of photosynthetic algae growth
Designed to be mounted outside or beneath the aquarium, allowing your system to remain as natural-looking as possible
Cons
Fits only a single canister size
Glass design increases risk of breakage when dropped or excessively manipulated
This inline-design CO2 atomizer diffuser from NilocG Aquatics is built to produce a super-fine mist of CO2 intended to allow for 100% dissolution and solubility in the aquarium system.
Easy to install and use, this diffuser comes in two sizes – 12/16mm / 1/2" tubing and16/22mm / 5/8" tubing – to allow use in most aquaria canister filters, and can be fitted to the outside or underside of the aquarium.
Due to the allowable placements and design to allow use with canister filters, this atomizer diffuser is super-discreet for those tank owners who to their system to exude natural energy.
As a result of the super-fine internal design, this atomizer diffuser is spec'd to produce ultra-tiny bubbles – reported to be less than 0.1mm diameter.
Pros:
Super-fine bubbles at less than 0.1mm in diameter
Simple to install and use
Discreet design and placement allow for natural feeling and appearance to aquarium
Offered in two sizes to fit multiple tank sizes
Cons
Minimum pressure of 30 PSI required to function
Silicone tubing is not recommended for use with this model
The CO2 diffuser with enhanced dissolution and bubble counter from Atman is built for the ultimate health and growth of your aquarium flora. This model comes in three sizes to allow for the most option and versatility in the size of your tank.
The ceramic insert is made of high-molecular polyethylene to allow for the smallest bubbles and highest rate of dissolution for CO2 absorption into your system.
This model includes a built-in bubble counter and an integrated valve check to ensure the appropriate bubble count at the ideal size for solubility. It can be installed either on the outside of the tank or through the outlet for the external filter.
Atman's CO2 diffuser is made for use in saltwater or freshwater tanks, and comes in three sizes, to give plant-lovers and tank-lovers alike the greatest variety for their passion. Sizes are 12/16mm, 16/22mm, and 19/25mm.
Pros:
Can be fitted to saltwater or freshwater aquariums
Comes in three sizes
High rate of CO2 dissolution
Can be installed outside the tank or inside the filter
Cons
Ceramic plating must be replaced every 6 months
There are four rubber gaskets that must be pried out and reinserted for each of the three tubing sizes; tubes do not come with their own gaskets
How to Select a CO2 Diffuser?
There are several determining factors to consider when looking to buy a CO2 diffuser, either new or for the first time. The CO2 diffuser plays a large part in the health of your aquarium, from your plants to your fish to the clarity of the water and cleanliness of (read: lack of algae on) the glass itself. One distinction between types of CO2 diffusers is in their operational systems:
Compressed gas systems are fueled by disposable or reusable containers of compressed air and provide a constant, consistently stable, higher pressure; they can be paired with high-pressure diffusers.
Bio CO2 systems produce lower pressure that may fluctuate; these are suitable for low-pressure diffusers.
Tank size is another critical factor in the determination of which CO2 diffuser is suitable. If you get a diffuser that is too small, you either have to waste money buying new plants, buying a second diffuser, or buying an entirely new diffuser. As a rule, the larger gross volume of your aquarium, the larger both the diffuser and the ceramic plate within should be. However, in some very large tanks (defined as 500 liters plus), having a diffuser on either end of the tank is an ideal option to ensure a more uniform, consistent CO2 distribution.
The material makeup of your CO2 diffuser is also an important consideration. If at all possible, your CO2 diffuser pipes should match the materials of your Lily Pipes (filter outlets and inlets).
Glass/acrylic glass: glass pipes are comparatively cheap and come with fine-pore membranes to ensure the smallest possible bubbles (which translates to higher solubility of CO2 in the water). Glass also has the benefit of being more visually appealing.
Plastic tubing is versatile, cheap, and lightweight. They are often also manufactured with the smallest possible pores for the smallest possible bubbles and are less visible than glass or metal models; depending on model, however, the pores may not be as fine as some other material variants.
Stainless steel: metal piping is highly shiny and attractive and can be manufactured with the smallest possible pores for the highest CO2 diffusion and solubility.
Types of CO2 Diffusers
The exact function of your CO2 diffuser is important; some systems do better with a more complicated setup, while smaller or simpler tanks are happy with a small, simple diffuser. Choosing the design and setup of your diffuser – or even building your own – is a choice that should be thought through based on factors such as size of your tank, amount and pressure of CO2 needed and desired, and how visible you want your setup to be. For all diffusers, you are looking for three factors: micro bubbles, solid construction (no leaks), and safe for your aquarium – and if hooked up to power, safe for yourself as well.
Airstone diffusers are often the least desirable model for any system: they create large bubbles that do not allow for much CO2 dissolution, and therefore are usually inefficient.
Ceramic glass diffusers are attached inside the tank via suction cup; while they tend to be cheaply-made (compared to some other models) and built for primarily smaller tanks, they do a decent job putting out fine bubbles. This is accomplished through a ceramic disk inserted into the glass interior, so they do require parts maintenance and replacement.
Ladder diffusers are also built for smaller tanks; they are actually shaped like ladders, hence the name, and as a general rule work efficiently for their size. For larger tanks, two of these models could be used, one on either side of the tank.
Inline diffusers are installed inside the canister filter and tend to be recommended for larger aquariums, as they are considered to be effective and safe. Due to their function and (usually) higher PSI requirements, more CO2 is dissolved than other types of diffusers.
CO2 reactors are the most effective systems providing the highest CO2 output, but they are typically used for very large tanks – dozens or hundreds of gallons.
How to Use a CO2 Diffuser?
CO2 diffusers are systems rather than individual pieces. The CO2 diffuser itself is connected to a specialized tube, made of either plastic, glass, or metal, that travels outside the tank and attaches to a CO2 regulator. The diffuser, when turned on and submerged in the tank, works by sending CO2 inflow from the regulator through the tube and into the diffuser, which then creates bubbles of CO2 gas. These CO2 bubbles are then dispersed – and hopefully dissolve, if you've purchased a decent diffuser – into the water and throughout the aquarium. As these systems are relatively simple, CO2 diffusers are decently foolproof gadgets. However, there are still a few other considerations to make when installing a CO2 diffuser, as they ultimately change the requirements of your aquarium.
Less CO2 is needed for tanks with fewer plants, or for tanks with soft (acidic) water because there is enough carbonic acid to make up for the deficiency. Conversely, more CO2 is needed for tanks with more plants, or for hard (also called alkaline or basic) water. To this end, use a pH meter to test the water frequently, and adjust the bubble counter accordingly if any changes are required for the health of your plants – and your fish.
Advantages of a CO2 Diffuser
All plants require CO2 to fuel their life cycles, and that includes underwater plants, both freshwater and saltwater. However, adding CO2 into your aquarium must be done carefully, as the introduction of more CO2 will lead to a drastic drop in pH. As such, it is important to know the pH requirements of your organisms, as well as your starting pH, when introducing CO2 to your system. Both the level of CO2 and the pH directly affect all living organisms inside your tank, flora and fauna alike, as well as the level of oxygen that will rise and fall in response to these other manipulations. CO2 diffusers are a great way to offset this risk that adding CO2 to your system presents. CO2 diffusers can be helpful by:
Allowing for precise regulation of CO2 levels being introduced into the tank to encourage optimum health of fish and plants alike
Allowing for precise regulation of the bubbles produced, both in terms of how much CO2 is introduced overall as well as how small the bubbles are, which affects diffusion and dissolution of CO2 gas into the water
Allowing for more even dispersion of CO2 throughout the tank, especially if/when using two smaller diffusers placed at opposite ends of a larger tank
Combating growth of unwelcome, nutrient-consuming algae inside the aquarium 
CO2 diffusers are a must-have for aquatic flora and fauna enthusiasts who want to get the absolute best out of their tanks, saltwater and freshwater alike, from increasing the longevity of your fishes' lives to encouraging the brightest and sprightliest of aquatic plant leaves.
Adding a little CO2 to your system can truly be the key to turning that dull, boring tank in the corner of the room into the metaphorical centerpiece of any conversation – and a CO2 diffuser may be the answer to all your CO2 delivery needs.