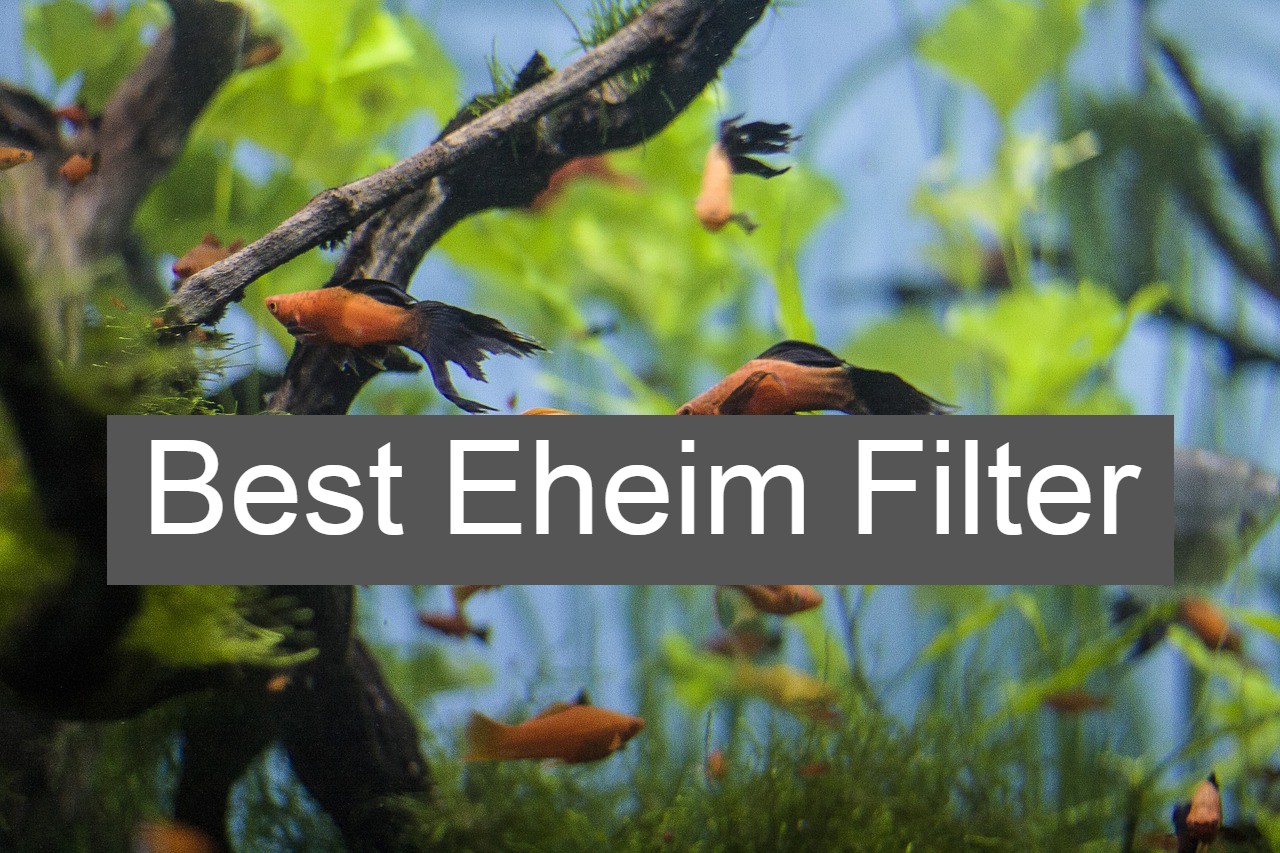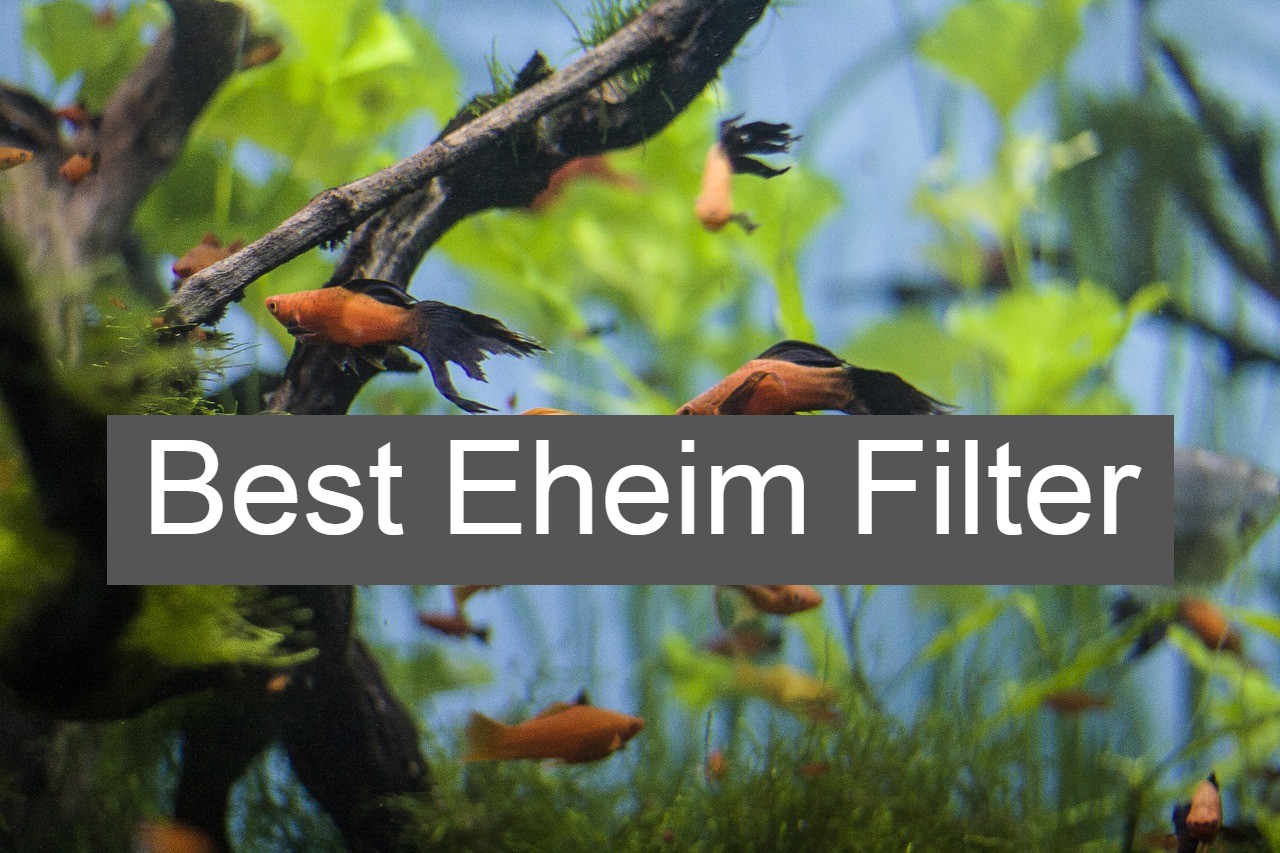 Eheim filters are effective filtration systems designed to keep your aquarium clean and rid it of any toxins that can be harmful to your aquatic life. Whether you are a beginner or an expert aquarium hobbyist, you must have been made aware of how vital a filtration system is in maintaining the overall health of your fishes.
A mechanical, biological and chemical filter is required to sterilize your tank effectively. But eheim offers you the option of getting all these above in one filtration system. Eheim filters are available in various models ranging from regular classic filters to high tech models. They are easy to sustain, durable and extremely efficient.
Picking out the right eheim filter for your aquarium can seem like a difficult task because of the different models that have been made available. However, before you select an eheim filter, ensure it is adequate for the size of your tank and can meet the needs of your aquarium.
Eheim Filter Reviews
This classic filter by Eheim is available in 5 different sizes and is suitable for aquariums holding 10-400 gallons. With a pump output of 164 gallons per, this filter cleans out a tank in days.
It comes with a perm-elastic silicon sealing ring fixed on the head of the pump. This feature allows for safe and easy closing after cleaning. It also comes with filter media and valves.
The flow rate is designed to provide for the precise balance required between biological and mechanical filtration, circulation of water and oxygen enrichment. The result of this feature is a clean aquarium.
This filter can be used in both freshwater and saltwater aquariums. This filter boast of high levels of efficiency and it comes with a stand.
Pros
It is quiet and makes no noise during operation.
It comes with filter sponges and filters media.
It is both a mechanical and biological filter.
Suitable for both freshwater and saltwater aquariums.
Cons
Its circular white polishing filter pad gets clogged up easily and restricts water flow.
Its instruction manual is not easy to understand.
Its intake tube is very fragile and prone to leakage.
This filter from eheim is available in 4 different sizes, and it is suitable for aquariums holding up to 55-260 gallons of water. It also comes with automatic self-priming and a large prefilter.
It's 250,350, and 600 models are also designed to operate as a thermofilter. They also have a digital thermometer, which can alter the temperature of your water between 64 to 93 degrees.
Some models of this product come with a flow indicator. This feature informs you when the filter needs to be cleaned. It also comes with a drip, which makes cleaning effortless.
This filter is made with high end technology and has a high performance. This filter is about 12 inches wide, 13 inches deep and 23 inches tall. It comes with 2 inlets and 1 outlet.
Pros
Durable, efficient, easy to install and maintain.
It has a high flow rate.
It makes no noise during when running.
It comes with a safety hose adapter.
Cons
Its instruction manual is hard to understand.
It comes with a short hose.
It is expensive to replace the filtration.
This eheim filter has a watt power consumption between 5 and 8. This feature makes it consumes less energy with more power. This product has three models available, and they are designed for different aquariums.
With the consumption of 5-watts, this filter can pump 600 gallons per hour. While with the consumption of 8-watts, it can pump 750 gallons per hour. This feature makes the Ecco pro an energy-efficient filter.
It has a multi-functional handle that can be used in various ways depending on how the filter is installed. The handle serves as a lever to open and close the lid and as a primer.
The components of the Ecco pro are created from high quality ceramics, which ensures its durability. This material also prevents it from making any noise while it is operational.
Pros
It makes no noise when running.
Easy to install and simple to use.
It features Large volume self-priming.
It is energy efficient.
Cons
It is required to be cleaned more frequently than its counterparts.
The water pressure and flow rate decrease after a while.
Its handle mechanism breaks very easily. 
This filter by eheim is available in 5 different models. The model number indicates the amount of litres the filter can be used for. Some models have been designed with a built in heater.
Other models are capable of being electronically controlled by a PC. This filter is not only powerful, but it is also energy efficient and quiet when operational, making it one of the best aquarium filters.
This filter can handle aquariums holding between 30-160 gallons depending on the model that was purchased. This product includes media and all equipment needed for installation. Its flow rate can also be adjusted.
The eheim professional 4 comes with an integrated self-primer, the best of its kind. It is also shaped into a square for it to fit into most aquarium stands.
Pros
This filter has an adjustable flow rate
Its pre filter can be reused
This product is very easy to use and install.
This product comes with filter pads and media.
Cons
It comes with a short hose
This product does don't include any hose clamps.
It is difficult to place the trays back in after removal
This filter by eheim has a hose adapter unit and 2 integrated shut-off taps. The shut-off taps can each be adjusted to regulate the flow rate while the hose adapter can be replaced with levers.
It is shaped to fit into any corner in order to take less room. It provides a larger filter volume and stands more stably when installed. This filter is also equipped with filter baskets.
It comes with fold-away handles that can be easily detached for cleaning. Its components are made of high performance ceramics giving this product long service life. Suitable for aquariums holding up to 350 litres.
Also, this high quality material ensures the filter is very quiet while running. It provides for low energy consumption (only 8 watts), and it comes with a coarse filter pad and a fine filter pad.
Pros
Foldable handles for easy carriage and storage
Easy to disassemble and clean
This filter is silent during operation.
It is suitable for both freshwater and saltwater aquarium
Cons
Its instruction manual is hard to understand
Capable of causing water turbulence for aquariums holding below 30 litres. 
This innovative external filter by eheim offers integrated priming support and pressing the stater once activates it. The hose adapter also comes with on and off control for the integrated shut-off taps.
It features a combi-lever with a safety latch that allows for the easy release of the adapter. Its flow rate can be controlled to suit your aquarium. It is also suitable for saltwater and freshwater aquarium.
The professional 2 is available as a thermofilter with integrated heater and external control display.
It includes an optical control that displays the current amount of circulating water.
This optical control also indicates possible faults in the filter system or indicates when cleaning is required. The filter inserts can also be easily filled out and cleaned.
Pros
It comes with a 3 year manufacturer's warranty.
Adjustable flow rate.
It includes multiple filter rates.
It makes no noise when it is running.
Cons
This filter is large and can block part of the aquarium.
The filter stages are not tightly secured to the powerhead.
More suitable for a small tank with few fishes. 
Alternative filters
The canister filters below might be on your radar if you are searching for aquarium filters as efficient as the eheim filters.
This filter by Penn-Plax has a swimming pool style rotating flow valves that turn at 360 degrees. This feature allows for easy maneuvering even in tight aquarium cabinets.
Its accessible push button primer allows you to quickly and easily prime the filter with just a few presses. It also comes with a Spray Bar, Tubing, and Directional Spout for full customization.
It comes with large capacity media baskets that allow you to customize their media to meet your specifications. It is suitable for aquariums holding up to 100 gallons and provides for 350 gph of flow.
This filter comes with all the necessary accessories allowing you to install immediately. It comes in an attractive blue color and a sturdy rubber base that keeps the filter in place.
Pros
Its filtration media is easy to change
This installation is easy because all the necessary parts have been provided for
It can be used for both saltwater and freshwater aquariums
It comes with extra large media baskets
Cons
Too much water flows through the sides of the filter compartments
The impeller is not tightly secured to the socket which allows the shaft to slide out
Its instruction manual is hard to understand
This product by Fluval comes with superior filtration capabilities, making it suitable for all types of aquariums. It basically serves as a mechanical, biological and chemical filter.
It can also be used for both freshwater and saltwater aquariums and is engineered to minimize the noise it produces. It comes with an advanced motor that ensures a strong flow rate is sustained during maintenance.
This filter has been designed with aquastop valves, which stops the water from flowing without disconnecting the hoses. This ensures that there is no leak, and minimum maintenance is required.
It is ideal for aquariums holding up to 100 gallons of water. Although this filter uses a lot of power, it is low on energy consumption only using 10 watts
Pros
Suitable for both freshwater and saltwater aquariums
It has a multi-filtration process that involves mechanical, biological and chemical stages
This filter requires minimum maintenance
Minimum noise is produced during operation
Cons
It produces low vibrations
This filter does not include a spray bar
Its tubing is made from low quality materials and is not durable. 
This filter is manufactured by Hydor and comes in different models. The models can be used for aquariums holding between 40 to 150 gallons of water, meaning it is also suitable for small aquariums.
It comes with all the necessary accessories making it easy to setup. Its instruction manual is easy to understand, and if followed, this filter can be installed within 30 minutes.
This filter's stability is off the charts thanks to the 4 rubber feet attached to its base. This implies that this filter can be placed upright and remain so.
The noise level of this hydor filter is very low and does not have any effect on your aquatic life. It can also be applied in aquariums holding both freshwater and saltwater.
Pros
It is created with reliable materials that can last for a long time
It makes little noise when running
It is suitable for aquatic turtles, reef tanks, and saltwater and freshwater aquariums.
It is easy to install.
Cons
The connection points of this filter are prone to leakage
This filter is required to be cleaned more frequently than it's counterparts.
Terrible customer service
This filter by aquatop comes in different models and can be used for both freshwater and saltwater. Depending on the model, it is ideal for tanks holding between 20 to 175 gallons of water.
This filter has a feature that none of its counterparts has, and that is a UV sterilizer. This UV sterilizer eliminates any harmful bacteria and microorganisms such as algae and other parasites in your aquarium.
This filter is highly effective thanks to its flow rate of about 370 gallons per hour. It is capable of cleaning your tank in a matter of days.
It's manual is hard to understand, but the fact that it comes with all the equipment needed for installation enables you to set it up faster. It includes a filter sponge for enhanced mechanical filtration.
Pros
Suitable for both freshwater and saltwater aquariums.
This filter has been equipped with all the necessary accessories for installation.
It includes a UV sterilizer
It is extremely quiet when running
Cons
Its instruction manual is hard to understand
This filter leaks quickly
The plastic intake parts are not tightly secured
How to select an Eheim filter?
Eheim has been producing efficient aquarium products, including filters for decades now. While they are all of good quality, it is difficult to find the best fit for your tank in a sea of other products.
The following should be considered before you commit to an eheim filter for your aquarium.
Size of your aquarium
The first thing to consider before you can pick the right eheim filter is the size of your tank. This is so because a large tank needs a powerful filtration system.
Type of filtration system
There are various types of filtration systems required to keep your aquarium clean. It is up to you to choose if you want to purchase biological, chemical and mechanical filtration systems separately. Or you can buy an eheim filter that offers you these three filtrations in one.
These systems must be present in your aquarium in other to effectively sterilize it and ensure your fishes don't suffer from toxic compounds that can develop in your water.
The population of your aquarium
An essential factor to consider is the number of fishes you have in your tank. A more powerful filtration system will be required for a heavily stocked aquarium because there will be more debris to filter. A heavily filled tank tends to produce more organic waste from food remnants to fish detritus. It is necessary to have a filtration system that can keep up with the amount of waste generated.
Maintenance
Some eheim filters demand more attention when it comes to maintenance than the others. Determine the amount of time you can spare for the cleaning and maintaining of filters before you purchase one. This will help you determine if you can handle a filtration system that requires constant care and maintenance.
Benefits of using an Eheim filter
Eheim filters are dominating the market and doing better than their counterparts because of the following features:
Flow rate
Eheim filters have a high flow rate that can't be compared to other filtration systems. Some of its models can even filter up to 300 gallons per hour, giving you results in a limited amount of time.
A wide range of media to select from
Eheim filters are mostly accompanied by a variety of filtration media to choose from. It is, however, advisable you research on the media's available before purchasing one. This is to determine what media will fit your aquarium best and if such media will require regular maintenance.
Easy to setup
Installing an eheim filter is not a difficult task, and it is easier compared to the method of setting up other filtration systems. No matter how easy it is to set up, it is important you follow the instruction manual.
Easy to clean
Cleaning an eheim filter is straightforward when you have the right tools and an instruction manual. Eheim filters are designed to be disassembled easily for cleaning. The instruction manual contains easy steps to follow in cleaning the device and assembling it back together.
Noiseless operation
Nobody wants a filter that makes loud noises when operational; the best way to avoid noise making filters is to use eheim filters. These filters are exceptionally quiet when running, and produces no sort of vibration.
Efficient filtration system and durability
The whole purpose of purchasing a filter is to clear the debris and waste from your aquarium. Not all filters can boast of fulfilling this objective, but Eheim filters can. Their filters are top notch and capable of cleaning out your tank in a matter of days. The best part is that when well maintained, Eheim filters can last for years without its performance decreasing.
How to maintain an eheim filter?
Eheim filters are easy to maintain, and when maintained right, can last a long time. The following are ways in which you can care for your eheim filters.
Replace the filtration media
The media are required to be replaced every 6-8 weeks; however, this time frame may vary based on the model you are using. Failure to do this can affect the performance of your eheim filter. If you cannot replace your filtration media frequently, ensure you clean it every 6-8 weeks.
Keep your eheim filter clean
The pipes of your filter need to be cleaned and rinsed out regularly. To determine when to clean out your pipe, you can listen for irregular or odd noise when the filter is in operation. This can signify that either the intake or return pipe is clogged. However, it mustn't be until your pipe is blocked by debris before you decide to clean it out, waiting till it is blocked might affect the performance of your filter in the long run.
Set up your filter properly
When placing your intake tube, ensure it is 0.5 inches above the substrates. If you have sand in your aquarium, allow for a little bit more space. This will ensure the sand does not enter and clog the pipe. The outlet tube can be placed on the opposite side of your aquarium slightly below the water surface.
After setting it up correctly, you can maintain it by cleaning the pipes frequently. A slow flow rate is an indicator that a pipe is clogged.
FAQ
How does an eheim filter work? Depending on the model, the eheim filter is usually mounted on the tank with a piece inside the tank. It has an inlet and outlet pipe that allows water flow through your filter and back into your tank. The filter traps any debris or bacteria and allows only clean water to flow back into your tank.
How to install an eheim filter? First of all, ensure the filter has been appropriately assembled before attaching it to your aquarium. Mount it in a place you are convinced will make a permanent home for it so that it doesn't have to be disturbed frequently. You can then connect the inflow and outflow pipes to your aquarium. This is just the general process of setting up your filter, for the specifics, make sure you read its instruction manual before you begin installing your filter.
What is the best eheim filter for a freshwater aquarium? The various models of eheim filters come with different features. Read through their specifications to determine what model is best suited for your freshwater aquarium.
How often is it required to clean eheim filters? This is dependent on the model because each model comes with specific requirements for maintaining it. But it is ideal you clean it every 12-14 weeks.
How can air be prevented from entering an eheim filter? Air is only capable of entering your filter if all the adjoining parts are not adequately sealed off, and there is a leak. To ensure your filter is free from air, tightly seal all the parts that are joined to the filter.
The YouTube link below explains in detail how to properly clean your eheim filter
Conclusion
By now, you must be convinced of why your aquarium needs filters. You might also be confused about which eheim filter to purchase since the market is filled with so many options.
But if you follow our buying guide, you would be able to select the perfect eheim filter for your aquarium. Eheim filters are durable, easy to set up and maintain.
Do you have, or have you used any of these filtration systems before? If so, tell us about your experience in the comment section below.